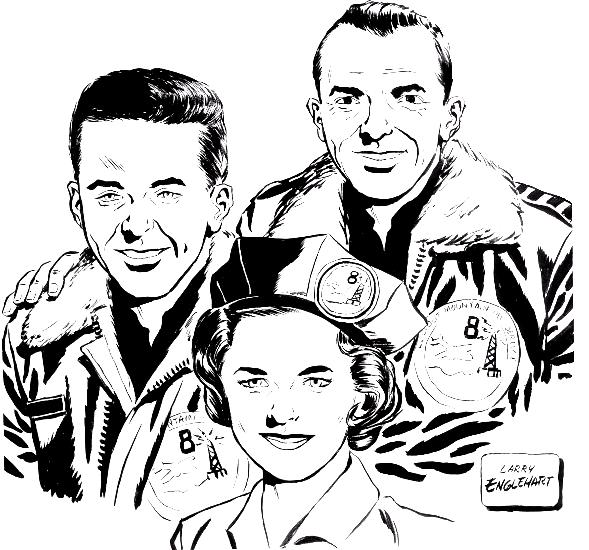 Captain Ben (aka Bob Jernigan)
Photoset from a 3/5/2006 Captain Ben reunion!


I first became aware of the Tulsa TV Memories site when I visited with Hurst Swiggart last year. On my return to Oklahoma City I logged on and was very impressed and pleased with your site. The name is very appropriate. It do bring back memories.
One of the first things I read was one of your first inquiries from Rick Green (in Guestbook 1) about the early 60's show about "a captain, a side kick and a girl crew member". The date of the inquiry was February 1999, and since that time no one has responded, not even those who were directly involved and who still are in the Tulsa area. (Perhaps that speaks volumes).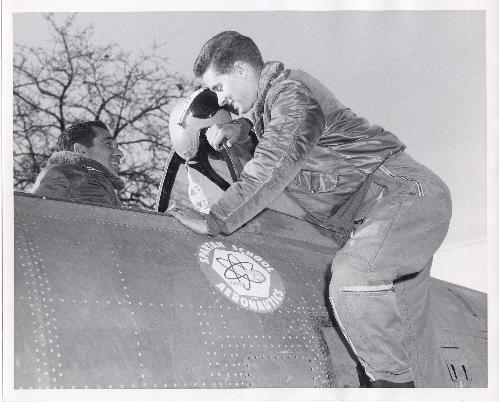 Captain Ben and Windy O'Day keep their flying skills sharp at Spartan


The show went on in fall of 1962. I remember doing a Christmas appearance with Phil and Linda at Sears which included the helicopter arrival of Santa Claus. The title of the show was simply "Captain Ben". (Could that have been because the program director was Ben Hevel?) The story line was set in a place called "Lookout Mountain Air Service". I played the role of Captain Ben (not Boyce Lancaster... who, by the way, has been trying to cash in on my fame for years), Phil Atkinson played the role of "Wendy" (sometimes "Windy") and Linda Murphy played the girl crew member named "Clancy".
Tuffy aka Wayne Johnson, courtesy of Kevin King


Of course, everyone knows that Phil is still in Tulsa and is still involved in the industry as a talented free lancer. Unfortunately, I have no idea of where Linda is now.
I suspect the reason memories of the show are so faint is that the show was not on the air that long. Just try and go up against King Lionel in Tulsa at that time and see what happens to you in the ratings. Big Bill was tough also. Perhaps the show should be known best as launching the acting career of Wayne Johnson whose talent blossomed later in the role of Tuffy. On Captain Ben, Wayne was the "evil villain" whose plans for the destruction of the world, (or at least the ruining of the balance of nature), formed the "adventure" segment of the show. Perhaps, it was the conversion of this evil and ugly personality into the gentle, lovable and fluffy character you know as Tuffy that left the Lookout Mountain crew with no worlds to conquer, so it left the air. The world was at last safe.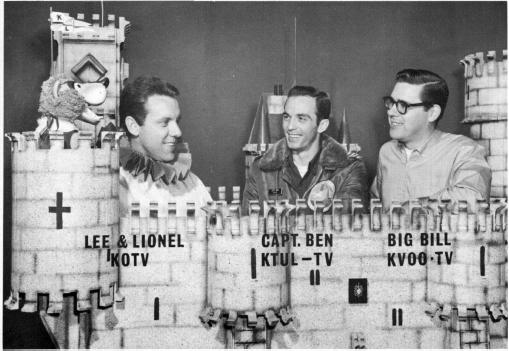 Courtesy of Bill Hyden

For those who may have an interest, shortly after Captain Ben left the air I left the station and joined Paul Locke Advertising. From there I chased the idea of satellite communications around Europe for awhile, ultimately landing at the University of Oklahoma School of Law. (They say returning to school is a safe excuse when you can't find work.) After graduation in 1967, I joined the Federal Communication Commission in Washington, DC and was assigned to the six member legal staff of the newly created Cable Television (CATV) Task Force, the predecessor of the now very large Cable Bureau. Later, I had an offer to return to Oklahoma to enter the private practice of law. It gave me the opportunity to come back home. Since that time I have been in Oklahoma City giving command performances from time to time before limited number audiences called juries. As some say.... still acting.

Although Oklahoma is not the broadcasting center of the world, I kept my hands in the broadcasting business through the years. I represented the Oklahoma City School Board in its sale of Channel 25 to Blair Broadcasting, as well as the sale and transfer of other broadcast properties in Oklahoma, Arkansas and California. The biggie came when I was asked to locally represent Gene Autry's Golden West Broadcasters as Channel 43 (KAUT-TV) was placed on the air. As Hurst Swiggart says, "What a hoot!"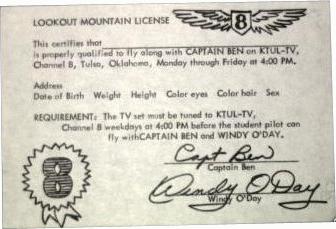 Since the adoption of the Telecommunications Act of 1992, when a great deal of regulatory authority over cable television was placed with local governments, the majority of my practice has involved representation of municipalities in negotiating cable televison franchise matters, including renewals. I am also currently involved in the transfer of a television station in the Oklahoma City market. So, I am back where I started... almost.
I think Tuffy summed up our feelings about Captain Ben during my last visit with him at the station when he exclaimed, "We had fun".
It was fun.... and I am happy that Rick remembered.




Bob Jernigan is today a municipal judge for an OKC metro area city,
in addition to his regular law practice...webmaster, 1/2005



(from Guestbook 184) Jim Hale said:

I have searched the guest books and cannot find a clue to the following. I am 47 now.
When I was very small, like four years old...this would be about 1962...KTUL ran a serial type flying show that I believe was produced at KTUL studios on Lookout Mountain. Two guys, their secretary that got kidnapped once, ran a flying service with a fake plane that was always stalling and crashing, once in the jungle with some very scary natives. One native took a flying service patch and was going to sew it directly onto his skin (the pilot had theirs on leather jackets)
What was the name of this show? My photographic memory fails me after more than 40 years, as I could not read yet, but I believe the logo patch even had the number 8 on it, and the star was one of your regular announcers on KTUL.
I told Jim that the show was undoubtedly "Captain Ben" and forwarded his note to the Captain (aka Bob Jernigan). Bob replied:

Mr. Hale has an accurate memory. I remember the program he is talking about. In fact, I have a picture of the guy who played the "native". Grass skirt and a spear and makeup all over his body. He also did "Bozo the Clown". Hope all is well for you and thanks again for the update.
I asked if that "Bozo" wasn't Doug Montgomery. Bob responded:

Yes, that was Doug Montgomery. I could retire on the money I could make from him by threatening to make that picture public.
Jim came back:

I wish you would copy Judge Jernigan as well to the effect that a four-year-old, now 47, was very entertained with his acting in 1962. I lived in Fort Smith, Arkansas and my father had put an antenna on the house that allowed us to receive a clear black-and-white signal from Tulsa, some 120 miles away.
On reading the Captain Ben page, it must have been Wayne Johnson that kidnapped Clancy and scared me so badly that I had to turn off the TV! I am sure she was rescued, but the camera was at his back, as I recall, and a wreath of cigarette smoke really made him just too sinister for me, at age four, to watch one second longer. To think that this was the guy that I loved so much as Tuffy on the Mr. Zing show later on is really an eye-opener!
I would enjoy hearing from both Wayne and Bob should they care to email their most loyal fan of 43 years.
I did forward the note to Bob. Tuffy retired to his ranch out west of Tulsa.

Back to Other kiddie shows Back to main