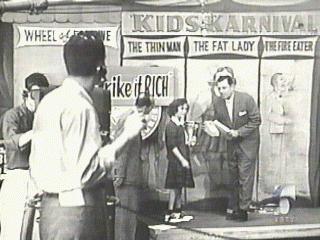 The Kids Karnival
with Bob Latting
pre-1955 on KOTV


(via email 11/12/2002) Joe Johnston said:
There was a locally-produced 1950's kids show, Channel 6, I think, and the host was Bob Latting. I remember him being slight and bald, and I don't recall his clothes at all. The format escapes me, but there were kids on the show, some games and such. When I was on the show, I was probably the only kid in history who threw the darts and missed all the balloons. How embarrassing. I played music with the host's son Mitch, an amazing trumpet player at the age of about 12. They moved to California, because he got a job playing with Maynard Ferguson.
(from Guestbook 164, 6/13/2004) Mitch Latting said:
If you look at the Kids Karnival picture......see the man located below the "Thinman" sign and just behind the cameraman's hand, you'll see my father, Bob Latting.
I was actually part of the show opening. I would dress up in a clown outfit my grandmother made. I would stand in front of the camera and say "Hey kids, it's time for Kids Karnival!"
Trumpet playing. Well, Maynard is our cousin, but I never worked with him, just idolize him still.
This was a great find on the internet. It brought back so many wonderful memories. Thank you.
Webmaster: I'm delighted you found the site, Mitch. Thanks for the contribution.

Here's a link to a CD that features Mitch, Central Coast Jazz Quartet - At Home.


(from Guestbook 5) Don Lundy said:
Do you remember a kids show on KOTV in the mid 50s hosted by Bob Latting, who owned the Golden Drumstick restaurant, formerly on the NE corner of 11th and (Yale)?
He handed out silver dollars to kids who answered a question. I still have one I got on the show when I went as part of some kid's birthday party.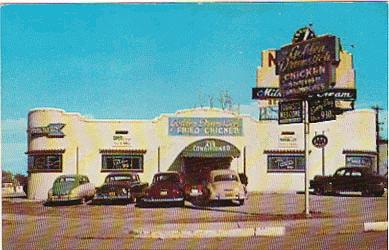 Runners-up got a dinner at the Golden Drumstick, which speaks a lot of chicken prices in the mid 50s.

(from Guestbook 31 and via email) Bill Stemmons said:
Latting hosted kids shows on KOTV channel six back when we didn't yet even know what the channel tuner was for! I was actually in his local version of a "Peanut Gallery" audience a few times, and ate at the Golden Drumstick once or twice with my parents. We jokingly called it the "Broken Drumstick," but it really was good fried chicken.
No tickets or passes - We'd just go down there on Saturday morning when we felt like it! He was great with kids!
Here's a later and larger shot of the Golden Drumstick, and a menu.

The Golden Drumstick became the Middle Path in the 70s, a "hippie" vegetarian restaurant.

It began as the Casa Del Club, which explains the architecture. Here's a commemorative photo and sleeve from the Casa Del in December of 1946.


(from GroupBlog 342, 1/4/2016, and via email) Phil Lassiter said:

Tulsa guitar teacher Dick Gordon Sr. got us a spot on the KOTV Kids Karnival Show on Saturdays, as I remember. We were Dick's students, Carter Brown and Phil Lassiter of Tulsa. About age twelve. We were dressed in country and western clothes, Carter sang and played acoustic guitar and I played electric steel guitar.

All I remember was the fact that the studio lights were very bright and hot. The peanut gallery cheered us.

I don't think we screwed up, because Dick Gordon Sr. was a very hands-on teacher and would not have let us out of the box if we weren't ready.

As a side note, Carter Brown's daddy was Tulsa County Sheriff Glenn Brown in the mid 1950s.

I am still very into my guitar playing, now just a regular 6 string electric Fender Stratocaster. Carter and I played probably five "jobs" that Dick Gordon Sr. got for us. I never played professionally and I haven't heard from Carter in a long time so I don't know what he did with his musical start that Dick gave him.

I have a "promotional" black and white photograph of Carter and I dressed in our performance western clothes, if anyone wants to run the photograph.

We do!

(from GroupBlog 239) Ronald Radford, Flamenco Guitarist, said:

During my March 31, 2007 Flamenco Guitar Concert at the Tulsa PAC, I mentioned from the stage that my first public performance was around 1952 at 8 years old on the Bob Latting kids show on KOTV playing my ukelele and singing "My Little Grass Shack in Kealikakua Hawaii"! This was 55 years ago and since then I have developed an international career as "The American Master of the Flamenco Guitar"...see RonaldRadford.com.

Our family got to know Bob Latting by eating often at his "Golden Drumstick" restaurant. When he found out about my talent, he invited me to be on his show. Bob's encouragement of my talent was part of my early influences in Tulsa.


(from Guestbook 165) The webmaster said:

I found an excellent first-person account of Tulsa in the last century linked from BatesLine.com. There were references to a Billy Latting on these two pages of the story: The Good Years and WWII.

I sent them on to Mitch Latting, who replied:

I do believe the Billy Latting and Mrs. Latting mentioned in the articles are both my Aunt Alma and Bill Latting Jr. If my memory serves me well, Uncle Bill, Aunt Alma, Bill Jr. and Rosemary lived on Darlington (sounds like what's being called the "White City" addition.)
Uncle Bill Latting (my father's brother) was a lawyer in Tulsa. Uncle Bill, and a partner, actually owned the Golden Drumstick. According to my mother, the restaurant was suffering until such time as my dad (Bob Latting) was summoned by his brother Bill, to come to Tulsa from his radio show in Okla. City. I believe the Oklahoma City radio show was called "(something) at Beverly's". I'll have to check with my mom again about the correct name. Anyway, my dad had lots of radio and promotional experience in Hollywood prior to coming back to Oklahoma (my Dad did radio interviews of movie stars at the famous Hollywood Brown Derby).
Arriving in Tulsa, my mother and father took over running the Golden Drumstick. It was they who tied the Golden Drumstick into the Kids Karnival TV show, which put the name of the restaurant in every televisioned home in Tulsa and surrounding areas. Hence, the people lined up to eat at the Golden Drumstick and my father was a TV personality.

The radio show "at Beverly's" undoubtedly refers to Beverly's Pancake Corner (home of the "Big Bevburger" since 1921). It's still there; I ate there a couple of years ago. Read more and see some great photos and postcards at Doug Dawgz Blog.

Beverly's (he's a man, baby) has "possibly the only surviving 'Chicken in the Rough' neon sign", according to Route66Photographs.com, where there is a photo of the sign.

Interesting that Bob Latting stayed on the chicken track when he moved back to Tulsa.