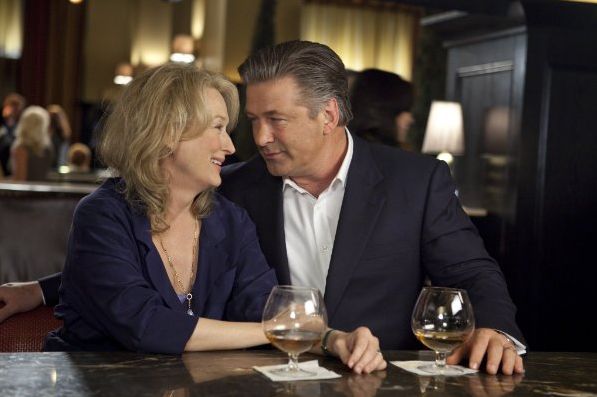 "It's Complicated"; a film review by Gary Chew


GARY CHEW/Sacramento
12/16/2009

To borrow the title from the new Christmas movie with Robert De Niro...everybody's fine in Meryl Streep's new Christmas movie, "It's Complicated."
Yes, everybody's fine: Meryl as Jane, a divorced mother of three; Alec Baldwin as Jake, Jane's plump ex husband, a wealthy lawyer now married to a svelte woman half Jane's age; and Steve Martin as Adam, a nerdy, divorced architect Jane has commissioned to design more fancy digs for her---she being an entrepreneurial chef and baker with disposable dollars on her hands in upscale and lovely Santa Barbara. Jane was culinarily trained in Paris like Julia Child. (See "Julie & Julia".)
If it weren't for the liberal attitude and lifestyle Jane, Jake and their so together and loving young-adult children assume, you'd think this perky, broken family (seemingly without any authentic baggage) were, to a person, registered Republicans.
Jake's second marriage is becoming a drag for him much like his first one did not long before Jane him divorced 10 years ago. Jane and Jake, on a quick trip to New York for the graduation of their son, inadvertently get drunk and "do it" in the five-star hotel where the family is staying. Family togetherness at Christmas is something not to be pooh-poohed, Winnie.
"We can't let the children know about this," is the overriding thought on Jane's mind. Jake, living up to the bad boy reputation of Alec Baldwin, is all aglow at how great it can be having sex with an older woman who used to be your wife. He's a schmuck you'll love.
As you can tell, "It's Complicated," is easy to figure watching the escape-from-reality tone and direction of Nancy Meyers ("Something's Gotta Give"). But, it does contain some stuff that's pretty damned funny---intermittently.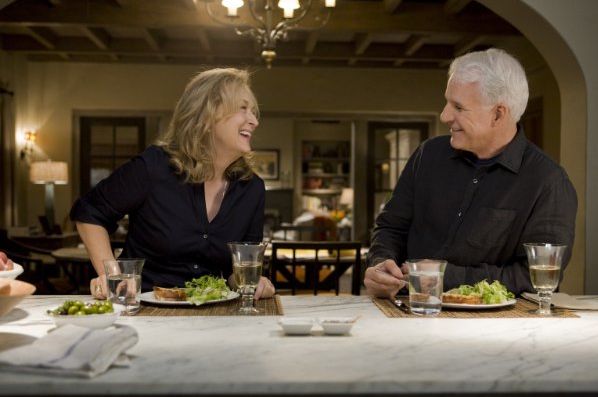 Meryl Streep and Steve Martin

"It's Complicated" feels like a TV sitcom with naughty antics only seen on cable. Use of the word "vagina" particularly stirred giggles out of the ladies watching in the theater. And stirring a significant number of cackles from my lungs was the extended scene in which Jane and Adam smoke a joint of killer weed just before entering a party of younger folks that includes her kids, one daughter's fiancé and one very not-stoned Jake. It was Jake who gave Jane the joint, in the first place, for them to bogart during their next one-on-one tryst.
All this toking gives Steve Martin the opportunity to do his I'm-a-nerdy-guy-now-so-hip-and-so-stoned-in-front-of-other-people-who-think-I'm-a-freaking-nut" routine. Excuuuuuse me! No way can you not laugh.
Then, there's another scene that has Mr. Baldwin in all his hirsute, but cherubic glory, naked and stretched on Jane's bed just before she returns from the bathroom. Jake has just sneaked in the room and shows his modesty by placing the lap top (Jane left on the bed) just in front of his pudendum (Thank you, Lord!).
Little does Jake know that Jane's lap top is visually connected to Adam's lap top several miles away in another part of Santa Barbara. Adam and Jane both make visual contact with Jake's private parts at approximately the same time: Jane, in person, and Adam, through the cyber technology of Skype. Persons watching this scene are, again, spared specificity (Again, much gratitude).
Streep and Baldwin are two fine actors. That's a fact. And no one should be dissing them for going on a lark and making some nice big bucks phoning in these kinds of performances. People this talented can make a phone-in look mighty fine. Steverino Martin is always a neat fixture to see in bagatelles like "It's Complicated." Just wish Mr. Martin would jump in all the way, more often, and give us the full-bore of what I've always suspected are his still-water-runs-deep talents for dramatic film acting.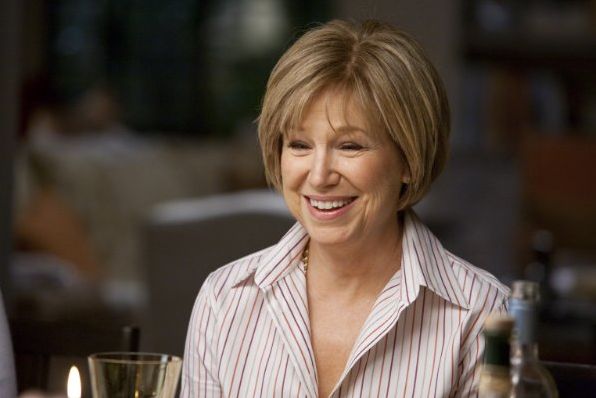 Tulsa's Mary Kay Place

Tulsans and former Tulsans need to know that T-Town's busiest character actor in movies, TU grad Mary Kay Place (soon to be seen in the riotous "Youth in Revolt"), has some space and time in "It's Complicated." She's seen as one of Jane's Santa Barbara neighbor lady friends to whom Jane talks some trash about that getting-intimate-again-with-the-ex-husband syndrome.
Seeing "It's Complicated" isn't compelling me to rush out and take in De Niro and "Everybody's Fine," but I have been thinking about renting and taking another look at the 1980s film called, "Falling In Love." It's a movie that starred De Niro and Streep, together, as a man and woman (married to other people) who start an affair after meeting, by chance, while Christmas shopping for their families.
The theme being, I guess, the integrity of the institution of American marriage and the maintenance of it through light entertainment. Maybe it would be better just to go to one of Sacramento's public libraries and check out a DVD of "The Deer Hunter," but I'd better hurry. I hear the Tea Baggers are lobbying Governor Schwarzenegger to have all of them closed.

"It's Complicated" official site.
Opens wide on Christmas day.
Check Yahoo Movies-Tulsa for theaters and times.
Gary Chew can be reached at garychew@comcast.net,
Facebook.com/justin.playfair and Twitter.com/orwellingly.

Copyright © 2009, Gary Chew. All rights reserved.