Tulsa TV Memories Guestbook 210

TTM main | What's new on TTM? | GB Archive




April 13 2006 at 07:04:57
Name: Jim Ruddle
Email: jruddle@earthlink.net
Location: Rye, NY
Comments: Not only is Bob Kur a good reporter, he's a good guy. Not all correspondents can claim both. We worked together in the Chicago Bureau for NBC in the late 'Seventies. And he later hooked me up with the lady I've been with for 25 years.
Glad to hear he's on radio--where you don't have to shave to go to work.

Later that day, Mike Bruchas added:

I believe BOB KUR's wife is also a producer at ABC in DC.
---

April 12 2006 at 19:15:41
Name: Mike Bruchas
Location: DeeCee where silliness reigns
Comments: Burbling a tangent here...
NBC's BOB KUR is now outta TV and doing afternoon radio on the Bonneville/Washington Post station here in DC - WTWP-AM and FM, Makes a good counter programming to NPR many days. This man was a great NBC TV reporter but is even BETTER on radio. Go here for a sample of the station's programming. They do AP Network News while sister station WTOP is CBS News. The problem on WTWP is if not running a night baseball game - after 7pm they sell blocks of programming - for now - with a screamin' investment "advisor".
For those of you from OKC or OETA - Steve Nease's Dad succumbed to Alzheimers last week - Dr. Nease was President of Bethany Nazarene College many moons ago.
Speaking of a "Griff" - wasn't that also the title of the late Lorne Greene's short-lived 70s detective show on ABC? Between the end of Bonanza on NBC and the start of his role as Commander Adama on BATTLESTAR GALACTICA?
---

April 12 2006 at 05:32:55
Name: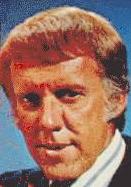 Lee Woodward
Location: Tulsa
Comments: I may be behind the curve of some of our more advanced audiophiles who have done this already...but I just solved my problem of not having an audio recorder that allows enough time for unattended and long radio programs, such as the Met Opera Broadcasts, or even a short jazz program you would like to record while you're out to dinner. My old Wollensak reel-to-reel wouldn't even cut it at it slowest speed; plus you had to be around to reverse the reels. Plus no programmable timer recording. My fix?
For fifty bucks, I bought a brand new Sanyo Hi-Fi stereo VCR. I yanked the reel-to-reel out of my rack and installed the VCR; hooked it up to my surround sound system's IN and OUT jacks, ran a video cable to my Hi-Def TV's video channel L1 so I can program and set up the VCR timer. I now have the ultimate longplay/record recorder available for a total cost of about $65.00 bucks. ($15.00 for a 25' video cable) How can you beat that? Wish I'd done it years ago.
If you archive stuff? I bought five VHS tapes for about six bucks. So, for a little over a dollar, I can record this Saturday's 4½ hr. Met broadcast, uninterrupted and in brilliant sound and unlike CDs, it will last a long long time. A few little hiccups in setting it up but it's slick now.
Next step? A digital timer to turn my stereo on and off.
The setup is also detailed on this site's Tulsa Radio: Yesterday and today page.
---

April 11 2006 at 20:30:42
Name: Jeff H
Location: Somewhere between a tad and a skosh
Comments: Don Woods and Gusty have really made the big time; appearing with Golden Scale Snails and Galileo's middle finger. It just does not get better than that!
What's next, Tulsa's penguin statues with Lobster Boy and giant Squid.
All kidding aside, that is pretty cool.
---

April 11 2006 at 14:46:34
Name: Larry Ellis Reed (via email)
Email: kahunaaccidentale@yahoo.com
Location: Winona, MN
Comments: Thought you'd like to know: The "Ripley's 'Believe It or Not!'" cartoon for April 3rd featured an item (submitted by yours truly) about "Gusty" being the Oklahoma State Cartoon Character (lower right of cartoon)
---

April 11 2006 at 12:39:13
Name: Cindy Nance
Email: cl_nance@yahoo.com
Comments: Announcing a Molly Murphy's Employee Reunion for September 8, 9, and 10th, 2006, in and around Oklahoma City. Note: this reunion is for all Molly's employees, from both the Tulsa and OKC locations. Please go to MollyMurphys.com to get reunion info and join the mollysokcgang Yahoo Group where you can email old Molly's friends and RSVP for the upcoming reunion.
---

April 11 2006 at 12:36:32
Name: Dana LeMoine
Email: d4wdw@valornet.com
Location: Playing pinball at QT
Comments: Cliff, actually it was a Git-N-Go at 11th and Mingo where you bought your Icees at.
We used to save the "Icee Points" as well. I remember picking up flattened cups on the side of the road and tearing the points off, usually while we were hunting for pop bottles. I ended up getting an Icee Bear beach towel for my efforts. To this day, Icees still have the points on their cups that you can redeem for merchandise.
On the subject of convenience stores, the two I frequented were the Git-N-Go at 11th and Mingo, and the Quik Trip at 3rd and Garnett. I hung out at the Quik Trip the most because they always had a pinball machine to play. I spent countless hours [and quarters] there perfecting my game. I remember what a rush it was hearing the knock in the cabinet, signaling that a free game had been won. The clerk even joined in on the games. On more than one occasion, I had to wait on a customer because he would be in the middle of a good ball and didn't want to lose it. Somehow I can't see that scenario playing out at a modern day QT, even if they did still have pinballs at their stores. Nowadays they want you to get your stuff and scram.
Sidenote about the 3rd and Garnett QT: For years there was a ring in the sidewalk out front to tie a horse to. I always assumed it was there to accomodate riders from the stables in the Western Village development.
---

April 11 2006 at 10:39:52
Name: DolfanBob
Email: MiamiPhin@yahoo.com
Location: Broken Arrow
Comments: I have not been to the Admiral Twin in years and was just wondering if they still have the patio area with the old metal chairs for sitting outside the snack bar man (Cheech and Chong reference.) I know that the old speakers are gone because of constant theft, even as bad as they were and sounded. I guess you have to have a good battery to go to the drive-in.
I also remember the Icee points and the free things that you could get with the Icee booklet from the UtoteM store. QT just took the idea to a new level. I lived a block and a half from McLain Shopping center and we had a Safeway and a TG&Y we also had a Kinney's shoe store and a Hardee's Hamburger when they first came into Tulsa.
I collected the 1972 24-team NFL stamps from the old DX gas station on Peoria. I still have them today. It really was a good time to be a kid in a lot less of a crime city that was Tulsa.
---

April 10 2006 at 20:48:35
Name: Clifford Cravello
Email: cliffordtbrd@yahoo.com
Location: Tulsa
Comments: Chiming in after a long time of reading...
First, Dana good to see your name again. And what a coincidence that I went to the old Admiral Twin a week ago for the first time in YEARS with my kids. They finally (!) showed a film FOR my kids. Had a great night but we were disappointed that there was no playground up front. Still a fun night.
Someone in an earlier thread incorrectly stated that U2 played at Cain's. Nope. It was at The Brady. I've got the ticket stub (and memories) to prove it.
Griff's! GRIFF'S!! I miss Griff's.
My strongest memories of growing up in Tulsa don't involve Brookside (which had degraded horribly by the time I came along) or radio (which had also degraded -- Starship was THE source for my punk/rock).
Instead, my memories of growing up in Tulsa include TG&Y (Admiral & Garnett), skating (Skateworld & Village), 11th St. Drive-In, UToteM at 11th & Mingo (anybody else ever collect the diamond-shaped symbols to turn them in for a free Icee?), fishing in Mingo Creek behind the Woolco that was on Admiral near the traffic circle, and most of all, the "hollow places" (empty retail space) that existed for years between that same Woolco and Crosstown Discount. We spent countless hours in there just hanging around and banging shopping carts together. Certainly up to no good, but not getting into any trouble either.
Still here, still hanging around the old haunts. Just a little farther south.
Clifford TBRD
---

April 10 2006 at 11:22:52
Name: Dana LeMoine
Email: d4wdw@valornet.com
Location: The Super Slide
Comments: Saturday night, my family and I had an enjoyable visit to a still thriving Tulsa landmark, the Admiral Twin Drive-in.
It was nice to see such a great turnout, as there was still a line of cars backed up and waiting to get in after the movie had started.
If you approach the entrance from the east from Memorial, there is seldom a line. I don't know why most people enter from the west. Maybe everyone is still trained to the days when the original entrance was on Admiral before I-244 sliced through it.
We happened to be seeing the movie on screen two, which my kids had never been to. Since they had never been to a movie on the east side screen, they asked if there was still a playground there. They had heard their mother and I reminescing about playing on them when we were kids and thought maybe screen two still had one. Of course the playgrounds are both long gone.
Overall, the old drive-in is holding up rather well. Apparently the money and labor they won in that contest last year was put to good use.
---

April 10 2006 at 10:30:54
Name: Jim Ruddle
Email: jruddle@earthlink.net
Location: Rye, NY
Comments: The History Channel's selection of the ten days that unexpectedly changed America leaves out what to me is, perhaps, a date that did more to alter American thinking than nearly any of the others: July 26, 1948.
It was on that day that President Harry Truman signed Executive Order 9961, calling for an end to segregation in the Armed Forces.
There was resistance, particulary from the Army, but eventually all the services worked out desegregation plans and the result was a fully integrated military service.
But that wasn't the end of it. For the first time in many young men's lives, they shared sleeping quarters, mess halls, and dangerous duties with people of other races. Even if they still harbored old prejudices upon separation from the service, their attitudes necessarily had some of the sharp edges worn off. When they returned to civilian life--millions of them--they took this new outlook with them, and it is my belief that everything from Brown v. School Board, in 1954, to the later Civil Rights and Voting Rights Acts were strongly influenced by the experiences of those who served in the military in the years following Truman's move.
This isn't intended as a political statement--I wasn't even one of Truman's fans--but the importance of this event seems obvious.
---

April 07 2006 at 18:52:59
Name: Erick
Email: ericktul@yahoo.com
Location: Tulsa
Comments: I can't recall if it has been mentioned here, but there are five pages of great old Oklahoma broadcasting photos (particularly KTUL photos) at the Oklahoma Historical Society website.
---

April 07 2006 at 00:28:12
Name: Webmaster
Comments: I'm running a promo for The History Channel's mini-series, "10 Days That Unexpectedly Changed America", which premieres this Sunday. One episode is, "When America Was Rocked - September 9, 1956", about the effect Elvis' "The Ed Sullivan Show" appearance had on popular culture.
Here is Mike Miller's story about meeting Elvis in Vegas, 1960. Mike's new book, How High Can A Guy Stoop?, is full of terrific stories about news, TV and show biz people. I highly recommend it.
---

April 06 2006 at 20:32:27
Name: Terri
Email: ru4osu2@msn.com
Location: Nosed Pressed Against the Glass Candy Counter at Happy House
Comments: Could it be that the 13th & Peoria "Free Store" was the future site of the Budokan Head Shop?
I attended Hale, and because we actually WALKED to school in those days, I thought I knew every retail establishment between Shopper's Fair and the school grounds. However, I don't for the life of me recall a "head shop" in my pathway.
A favorite haunt in high school was Eli's - a bohemian, hippy restaurant located in the bowels of the Mansion House. The chalkboard menu offered soul food blue plate specials, but all we could afford was a bowl of Guys ripple chips, passed off as an appetizer, and a glass of their finest tap water. The chips were o.k., but heck, we went chiefly for the atmosphere.
I still listen to my High Tide and Green Grass album, crackles and all.
---

April 05 2006 at 23:44:53
Name: Rick Brashear
Location: Tulsa
Comments: To Joy Cooper (Guestbook 89)
The headshop near Nathan Hale was called 'Lord's Tape Deck'. I went there several times for various records. One day, while waiting for the buses to arrive at school, I walked on down and bought The Rolling Stones' High Tide and Green Grass album (which I still have today).
Another day, there was a communist/anarchist in there and he pulled out a cap & ball Colt pistol, saying he was ready for "the revolution". I guess he thought we still used muskets. What a schmuck. The smell of incense and pot were interspersed in the place and I wasn't sure the guy behind the counter knew what day it was, much less who he was. Girls with 'granny glasses' and 'peasant tops' abounded. Those sure were fun times!.
Thanks, Rick. Both your entries made fine additions to the main Counterculture page.
---

April 05 2006 at 22:19:44
Name: Rick Brashear
Location: Tulsa
Comments: I was reading the Tulsa Counterculture section and remembered a place I was at where George Harrison and Leon Russell showed up one night. It was generally known as "The Free Store" and was located at about 13th & Peoria. It was a small brick building where hippies and street people would gather and do whatever they wanted. It had furniture, heat and 'lectricity. No one knew who paid the rent and utilities and we didn't care.
Anyway, one night after one of Leon's birthday bashes, he and George showed up and played chess for awhile and BSed with folks. I had seen Leon around town for some time, but George was a new face, locally. Sure, we knew who he was but nobody made a scene or got stupid. We were all there to just lay back and have a good time.
There was also a guy we called Weird Beard who looked like Aqualung. He would stand over a small gas heater up front and fart. Turned out the guy was a Fed! Baretta had nothing on that guy.
Ahhhh...those were the days my friend.
---

April 04 2006 at 11:46:29
Name: Webmaster
Comments: A couple of interesting threads going on over at O'Connell's Irish Pub on the OUInsider site:
Places in Tulsa now gone and Places in OKC/Norman now gone.

Much in the Tulsa thread has been mentioned or detailed here at some time, but it's fun to see the references all in one place. The OKC/Norman thread reminds me of my numerous follies as an OU student in the early 70s.
---

April 03 2006 at 10:12:27
Name: DolfanBob
Email: MiamiPhin@yahoo.com
Location: Broken Arrow
Comments: Back in the old Radio days of 1978, I did some filler work and commercial Radio spots at the old KKUL Radio station at Admiral and 129th E Av. It had just changed format to the SuperFox 103 top 40 music. We tried to get the the call letters of KFOX but another station had that so we went with KTFX.
I was a Sophomore at Union High and was having the greatest time of my life. Hanging out at the station and filling in for the DJs when they didn't want to work, i.e. Christmas, New Years, birthdays, etc. I even went to Dallas and got my 3rd class Radio Broadcast License (remember those?)
The old cueing up the vinyl records and playing commercial carts and the skill it took to splice and play in seconds reel-to-reel tape is certainly a lost time and art that all new DJs of today sadly missed.
---

April 03 2006 at 10:01:25
Name: Dana LeMoine
Email: d4wdw@valornet.com
Location: Searching for Sweat Pea's parents
Comments: Webmaster,
In a world of Spongebob and the Simpsons, Popeye ranks right up there with my three boys. They, myself included, particularly enjoy the Max Fleischer-produced Popeyes, even though the later ones weren't bad.
My first real exposure to Popeye came via "The Mr. Zing and Tuffy Show". We literally raced home from school every day so we wouldn't miss a minute of the show.
---

April 03 2006 at 07:34:59
Name: Jim Ruddle
Email: jruddle@earthlink.net
Location: Rye, NY
Comments: Webmaster, you bring back memories that all oldtime board operators must have. The old transcription turntables RCA, Gates, maybe Rek-O-Kut, allowed goofy operators to do all of those things you mention. Cueing always meant backing down with a satisfying growl--no doubt record collectors growl just thinking about the damage inflicted, and everybody knew how hilarious changing speeds could be, long before David and the Chipmunks capitalized on the technique (albeit with tape.)
Of course, it wasn't so funny when you were supposed to be running a 33 1/3rd commercial ET and you had forgotten to unlock the 78 speed control and switch to the lower rpm. Sponsors were a humorless lot.
I was never a technical sort, but even so I have nostalgic feelings for that old equipment, clunky though it was. And, on a related note, I still lament the loss (theft?) of my jeweled Vibroplex telegraph key, a "bug" that let me join the ranks of the speedy senders.
---

April 02 2006 at 14:48:06
Name: Webmaster
Comments:
Lloyd Wallisch loaned me an excellent book from his bunker/library under the Rose Bowl: Vinyl Junkies, by Brett Milano.

I was reminded of the first record I owned: a 33S RPM 1960 LP, "Popeye's Favorite Sea Shanties and Other Songs". The "good ship S.S. Popeye" was helmed by Captain Allen Swift (an NYC TV kid show host, I learned much later). I was excited by any Popeye-related artifact; I often wore a real sailor's cap, purchased from the Army-Navy Surplus store on Admiral, just east of Sheridan.

The opening number, "I'm Popeye the Sailor Man", was the only one with Popeye's voice (he sounded a bit under the weather). The rest of the record is Allen Swift talking about life on the ship and singing nautical tunes such as "Columbia, Gem of the Ocean", "Haul on the Bowlin'", "Blow the Man Down", etc.

The sea shanty, "Drunken Sailor" ("What do you do with a drunken sailor, earl-eye in the morning"), was rewritten as "The Silly Sailor". Rather than "Shave his belly with a rusty razor" or "Put him in the hold with the Captain's daughter", it was "Don't give him any chocolate ice cream", "Make him wash all the Captain's dishes" and "Don't let him watch any television".

Record players of the time had speeds of 16, 33, 45, and 78 RPM. By varying the setting, Captain Swift's hearty chuckles and laughs were transformed into half-witted bleats and hebephrenic titters. Much of the record's entertainment value sprang from this.

Lodging the speed selector between proper settings disengaged the motor. Thus you could control the spin manually, allowing the Captain's every vocal cord vibration and silibant to be heard individually as the record croaked to a surreal stop. It was also possible to spin the record backwards (ignoring parental admonition), turning the S.S. Popeye into the "eyE-Pop sey sey".

I still have the record and it's remarkably playable. But my serious 1977 manual turntable lacks the extremes of 16 and 78.
---

April 01 2006 at 00:27:53
Name: Dave
Location: our place
Comments: Mary Kay Place! Who could forget her role as Loretta Haggers on "Mary Hartmann"? I saw her deliver a lecture during that era and she said she'd basically been playing Loretta all her life to that point. And don't forget her TV debut as one of Gloria's batty friends in "All in the Family." She sang an original song called "If Communism Comes Knocking on Your Door, Don't Answer It." Archie was not impressed.
Her handprints are still at the old Peaches Records location on the SW corner of 51st & Sheridan (see at LostTulsa). She left them while promoting the country album of hers featuring "Vitamin L". Some of the hot musicians on her records: James Burton, Albert Lee and Leon Russell.

Here's a 1966 picture of her as part of the KWGS staff.
---

March 31 2006 at 23:36:02
Name: Sam
Location: Canon City
Comments: In the late 1920s, we kids lucky enough to have a dime on Sunday afternoon, Kendall neighborhood, would leave the 'workup' softball game and go to 11th Street at Delaware and buy a delicious Bama Pie. At that time the store was one small building.
Then when darkness came, the movie screen was set up near the pool at Reed Park. We saw the first showing of Mickey Mouse there, a Talkie. Had been seeing silent movies.
Lots of water under the Arkansas River Bridge since then. Now I live in Canon City, Colorado, where the Arkansas River runs through town.
In the early 30s I listened to Bruce Eagen on KVOO, by hearing on a 'crystal set'.
Our family had moved from Tulsa after the crash of Wall Street to Chouteau. Three rooms and a path and that in town.
No electricity. Gas lights, a gas pipe hung from the ceiling. Water from a well out in the yard.
In later years after serving in World War 2, enjoyed John Erling. Cannot remember the lady helper's name, she kept things lively.
Ann Williams? I liked her contribution, too.
---

March 31 2006 at 20:05:50
Name: Frank Denardo
Email: Frank91165@yahoo.com
Location: Tucson, Arizona
Comments: I have never been to Tulsa, Oklahoma but I do plan to visit in 2007 for the Oklahoma Centennial statehood celebration.
I was originally from San Francisco and the song "Move Closer To Your World" was once used by KTVU-2 in Oakland from about 1971, 1972 up until about 1974 on the 10 O'Clock news which replaced the Tuck-Fortner Report.
I still do remember the above mentioned song when I was growing up in The San Francisco Bay Area in the 1970s.
One day I did an AskJeeves search and it directed me to The TulsaTVMemories.com website. Thanks to this website I finally found the song and the composer Al Ham who wrote this song in 1970 and it sure brought back memories of growing up in San Francisco in the 1970s.
---

March 31 2006 at 14:58:01
Name: Erick
Email: ericktul@yahoo.com
Location: Tulsa
Comments: One of my favorite Mary Kay Place movies is Captain Ron. My favorite part of the movie is a shower scene where we get to see some of her extra parts. Too bad Martin Short is in the same scene.
---

March 31 2006 at 00:24:57
Name: Jeff H
Location: Holding the king of hearts at Shotgun Sam's
Comments: "The Big Chill" is one of my favorites as well. The music is fantastic, I have both CD's.
Did you know Mary Kay's brother (Ken Place) played the police officer that escorted William Hurt back to the house?
If you have HBO, check out Mary Kay on "Big Love" (reviewed on this site by Gary Chew), small role, but as always, gives a great performance.
---

March 30 2006 at 23:28:57
Name: LLW2
Email: lloyd.wallisch@sbcglobal.net
Location: Bunker under the Rose Bowl
Comments: My wife and I just watched THE BIG CHILL for ... I've stopped counting. Can anyone have delivered a more pitch-perfect performance than M.K. Place?
---

March 30 2006 at 13:08:08
Name: Steve Todoroff
Location: Houston, TX
Comments: With the annual Leon Russell Birthday Bash fast approaching, I'm reminded of the first one I promoted 20 years ago.
Bill Davis & the boys opened, the late/great Rockin' John Henry MC'd, a couple of new fellows by the name of Phil & Brent came on stage between sets and did a Leon skit in one of their first public appearances, and Leon rocked Tulsa for the first time in several years.
I took Leon's former jr. high school piano teacher, the late Margaret Freese (sister of Red Freese) backstage for a sweet reunion. When she saw Leon she said, "Do you remember me?", and he replied, "I sure do...think I practiced enough?"
It was a magic evening for me, and was capped off by a drunk biker remaining in the Brady Theater afterwards shouting, "I've seen Leon Russell in concert before, and that's not Leon Russell. You hear me? I know who Leon Russell is and that's not Leon Russell!"...he was soon escorted out to continue his rant elsewhere.
Here are some photos from that night.
Happy Birthday Leon!
Thanks, Steve. This year's bash is Friday, March 31, 2006 at the Brady Theater. Doors open at 7 pm.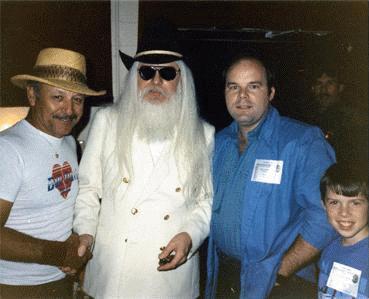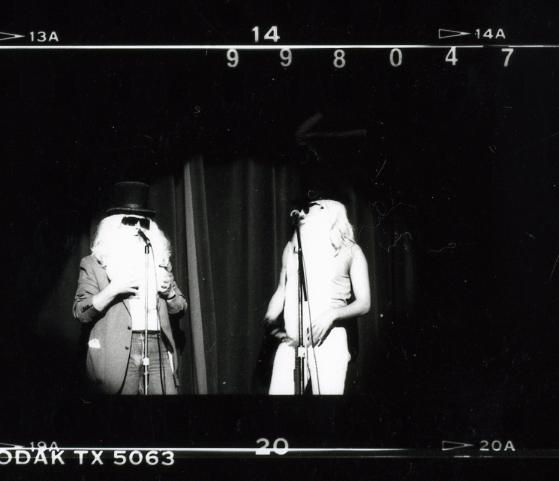 ---

March 29 2006 at 23:14:44
Name: Rick Clark
Email: clarkrick@yahoo.com
Location: Cardinal Drive In
Comments: I remember Buck Owens performing at Tulsa City Limits around 1989 after he came out of retirement. Billy Parker brought him on stage. For us country music types, he was a true legend.
---

March 28 2006 at 19:55:33
Name: John Hillis
Location: Hillbilly Heaven
Comments:
Buddy Alan was, I think, Buck's eldest son. His mother was Bonnie Owens, who wound up with former Buckaroos bass man Merle Haggard (she's the high voice on "Okie from Muskogee.")
Also departing the temporal plane of late was Cindy Walker, the Texas songwriter who cracked Hollywood in the early 40's and who wrote about every Western (as in Country &) that you could think of. Bob Wills did a whole session with just her tunes--think "Miss Molly," "You're from Texas" and "Cherokee Maiden." But she wrote hits for folks as diverse as Ernest Tubb ("Set up Two Glasses, Joe"), Roy Orbison ("Dream Baby"), even MOR songster Jerry Wallace ("In the Misty Moonlight.")
If you really want a fitting tribute, fire up the stereo and put on Ray Charles and Diana Krall dueting on "You Don't Know Me."
Probably writing a song for Buck and Don Rich to harmonize on Up Yonder.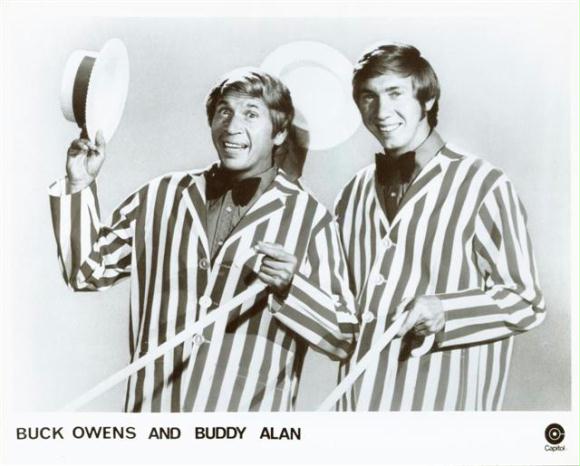 Yes, it was always a treat when Buck's guitar player, Don Rich, stepped into the spotlight.

Seems like I remember hearing that Buck didn't like being mentioned in Creedence's "Looking Out My Back Door". He probably got over it.

Of course, Gailard Sartain's next gig after Mazeppa was "Hee-Haw" with Buck and sometimes Buddy.
---

March 28 2006 at 17:24:55
Name: Steve Bagsby
Location: Hillbilly BBQ Cart at Red Bud Grocery
Comments: I remember seeing Buck Owens' syndicated show in the early 1970's. It was a nice counterpoint to the Hee Haw work....less corn and more honkytonk. I've run into many pickers who worked with his featured singer Buddy Alan around Oklahoma (was he Buck's son?) You gotta like a lineup with all red, white, and blue instruments.
---

March 28 2006 at 15:53:59
Name: John Hillis
Location: Virginia
Comments:
Buck Owens passed away over the weekend at age 76. Supposedly, Friday night he was at his restaurant/club in Bakersfield, had his favorite meal of Chicken-Fry Steak (I knew I liked the guy). he was not going to play, but some fans came up to him and said they'd driven all the way from Oregon to hear him. So, being a trouper, he performed, went to bed later, and died in his sleep.
Owens and his band taped their syndicated tv show at WKY in Oklahoma city for about 8 years, from 1966-73. Initially, the Mathes Brothers of furniture fame were his co-producers and sponsors, but Buck bought 'em out and kept ownership of over 300 shows.
When it comes my time to go, a chicken-fried steak and Buck singing "Together Again" would not be too bad.
---

March 27 2006 at 09:43:23
Name: Jim Ruddle
Email: jruddle@earthlink.net
Location: Rye, NY
Comments: This has absolutely nothing to do with Tulsa TV, however, there may be some weirdos like me out there who like old pop and jazz music--Twenties and Thirties. If so, on Sunday nights from 8p. until midnight, Eastern Time, a fellow named Rich Conaty does a program called The Big Broadcast on WFUV, in New York. It's the station run by Fordham University. Happily, it's also streamed and you can pick it up by clicking wfuv.org.
You'll hear some really good stuff, some classics that you get nowhere else, and some crap that you wonder why were ever recorded, but, all in all, it's a treasure house of music that America listened to when your parents, grandparents, or even great-grandparents were around.
If you like Mazeppa's opening and closing music, "Alone In The Rain" by The Coon-Sanders Nighthawks, and "Why Can't This Night Go On Forever" by Isham Jones And His Orchestra, you might like Rich's show. Both these tunes are from the late Twenties/early Thirties period.
---

March 26 2006 at 21:56:05
Name: Lowell Burch
Email: lburch3@cox.net
Location: Ken's Pizzeria
Comments: I, too, remember Ken S. as a teacher at Monroe. My first day at Monroe, I got a taste of the coach's paddle. He wanted to make a point as to what would happen if one of us got out of line, so he called me up to demonstrate. Today a kid could take Tulsa Public Schools to the cleaners over a stunt like that, but I guess we were a little tougher back then.
Back in 1979, Dale Evans Rogers came to Foyil Baptist Church to help with the dedication of their new building. My wife, Susan, and I did the warm-up portion for her concert that evening. For lunch, we went to the Hammett House. The line was very long so the pastor, a very pushy sort, told the hostess she had to seat us immediately since Dale Evans was in our party. It really amused us when she told him it didn't matter if the President of the United States was in our party, we would have to wait in line just like everyone else! The pastor was really mad. We still laugh about that.
Mrs. Rogers was a very personable and engaging conversationalist but my real honor was a couple of years earlier when I had a chance to meet ol' Roy, hisself.
---

March 26 2006 at 12:37:33
Name: Webmaster
Comments: In just-archived Guestbook 209, I added the label of an instructional record from the "Linkletter-Totten Dance Studios", mentioned by Steve Bagsby. They were a national chain, partially owned by popular national TV personality Art Linkletter. Art is seen with Lee & Lionel (whose preference in food seasonings was revealed in this Guestbook). Other Tulsa dance studios were discussed throughout this Guestbook.
Mike Miller's new book, How High Can a Guy Stoop?, became available for purchase. I read it straight through and highly recommend it to any Tulsan, and anyone interested in media or politics. Incidentally, Mike's dad was a vaudevillian, then a dance instructor with a studio on Cherry Street.
KAKC's Roger Borden passed away on the 14th. Fellow DJs Jim Peters and Beau Weaver remembered him. Former pro wrestler/restauranteur "Irish" Mike Clancy was also well-remembered, on St. Patrick's Day.
As a kid, Alex Rivers "took licks from" (got paddled by) former schoolteacher, now Mazzio's/Zio's magnate, Ken Selby. Channel 2 TV weatherman Mike Anderson left the business; we saw a picture of him at KOTV. Bill Mitchell checked in.
There is yet more to check out in Guestbook 209.

---
Back to Tulsa TV Memories main page