"Couples Retreat"; a film review by Gary Chew


GARY CHEW/Sacramento
10/6/2009
Television continues to heavily influence movies as much as ever. With thanks to Terpsichore Tom---that would be former U.S. House Majority Leader, Tom DeLay---TV dance shows are moving up rapidly, but it's still the reality show that rules the vast wasteland. So, how can people doing exotic things on picturesque, distant islands not make for sure-fire entertainment movies that elicit lots of cheap chuckles and only a modicum of contemplation? Here's an unsurprising parallel.
Released early last August, "A Perfect Getaway" was a credulity-stretching whodunit about young, restless couples stalked by serial killers on a remote island in the Hawaiian archipelago. Instead of voting participants off the island---or the show---the serial killers simply slaughter them right there in the island's bloody splendor.
Please now let yourself imagine the "same" island (now named Eden) with a cast of participants who are relatively young couples not much different from the bunch in "A Perfect Getaway." But layer this fable with ingredients of the tried-and-true family movie: kids doing that cute toilet humor they always do, moms and dads struggling to maintain sexual ardor and un-married folks locked in awkward, comedic lusting.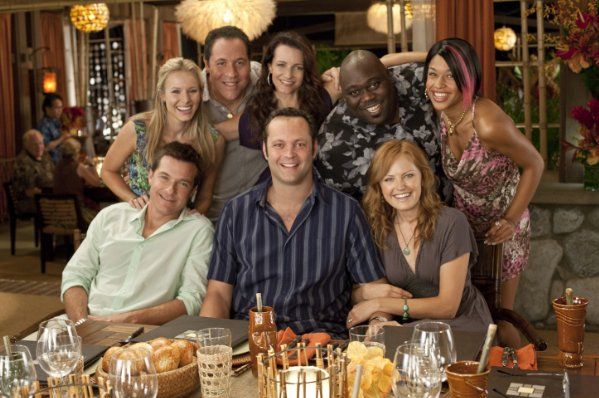 Say 'cheese': Front row: Jason Bateman, Vince Vaughn, Malin Akerman;
Back row: Kristen Bell, Jon Favreau, Kristin Davis, Faizon Love, Kali Hawk

For pop culture flavor, add plenty of blackberries (ones with ring tones and buttons), oceans of cyberspeak and getting tanked in a to-die-for bar chocked full of bikini-clad hotties. Stir vigorously with pseudo-psychology, near nudity, a dash or two of sexually suggestive (but bogus) yoga positions, allusions to onanism, erectile function (not dysfunction) with happy endings on the massage table…and you've got yourself a movie with the catchy title of "Couples Retreat," unless you think it would be better to call it, "Gilligan's Island Gets Really Goofy."
This bawdy bagatelle was written by two of "Retreat's" main characters, both of them among Hollywood's most shrinking violets: the enigmatic Vince Vaughn and that taciturn film actor known as Jon "The Obscure" Favreau.
Jason Bateman ("Extract") plays a lower-keyed and slightly nerdy guy seeking Eden's highly touted couple therapy for himself and his wife. She's played by Kristen Bell. Malin Akerman is cast as Vaughn's spouse and Kristin Davis of "Sex & the City" fame is Favreau's little woman.
Giving "Couples Retreat" a bracing adulterous turn are Faizon Love and Kali Hawk playing two unmarrieds who've tagged along for some of that fun in paradise. (This film is rated PG-13, but comes as close to being R-rated as a movie can get.)
Not at his best is Jean Reno ("The Da Vinci Code") as the island's love guru guy who "makes it all better" for passionless couples. Peter Serafinowicz shows up as Eden's swishy, butler-like, aide-de-camp as well as the foil for the boisterous machismo of Mr. Vaughn. Both obsequiously arrogant, Reno and Serafinowicz speak in French-accented English. C'est magnifique!

Malin Akerman, Kristen Bell, Jason Bateman, Jean Reno

Long time Hollywooder and friend of Vaughn's, Peter Billingsley directed "Retreat." Vince was one of its principal producers. And that got me to wondering if Vaughn and Billingsley might now be onto developing another big screen project. Here's the treatment:
A dance troupe of restless, young guys and gals are stranded after their private jet ditches just off the remote Flea Island archipelago in a far reach of the South Pacific.
The spirited, svelte, scantily-clad dancers are endangered by hostile natives of the island until the troupe shows the savages what fun it is to dance like people do on prime time network television back where things are "civilized." Through dance, the natives become docile and, with the troupe, leave their island paradise as a ship arrives just in time to rescue the dancers. Even the natives' bellicose chief learns to dance and is seen doing the Tango on the deck of the vessel with the rest of the cast as the ship sails over the horizon back to the USA.
As the film opens, heroic, real-life pilot, Captain Sully Sullenberger would cameo at the controls of the jet as it safely splashes down in the ocean, and Tom DeLay would make his feature film debut, performing a significant role as the island chief. The movie would be called "Lord of the Fleas," but definitely not be shot in black and white.

"Couples Retreat" official site.
Opens wide 10/9; at the Tulsa Cinemark & AMC Southroads 20.
Check Yahoo Movies-Tulsa for theaters and times.
Gary Chew can be reached at garychew@comcast.net,
Facebook.com/justin.playfair and Twitter.com/orwellingly.

Copyright © 2009, Gary Chew. All rights reserved.