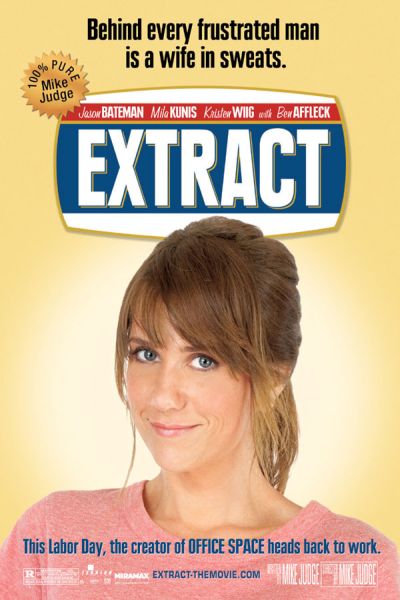 a film review by Gary Chew


GARY CHEW/Sacramento
9/1/2009
With most kids heading back to class now, I'm reminded of a goofy film from the 90s called, "Ernest Goes to School" as well as other Jim Varney comedies, especially "Ernest Goes to Jail," which boasts one of Tulsa's TV icons of the 70s: G. Ailard S. Artain, aka Mazeppa.
Mike Judge, who brought forth the great goofiness of "Beavis and Butthead," "Office Space" and more currently, TV's "King of the Hill," sticks a new one to us for Labor Day much in the Jim Varney-Gailard Sartain vein with "Extract." Extract, in this case, is pronounced with stress on the first syllable, so you know immediately that it's not used as a verb to imply a trashy romance movie about a dentist and his oral hygienist.
Jason Bateman has the lead as Joel, a really nice entrepreneurial kind of guy with labor problems at his extract factory in Anytown USA. (For further clarification on the word "extract," let me say: extract as in flavors like, vanilla, root beer or…uh… lemon, etc.). Joel is also having issues at home in the bedroom with his wife, Suzie (Kristen Wiig). Seems most of the time, she's too tired to even pull the string on her sweat pants.
Joel loves his wife and is upset about the dry spell at home, which causes him to notice a curvy new employee at his extract factory. She's Cindy (Mila Kunis). You get to know, up front, Cindy has sticky fingers.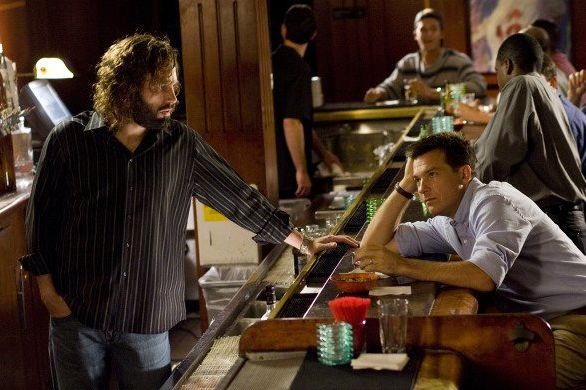 Ben Affleck and Jason Bateman

Ben Affleck plays Dean, who tends bar at the Marriott. Being the professional he is, Dean's the guy Joel tells his troubles to. Dean suggests Joel acquire the services of Dean's buddy, Brad (Dustin Milligan). Dean touts Brad as a gigolo. (I guess that makes Dean more than just a bartender.) In all his wisdom, Dean maintains if Brad can seduce Suzie, then Joel should have a clear conscience if he (Joel) scores with Cindy. As you can tell, this is a complex love story.
Surrounding these characters are supporting players cast in familiar roles similar to those we've grown accustomed to on Mike Judge's successful Fox TV series, "King of the Hill." There just isn't a plump little Bobby Hill kind of kid in the movie who goes to Tom Landry Junior High.
We do have Step (Clifton Collins, Jr.). He wants Joel to promote him to floor manager at the extract business, but problems develop when Step looses one of his testicles in an accident that occurs on the factory work line. Oh, oh. Look out for a big law suit to be brought by Step's oily lawyer, Joe. Who could play this part better than "Family Jewels" guy, Gene Simmons?
Other odd people floating around the extract factory may cause you to think about "King of the Hill's" Hank, Bill, Dave, John Redcorn or the irrepressible Boomhauer. But Judge keeps the young ladies in his movie pretty hot.
"Well, uh Mila, I think we can get more product placement in this shot, don't you?"

That must be why Bateman and Affleck are in the film, otherwise, Judge may have made his movie more entertaining with guys in it whose personae are more in sync with Jim Varney's and Gailard Sartain's. I'm thinking that Judge, who also wrote the script for "Extract," was "asked" by a studio focus group to keep the picture reminiscent of "King of the Hill" but make it a date movie, too---sort of.
Although sex play is implied in "Extract," there's nary a scene of such in the movie, but don't worry, there are lots of four-letter words of various lengths employed throughout the film, some of which are cleverly delivered when the mouth of the actor saying them isn't directly in the shot. That makes it easy to loop the voice track and alter the word, making it okay for the children when they watch "Extract" on the TV. Now if they could only cut out the parts where Dean gives Joel a horse tranquilizer and, later, a heavy metal dude gets him stoned using the world's biggest bong.
A bit of Judge's humor is at the expense of Latinos. The employee at the factory having difficulties performing his duties is Hector (Javier Gutiérrez). Hector is also suspected of lifting other folk's personal items at the plant. Judge slips out of this one nicely with Joel proving Hector is not the culprit, but lovely Cindy, instead. Judge did get loads of laughs in the crowd I was in, though, while Hector is under suspicion and about to be fired.
Another annoying thing for me is Cindy's character. She's a thief and always on the scam. Quite plainly, Cindy's a sinner, I guess some might say. Considering how physically endowed Mila Kunis is, I kept wondering why, instead of working the line at Joel's mundane extract factory, Cindy isn't turning tricks at the Tom Landry Country Club.
But I want to be as generous as possible with this latest Judge flick. On a scale of one to ten, I'm compelled to give "Extract" at least eight and a half Boomhauers.

"Extract" official site.
Opens nationwide Friday 9/4, in Tulsa at the
Cinemark & the Hollywood Promenade Palace 12.
Check Yahoo Movies-Tulsa for theaters and times.
Gary Chew can be reached at garychew@comcast.net,
Facebook.com/justin.playfair and Twitter.com/orwellingly.

Copyright © 2009, Gary Chew. All rights reserved.