Tulsa TV Memories Guestbook 125

TTM main | What's new on TTM? | GB Archive




March 22 2003 at 11:03:06
Name: John Hillis
Email: mail@equinox-media.com
Location: A good, long, way from Baghdad
Comments: A correction--XERF was at 1570. I had it at 1540 because in those non-digital radio dial days, it competed with 1530 WCKY Cincy (now back playing the same music as WSAI) on my six-transistor Zenith.




Correction made below. At right is my own Zenith Royal 40 6-transistor radio.
---

March 21 2003 at 23:49:13
Name: edwin
Email: goditself@aol.com
Location: uh?
Comments: Does anyone remember the 16mm film of Bob Gregory in his black socks? Shot by a KOTV photog whose last name started with a "H"? Couldn't see Bob's face, but it was cool.

---

March 21 2003 at 20:02:18
Name: Peter D Abrams
Email: pdabrams@ix.netcom.com
Location: New Port Richey Fla
Comments: Great to see Mike Pierce checkin in! He was one of those guys that started with very little experience, and then turned into a great shooter in very little time.
Paul Fletcher Murray was the cinematic cornerstone of the Oil In Oklahoma series, and as a projectionist, I was always amazed at how I could put a 15 minute set of A and B-rolls on the projectors, hit the go buttons, and they would be frame accurate from start to finish. My kinda guy.
I'd like to hear from Mike Billings too. Besides being the only guy in the lookout mountain 'hood' that bicycled to work every day, he was a hoot to be around. We'd spend a lot of time perfecting our Bob Gregory imitations, complete with the ever-moving cupped hands and those look-the-camera-in-the-face diatribes that told you, in effect - Now. You. Know. Cuz Bob G. said so. Word, baby.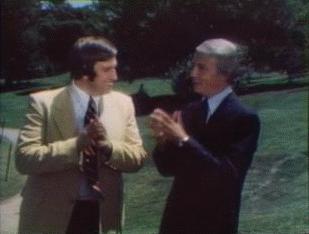 Chris Lincoln perfecting his imitation with the original
---

March 21 2003 at 16:43:14
Name: Webmaster
Email: mike@tulsaTVmemories.com
Location: Tulsa
Comments: Harry Tootle, of "Tootlevision" and "TacoTV" fame, is back with a new venture (as WebPastor Tootle) that threatens to dwarf Harry Potter.

---

March 20 2003 at 17:20:04
Name: Mike Bruchas
Comments: Do we all date ourselves in remembering all of the Mexican clear channel boomer stations? All for rock n roll, kids!
Do any of you remember a pirate FM in Tulsa briefly in the '70's? Rock music but I can't remember what else. It went off before the FC caught them but I do remember seeing n FCC monitoring Econoline with many antennae downtown by the Federal Building.

---

March 19 2003 at 14:19:46
Name: John Hillis
Email: mail@equinox-media.com
Location: Fairfax, Va.
Comments: I do hope the Wolfman Jack statue has a representation of a crate of baby chicks, and the spelling D-E-L-R-I-O somewhere on it.
Oldsters who remember the mighty 1570 will recollect why.

---

March 18 2003 at 19:32:08
Name: Mike Bruchas
Comments: Going thru old 8 & 6 negs - many now have color shifted and I need to scan them manually to disk - my local labs refuse to do stuff. Found a shot of Randy Kindy and Leslie McDonald (now Leslie Pepper) with a later KELI news cruiser - not the famous green Chevy with orange gumball machine on top. Will send it in to post.
Randy I think is in video at St.Francis Hospital and has re-married. His first wife passed sadly a few years back quite suddenly.
Les has been a VP at EDS in Dallas for years - way back when was Ross Perot's EDS newsletter editor. Since Les is about 5'11" and Perot about 5'2" - it must have been interesting seeing them traverse the hallways together at corporate.
Her sister Patrice and brother-in-law, her own brother and her hubby are all lawyers in Big D.
Local gals - Les & Patrice went to Monte Cassino and used to know ALL the nuns there.
I think mentioned once before here - Leslie was a TU homecoming queen nominee from Lottie Jane Mabee Hall or the Independents at TU. The day of the game - she was on the Skelly Stadium field - pulling sideline camera cable for ABC!

---

March 18 2003 at 19:06:30
Name: Mike Bruchas
Comments: Mike Pierce might know...KTUL hired a lot of Brooks Photographic Institute news shooters - good program, good talent. Robert Billings was one, maybe too the late Greg Sherrill. Mike - do you remember anyone else? I think Tom Zizzi was from USC or UCLA.
What is Martie Sherrill doing? At one time she did medical stuff for one of the Tulsa hospitals after leaving KTEW. But I think she was replaced by the late Joyce Skala = Joyce as mentioned here before, sadly died or took her life in that religious cult mess in San Diego a few years back.

---

March 18 2003 at 03:05:16
Name: Don Norton
Email: donaldhnorton@hotmail.com
Location: Tulsa
Comments: The Del Rio (Texas) News-Herald reports (through the Dallas Morning News Monday) that Robert "Wolfman Jack" Smith will be remembered in a statue to be erected in Del Rio next Hallowe'en. "Wolfman," as most of our communicants will remember, popularized rhythm and blues and rock and roll from about the 1960s through the 1980s on a 250,000 watt radio station. XERF-AM, across the Rio Grande in Ciudad Acuna, Mexico. He died of a heart attack in 1995.
"Wolfman's" widow, Lou Lamb Smith, to whom he was married for thirty-five years, came from North Carolina to attend a music festival over the weekend and called herself "elated" by Del Rio's plans after checking a two-foot replica of the statue to be put up. The News-Herald said it depicts Wolfman Jack dancing a jig on one leg with a rainbow of musical notes and records raining down behind him.

---

March 17 2003 at 23:12:28
Name: Mike Bruchas
Comments: Now I remember - Mike you were NOT that blonde guy!
Mike Ransom - you have a shot of Mike Pierce on the 8's The Place joke reel. He's blackheaded with film at a sounder reader or Moviola.
Good to hear from you and if you have PF Murray's e-mail address would love to hear from him. Last heard of him when in OKC 20 years ago - from Tommy Roberts. Tall Paul was a producer at MCA Discovision creating video discs.Wasn't Paul a Jesuit school grad too? I think also Viet Nam vet.
Wonder where former stablemate Doug MacAllister is? He and Murray did good work together at 8.
Last night - remembered Rich Louden - whom Mike Pierce should know. Went to TU then was an 8 studio camera op then a reporter. Rich was such a goof when a TU/KWGS minion but became a decent reporter. From KC and I think I heard that he anchored there after leaving 8 - for a while then left TV. Anyone have any info????

---

March 17 2003 at 14:29:55
Name: Mike Pierce
Email: newwestpix[AT]earthlink[DOT]net
Location: San Francisco Bay area
Comments: Mike Bruchas: I was a news phototog at KTUL from '76 to '79 some of the time you where there, I think. I know I remember you. I use to drive you nuts trying to do A,B,C and probably D rolls on the old film chain, trying to out-do Paul Murray in the creativity department. I'd be curious if you remembered me.
I helped Paul Murray on a shoot about a year ago, in San Jose. He goes by Fletcher Murray now, his middle name (his old credit was Paul F. Murray.) He a great guy and a great cameraman, he was always an inspiration to me. He has a successful production company in Burbank, not far from NBC.
I've been in the San Francisco Bay area since the summer of '79 when a station in San Jose moved me out here to shoot for them. I worked at KABC in LA for a short time but I moved back to the bay area after about year and I love it here. I've been a "freelance cameraman" ever since.
I was born and raised in Tulsa and still love it there. Though I rarely get back there now, all my family has passed on. I have great memories of my youth growing up in Tulsa and my career in Tulsa Television.
I started out at KOTV 1973 as a Production Camera working the day shift with Buddy and I can't quite remember the other vet cameraman with us, I think it was Lyle. I know he'd been there almost as long as Buddy, but I was real lucky to get the job and even more fortunate to work with them. My 1st day was the premiere of Clyde's Parker's 9 am talk show.
Oh well, I could go on for days. but I'd better not. I was looking on the internet for info on an old friend and producer who has fallen off a cliff near his home in Portland, Paul Stojanovich. He created the TV show "Cops." I was a cameraman on the original 8 shows of the series.
Anyway, the first site to pop up with info was KBJH or what ever KVOO 2 has become. I started poking around Tulsa TV stations 'til I found this site.
It was great to see Barbara's note (hey Barbara, do you remember the Green Country series?) and hear what she and Jeff have been up too.
In the past 10 years I've seen or talked to Robert Billings, Carlos Hernandez, Stan Hopkins, Diane Elliott, Terry Wilson, Doug Wren and most recently Mike Jett. He told me of the passing of Greg Sherrell. I sure owe a lot to him, Robert, Carlos and Paul, (and others) including Rosser, for teaching me my craft.
I'll write more sometime maybe. Love to hear from whoever any time.
Jim Reid via email, 3/31/2003:

"I searched through some of my tapes and found an incriminating freeze of Mike at some party."

I believe Mike has his arm around the "8's The Place" Girl.
---

March 17 2003 at 08:42:17
Name: Lee Woodward
Location: The Auto Show
Comments: Yes Mike, Cadillac was a part of the Woodward family beginning in 1937 when my father paid $175.00 (the cost of the tag) for a 1931 Cadillac V-16. Traded in on a 1939 DeSoto. It was trashed and the engine ended up running a saw mill blade.
The car restored to 100 points today? A hundred to a hundred fifty thousand bucks.
Morgan Woodward has restored Cad's for years and his '38 "60 Special" has won many awards. He also has a beautiful cream colored '51 convertible. I toiled with a '64 and '69 Corvair. Great cars!

---

March 15 2003 at 10:59:19
Name: Webmaster
Email: mike@tulsaTVmemories.com
Location: Tulsa
Comments: See the official site of the Admiral Twin Drive-In Theatre for show times...they are now open for the season!
Print your own Admiral Twin Drive-In Kit checklist from TTM's Tulsa Drive-In Theatres page.

---

March 14 2003 at 03:21:27
Name: John Boydston
Email: john@daddyagogo.com
Location: Atlanta, Ga
Comments: Can't believe you remembered that Cain's ad -- what a hoot. It sparked a very vivid memory of that commercial. My then youngish whippersnapper crowd used to sing that song because it was of another world in our minds, and funny -- now my crowd would sing it because he is singing the words to our lives, and still funny.
The reason I remember the lyrics so well is that I affected a phony show biz voice to sing along, all the better to savor the absurdity of both a guy buying a round of COFFEE in a nightclub, and an audience raptly listening to this coffee ballad.

The commercial seemed dotty to me in the early 70s. Now, it would be a lot of fun to see again.
---

March 14 2003 at 00:01:51
Name: Mike Bruchas
Comments: Hey, "Doctor" Woodward - I knew that you worked for Thomas Cadillac after selling sports cars at the Alfa Romeo dealer on Memorial many moons ago - but was looking with a car buff friend at a website and here pops your brother Morgan up as a classic Cadillac collector with a red '38 Caddie limo! What gives - are Caddies genetic to the Woodward brothers?
Betcha ya still own a Corvair, don't you?

---

March 13 2003 at 22:48:35
Name: Rusti Love
Email: rusti@rustilove.com
Location: Tulsa, Ok
Comments: I am looking for anyone who knew my dad and uncle back in the day!! They were called The Russell Brothers (Bob & J.R. Russell) and performed very regularly on the Horn Bros. Music Show back in the 60s I have only one pic and no other archive material on them when they were on the show, I recently sent Mike Ransom the pic I do have to post on this site. My dad, J.R. Russell, has since passed away and I have followed in his music footsteps as a performer here in town and it would mean a great deal to not only myself but my son who never got to see my dad in his element. Feel free to e-mail me...
My own TV memory??? I was one of the kids on Mr. Zing & Tuffy!! :)
Rusti Love
(p.s. my dad J.R. is the one on the right in the duo pic.)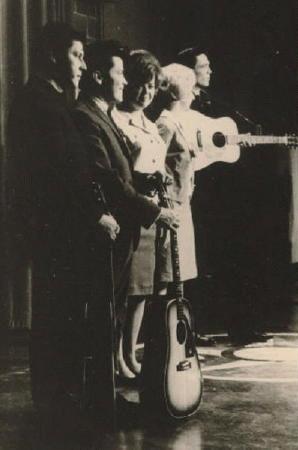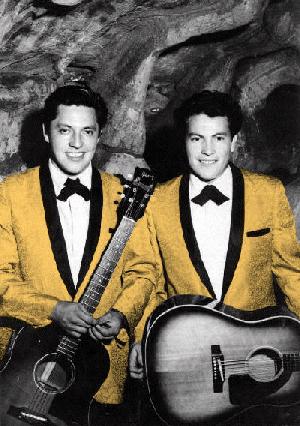 There is little or no surviving footage of most local shows of that era due to the practice of reusing video tape. However, M.A. "Ike" Eichhorn and family own North Carolina Furniture here in Tulsa and might be able to say definitively whether there is any surviving video or film.

By the way, "Ike" Horn received a Bronze Star in 1995 for his participation in Operation Varsity -- the biggest Allied airborne invasion of World War II.

My brother, Alan Ransom, plays in Rusti's band, Cat Daddy. They will appear at the Velvet Room downtown at 1st and Detroit, Saturday 4/5.

Here is Rusti's web site: http://rustilove.com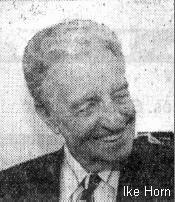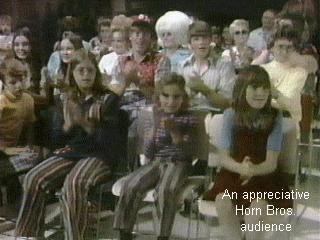 ---

March 13 2003 at 22:28:24
Name: George Tomek
Email: mranchor@cox.net
Location: Edmond, OK
Comments: I remember the Cain's commercials very well. One of the news anchors in the late '50's or so used to tell the viewers that "this news was brought to you by Cain's dated coffee" as he picked up and then put down the cup.
The night club spot in the '70's was a classy job. The late Lowe-Runkle ad agency had the Cain's account. I was told the spot was done in L.A. Don't know who the Tony Bennett wannabe was in the commercial and who knows what he peddled in other markets.

---

March 13 2003 at 15:09:00
Name: Joe Welling
Email: joe@welling.com
Location: Houston (we have a problem)
Comments: Mike--Haven't checked in for a while. Really sorry I couldn't be in Tulsa for the Bruce/Crook Birthday Bash. I was a musician in Tulsa for 30 years before moving to Houston and, sorry to say, am not familiar with Buddy Bruce.
Mike Bruce, the great guitarist who played with Bob Seger and others, used to play with my band occasionally (The Natural Brass Company). Are he and Buddy Bruce one and the same? And I have played several gigs with Tommy Crook who is undoubtedly the best one-man band since Bo Jangles.
Are you sure Buddy Bruce played with the Champs on Tequila? I always thought it was Glenn Campbell, during his studio gig days. In fact, I was doing some recording in Leon Russell's Skyhill Studios in LA in the late sixties and Glenn stopped by. He confirmed the Champs/Tequila session.
This link at MSN Entertainment confirms that Buddy was in the original 1957 lineup that recorded the 1958 hit, "Tequila", and that Glen Campbell joined the group later on, as did Seals and Crofts.
---

March 13 2003 at 11:03:41
Name: Patrick Bryant
Email: patrick@magicchord.com
Location: Beautiful Downtown Burbank, CA
Comments: Yes, I remember, when the weather conditions were just right, we could stand outside the front door at Channel 4 in OKC and smell the smell of coffee from the Cain's processing plant a few miles to the north of us.
Ironically, the station had a vending machine that produced a liquid that was almost, but not entirely, unlike coffee.

---

March 12 2003 at 14:57:04
Name: Pete Wurman
Location: Tulsa
Comments: Don't recall the ad libs of Mr. Jack Fox, however I will always remember how the great Johnny Martin made you want to buy every single thing he told you about.
From Pure Milk to Bud to American Airlines to Elmer Anderson's homes, Johnny's warm, friendly, conversational style pulled you in and made each client's product one you just couldn't live another day without. Our family always "traded" (as the King called it) with Johnny's clients because it was like a trusted friend of the family had recommended we do so.
The folks involved in creating today's loud hit-you-over-the-head advertising should take a lesson from one of Tulsa's all-time best salespeople - treat the audience with respect, tell your story in a caring intelligent way. I always heard that in his day Johnny was the best salesperson in Tulsa media, his classy one-on-one approach would achieve even greater results today.
Thanks for a great website, enjoyed my visit.
Thanks...Johnny Martin has a page on this site. Paul Harvey isn't too shabby in the sales area, either.
---

March 12 2003 at 10:13:07
Name: Steve Bagsby
Location: Scenic Sheridan Hills
Comments: Yeah, I remember the TV spot for Cain's. Seem like they also used the jingle on radio. About the same time, the cans had a color photo of a contented chef in his kitchen enjoying a cup.
I'll have to get the guys in the band to learn that jingle. Probably would make a good break song!
Also, years later I remember Jack Fox doing Cain's ads on KVOO. Without any music or fanfare, he would just sit there and talk about how good the stuff was. It made you want a cup of coffee. Hell, it could be 10pm and you're getting ready for bed.....you'd still want some!
---

March 12 2003 at 09:49:19
Name: Lowell "Wilson" Burch
Email: j9z1b95[at]aol.com
Location: Locked Out
Comments: I missed the concert Sunday, I thought it was later in the evening. I bet it was great.
Because of the quality of the old Cain's commercial, I thought Cain's was a national brand. Excellent ad, I still remember it well.
I get tons of email from people, mainly from other countries, who say I was "recommended" to join them in business partnerships. They say I will make millions if I just send them my bank account number.
Of course, they did not get my name from a third party, as they claim. They scower guestbooks, such as this one. How do I know? Within hours I will be getting email addressed to Lowell "Wilson" Burch. Nobody calls me that (to my face) but these frauds don't know that.
Later today, "Wilson" will be getting some tempting offers.
I certainly get lots of spam these days, and my email address has been plastered all over the internet for years. But it seems to me that it has dramatically increased in the last several months.

One thing you can do in the Guestbook is alter your email address (Lowell might type it as "j9zb95[at]aol.com") in a way that a human reader can interpret and correct it, but a robot can't.
---

March 12 2003 at 08:37:33
Name: Webmaster
Email: mike@tulsaTVmemories.com
Location: Tulsa
Comments: A filmed commercial for OKC-based Cain's in the early 70s was set in a nightclub, where a confident Vic Damone/Tony Bennett-type singer strolled among the tables as he performed this lush ballad:

Let your life slow down
Take a real look around
Have a cup of Cain's
For that flavor in moments you'll savor

And then give yourself some time
And make it easy on your mind
With a cup of Cain's;
It's a coffee blend you'll want
Again and again.




While singing and strolling, the coffee-loving crooner nodded familiarly at one table, making a circular gesture to the waiter indicating they should receive a round of coffee on the house.
In the last shot, the camera changed focus to follow the gaze of the now thoughtful-appearing entertainer (his hand mike at rest) to a steaming cup of Cain's coffee in the foreground.
I wonder if that was locally produced? It didn't appear to be.

(406K .wav file) Hear this tune as "rendered" by your webmaster in his vocal debut.

---

March 11 2003 at 18:15:04
Name: Lee Woodward
Location: Tulsa
Comments: Passing by KVOO's Radio station today, I noticed (as I did some weeks ago) a realtor's sign offering the place for LEASE! Waz up with that. That's a super customized Broadcast Facility. I await the news.

---

March 10 2003 at 18:10:32
Name: Mike Bruchas
Comments: I got to know Dave Davis thru Tommy Roberts during my time in OKC. Tommy was with Delcom then Fairview and I knew Dave via their trade shows and I think thru the OKC ITVA chapter.
Dave was a funny guy - with great stories - who left us too soon!

---

March 10 2003 at 12:01:16
Name: George Tomek
Email: mranchor@cox.net
Location: Edmond, OK
Comments: I'm sorry to have to report that Bruce Hinson, retired Professor of Journalism from the University of Oklahoma, passed away 2 March, 2003. His funeral was held Thursday, 6 March at Norman.
Bruce got off active Naval duty and joined the news staff at KOTV in 1961. In 1962 when my draft board in Chicago finally caught up with me, Bruce was instrumental in talking me into going to OCS. We both ended up spending more than 30 years in the Naval Reserve.
Bruce left an indelible mark on Journalismas as a J-School professor at OU. He is singularly responsible for the heightened awareness of ethics as a course subject and he was instrumental in the creation of a working TV lab at OU which was managed by another KOTV alumnus, Dave Davis, who passed away a number of years ago.
Bruce had a tremendous sense of humor, often at the expense of the establishment. I will never forget his parody script with film showing OKC merchants gleefully setting up Christmas decorations well in advance of Thanksgiving one year. The title of the script was "Yes, Virginia, there is a Thanksgiving." The retail merchants association went ballistic. No sales department (anywhere) would let that happen today.
I'm sure Bill Hyden, Ralph Bardgett, Dick Wheeler and some others remember Bruce.
Best Regards to all since I haven't contributed in some time!
George Tomek

---

March 09 2003 at 12:13:50
Name: Webmaster
Email: mike@tulsaTVmemories.com
Location: Tulsa
Comments: Tonight is the big Buddy Bruce/Tommy Crook birthday bash. It will be at the Greenwood Jazz Hall of Fame, 5 pm. Reader Jon Cummins will be on bass. Buddy Bruce is best known for playing guitar on The Champs' "Tequila". Chet Atkins saw fit to mention Tommy on national TV as a great guitarist. It should be a fantastic show for any jazz or guitar fan! I'll be there...
Partial song list: Wave, Sweet Georgia Brown, Red River Valley, Tequila, Satin Doll, Willow Weep for Me, Blusette (played with great cooperation rather than competition, which characterized the entire show), Smoke, Smoke, Smoke That Cigarette, Scotch and Soda, Route 66, Orange Colored Sky (Chuck Cissel on vocal in his best Nat "King" Cole style), Day in the Life of a Fool/Girl From Ipanema, Peter Gunn with fuzzed-out guitar by Buddy, What a Wonderful World, San Antonio Rose, It Had To Be You/Tenderly, Somewhere Over The Rainbow, Perdido/Almost Like Being In Love...
Jon Cummins on bass and Ken Leverett on drums sounded as if they had rehearsed with the two guitarists, who never pre-plan these annual get-togethers. Buddy, looking like a beatific, non-violent Freddie Blassie, spun out legato, melodic lines (and in-between-song jokes), while Tommy was master of his domain, as usual. Occasionally Buddy unleashed a lightning run which seemed to give Tommy a shot of adrenalin. The show ended with a standing O.
Archived Guestbook 124.

---
Back to Tulsa TV Memories main page