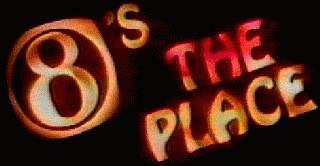 History of KTUL-KTVX through 1967
Total 8 Tulsa 10 O'clock News for Friday, June 15, 1978 (with pix, text and MP3 audio of the entire newscast.)
"Soul Train"-style "8's The Place" promo in RealVideo and Java slide show.
Disco "8's The Place" promo in RealVideo on News pg. 2.
Move Closer to Your World: Zeb's first promotion.
A Raft of great movies on Channel 8, by George!: The "In" Crowd promotion.
Behind the scenes with R.L. Bullock and Bob Hower.
KTUL Celebrates 50 Years - Great promo videos at KTUL's site.
Remembering Bob Scofield with 1966-69 KTUL studio photos.

"Closed Circuit" - KTUL house organ dated 1/1976 (3.4MB PDF file), courtesy of Don Lundy.
The Total 8 Tulsa news team as stars at a premiere.
Marilyn Monroe look-alike contest commercials, narrated and produced by Zeb. The winner: Sue Morton of Sallisaw.
"It's All For Free!" emphasizes broadcast TV's advantage over cable. Starring Zeb as a tough guy.


(From Guestbook 61) Carl ("Uncle Zeb") Bartholomew said (via email to webmaster):
Back in the 70's, we had a most successful campaign going called, 8's The Place. We put an 8's The Place on anything moving or not moving e.g., cement trucks, boats, kites, cows, airplanes, babies, puppies, biceps, b*tts, b**bs, etc. (7/18/2005: I had to * out these two words because people all over the world are Googling for them and finding the below picture...webmaster)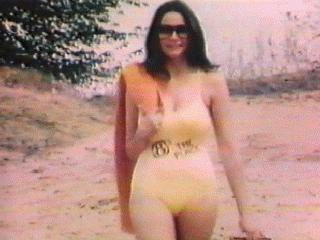 And speaking of b**bs, there was one young lady in a yellow 8's The Place swim suit in a beach scene who became a legend in her own time. Her real name was Cindy Otto, but she became known as the 8's The Place Girl. She was so sensational that we had a poster made of her and had thousands of copies printed. And we actually sold them on the air for a brief time until the public outcry became so strong that we had to take the spot off the air.
Since it was my creation, you would think I would have at least one copy somewhere. But somehow I don't. So, if anyone should happen to have an extra copy stashed away someplace, I would certainly like to get my hands on it (the poster that is) as it would be a pleasant reminder of the wonderful times I spent at KTUL. Please drop me a line if you have any leads.


The webmaster responded:

Mike Bruchas gave me a copy of a video tape with a number of the 8's The Place promotions on it. Is this the gal you are talking about? I thought she was Mrs. Kent Doll.


Carl replied:
Yes, you have the right gal from the 8's The Place spot. She's the poster girl I'm looking for. However, that is not Mrs. Diana Doll. Mrs. Doll is in the same spot wearing a red one-piece swim suit on a sailboat. Also on that boat is a girl wearing a white bikini (name unknown). Interestingly, the day we filmed that promo, I spotted her on the back of a Harley and asked if she wanted to be in the movies. She did, and she obviously complimented the shot and the spot. Mrs. Doll can also be seen hitting an 8's the place volleyball.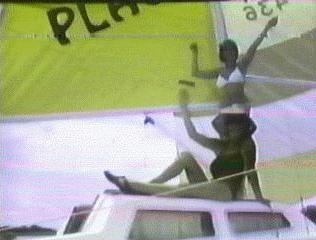 But the most remembered shot of the whole spot will always be, the 8's The Place Girl in the yellow bathing suit, which actually was a tiny yellow leotard which had to have stretched at last 10 times its size. Also, it was cold on the day we filmed that shot and a lot of people say they could tell that it was.


After careful examination, I must concur with "a lot of people".
Here is the "8's The Place" video
Carl is talking about...
(from Guestbook 112) Diane Elliott Ward said:

What a treat to stumble upon this website! I worked at KTUL from 1974-1985 and again from 1989-1992. I have great memories from those early days, and am so pleased you have put up this site. I see you have a photo of me from an 8's the Place promo, which surprised and amused me. I was also a regular on Uncle Zeb's Cartoon Camp--as the "art lady" (I worked in the Art Department with the fabulous Monte Toon--who is still there!) and I was also weekend weather girl for several years, working with Guy Atchley and Phyllis Watson. Remember Ginny Johnston? Back in the day, you didn't have to be a meteorologist to be a weathergirl.

I'm still in Tulsa TV--I produce commercials freelance for KOTV, and married to another Tulsa TV person--Davis Ward, who was a director at KJRH, KOTV and KTUL. He now owns his own company, Lauer Cinematography.
(from Guestbook 57) Sue Staggs Harris said:

I had so much fun reading this page! Memories of years worked with the greatest crew ever put together...KTUL-8 was the Place...1972 to 81. I love my time in the Channel 8 family. Uncle Zeb was my boss...so you know it was never a dull moment. Thank you for providing me with a touch of a very sweet time in my life.

Sue is Secretary of the Friends of Oklahoma Music...see another side of Sue at this FOM 2003 photo gallery.
(from Guestbook 40) Mike Bruchas said:

This last Memorial Day driving past the Nam memorial here in DC - I remembered KTUL announcer Lawrence Heatley was a Nam vet besides 8's Dick van Dera. Anyone know where Lawrence is? Last Summer someone posted that John Heatley - his younger brother and ace KTUL cameraman was now a gunsmith in Tulsa.
| | | |
| --- | --- | --- |
| | | Dick Van Dera/Uncle Zip |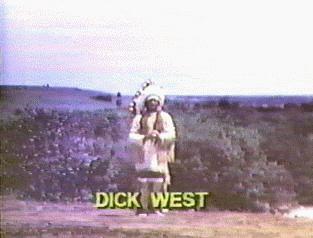 See Dick West and other Sign-offs
Regional products you may remember from local TV commercials in the 50s and 60s: J.C. Potter Country Sausage in Durant, Shawnee Mills ("It's as easy as 1-2-3, and Shawnee adds the me!"), and Griffin's in Muskogee.
(from Guestbook 1) L. Carter said:

Remember this one?

Griffin's waffle syrup
Will make your family cheer up,
So always buy the Griffin's brand
(of waffle syrup!)
Always buy the Griffin's brand.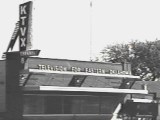 Of course, there is a link between Griffin's and Tulsa TV: KTUL-TV began in the mid-50s as KTVX in Muskogee, started and owned by John T. Griffin (later operated by his son-in-law, James C. Leake). Griffin Communications today owns Channel 6.
Here is a juxtaposition of three brief film clips (circa 1962) from a tape provided by Mike Bruchas. It is a quadruple-decker tribute: to Griffin's, to Rod Serling, to actor Richard Kiel, and to noted science fiction writer and editor Damon Knight, who passed away last week (April 19, 2002) at the age of 79. One of his stories, "To Serve Man", was adapted for "The Twilight Zone".
Respectfully submitted for your delectation: an odd but tasty sandwich entitled "To Serve Man Griffin's Products". And for Twilight Zone fans, the webmaster has prepared a toothsome treat, an unjust dessert, if you will: Cliff Robertson trades places with "The Dummy". (Rod Serling is invoked again on the Prologue page.)
More about TV coffee ads on the Tulsa Coffee Houses of the Past page.



"To Serve Man" promo by itself on YouTube (courtesy of Mike Bruchas).
Mr. Kiel was also on Boris Karloff's "Thriller", and recently met the webmaster.

KTUL owner James Leake and Gov. George Nigh at the Stilwell Strawberry Festival
circa 1976, courtesy of Darrell Neale
(from Guestbook 152) Joel McLemore said of this photo:

I was one of the Cub Scouts behind that Stanley Steamer, though I'm not in the picture. Since I was only four years old in 1976, I have to guess that the picture was taken closer to 1980 or 1981, possibly 1982 at the latest. Pretty sure it was the year that the Strawberry Festival was broadcast on KOKI, so it was probably '81 or '82.




Here are more captures from "Charlie's Angels" era "8's The Place" promotions:
John Chick 1
John Chick 2
Sue Staggs 2
8's The Place
Diane Elliott 2
The umbrella gal




(The following pix from a webmaster/Mike Bruchas visit to Lookout Mountain
in August, 1999. Rest your cursor on the thumbnail pix to read a description
of the picture)




(from Guestbook 119) Emily Webb said:
Well, a while back I was able to see some 20-something year old commercials from KTUL. A lot of Drillers's spots that my friend Gary Elliott was in. In one, he wore a dress, then a little boy's clothes, etc, and played the part of the whole family. He has a huge BEARD, and it's quite funny. He still has that beard, and he's still at KTUL. I also saw some old tapes from a show called, "Night Shift." I heard that show was a real blast to get to work on. Anyone here remember that show?
Friend, reader and drummer Pat Powell (above) loaned me a tape of a New Year's Eve 1983 "Night Shift" he and his band "Nuthin' Fancy" guested on.
Jeanne Summers of KMOD (now movie star Jeanne Tripplehorn) was the host (check out this Java slide show of Jeanne at a mirror from the start of the program). She was also a co-host of Creature Feature on Channel 23 in the early 80s.


KTUL's First Alert Citycam captured a Tulsa sunrise 10/14/2002 (241K).


Back to Tulsa TV Memories main page