Tulsa TV Memories GroupBlog 238

TTM main | What's new on TTM? | GB Archive





April 11 2007 at 00:15:53
Name: Wilhelm Murg
Topic: Catching up in Pop Culture
Email: wilhelmurg at yahoo dot com
Comments: There are actually DVDs, both alone and as box sets, which offer hours of old commercials. They're usually rather cheap, not only in price, but in quality too -- many look like they are taken of bootleg VHS tapes from the 1980s. The problem is that since they are apparently in public domain, there's no one company doing quality control. I saw one that had about twenty Mrs. Olsen/Folger Coffee commercials in a row, followed by about a hundred "Daddy, Daddy! I only have one cavity!" Crest commercials ("Amazing Mr. President, how do you do it?")

I recently bought the "Flashback Edition" of "Dazed and Confused" and for some reason they have a beautifully restored copy of the musical public service announcement "V.D. is for Everybody," which was sung in an old Broadway style as they showed a montage of people from all walks of life (I was always in love with the girl putting on lipstick).

Unfortunately, I've never found the commercials I've been looking for, such as the faux-Peter Max psychedelic 7up commercials (I believe there was also a faux-Peter Max Datsun or VW campaign too, with Van Dyke Parks' music) or the Ken Nordine's Levis commercials (I found one on the web at Mog.com/music/Ken_Nordine) . I even remember a psychedelic Ice Capades commercial, but that was the year the skaters went on strike just as the Tulsa State Fair was starting.



Here's one of those Max-inspired 7Up ads:


As for the comedy records, I'm just old enough to have a Laff Label Redd Foxx/Richard Pryor album, and it was starting to get fairly rough at that point, especially the liner notes on the back cover, which was a dialogue between Foxx and Pryor while they were in a four-way sex act. I grew up in the Cheech & Chong/George Carlin/Richard Pryor/Steve Martin/National Lampoon period, where the whole concept was that you couldn't play the records on the radio. I try to explain to the youngsters that this was the best we had before videotape was mass marketed, back when TV was off the air by 1 AM (unless there was a storm warning). No one ever mentions Gene Tracy, who did nasty "Hustler"-styled jokes at truckstops in front of a room of truckers. He was about as politically incorrect as they came, as he liked to use a harelipped character in a lot of his stories.

Speaking of late night television, we've been having a good time laughing at "The Tomorrow Show with Tom Snyder: Punk & New Wave" set. I had forgotten how dense Tom was! The highlight, of course, is the battle with John Lydon (aka Johnny Rotten) of Public Image Ltd.who decided to push as many of Tom's buttons as possible ("It's not a band, it's a company!") Snyder talks like it was horrible television at the end of the show; little did he realize it would be one of his all-time classics. Wendy O. Williams fronts The Plasmatics as they blow up a car on stage with four sticks of dynamite. At one point Tom asks her if she should tone down her act to get a wider audience -- of course she's probably better remembered than Tom at this point. The main point he stresses in each interview is that the punks could turn into the establishment, and all of the punks are all for becoming the establishment, but Tom just doesn't get it. Of course, half of the guests on the discs are now in the Rock and Roll Hall of Fame.

Speaking of intense television, Don Imus is worth TiVoing this week. After his unforgivable remarks about the Rutgers Women's Basketball team -- where he insulted not only their race, but also their sex and character in one blow -- it was announced that he will be suspended for two weeks, beginning Monday. So this week he's a lame duck host obsessing over the incident. If management had any sympathy for him, they would have taken him off this week. I saw him this morning and he seems to be digging himself in deeper, especially when you factor in that he's on for three hours every day (!) to babble. Imus is not going down without a fight, and there's a very good chance this will end his career, at least on a national level.

By the way, I just posted an ode to the new Throbbing Gristle album, and a review of Grindhouse. You can view them on MySpace at MySpace.com/WilhelMurg or on the web at NONzine.com.

Also, cheers to Tuffy. I was on Mr. Zing and Tuffy when I was in kindergarten and some of my classmates recognized me -- it was an early brush with fame.

---

April 10 2007 at 19:36:16
Name: Rick Brashear
Topic: Tubes
Email: Behind the Ranch Market
Comments: One place that still makes tubes that work is Russia. The replacement tubes for use in Fender amps and some of the others come out of Russia. The Chinese make some too, but they're crap.

---

April 10 2007 at 18:42:20
Name: Mike Bruchas
Topic: Tube Testers
Comments: All Walgreen's Stores in Chicago had them but often did not keep up on tube stock!

Back in the tube days - my Dad was known as the the expert - he had restored many b&w tube sets to working. He said that often tubes failed early - maybe quality control was not so great.

---

April 10 2007 at 07:38:59
Name: Mitch Gray
Topic: More Convenience
Email: North of You
Comments: Remember those radio and TV vacuum tube testers found at the In-N-Out, or the U-Totem?

Remember being able to PURCHASE those tubes at a convenience store?

One of those testers ought to be placed in a time capsule. (Just in case)



There is a bit of verbiage about them, plus a photo in GB 98. Here's another, larger photo.

We should be replacing the Plymouth in the 1957 time capsule with new (and old) items.
---

April 09 2007 at 23:18:02
Name: Lloyd in the bunker under the Rose Bowl
Topic: Convenience
Comments: Just put "Bullitt" on Pause to write.

Love the scene where McQueen walks into the mom-and-pop convenience store in San Francisco and scores, in a marvelous stacking maneuver, six TV Dinners. The place is tiny, and every shelf is crammed with tins of goodies.

So were the original, and truly, convenience stores in Tulsa: neighborhood places with a plethora of products.



Speaking of "Bullitt", check out the Bullitt Nationals web site. This is a group of enthusiasts who celebrate the movie, Steve McQueen, and the Ford Mustang Bullitt limited edition car. They are meeting in Tulsa mid-June. "Bullitt" will be the second feature at the Admiral Twin Drive-In on June 14 (the '57 Plymouth time capsule is to be opened the next day). Last year, "Bullittheads" met in San Francisco, the locale for the movie.

There may also be a Tulsa showing of a new documentary, "An American Rebel: Steve McQueen", in association with this meet. More when available.

There was an episode of "Alfred Hitchcock Presents" starring McQueen and Peter Lorre that featured a wager involving a car and a cigarette lighter. If you ever saw it, you won't have forgotten it. Excellent acting by both gentlemen. (This Season 5 episode is not yet available on DVD.) I won't put any spoilers here, but it was based on a macabre story, "Man From The South", by Roald Dahl.
---

April 09 2007 at 14:31:45
Name: David Batterson
Topic: Hit songs
Email: davidabt(at)yahoo(dot)com
Comments: Wow, how time flies! Was it really 35 years ago that Leon Russell knocked our socks off with his "Carney" album?

Released: July 1972
Chart Peak: #2
Weeks Charted: 35
Certified Gold: 9/19/72

---

April 07 2007 at 16:27:10
Name: Webmaster
Topic: KAKC 1967 Big 30 Survey
Comments: Rick Brashear just sent this:


---

April 07 2007 at 13:16:18
Name: Gary Chew
Topic: Gailard Sartain
Email: Just SW of the Donner Party Family Grill
Comments: Yo:

A Sacramento friend of mine who covered the California Capital for many years for the public radio stations I worked for here heard an interesting mention of a famous Tulsan last night on a network radio show. Here's my friend's email to me this morning....

"I was listening tonight to "Coast to Coast" talk show on 1530 am; interview with J.P. Richardson's son who is now doing a Big Bopper nostalgia act. Host George Noory mentioned Gailard Sartain who played the Big Bopper in the Buddy Holly Story movie back in 1978."

Sacre bleu! M. Sartain's legacy lives on!

From Transylvania...

I remain Delmeaux de Gillette du Coffeyville.

---

April 07 2007 at 12:51:08
Name: Rick Brashear
Topic: Uncola glasses.
Email: Just below the tree line.
Comments: I have half-a-dozen Uncola glasses gathering spiders in a cabinet. I drove a 1969 Dart in high school that had a custom made (by me) console. I drank coffee like a madman back then. Come to think of it, I still do.

Anyway, the Uncola glasses always set solid on the flat, wooden top, never turning over or spilling. I set one on the left rear fender one time and forgot about it after being side-tracked. I drove three blocks away, making four turns, and it was still in the same spot after I arrived at a friends house! It didn't spill a drop. Perhaps NASA should study the Uncola glass as a replacement for the Shuttle.



They're still available on eBay.
---

April 06 2007 at 17:27:02
Name: Webmaster
Topic: Uncola commercials/"Like father, like son" PSA
Comments: Now on YouTube: the original Uncola man commercial circa 1971. As my audio tapes confirm, this one was played during the Mazeppa show a lot. The Uncola man, Geoffrey Holder, also played a villain in the 007 movie, "Live and Let Die". What a voice and what style. I see how "Miss Cleo" could have been inspired. He reprised the character in the 80s.

Also, I found the "Like father, like son" anti-smoking public service announcement (PSA) from the 60s. Nice jazz tune backing it.



The Uncola man

Like father, like son? Think about it.
---

April 06 2007 at 16:32:58
Name: P. Casey Morgan
Topic: The peanut butter man
Email: p-casey-morganatutulsadotedu
Comments: I certainly could have dreamed this, but I seem to remember Rob Walker telling me he used the middle initial "W" for his air name in tribute to Robert W. Morgan, a NY disc jockey of the time.



Probably so; I was just speculating. I suppose it could be both...maybe you could pose that one to Mr. Walker next time you see him.

Here is a bio of our Robert W. Walker at the IMDb (there is also a novelist Robert W. Walker).

On another topic...today at Wired, a pictorial history of TV sets: From Bakelite to Plasma: TV Through the Ages (slide show).
---

April 06 2007 at 15:10:56
Name: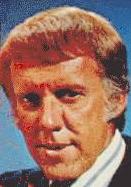 Lee Woodward
Topic: More Tulsa Movie Stars
Email: 12th Fairway at BGAC
Comments: The morning Tulsa World story about Tulsa's Jennifer Jones revealed that she met her first husband, Robert Walker, in Tulsa, where he was working in radio? I was never aware of that. It also said that when they couldn't break into Hollywood on their first try, they went back East where Robert supported them by working in radio.

It also stated that Jennifer lives in Malibu close to her son, Robert, Jr. She would be about 88 years old now. Way younger than Granny (142).



Although Robert Walker, Sr. passed away in 1951, his fame might be the reason 1960s KAKC DJ Robert W. Walker used his middle initial.

Notable credits of Robert Walker, Jr. include the title roles in "Charlie X" on the original "Star Trek" series, and a sequel to "Mister Roberts", "Ensign Pulver" (1964).

The latter movie was panned by the critics, according to the linked IMDb bio, but I remember enjoying it a lot at the drive-in here in Tulsa.
---

April 05 2007 at 21:29:22
Name: Deana
Topic: Jack Frank
Email: singing5570 at yahoo.com
Comments: What happened to Jack Frank???? He is a great narrator!!



Jack Frank recently produced a new DVD of historic Tulsa films, and it is really good. I don't say that just because it includes my own 1974 home movie of George Harrison in Tulsa. You can order the DVD at TulsaFilms.com.

His productions appear periodically on the new OETA OKLA digital channel.
---

April 05 2007 at 17:01:42
Name: Wilhelm Murg
Topic: The Holidaze
Email: Wilhelmurg at yahoo dot com
Comments: My friend, Andrew Hicks, has been slightly depressed because his family ran the Tulsa Easter Pageant for the last decade that it took place in Chandler Park, and he misses it. His father, Tommy Hicks, directed and played Jesus and Andrew usually played The Devil. The final performance was two years ago, shortly after his mother, Peggy Hicks, passed away, and it was dedicated to her memory.

Andrew and I were talking about how every holiday, regardless of whether it's secular or religious, usually comes with a party and drink specials at the bars in the Downtown, Cherry Street, Brady District, and Boston areas. So this year Andrew is having his "Jesus Christ Superstar" party, where everyone comes to our house to watch the movie, then it's off to the bars with Andrew dressed as Jesus. I guess "Rusty Nails" are the drink of the night.

The Easter Pageant isn't dead, it's cocooned for a couple of years is now about to become a beautiful butterfly.


---

April 05 2007 at 11:47:56
Name: Mike Bruchas
Topic: Bob Clark - movie director
Comments: Who directed the "Porky's" movies and also the much-beloved "A Christmas Story" was killed in L.A. today in a head-on car wreck. His son also perished in the crash when hit by another driver. Clark also directed "Rhinestone", that movie with Stallone and Dolly Parton.

"A Christmas Story" is still one of my faves along with Jimmy Stewart's Xmas perennial.

---

April 05 2007 at 10:40:00
Name: Joe
Topic: Tuffy...and Mr. Zing
Comments: Yo Tufffy...Joe Bone givin' you a shout out. It was nice to see the recent 8 interview. Too bad you couldn't get a word in edge-wise. The Mr. Zing and Tuffy footage is fantastic too. Hope all is well.

---

April 04 2007 at 22:06:03
Name: Mike Bruchas
Topic: Easter memories
Comments: It seems such a Midwestern 1950s thang. Did your Mom make or buy a lamb or bunny cake at Easter for the family when you were kids?

I think we used to buy them from the long-gone local Swedish bakery. Then Mom found a recipe in that all-time family tome, Family Circle. Jelly beans for eyes, coconut vanilla icing on a white or lemon molded cake. I think the only difference between the lamb and rabbit was that Mom cut out ears to stick on the rabbit!

We also bought the mag because Dad often did color separation ad layouts in it. For years, he set up the color plates on "Ellsworth the Elephant" series.

Does ANYONE in Tulsey still shut down for "Good Friday closing"?

Oh yeah...Mr. Ransom: please link famous Easter TV news faux pas to my posting! It's that time again!



Your mention of a TV Easter joke is about 1/3 down GB 104, which is chock-full of past Tulsa Easter Pageant lore from Jim Hartz, Frank Morrow, Jim Ruddle and yourself.
---

April 04 2007 at 14:09:11
Name: Webmaster
Topic: In the media
Comments: Ron Enderland, former Miami, Oklahoma resident and creator of the excellent nostalgic blog, I Remember JFK, has another blog, FamilyFirst.com, on which he reviews family-friendly sites.

He profiled Tulsa TV Memories two days ago (we have some not-so-family-oriented content here, such as the ongoing Brother Dave thread, but Ron says his readers tire of Care Bear-type sites).

Today, he features WeirdWard.net, created by Dana LeMoine (a TTM contributor) and his sisters to celebrate Tulsa East Central high school chemistry teacher, Mr. Pat Ward.

Also in the spotlight today is friend and fellow Ward alumnus, Lloyd Wallisch. He's mentioned in the WeirdWard write-up AND seen on the front page of the Tulsa World Scene section, where he gives out the Senate Bean Soup recipe he acquired from Sen. Henry Bellmon. Later in the World article, My Pi pizza is mentioned (My Pi was recently discussed at length here in GB 234).

When Lloyd visits TTM, he bills himself as residing "in the bunker under the Rose Bowl".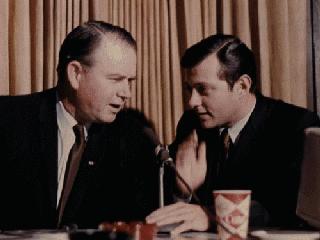 Former Gov. and Sen. Bellmon with Mike Miller in the 1960s
"Pssst...may I have the Senate Bean Soup recipe as well?"
---

17 April 04 2007 at 00:39:11
Name: Jeff H
Topic: Miss Cleo and Dionne Warwick
Email: Den 23 Pack 79
Comments: Have you ever wondered why "Miss Cleo" and Ms. Warwick (Psychic Friends Network) never saw the authorities closing in to shut them down since they were PSYCHIC!!!!

P.S. Whoever mentioned that some of the comics talked about in previous post were real storytellers was right on! One of the last great ones I can think of is Richard Pryor. He could paint a real word picture.

---

April 03 2007 at 20:07:49
Name: Mike Bruchas
Topic: Tuffy
Comments: We all love him - he's a hoot but sometimes after his last return to 8 as an employee (before his retirement, don't think folks ever appreciated his role in Tulsa TV history then. Glad he is getting his "due" now; he always was fun to work with when I was a newbie at KTUL and has a great mind.

I keep wondering if Jody McIntyre at 8 was the same Jody that I worked with in OKC at KOCO 25 years ago. She was a night-time associate producer and a Tulsan.

---

April 03 2007 at 18:58:05
Name: Downtown kid
Topic: Brother Dave Gardner
Comments: Around 1966 or '67, I was living in McCloud, OK. A friend claimed he knew Brother Dave (his sister was having an affair with him). Well, he was playing the Brady and sure enough, we got in for free.

During the show, he kept repeating something about if you only knew what was going on in my head. After the show he got my buddy and me a room at the Mayo and turned us on to a hit of acid. Seems that was what he was referring to.

He was really interesting off-stage and ranted about Oral Roberts for about an hour. Hell of a drummer, too.

---

April 03 2007 at 16:23:51
Name: Brian
Topic: Rubberband man
Email: brian74055 at hotmail.com
Comments: The rubberband man was Paul Pressey.

---

April 03 2007 at 14:35:05
Name: Charles
Topic: Rubber Band Man
Comments: Here is a basketball/television question to finish off NCAA tourney week. In the 70s either TU or ORU had a basketball player that got a lot of press. One of the local TV affiliates ran a story about him and played the song, "Rubber Band Man". I think that might have even been his nickname. Does anyone remember his name and what became of him?

Also, for those of you in Tulsa, my current employer, North Dakota State University, has joined ORU's conference. So watch for the Bison when they come to town!

---

April 03 2007 at 10:10:05
Name: Lowell Burch
Topic: Tuffy
Email: Please (but no spam for reptile dysfunction)
Comments: I think I still have the World article about the 1966 Christmas parade. It mentions Mr. Zing and Tuffy and how the parade almost came to a stop because the kids ran out into the street to mob the popular duo. I remember this well because, as a member of the McLain Scots Marching Band, I was following right behind them. The article mentions how our unit had to close ranks and weave through the hoards of children crowding the street to stay up with the rest of the parade.

By the way, that was back when, system-wide, Tulsa Public Schools had a killer music program. Every Tulsa high school fielded a powerful marching band - such as the Hale 100, directed by Clarence Lawless, which actually boasted 135+ members!

PS, I still keep in touch with my old band director, Dave Edris. For those who know him, he just retired from his position as one of the music professors at Peru College, Nebraska.

---

April 03 2007 at 06:26:44
Name: Jeff
Topic: Radio
Comments: On Sundays, Kool 106 plays old programs of American Top 40 with Casey Kasem from the 1970s. It runs from 9:00 am until 12:00. This past Sunday they play the week of April 9, 1978. It was great hearing his comments then about the songs, and knowing where they went to.

Also, does anyone know how DJ Jan Dean is doing, she's one of my favorite disc jockeys and I just heard today she has cancer.



Here is Jan Dean's MySpace site.
---

April 03 2007 at 04:43:32
Name: Jim Reid
Topic: Color Mr. Zing Footage
Comments: I wonder where Tuffy got the color footage of Mr. Zing and Tuffy? When I knew Tom Ledbetter at the old City-County TV Station, he had a 2000 ft. reel of 16mm Zing & Tuffy footage he ran for us once. I wonder if this is the same film? The transfer looks beautiful.



Some of the same footage is seen in this 1999 Jack Frank Oklahoma Memories segment.
---

April 02 2007 at 22:53:52
Name: Sparkle Farkle
Topic: More Hits of '59
Comments: And, at #39, "Forty Miles of Bad Road".

Dig this version, hepcats (YouTube).

Seems like I've driven that highway one too many times.



---

April 02 2007 at 19:54:24
Name: Webmaster
Topic: Tuffy interview
Comments: Wayne "Tuffy" Johnson on KTUL's "Good Day Tulsa", 3/22/2007. Tuffy remembers working on the show with John Chick and Tom Ledbetter. Color footage of the show is seen during this interview with D.C. Roberts. DVD courtesy of Jody McIntyre, executive producer. This clip will be added to the Zing & Tuffy page, too.



---

April 02 2007 at 15:30:57
Name: Mike Bruchas
Topic: WGN changes
Comments: Real estate mogul Sam Zell bought the Tribune Company in Chi-town but someone else may buy the Cubs. If you remember the funny short-lived series, "The Loop", about a fictional Chicago airlines, the boss charactor was an amalgam of motorcycle-riding wildman Sam Zell and Herb Kelleher of Southwest Airlines.

---

April 02 2007 at 11:23:12
Name: David Batterson
Topic: Top 50
Email: davidbat(at)yahoo(dot)com
Comments: I see that Tulsa's own Anita Bryant had the #26 spot, with "Till There Was You."

---

April 02 2007 at 04:41:55
Name: Webmaster
Topic: 1959 KAKC Top 50 survey/1959 Downtown Tulsa
Comments: Quintessential tiki tune, Martin Denny's version of "Quiet Village", is up there at #6. Contributor Frank Morrow's first fan letter at KAKC, dated 4/1/1952, was a request for composer Les Baxter's version, which (we believe) was the first Fantastic Theater theme.

More than a few classic tunes in diverse musical styles.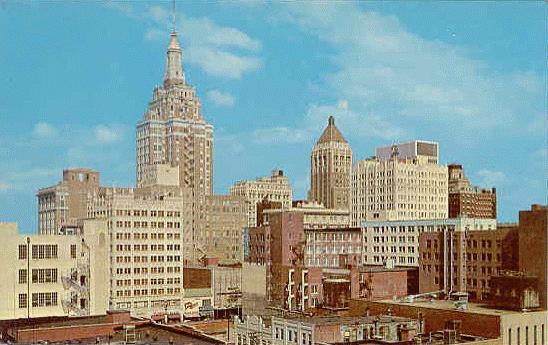 Tulsa, 1959
---

April 01 2007 at 01:16:08
Name: roy lee
Topic: Brother Dave Gardner
Email: beerdrunk@cox.net
Comments: The funniest thing about those old Brother Dave Gardner records is that he's badmouthing John F. Kennedy so much. It was probably hilarious at the time, like that Vaughn Meader record. My parents were big Kennedy fans but had enjoyed those those records quite a bit. My favorite Brother Dave remark was something about "I'm a preacher, but I'm preachin' FOR IT!" A great combination of hepcat and redneck by today's standards, I guess.

---

March 31 2007 at 22:37:57
Name: Rick Brashear
Topic: Party Records
Comments: I have two Doug Clark And The Hot Nuts records. They were a lot funnier when I was a kid but I still remember some of the limerick tunes and a few of the jokes. There is one tune, "Big Jugs", sung to the tune of "Big John".



I heard one of this frat party group's records in the late 60s and it was as subtle as a Tom LoChiatto sales pitch.

Speaking of pitchpersons, I'm sure you remember Miss Cleo, the "Jamaican" telepsychic.

I mentioned her and Tom in a list of frequently-seen commercials 6 years ago in GB 78.
The Ridiculous Infomercial Review speculates about Cleo, aka Youree Harris, L.A. native:




So just how did "Miss Cleo" pick-up her accent? One clue might have come when a caller laughed and Miss Cleo commented, "Dat's an Uncola laugh." Huh? The reference is to an old series of soda commercials featuring Geoffrey Holder, a Caribbean actor with a trademark sonorous laugh. Why would Miss Cleo make such an arcane reference? I strongly suspect that it was from watching those 7UP commercials back in the 1980s that Youree Dell Harris first learned her "accent."






The original Uncola commercial ran in the early 70s, not in the 80s. Still, she would have been about 9 or 10 years old then (Wikipedia). (4/7: there was an 80s version; watch both on YouTube toward the top of this page.)

The audio of the Geoffrey Holder Uncola commercial, dubbed from one of my 1971 reel-to-reel tapes, is on the 2nd Mazeppa page.
---

March 31 2007 at 19:24:23
Name: John Hilllis
Topic: "Party Records"
Comments: Those "blue" comedy records would be played in the Family Hour now! Besides Redd Foxx and "Moms" Mabley, there was the already-mentioned "Brother" Dave Gardner, who did a million appearances on the Jack Paar Tonight Show, with his country-fried existentialist standup schtick. If that sounds puzzling, run down the CDs, get one, and listen. I have a Collectors Choice reissue of the (as Gardner would say) the Arrrrah Cee Ayy Victor albums "Rejoice, Dear Hearts," and "Kick Thy Own Self".

It's interesting to think about how much time all these comics spent on stories...building to the punchlines. These days, a live audience wouldn't sit still for it.

Retailers would keep these records under the counter or way off in the corner of the bins, and they tended to have plain-wrapper type covers. As I said, the most risque of Foxx's schtick wouldn't budge the Howard Stern taste meter one notch.



"Moms" was a frequent guest on "The Mike Douglas Show" in the 60s.
---

March 31 2007 at 12:43:23
Name: Webmaster
Topic: Previous GroupBlog summary
Comments: Archived GroupBlog 237.

Topics included mayhem involving "Queen of the Bootleggers" Cleo Epps, Tom Lester Pugh, Albert McDonald, Rex Brinlee and Judge Nelson's car. Mike Miller's comments were linked; he covered these stories as a reporter in the 1960s.

We heard about Lee Woodward's "acting thing". Jim Hartz told us about Jim Rogers, Will's son.

Linda Soundtrak's son was named "Sluggo" (on-camera, at least). Actors from Tulsa were discussed, including Joe Bratcher and Billy Benedict. Rude party records were mentioned.

A corpse is a corpse, of course, of course...that is, of course, unless the corpse is the famous Mister Ed: is he actually buried in Tahlequah, and did John Erling have anything to do with it?

GroupBlog 237 also came to an end, but we continue here.

---
Back to Tulsa TV Memories main page