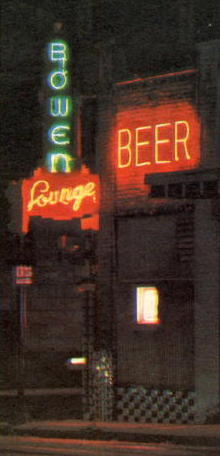 Erick - 04/25/99 15:24:28
My Email:ericktul@webtv.net
Location: Tulsa
Comments:
Let's see...

The Outsiders and Rumble Fish were filmed right here in Tulsa, as was Tex. Little trivia note... all three of those movies starred Matt Dillon. Portions of Rainman were actually filmed in several parts of central Oklahoma, Guthrie, El Reno, Yukon, and Watonga. Most of Twister was filmed in northwest Oklahoma, with the first premiere being held in OKC.

I have the feeling there's more, but I can't think of it!

Gailard Sartain had a small part in The Outsiders, as did S.E. Hinton, the author, who went to Rogers High School. Scenes were filmed at the Admiral Twin drive-in, the then-newly-renascent Greenwood-Archer area and near the old Bowen Lounge on 11th and Denver. It was demolished a few years ago...nothing left but a parking lot.
---

Mike Bruchas - 04/25/99 11:44:16


Comments:
"UHF - The Movie"! (see feature about UHF on this site...webmaster) I must be the only person that saw it in general release and got a VHS of it free about a year later. I bought it because at about 10 places - it WAS funny. Also because they did do some location work in Tulsa around 13th & Boulder (by Quay's). My favorite line:"Badgers! Badgers! We don't need no stinkin' badgers...". See the movie.

Okay kids - besides the movie "Tulsa!" with Susan Hayward and Robert Preston which pops up on GoodLifeTV and AMC periodically - what other major movies were shot in Tulsa?

Francis Ford Coppola lensed 2 SE Hinton cult teen-ager stories here (by TU and in West Tulsa) - what were they?

Can you think of anything else??

Guthrie appears in "Rain Man", "Where the Red Fern Grows" was shot in Muskogee or SE OK. "Oklahoma Crude" with Jack Palance was NOT shot in OK.

This may grow to another spin-off area if we can all remember enough.....


---

Jim Back - 04/25/99 00:52:24


Comments:
My wife just walked in and said the name of the shopping center was Kensington Square.

---

Jim Back - 04/25/99 00:02:54


Comments:
Oh, someone help me think of the name of that mall at 71st and Lewis. Unless I've lost it (which is very possible as I get older), it seems like "Weird Al" Yankovic filmed a movie there (I think it was called "UHF") while it was abandoned (after the mall ut before United Video moved in).

Seems like I remember UHF was filmed at some abandoned transmitter site, too.

---

Erick - 04/24/99 05:54:36
My Email:ericktul@webtv.net
Location: Tulsa


Comments:
Here are some comments on some recent additions to the guestbook.

United Video occupies a very large office building near 71st & Lewis next to the Marriott. What shopping center?

KCMA...if I know my radio correctly, they were the predecessor to what it now KOAS 92.1. Smoooooooth Jazz.

Jack Bowen...ahhh...now there's a newsman!! Kinda funny, he doesn't sign a contract unless his hair is taken care of. The station has to hire someone to put his hair on every morning. They also must pay for all toupe` replacements needed. I remember this is what led to his leaving KWTV in between stints at KOCO. They wouldn't pay for his hair, and it led to all sorts of lawsuits. He returned to KOCO, all amidst a big ad campaign. They used The Beatles' "Get Back" as the music, and showed a man (supposedly Jack) with his back facing the camera, and the phrase "Jack's Back!" in the biggest font you've ever seen. His big re-debut at KOCO was New Year's Eve of 1990. He was doing live reports from downtown OKC for Opening Night, and many a drunk person was yelling "Woooo!!! Jack's back!!!". This ended up throughout the live shots that evening.

---

Angie - 04/24/99 03:04:58
My Email:anjb@aol.com
Location: Tulsa
Favorite Tulsa TV show: Lewis Meyer's Bookshelf
Stupidest local commercial: Bust Stop
How did you find TTM?: Rex sent me...


Comments:
Remember Lewis Meyer's Bookshelf? I lived for that show on Sunday mornings because it was the only non-church show on. And remember...."The more books you read, the TALLER you gro

See the new Lewis Meyer page on this site... I'll be adding more material to it soon.

---

Jim Back - 04/23/99 23:02:37


Comments:
Mike, the "little company on S. Sheridan" you referred to (retransmitting WMFT for many years), became United Video, and now occupies most of the defunct shopping mall near 71st and Lewis. UV (which resells WGN to cable systems and created the Prevue Guide) was purchased a couple of years ago by an arm of TCI (Liberty Media) and recently bought controlling interest in TV Guide. They've changed the name of Prevue Guide to TV Guide but they're still in T-town.

---

Mike Bruchas (once more!) - 04/23/99 21:59:29


Comments:
Don Lundy sent me the answers to the radio questions he posed a couple of weeks back. Here it is:

"As Jim Back noted KRMG was for Kerr-McGee, owned by U.S. Senator Robert S. Kerr and his oil partner, Dean McGee.

KAKC was for Avey, Kellough and Condon. Sam Avey was a Tulsa entrepreneur, owned the old Coliseum on 4th Street and Cincinatti (or Detroit) that burned down in the 50s, think Kellough (sp?) was a local businessman and Glen Condon was news director at KRMG in the early years. I believe this is correct, it was all part of a unit on Oklahoma history we took in the sixth grade mandated by the state. For some reason, this has all stuck with me.

I had forgotten about KVOO, the Voice of Oklahoma

KOME stood for Oklahoma's Magic Empire, which Tulsa was called in the 50's.

KFMJ- it was owned by Tulsa auto dealer and his wife: Fred and Mary Jones.

And, of course, Keli's predecessor at 1430KC was KTUL radio.

You remember that KWTV in OKC stood for World's Tallest Video, aptly named with the then-tallest tower in the USA."

Thanks, Don!


---

Mike Bruchas (again) - 04/23/99 18:14:50


Comments:
I think KKUL was the soul station that took over KORU's frequency. Either Matt Bunyan of Starship Records or the late Honest John Foutz - told me of going out there to deliver records or spots. Said the studio was in a ratty old house - way out East of town by the tower.

KCMA was the commercial FM cultural station I was trying to think of earlier that came on the scene in Tulsa - it patterned itself after WFMT in Chicago. WFMT was actually bought by WGN and turned into a separate entity at one time when its financial future was uncertain.

Interestingly enough - a company in Tulsa on So. Sheridan (whose name I can't remember) used to be the re-transmission service to cable systems around the U.S. WFMT was on Tulsa Cable's radio service for years....

---

Mike Bruchas - 04/23/99 13:52:02
Location: Alexandria Media Center


Comments:
I am one of the few folks to remember seeing Jack Bowen with his "real" hair at KOTV. Very short and brown - when I next saw him on air 3 years later in OKC, I had to chuckle at his tonsorial change. I think Jack stayed at KOTV 2 weeks then KOCO offered him a better job back there. Doug Dodd - who had come from KTUL - was named interim News Director at 6. Then a couple weeks later, "this radio guy" Bob Losure was hired at 6....

TV news people - unless they worked in radio or the printed press - are always suspect of folks crossing media. Ken Ragsdale - an excellent print reporter - who worked at KTUL in the 70's got some of this I remember. I recall - Ken's claim to fame or infamy was to be fired after doing a brief commentary type remark in a story about a weekend drowning at the low water dam in Sand Springs.

All of the media had been called to drowning and search and rescue operations at the site several times that Summer. It was pretty grim. People were trying to cool off but drownings were happening weekly. I think the firemen/rescue workers who answered the calls agreed with Ken - a fence needed to go up and warning signs posted to keep people away from the dam. Evidently someone in power saw the the story - got mad at Ragsdale - called Jimmy Leake and he was fired.

I guess being an advocate journalist for the right reasons was something Tulsa was not ready for. The last time I heard of Ken - he had a new career as a stockbroker and was doing very well in OKC.

---

George Brumby - 04/22/99 21:36:54
My Email:geebee@webzone.net
Location: KOTV
Favorite Tulsa TV show: Spanky's Hour
Stupidest local commercial: Suzi Soundtrack
How did you find TTM?: fiend


Comments:
To add to the Spankys Hour show...my sister and I went down there to the No.18 fire station to film a skit..Spanky hooked me up to one of those big hooked firemen's belts then he told me to take off running...of course I didn't go anywhere 'cause I was leashed to Spanky...

---

George Brumby - 04/22/99 20:23:17
My Email:geebee@webzone.net
Location: Tulsa Okla
Favorite Tulsa TV show: Spanky show
Stupidest local commercial: Ask David Garrett
How did you find TTM?: friend


Comments:
Spanky McFarland was hip..he used to do remotes at the old fire station on 18th and Boston .I was on his show a couple of times....Lionel was better than the Lion King..it was cool back then ..up hill both ways ...

George, we'd all like to hear more about your experience on Spanky's show (what was the title of it...?)

---

Gary Szabo - 04/22/99 19:41:13
My Email:gszabo@u.washington.edu
Location: Seattle, WA (until we can return to Tulsa!)
Stupidest local commercial: Fondly: Reeves Appliances "don't forget poor ol' Pappy..."
How did you find TTM?: via Tulsa web scion Rex Brown


Comments:
I have only a couple of things to add to Bill Hensley's comment (Hey, Bill! Long time...) about the "original" Ch. 8 in Muskogee. I remember having a souvenir Muskogee Chamber of Commerce glass from the 50s, with an etched picture of TV station KTVX, Muskogee. That was apparently the original Jimmy Leake TV venture.

I also remember KTUL's "Muskogee Bureau" in the 80s, run by John Hasler and Tom Doerner. They'd drive the monster truck up to Honor Heights Hill in Muskogee in order to file video to Tulsa/Lookout Mtn. via a direct line-of-sight transmission.

Welcome to the site, Gary, and thanks for the info.

---

Jim Back - 04/22/99 17:12:25
My Email:jback@soonernet.com
Location: Edmond, OK


Comments:
Yup. Bob Losure is an interesting person. He is an Edison High grad ('65 or '66) and is one of those broadcaster-types who always feels there is a better job just ahead. He returned to Tulsa from Windsor, Ontario (basically a suburb of Detroit, Michigan) in early 1970 and went to KAKC. It was only a matter of weeks before he landed at KRMG, where he stayed several years before going to KOTV.

I'm sure he considered it a dream come true when he landed at Headline News, but he was passed over many times for better jobs in the CNN organization, and basically never got past nights and weekends on Headline News. Even an eternal optimist (and genuinely nice guy) like Bob catches on eventually to how your bosses regard you, and when I sought him out at one of his book signings in Tulsa a few months ago he said he left because he "felt he could do better" elsewhere.

He showed up on "60 Minutes" one time a few years ago as being part of a group of people who had bought what turned out to be fake classified documents relating to the Kennedy assassination.

He told an interesting story in his book about how he got the job at Ch. 6. According to the book, he auditioned in front of then-news director Jack Bowen (now an anchor at the Fox affiliate in OKC). When Bob finished his audition he went into the control room to find Jack fast asleep.

Bob called back a week later only to find that Jack had been let go. So Bob called General Manager Duane Harm to find out what the deal was. In his book Bob says Harm asked if Jack had hired him. Bob was assertive enough to say yes, and that's how he got the job.


---

Mike Bruchas - 04/22/99 13:14:35


Comments:
Jim Back can tell us more on Bob Losure. I remember when a TU student, Bob came back to visit. Was working at CKLW or some other Canadian station across from Detroit I thought. Don't know where he worked in Tulsa before going there.

Bob always sounds like he is announcing (often self-deprecatingly I thought!) when he spoke. I worked with him later at KOTV as a relief news photographer when he was a street reporter. I also know he beat a form of cancer a few years back....

---

Mark - 04/22/99 02:02:49
How did you find TTM?: thru KOTV's 6 in touch forum


Comments:
How long did Bob Losure work for KRMG before KOTV? Was he just a reporter over there? I remembered he was doing a radio program as a fill-in for someone who was out, probably sick, and he had Clayton Vaughn as a guest. I remembered Losure as a reporter and then a news anchor on 6. I also remembered he was doing some sports anchoring on 6 as well. Sometime in the early 80's, Losure left 6 for the news anchoring job at CNN's Headline News and stayed there for a while until just recently he left there. Now he's got a book out. Cannot recall the name of the book. Lee Bayley as I recall, did Dance Party. I wonder if Bob Losure also hosted Dance Party. Anita Parvin was a 6 news reporter and Randy Lewin was also a 6 news reporter later became producer at 6. Whatever happened to the both of them?


---

Mike Bruchas - 04/21/99 19:52:04
My Email:jmbruchas@juno.com
Location: Alexandria Media Center
Favorite Tulsa TV show: Old Warner Bros. cartoons on KTUL
Stupidest local commercial: Definitely Dan P. Holmes - what was he talkin' about!


Comments:
Tony Mills, a TU alum of the 80's - whom I worked here in DC was a youthful production mgr. at KTOW. He left us a KTFX mug that I use daily at work - as a souvenir on his departure from VA. I thought it funny when Tulsa friends visited - they said the mug was wrong, thought it a misprint. Now I know why.

Tony took a lowly night operations job here then learned to master an AVID (Mac based video editing system). He now lives in the San Francisco area and a spot he edited there, aired during the SuperBowl this year. So I guess there is life after workin' at KTOW!

Was the pay scale up there with KFMJ?
---

Erick - 04/21/99 14:41:21
My Email:ericktul@webtv.net
Location: Tulsa


Comments:
Dance Party was not hosted by Clayton Vaughn. That would've been hilarious, though. If I'm not wrong, I think he may have appeared on there as a guest a couple of times.

I know Mike Flynn was a host of Dance Party; I think there were others. Any Dance Party authorities out there?

---

Rex - 04/21/99 14:37:25
My URL:http://www.lascala.com/tulsa
My Email:maduko@webzone.net
Location: Dawson
Favorite Tulsa TV show: Mr. Zing and Tuffy
Stupidest local commercial: Dan P. Holmes Insurance
How did you find TTM?: via Oktoberfest site


Comments:

Great Site!
I'm surprised you have no mention of Dance Party!?!
A Saturday morning American Bandstand-wannabe sponsored by Pepsi. It was on KOTV and, I believe, it was hosted by Clayton Vaughn? They had this great logo of a chick doing the go-go salute. Far out, man.

Yes, we need to get something out there about Dance Party. Does anyone have any information about it? I know local musician Randy Ess was in a band that played frequently on the show.
I always enjoyed seeing Dan P. Holmes get angry about Highway 33, his pet project. It finally did get fixed and now bears his name.

---

Erick - 04/21/99 05:30:43
My Email:ericktul@webtv.net
Location: Tulsa


Comments:
Mike Bruchas...I'm your radio guy!!

Classical music in Tulsa is currently served by KCFM 94.1, which used to be classic rocker KTHK, The Hawk.

KTOW, 102.3 has had many formats. One of a few that come to mind are alternative rock in the early 90's (at the time there was no "alternative" it was called "Indie"). Later, it became urban contemporary, and classic country. It took the classic country format, and the call letter KTFX in 1994. Before that, the KTFX call letters were used by 103.3. Now, the former KTOW/KTFX is KRTQ, or Rock 102.3...basically a 80's and 90's rock station.

---

Jim Back - 04/21/99 04:45:25
My Email:jback@soonernet.com
Location: Edmond, OK


Comments:
Since we've kind of drifted onto radio for awhile, here's an interesting story about KRMG. Those call letters, of course, stand for Kerr-McGee. The station license was originally assigned to the late U.S. Senator Robert S. Kerr. It signed on the air on Dec. 31, 1949.

The story we always heard is that he wanted a radio station to match the one owned by his friend/competitor W. G. Skelly, which was KVOO. When AM radio was in its heyday the FCC assigned a few stations around the country as "clear channel" stations, meaning they were authorized to operate at the maximum allowable power of 50,000 watts and there would be no other stations anywhere else assigned to their frequency. The theory was that these stations would assure that people in rural areas could hear radio ntertainment without interference. The rest of the stations had to share their frequencies with other stations in other parts of the country.

So KRMG had to be shoehorned into its 740 MHz frequency without interfering with a Canadian clear channel station and a Houston, TX local station, both also at 740. Kerr wanted his station to serve not only Tulsa, but also Oklahoma City, so he aimed the station's signal southwest from its tower location near Mannford. It took (and still takes) six towers to direct the signal correctly.

That's the background on this story: In the late '70s a storm knocked one of the six towers down and the engineers spent several weeks after putting up the new tower, trying to match the directional pattern prescribed in the original FCC license agreement. They hired experts, and even called in FCC engineers to try to get it right. No one could match the proper pattern and the result was the KRMG signal encroached on the Canadian signal to a slight extent.

After extensive testing, station lawyers and the FCC attorneys concluded that most likely the signal never did comply with the legal pattern and that someone connected with the powerful Senator and "done whatever he needed to" to get the license approved anyway.

So KRMG is probably one of the only radio stations in the country that has FCC approval to be out of FCC compliance.


---

M. Ransom - 04/20/99 23:27:44
Location: Tulsa


Comments:
Here's a funny story just sent to me via email:

"Do you remember when John Chick asked the little girl what she was giggling about, and she said, on live TV, "Little Luther farted!" Jack Morris closed his news show that night by saying, 'And God bless little Luther, wherever you are!'"

---

Mike Bruchas - 04/20/99 21:10:51
Location: In the ozone.....


Comments:
...And to think I can still remember when you wanted to listen to classical music at night in the early 70's - KWGS, KAKC-FM, KORU, and I think the FM station in Bartleville had this every evening. All went away in time and we got commercial classical KCM - who guess has since been sold. Who does play classical music in Tulsa now?

I remember KCNW, which I think became KXXO, being "countrypolitan" a format big in Kansas City that mixed country with light rock and worked! They and KTOW in Sand Springs were KVOO's attempted rivals. I also remember when KTOW (K The Old West) played country till sunset and soul all night.

When Oral shut down KORU - and I guess they had a commercial license - the station was sold & became a soul station in Far East Tulsa. I believe they broadcast from a dumpy house for a while, too.

Tulsa has always been an interesting radio town.

Did anyone ever answer Don Lundy's call letter quiz? What did KOME and KAKC stand for? I know KOMA in OKC stood for K and the back half of Oklahoma.

No, it may be time to reveal the answers!

Wasn't KKUL the soul station in the mid to late 70s?...it was pretty good.

---

Erick - 04/20/99 15:53:36
My Email:ericktul@webtv.net
Location: Tulsa


Comments:
Let's see if I can answer some of Mike's questions. I hope I can remember what they were.

Yes, KVOO still broadcasts on 1170 am. They also broadcast on 98.5 fm. The 2 frequencies offer varied forms of country music, with the am frequency being more of a classic country station. I'm convinced that Billy Parker is the only voice on the am frequency.

KRMG has been all-news/talk for some time. They used to go by NewsRadio 740, but I think they've changed that to NewsTalk 740. I don't listen to them much except for during weather, as I can't stand Dr. Laura and Rush Limbaugh.

KAKC is owned by Clear Channel, and their studios and offices are in a bulding near 41st and I-44 I believe. KAKC recently went from a sport/talk format to an all-Spanish format.

I think KWEN and KRMG are run by different people. KWEN is run by Great Empire Broadcasting. KRMG is run by the same people that run KRAV, and KJSR.

Billy Parker put out a darn good Bob Wills tribute album a year or two ago. He also hosts "Wooley Wednesday" on KVOO with Tulsa World writer John Wooley.

---

Mike Bruchas - 04/20/99 15:07:28
Location: Alexandria Media Center


Comments:
Where are those KRMG voices of the 70's - Don Cummins and Ed Brocksmith? Does KRMG still own KWEN? I heard Boaz Raushwerger at the KWGS tribute in '97 - where is he? Is KRMG all-news yet? Does KVOO still broadcast in AM Stereo - they were one of the first though the AM Stereo thing never caught on. Does KAKC still live - at the Tradewinds? I am lost in the 70's again....

---

Jim Back - 04/20/99 02:17:41
My Email:jback@soonernet.com
Location: Edmond, OK


Comments:
I remember one election night in the early-to-mid 70s, Don Cummins was anchoring our election coverage on KRMG, and Jim Bunn was at Democratic headquarters and I was at the Republican HQ (or vice versa). Don is trying to keep everything running smoothly, while trying to anticipate where the next report is to come from. Jim and I both called in on the 2-way about the same time and Don called for one of us by name when he meant to cue the other. Anyway, he apologized to the aucience and tried to say, "Sorry folks, I got my Jim's mixed up." Instead, what came out was, "Sorry folks. I got my Back and my Bunns mixed up."

It was pretty funny at the time, but to this day I've wondered if he didn't do it on purpose.

---

Mike Bruchas - 04/20/99 00:08:58


Comments:
I am getting senile. I forgot all about Jim Bunn at KRMG - it has been a long long time. Never knew Susan Bunn also worked there! Didn't Richard Dowdell leave for a while to be a reporter at KTUL? Somehow in my brain I thought he did do TV for a while...

---

Jim Back - 04/19/99 23:34:50
My Email:jback@soonernet.com
Location: Edmond, OK


Comments:
Actually, Susan Bunn got her first broadcast job at KRMG. I hired her in early '70s. She went to Ch. 6 from KRMG. Also hired her brother, Jim Bunn, (before I hired Susan). He moved to Ch. 2 for awhile, then moved on -- I think to Cincinnati. I lost track after that.

Nothing like hearing from a definitive source.

---

Mike Bruchas - 04/19/99 14:04:27


Comments:
Susan Bunn - I was told, was hired originally as newsroom secretary at 6 but soon shown to be a good catch as a junior reporter. Don't know what her background was before 6. Then she was made Noon news co-anchor - later succeeded by or shared the job with Kitty Gibbons. Susan was married to reporter Rocky Stegman who later opened Bunn-Stegman Productions - one of Tulsa's first small video production companies (like Stunkard/Phipps Productions - started by 2 TV salesman) who saw the production opportunities with the then new,portable news camera systems. I heard she moved to England,too, then last year heard she was now a "big band" singer living in AR and performing in the Southwest....

---

Mark - 04/19/99 02:08:21
My Email:mjh5364@compuserve.com
Location: Jenks
Stupidest local commercial: John's furniture 13003 E.Admiral Pl "Hi, I'm Toy!"


Comments:
Mike, a short while back, you asked if Mack Creager was replaced by Glen Fisher. I believe so. Fisher stayed with 6 for a while and then Ken Broo replaced Fisher. By the way, Susan Bunn visited 6 in the Morning a couple of years ago when she mentioned she was starting her TV program on Tulsa cable TV. She talked about her career with 6 and then moved on. She mentioned that she was in England. What do any of you guys know about her? I read in the entertainment section which showed a listing of nightclubs and who was performing there and it listed Susan Bunn. Is she a local singer?

---

Bob Bailey - 04/18/99 03:13:52
My Email:bobby.d.bailey@boeing.com
Location: Moundridge, KS
Favorite Tulsa TV show: Mazzeppa of course
Stupidest local commercial: John F. Lawhon (1970)
How did you find TTM?: Stumbled


Comments:
I am now 46 yrs old and when I was young in Porum OK there was nothing to do but flip "u"'s in your car until the cops sent you home and then you watched Mazeppa. Memories embedded forever. I miss Tulsa always.

Hey, I knew a guy from Porum, Mike Ogden, at OU...do you know him?

Has anyone heard of the "Wolfman of Lawton"? Back in the Mazeppa days, there was an "urban legend" about such a creature.

---

Mike Bruchas - 04/16/99 23:51:28


Comments:
I think the Golden Drumstick was closer to Yale & 11th - did it become the Middle Path Cafe veggie joint in the late 70's? I thought it later burnt down. Former KMOD/KTUL/current Starship records owner Matt Bunyan was addicted to both incarnations of this joint. As the Golden Drumstick it had a lot of that old Rt. 66 50's neatness to it.

Yes, you're right, The MIDDLE Path!

---

Don Lundy - 04/16/99 01:55:03
My Email:dlundy@kero.com


Comments:
Here's one for the older crowd.

Do you remember a kids show on KOTV in the mid 50s hosted by Bob Latting, who owned the Golden Drumstick (restaurant formerly on the NE corner of 11th and Lewis, I believe)?

He handed out silver dollars to kids who answered a question. I still have one I got on the show when I went as part of some kid's birthday party.

Runners-up got a dinner at the Golden Drumstick, which speaks a lot of chicken prices in the mid 50s.

Wasn't the Golden Drumstick on the NE corner of 11th and Yale? I think it later became a "natural" food restaurant...was it "The Path"? ...probably not many hold-over customers from the Drumstick days.

---

Debbie Sommers - 04/15/99 22:49:21
My URL:http://www.geocities.com/Heartland/Garden/7134/index.html
My Email:sdsommers@yahoo.com
Location: Tulsa OK
Favorite Tulsa TV show: Daytime Soaps (if I can pull myself away from puter long enough) lol.. and nightly news channel 2
Stupidest local commercial: The one with the man waving his arm yelling "If you dont come see me, I can't save you any money!!!" That's so dumb!
How did you find TTM?: Youre on our Links Page :0) Friend!


Comments:
Wow! Two Guestbooks since I've been here!! Looking great! Wanted to let you know that we moved to geocities. Please come see us again, and see the new changes! Yes, your link is still here... and I'll make sure I come back more often. Your site is so funny, and I plan to come back tonight to look around more. Take care!!!

Good to hear from you again, Debbie.

---

Erick - 04/15/99 16:14:10
My Email:ericktul@webtv.net
Location: Tulsa


Comments:
Hey folks. Thought I'd help kick off guestbook #5 with an interview. This was done in 1997 by Harris Online. So, enjoy former Tulsa sportscaster Ken Broo talk about many things, including a mention of his appearance in the (now defunct) CBS drama, "Michael Hayes". http://www.harrisonline.com/intvws/BROO.HTM

Now, a question. In the 70's, there used to be a show on (then) KTEW called Oklahoma Forum. In the early 90's, there was a show with the same name on KTFO, the latter show was hosted by Sam Jones. It was a public affairs-type show. My question is, were these 2 shows similar? Was the second show just a reincarnation of the first?

Thanks for the link, Erick. I'm not sure about that Oklahoma Forum question. My guess is that great minds would think alike and arrive at the same show title independently.

---

Bill Hensley - 04/15/99 16:03:10
My URL:http://ourworld.compuserve.com/homepages/Bill_Hensley/
My Email:Bill.Hensley@trw.com
Location: OKC, OK
How did you find TTM?: via ok.general


Comments:
When I was 8 or 9 (this would be 1968 or 69) or so, my grandfather took me to the top of Concharty Mt. (a couple miles WNW of Haskell, OK). There was an abandoned studio and tower there, and my grandfather said that it was the old Channel 8 studio, from before the station moved to Tulsa.

There's still an antenna there on Concharty Mt., but I haven't had the opportunity to try and get back up there (maybe one of these days).

Cheers, Bill

Bill.Hensley@trw.com

I'll bet one of the experts here could confirm that. I wonder if the abandoned studio is still there.

---

Hurst Swiggart - 04/15/99 04:24:28
My Email:traceway@aol.com
Location: Tulsa, OK


Comments:
I began at Channel 8 in 1959 on the studio crew as a cable puller for the expert cameramen..Tim Penland (several years after his TV 8 work he was the Producer of a film with Roy Rogers) Doug Montgomery (Bozo the Clown). Studio supervisor was Al Clauser...in his earlier career he had a band.." The Oklahoma Outlaws" and had appeared in several Hollywood movies hence we produced some great stuff under Al's guidance.

My first assignment was to assist the "crew" in preparing a grand promotion called the "89er Days. Al and crew built a huge Western style town out of 5'x10' cardboard painted to look like Dodge City (Al was a true artist) and assembled it on the hill as you approached channel 8.

Channel 8 was owned by John Griffin of Griffin Grocery and Jimmy Leake so the grocery put prize certificates in Griffin Coffee cans and buried hundreds of them all over Lookout Mountain...the people came in droves to seek their treasure.

The News anchor in those days was Jack Morris..Weather Don Woods..Sports Hal O'Halloran (when he died many years later the final song at the funeral was "Take Me Out to The Ballgame").

The womens show was hosted for years by Louise Bland and when she departed Betty Boyd was the premier hostess for years ( she is currently a State Legislator). Betty is the "Grand Dame" of Tulsa TV..a great lady!!!

Great stories abound about the early days of Tulsa TV and I am grateful for this site..Incidently the frequent contributor Mike Bruchus was a tremendous cameraman and production genius.

By the way Tuffy the Tiger was created by Homer Wayne Johnson and portrayed by "hisself" unless Wayne was on vacation or some other activity.

John Chick was the creator and producer of Zing and Tuffy and wrote such endearing songs as "Don't Ever Leave the Yard without Telling Mother". Truly one of the GREAT talents...Sad that he died so early..he was a really great Soul.

Lots of stories to tell...I have many great memories of Tulsa TV and would not trade them for all the tea in China. Remember Tom Ledbetter as Uncle Zeke and later the voice and presence of the talking tree "Leafy Bark"? We all could go on and on and I hope we do...it is really fun to re-visit those days. Audios for now.

I see you got my phone message, Hurst. Welcome to TTM!

Mike Bruchas ID'd Tuffy the Tiger for us as Wayne Johnson for us awhile back, although Jack Hobson had also seen Mike Denney don the stripes as well.

I watched Bozo the Clown as a kid, and I'm glad to now be able to put a name to him.

We're all looking forward to hearing any reminiscences that cross your mind.
---

Mike Bruchas - 04/14/99 13:22:47
Stupidest local commercial: Definitely ANDY EWING TOYOTA


Comments:
Mary Ruth Carleton of KOCO fame free-lanced, anchored in Las Vegas and met her husband there. She lives in San Diego - her husband manages the front end at Del Coronado Hotel (site of the open from Fantasy Island!)and she was a p.r. executive/fund-raiser at the Scripps Foundation the last time I heard.

Anyone have e-mail contact with Hurst Swiggart - Tulsa realtor and KTUL production manager in the 70's? I think he may have also worked at 6 at one time, too. Hursty might have some good stories to share here and also be on-line in Tulseytown...

Couldn't find an email address for him, so I left a message on his recorder about the site. Maybe we'll see him soon!

Andy Ewing...IN the statehouse! I saw in the paper that he is running for political office.

---
Tulsa TV Memories main page