Date: 08-Jun-00 07:30 PM
Name: (Again!) Mike Bruchas

John Hillis is right on Henry Lile's flying camera. Henry had a beautiful Bolex EBM that we lusted for - when shooting film of games for sports or silent "ground level" MOS. Never sure if it was his own or KOTV's.

Henry had an old old hand wind-up Kodak 16mm camera w/ turret lens - not sure if a Brownie though.

At one time he was playing with a U-shaped still camera flash bracket that held the camera in the middle on it so he could hold it in either hand/both hands and I think joked about steering his plane with his knees. I am sure the viewfinder on the Kodak was small and dark compared to his then high tech Bolex. Don't ever remember him in '76-'77 poking a video camera out a plane window - the KOTV Sony's were heavy and cumbersome and Henry never got stuck with a "Mattel" Hitachi camera!

Yes, Ken Broo is right - he did call Ken, "Kin". I can still remember now, playing back in my head.

Henry was a gentleman aviator all right and we all were lucky to have known him. He wasn't an NPPA hot shot or Pulitzer Prize photo award winner, just Henry Lile - a nice guy.
---
Date: 08-Jun-00 07:18 PM
Name: Mike Bruchas

"Patterns in Music" was pretty low key, pre-beautiful music on WMAQ. On WAIT he was a name but no "readings" but some patter - it really wasn't "Patterns in Music". Doremus' show on WGN was talk with music interspersed but tied in (Patterns in Music LITE?).

For his WMAQ TV show he might be seated at a small cocktail table and wax elegant on something and the then live NBC Chicago orchestra would take over with a number tied in some way. Maybe little tableau things in the TV studio.

On WGN radio all night, he would weave into the program messages about the unheard union techs with him - part of his radio family in the studio. At WGN a lot of personally intoned spots by him were the trademark of the all-night man. As I recall he did have a newsman and another WGN booth (working both TV and radio then) announcer - usually Carl Grayson part night to intro newscasts and read other spots. Funny thing was WGN had this gigantic IGM automation cart machine in an adjacent room full of nothing but PSA's. Spots were for the most part read live with a few pre-produced spots on his shift for people like Culligan water treatment as I recall after visiting him one night.
---
Date: 08-Jun-00 05:59 PM
Name: Larry James
Email: LarryJames@CelebrateLove.com
Geographical location: Scottsdale, AZ
Web site: Celebrate Love & Relationships with Larry James
Favorite Tulsa TV show or personality: Bob Losure
How did you find TTM? Mike Ransom saw my review of Losure's book on my website & sent me an e-mail. (Thanks, Mike!)

I was happy to discover your website. I lived in Tulsa for over 23 years. Move to Scottsdale, AZ in 1996 to be with my sweetheart.

I am a professional speaker and author (personal relationships) and unexpectedly ran into Bob Losure at a National Speakers Association meeting in San Francisco several years ago. Although we had never met before then, I had followed his career on CNN. It was great to meet him and since then we have become friends. By the way, I highly recommend his book. (Five Seconds to Air).

I have terrific memories of Tulsa. Hated to leave but my sweetheart was calling. Our 4th wedding anniversary is today (June 8th). ;-)

I have returned to Tulsa only once to do a series of book signings at Novel Idea and Barnes & Noble.

Another one of my favorite Tulsa personalities is Ann Williams. I appeared on her radio show several times.

Keep up the grrreat work on your website. I'll be passing the link to my friends.

Celebrate Love!

Larry James

Haven't seen Ann Williams in awhile. She added a vital element to the Erling show while she was there. What's she up to now?
---
Date: 08-Jun-00 04:53 PM
Name: John Hillis
Geographical location: Washington DC
Favorite Tulsa TV show or personality: Ken Broo, airborne
How did you find TTM? Homing Pigeons led me to the grass strip at Harvey Young

I was away for a few days, and want to kick in a bit more on the late Henry Lile. Henry illustrated the saying that there are old pilots, bold pilots, but no old, bold pilots. I never knew Henry to take a chance.

I believe that the December, 1975, tornado footage discussed here recently was shot by Henry using his trusty Kodak Brownie wind-up 16mm camera. A Bolex would have been too complex and large for Henry's airborne use. The Brownie was about the size of a cigar box and had a three-lens turret, a flip-up viewfinder on top of the camera, and a spring-wound motor to reel off about 50 ft of film (about a minute and a half) before Henry would have to rewind, which he did while flying by holding the Brownie between his knees while his feet worked the rudder and one hand held the Cessna's wheel. Primitive but effective.

It was before my time, but I was told Henry used to wrap film or tape in foam rubber sheets, buzz KOTV, and pitch it out the window to be retrieved in the parking lot, a practice that ended, the story went, when a film can met the window of the GM's new Lincoln Continental. I was never sure whether the story was true or was one of Henry's little put-ons. I could see it either way.

Henry Lile was one of those characters that used to inhabit the local television world before it became a big-money sport. He was a real-life link to the days when aviation was a risky proposition rather than a business, and while he'd probably rather be called "Aviator" than anything else, he was a heckuva newsman as well.
---
Date: 08-Jun-00 02:02 PM
Name: Mike Bruchas
Email: jmbruchas@juno.com
Favorite Tulsa TV show or personality: Mike no Judd Hambrick

The late Steve Powell - between gigs in OKC was an announcer for a while at KGMC-TV AFTER his Foreman Scotty days. He WAS a local celeb and the kids (22-25 yrs.old) I worked with there - were in awe of him. Think he did some OETA fundraising work at one time too.

Was editing down a zzzz local TV show, "White House Chronicle" that usually has nada to do with La Casa Blanca. My DC client GoodLife TV cable carries it at 2 or 2:30am EDST. Yoicks up pops MIKE HAMBRICK as a guest on this show for Sunday.

Last heard of - he was spokesman for "American Smokers" (Defending YOUR right to smoke!) now here looks senatorial with glasses and graying hair and was billed as a "radio - TV anchor". Some gems in what he said but this show is seen only in DC on WHUT-PBS and on GoodLife TV. He said he had worked at 18 stations in his career, now on "Radio America" - a business radio network with some kind "issue related" news talk show. Said he was working on a deal with a "university yet to be named" (probably DC's Howard University who runs WHUT-TV) for "a university related news issue talk TV show". He mentioned journalists were once blue collar types but now need to be more "business/technically" oriented with degrees in some specialty. I think he may fashioned himself as such. One of his brothers ran NBC Business news unit here for years and covered that beat for non-broadcast sales.

The show is kind of a time-waster but if your local cable system carries GoodLife TV, program your VCR to record it to see Mike if a fan.

Judd Hambrick was an anchorman at KTUL for awhile in the 80s, now working in Cleveland. He is also the "Judd" who composes the syndicated Scrabble puzzles in the newspaper.
---
Date: 08-Jun-00 01:40 PM
Name: Mike Bruchas
Email: jmbruchas@juno.com

"Patterns in Music" I recall was John reading original, "borrowed" or famous literati stuff and his musings between the appropriate cuts of music he picked. The man had a great ear for music whether light classical, show tunes, light symphonic pop or whatever.

In the companion piece with the KNXR tapes - it said John had also bought material from another famous monologue-ist's (spelling?) widow of material he liked and re-read it as additional source material. Will have to review who that was. I guess he read a lot and appreciated good writing, that "read" well.

The audience was the post dinner crowd on AM on WMAQ - still big on radio till the late 60's - later as an alternative to elevator FM.

Probably best stated he was a performer/reader/host of the show with that GREAT warm voice.
---
Date: 08-Jun-00 12:43 PM
Name: Don Norton (KOTV News l953-l960)
Geographical location: Tulsa, OK, former Oil Capital

I think Jim Ruddle was inquiring about Steve Powell (host of Circle Six Corral). He went on to WKY-TV, and is now deceased--according to the WKY-TV history replayed on OETA a few months back (similar to the KOTV 50th anniversary show).

Time Marches On!
---
Date: 08-Jun-00 11:19 AM
Name: Frank Morrow
Geographical location: Austin, Texas

Because I was out of the country most of the time in the Navy, I never heard Doremus' "Patterns in Music." Was it a straight disk jockey program supplemented with occasional "singalong times," as "Music 'til Midnight" was when John did it at KRMG?
---
Date: 08-Jun-00 09:53 AM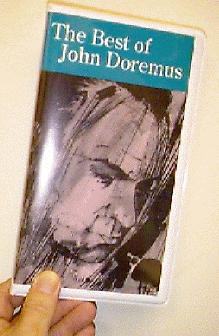 Name: Mike Bruchas
Email: jmbruchas@juno.com
Favorite Tulsa TV show or personality: Poor Richard Ford or Richard Dowdell
How did you find TTM? It searchs for ex-pat Tulsans!

Received set 1 of 2 cassette sets from KNXR radio of John Doremus bits from "Patterns in Music" - they even sent hard copies of the scripts!

Needless to say on days when radio reception is bad - DC has areas like this in the city under bridges and by certain military reservations (hmmm)- have been enjoying stories and bits from the collection KNXR has compiled. A lot of it is timeless and a lot seems a picture of a quieter, gentler America of 30-40 years ago.

I can see why it plays well in MN and I can see why pre-teen me and my folks loved John's shows 30 years ago. Even heard a Sapulpa story about a mechanic who sent him a now dated story about the last traffic jam in America (set in 1987 in the copy - then the far off future).

If I knew how much space an audio file took up - might forward webmeister Ransom a shorter clip to hang on this webpage!

Please do, Mike. About 2-3 minutes is as much as I can handle per clip...even in RealAudio format, the files get large. Oddly enough, video is no more expensive than audio. FYI, I start with either a .wav file for audio, or an .avi for video. I use Real Producer to convert them to Real format, approximately 1/10th the size of the original.
That show sounds reminiscent of "Prairie Home Companion" in tone. I wonder if there is any connection, given that "Patterns in Music" was from MN, too.
---
Date: 07-Jun-00 11:31 PM
Name: Frank Morrow
Geographical location: Austin, Texas

After the Coliseum burned down in 1952, KAKC had temporary studios in a small trailer. It might have been at their transmitter site. Later they moved into studios high up in the building at 9th and Boston. I think it was called the American Airlines Building at the time.

The announcer could see the traffic on the heavily traveled 11th Street (which may actually have been 10th St. at that particular point), which was then Hiway 66. At night the disk jockey would ask the transiting drivers to blink their headlights if they were listening to KAKC. The announcer would then acknowledge this by saying, "Thank you." I was impressed with the great number of responses, until I remembered the bogus KAKC Airmobile broadcasts. I always planned to park at the corner of 10th and Boston to see if the number of "Thank you's" matched the number of blinking lights. But I never did.
---
Date: 07-Jun-00 11:00 PM
Name: Jeannie Moore Crabtree
Email: jcrab@olp.net
Geographical location: Glenpool, Okla.
Favorite Tulsa TV show or personality: Chris Lane
How did you find TTM? A link from Union High School Reunion

Hello, I danced on Party Line with Chris. Every sat.afternoon my Mother & Grandmother would take my sister & I with some of our friends. When it went off the air they had a dance at Cain's Ballroom. They called a teen rock & roll singer every week. I got to talk to Tommy Sands. I am so sorry to hear that Chris has passed away.
---
Date: 07-Jun-00 03:01 PM
Name: Jim Ruddle
Email: gardel@erols.com
Geographical location: Rye, NY

As long as we've had the sad news about Les Lampson, can anyone provide information about Jim Newton, Don Marvin, or the guy who did "Circle Six Corral"--I think he used the name "Scotty"? Maybe somebody has already given an update, but I can't seem to access the search on this site and I'm damned if I'm going through everything in the archives to find out.

KOTV's "The Don Scott Show" can be seen on the Other Kiddie Shows page. I believe that he became OKC's "Foreman Scotty".
---
Date: 07-Jun-00 02:56 PM
Name: Mike Bruchas
Email: jmbruchas@juno.com
Favorite Tulsa TV show or personality: Uncle Zeke? Whatever Zeb character Dick Van Dera played at 8....
How did you find TTM? Mike Ransom School of Computer Stuff, Muskogee, IT

This last Memorial Day driving past the Nam memorial here in DC - I remembered KTUL announcer Lawrence Heatley was a Nam vet besides 8's Dick van Dera. Anyone know where Lawrence is? Last Summer someone posted that John Heatley - his younger brother and ace KTUL cameraman was now a gunsmith in Tulsa.

Speaking of John Doremus' ties - I think Dick was also a John Doremus TU scholarship winner, after he came back from Nam as a Navy medical corpsman. Need Dick to fill us in on this, he was yet another fellow former Chicagoan who landed in Tulsa.
---
Date: 05-Jun-00 10:04 PM
Name: Webmaster

Just received an email about Les Lampson, KOTV announcer of the 50s, inquired after by Lee Woodward earlier in this Guestbook. Reprinted here by permission of Neil Ross:

"Regarding your query concerning Les Lampson. If we're talking about the same guy, I knew him casually for a while in the voice over business. We were in a workshop together and had the same agent. (Deep well modulated voice-nice guy-ex booth announcer type right?) Lost track of him when the workshop broke up but heard through mutual friends that he had died of lung cancer. This was about ten years ago, as I recall. I'm racking my brains trying to think of who I'm still in touch with who might know more details, but I'm drawing a blank. I'll keep thinking about it and if you want to know more, email me back and maybe I'll have thought of someone by then. Sorry to be the bearer of bad news."

Neil Ross
nross@flashcom.net

We later got another response from a gentleman who runs a casting agency in L.A. He said of Les Lampson: "Neat guy. (He) liked to sleep on the announce booth floor and occasionally slept through the breaks."
---
Date: 05-Jun-00 08:58 PM
Name: Ken Broo
Email: pbpbengals@aol.com
Geographical location: Cincinnati, Ohio
Web site: WLWT web page
Favorite Tulsa TV show or personality: Anita Parvin
How did you find TTM? Illegally entered John Hillis' computer

Henry Lile was the kindest, most decent person I've ever met. I too flew with Henry, many times. The tornado story, I believe, has another twist. Tornado footage was so rare back then, before the days of home video, that television stations and networks paid a hefty price to get ahold of some.

Henry, either in 1975 or shortly before, filmed a tornado (most probably with his Bolex, film processed undoubtably by Sherm Wilsey) and sold it to CBS, KOTV's affiliate. As the story goes, Cronkite was so impressed with the footage, he phoned Henry up and had him narrate the video, 'live' on the CBS Evening News. I'm told Henry was like a deer caught in the headlights.

As for flying with Henry, I felt more safe with him than on a lot of commercial aircraft I fly these days. One flight that I passed on stands out. It was an early Saturday and Henry and a KOTV photog were flying to Manhattan, Kansas, to film the OU-KState game. I was going along, merely for grins and not working. It was a cold blustery day, didn't take me long to get to Harvey Young, as I lived only a mile away.

As we were loading up the plane, I expressed my concerns about the weather to Henry. Henry said that, yes, it would be a bumpy two hour ride, up and back. I began to beg off. Henry insisted I go.

"Ken (or Kin as he pronounced it), if you're with us and we go down, the headlines will blare: Famous sports celebrity killed in plane crash. Henry Lile pilot. But if you're not with us, it'll be buried in the back of the paper."

He was joking, of course. I was back home in five minutes.

Welcome back, Ken.
You can read Ken's column here on the WLWT site. He also has a web site under development at www.kenbroo.com. You may want to bookmark them.
---
Date: 05-Jun-00 04:57 PM
Name: Mike Miller
Email: typo1@erols.com
Geographical location: Vienna, Virginia

Henry Lile was a great guy and very good pilot, although he and I had a number of close calls. Two come to mind.

When I worked at KOTV in the mid to late 60's, Henry and I used to fly to football games on Saturdays to cover various Oklahoma teams. Once while traveling to Stillwater, we were flying into the sun and narrowly missed an Oklahoma Highway Patrol plane, coming directly toward us. Each plane banked to the right, avoiding a head-on collision.

Another time, while returning from a TU game at Wichita, Kansas when we ran into extremely low cloud cover. Henry calmly remarked, there are some 500-foot radio towers around here and we're only at 400 feet. Suddenly I was scared to death. "Henry you better set it down." He agreed, and we landed safely in a cow pasture and waited until the ceiling lifted.

All reporters loved to fly with Henry Lile because he often let us handle the controls, once we were in the air. Henry was a safe and sober pilot, but once on the ground, he would sometimes open the trunk of his car and take a few swigs from a bottle of liquor. The day we returned from Wichita, was one of those times.
---
Date: 05-Jun-00 01:16 PM
Name: Mike Bruchas
Email: jmbruchas@juno.com

Henry Lile was a staff member at KOTV and their pilot. Though he may have done some pilot training or cert work when not at 6 - this I can't recall.

As discussed previously by John Hillis and myself, Henry was a former milkman and had held a variety of other jobs. At 6 - when we were there - he must have been in his early 50's - he was the night photog/film processer/prompter operator in addition to doing aerial coverage of stories in the pre-chopper days.
---
Date: 05-Jun-00 12:59 PM
Name: Erick
Email: ericktul@webtv.net
Geographical location: Just off 71st between Riverside and Lewis...I've moved!
Favorite Tulsa TV show or personality: Oklahoma Memories/Mike Ransom!
How did you find TTM? Typed "TTM" into a search engine. ;)

This update is a little old, and a bit random, but I was at the downtown library last week, and while waiting to meet a friend for lunch, decided to shuffle through old Tulsa World microfilm. Came across the December 6, 1975 paper, and the headline read something like "Tornado Rips Through Tulsa". Among the survival stories and damage photos was an aerial photo of the tornado. This photo was taken by Henry Lile, who has been discussed on this site before. In fact, this particular incident has been talked about. There was an article about Henry's adventure, in which he had been in Seminole taking photos during the aftermath of a school explosion (he was a free-lance photographer, but I believe Mr. Bruchas has said he worked for KOTV). He was flying back with a flight student aboard when he encountered the storm. He noticed that the tornado appeared to have struck Harvey Young Airport, which is where he kept his plane. They landed there, dodging large chunks of debris on the runway. Incidentally, I collect tornado videos, and I have a short, grainy, black and white clip of the 1975 tornado. If someone (our webmeister, perhaps?) can convert it to computer-compatable, let me know and I'll try to get a copy to you!

Indeed I can convert the video to a RealVideo clip.
---
Date: 03-Jun-00 02:43 PM
Name: Webmaster

On behalf of King Lionel, I searched for the whereabouts of Les Lampson, but with no luck. I did turn up a site with a lot of info of this type, though: Los Angeles Radio People. I sent them an email, so we'll see...the query will appear in Monday's column on the LARP site, so maybe a reader there will have a lead.
---
Date: 02-Jun-00 10:51 PM
Name: Mike Bruchas
Email: jmbruchas@juno.com
Geographical location: Washington, DC

Got an e-mail from ex-KOTV Promotion Director Jerry Muratore now at DonRey...more on my Claude Akins in Tulsa story:

"I do remember taking Claude Akins to the Celebrity Club after we shot promos on the steps of the Williams Center on Third Street. He wanted an "old-fashioned" hamburger and I had a $300 a month entertainment account that was almost impossible to eat up. A waitress at the Celebrity recognized Claude, went home and brought back a drawing of an 18-wheeler that her son had done. She asked Claude to sign it. He did.

"Later as KJRH's Promotion Manager I was in Los Angeles for a BPA (Broadcast Promotion Association - now called ProMax) convention and called Claude at home. He sent a car for me and I was driven to some where in a valley where he lived and the two of us had dinner that he cooked.

"A great guy and a real gentleman. Sorry he's gone."

Jerry Muratore
---
Date: 31-May-00 12:53 AM
Name: Frank Morrow
Geographical location: Austin, Texas

In my first shift by myself at KAKC I almost got fired. During the night music show, "Music for Listening" I played Stan Freberg's "John and Marsha." The words consisted only of "John" and "Marsha," with Freberg doing both the male and female voices. From the various ways he said the two words, it was evident that the two were going through the process of hesitant foreplay, full-blown sex, then after-glow activity, complete with John rejecting Marsha's advances to do it again. Although it was very humorous (and despite the fact that I had first heard it on the radio), the KAKC general manager, Jim Neal, didn't agree, and called me up immediately to inform me of his displeasure.

I never played the record again, but I did occasionally play the "Theme from John and Marsha," an instrumental, letting the people "in the know" supply their own words.

We will hear a RealAudio newscast from the 18 year old Frank Morrow, plus a later narrative of his today on the site.
---
Date: 30-May-00 06:10 PM
Name: Mike Bruchas
Geographical location: Still in Dee Cee
How did you find TTM? I missed the turn for El Chico on Hwy. 97

Brownies Root Beer and Burgers! I still go there when in town.

Bob Losure seemingly ate there every day when just a KOTV reporter. Often wonder if they "comped him" to have a local celebrity in there.

In fact when Losure is back in Tulsa, he can probably be seen there like clockwork.

We could never get a handle on their efficient but bizarre staff - as an unnamed KOTVer once pegged them as "born-again Christian/recent ex-con in first straight minimum wage job and hating it/gay/former Hell's Angels bikers" and I still have that run thru my brain whenever I am there....
---
Date: 30-May-00 05:59 PM
Name: Mike Bruchas
Email: jmbruchas@juno.com
Geographical location: Balmy East Coast
How did you find TTM? I thought I was goin' to Luby's...

For cheap eats - we used to hit the old Crosstown Grill as KWGS staffers till they tore it down OR the Ranch House on Third. The latter though kept changing cooks or decided to NOT stay open all night some nights and not others. Very confusing.

Kay's was a daytime lunch joint for Matt Bunyan, Tom Roberts and other (then) radio guys.

The late Mike Pacaud (of the Brook Theatre, the PAC and later Ringling Brothers) and several of us from 8/KVOO radio started hanging out at the Best Western or whatever it is now at 51st and Yale.

Sidebar - We used to walk out to the "skywalk" over the hotel's unique indoor pool and ogle any semi-attractive female over 19 and under 50 taking a late night dip in the pool - they always looked better from a distance. Often they were "working women" with guests and noticed several on repeat occasions at 2-3 a.m. frequented the pool, though the hotel espoused all kinds of security/anti-soliciting signs - it was interesting to see "regulars" there.

Post-pubescent male fascination note. The vending machine by the pool sold a one-time use "paper" disposable bikini swimsuit - oh those high tech 70's - we kept coming back after chow to see if any female ever bought one. Never saw one EVER in use...

Good grub (cheap/BIG portions) there though, and they let us sign-off crew guys/gals sit for 2-3 hours at a time. I was amazed that we could sit till 3 or 4am - go home and be back at work at 1 or 2pm. THEN we never gained weight and food WAS cheaper.

Note - DON'T EVER ASK FOR THE FRENCH DONUTS! Always on the menu, but never there and half the waitrons felt we "were talkin' dirty" to them when we did mention them or tried to order them! No idea what crullers were either...

Met Henry Gibson's son and Keith Carradine there just before Robert Altman's "Nashville" was released and they were tied to G.Ailard S.Artain from the movie and "hangin' out" in Tulseytown. We said who and pumped Carradine on his dad, JOHN Carradine. Brother David Carradine in "Kung Fu" was of no interest. Then "Nashville" came out 6 mos. later!

Another eatin' with celebs note - Jerry Muratore - promotion director at 6 - and I took **CLAUDE AKINS** to lunch while he was in town promoting "Nashville 99" - it was really 1977 + a cop show shot in Nashville with all these famous/semi-famous country folks doing cameos or playing companion cops that lasted maybe a year on CBS. Akins was "Badge 99". The "Nashville" swing started this I guess and CBS was big on cop shows that year.

I was probably wearing my double knit "photog" suit aka the old leisure suit. Always semi-formal + keyrect attire whether shooting celebs, Southern Hills society, grisly dog explosions or watching "floaters" dragged out of the Arkansas.

EVERYONE at the restaurant was doing double takes seeing le Claude but no one could quite figure out who he was! I THINK he wanted to be recognized, too. Them Hollywood types!

We shot some gritty railyard footage on a rainy looking day down by the then still destitute Union Station with him plugging the show on KOTV. "Tough city, tough cop" kinda thing.

After a week I think we stopped running the promos....

(Added by webmaster for Mike Bruchas) Postscript: Jerry Muratore of DonRey Media has provided us with an updated version of this story...see my later comment.
---
Date: 30-May-00 08:38 AM
Name: Jim Ruddle
Email: gardel@erols.com
Geographical location: Rye, NY

Welcome, Lee. I wondered where you had been hiding. Lampson was something of a pain--There he was, young, good-looking, driving a (then) just off the drawing board Ford Thunderbird, and dating a blonde whose false eyelashes were long enough to prevent her from injury should she fall on her face. Single! The bastard was SINGLE! Of course, he had to be Ramar of the Jungle and wear a pith helmet, but that was nothing in the humiliation line compared with a Zeta suit.

In the restaurant sweepstakes, I'd have to put Bishop's as the premier institution. Ike's original chili parlor and the Coney Island were close behind, but Bishop's took the laurel because it stayed open until all hours. After a night at Love's Lounge, or the St. Moritz, or the Trocadero, Bishop's was the only real port in the nighttime storm. Coman's, first on Fifteenth and Peoria and later at Fifteenth and Boulder was pretty good for burgers and fries, but Bishop's had a regular menu.

And the characters who hung out there. I once sat next to a guy in a green tweed suit who was tearing matches out of a paper matchbook. He laid five, or eight, or ten--I don't recall, exactly--of the matches on the counter and pointed at the clock high on the wall at the back.

"I'll give you five dollars if you can arrange those so that...(and here he described one of those goofy puzzles, that all the heads should be touching, or none of the heads were touching, or that they should form a square, Star of David, or some such thing) within five minutes."

I looked at the matches, then glanced up at the guy, suddenly realizing that it was Titanic Thompson, the old sharper who was famous for betting on everything, after fixing it first. He once collected on a wager that he could drive a golf ball a quarter of a mile, then won when he walked out of the ice of a wintry Lake Michigan and clubbed a shot that is probably still sliding.

I declined the challenge. Besides, Titanic was also known to have a fondness for young boys and I had a checkered enough reputation without adding that to my list.

He was just one of the denizens who frequented Bishop's at night: Cabbies, drunks, guys just back from a successful date, guys just back from a washout, couples who were having more fun in the restaurant than they knew they were going to have when they got home. It was terrific. And the food wasn't bad.
---
Date: 29-May-00 10:49 PM
Name: King Lionel
Email: leecoulter@Webtv.net
Geographical location: ground zero
Favorite Tulsa TV show or personality: The Mooster
How did you find TTM? Mike Miller guided me

I must say; being new to this Web business, I am overwhelmed at the comments I have read in some of the archives. Some of the names I had forgotten and incidents that have slipped from my memory banks. I also found some errors, but those are easily corrected. For instance. The third puppet's name was "Basil Lionbone." He lived in the dungeon. He and Lionel were the only ones who saw the bear appear in the castle turret from time to time. Also, the theme music was "Wedding Day at Troldhaugen" by Edvard Grieg. Originally on Decca DL 4923, The Bavarian Symphony Orch., conducted by Kurt Graunke (mono). The other cut on this ten inch album was "Triumphal March from "Sigurd Josalfar!". Why can I remember that and not my wife's name? I won't bore you with further idle chatter at this time. I have a zillion stories, but I will refrain from creating a large book at this time. I was thrilled to see that Ken Broo and Dr. Jim Ruddle have visited this site along with G.Ailard S.Artain and others. I have worked with everyone except Snooky Lansen!

(Trivia question) Now, I have a question; Inasmuch as people from all over seem to log in here...does anyone out California way have a clue to whatever happened to a fellow Announcer named Les Lampson? Les was on staff in June 1957 when I joined KOTV. He went on to L.A. and worked for KTLA or KABC until getting fogged in at the Del Coronado with a Mrs. Previn. We saw Les when we were in L.A. in 1962. Lost track of him after that. By the way, King Lionel did finally have a date with "Miss Piggy." It was not a pretty sight!

Welcome, King! Folks, this note is indeed from King Lionel and his subject, Lee Woodward. We are thrilled to hear from you both. The King (being of precise mind) sent in a correction on the theme music, so I edited the information into the note. I will get those corrections made elsewhere on the site.
We look forward to future visits.
P.s., I found 2 RealAudio clips of "Wedding Day at Troldhaugen" at Amazon.com ( here and here), but I must confess that it didn't strike me as familiar; maybe these are not the sections of the piece that were used. I wonder if there was other music associated with the King's reign...
---
Date: 29-May-00 09:51 AM
Name: John Hillis
Geographical location: 1,500 miles east of Nelson's Buffeteria
Favorite Tulsa TV show or personality: Donnell Green
How did you find TTM? Not bad with a side o' green beans

The Tulsa World article on long-lived restaurants toplined my favorite place on earth for lunch, Nelson's. On days when Chicken Fried Steak was the special, a delegation would leave 302 S. Frankfort at noontime, Nelson's bound. Doug Dodd, skinny guy that he was, was one of the ringleaders. An hour or so later, we rolled back down Third to the rigors of an afternoon putting together the newscast with no nap.(I never considered until now that Nelson Rogers, Jr. may have been Jimmy Leake's secret weapon in the ratings battles between KOTV and KTUL.)

The steak was simply the finest chicken-fry I've ever tasted, with sides of vegetables cooked to within an inch of their lives. You didn't need a New England Journal of Medicine study to know that anything that good had to be terrible for you, and maybe that's why Nelson only put it on special once or twice a week.

When the Washington Times did a profile on me several years ago in the Dewar's Scotch ad style, one of the things they asked was favorite restaurant, which typically was answered with The Palm, or Mo and Joe's or Rive Gauche. My response was instantaneous: Nelson's on chicken-fry day. It's gratifying for me to read that Nelson's (and Nelson) are still around at the same location, dishing up the same fine grub.

Please send on the Dewar's-style profile...(later) it is now in the Photo Briefcase.
---
Date: 29-May-00 07:29 AM
Name: Webmaster

Archived Guestbook 39.

We heard that Ken Broo is back in the saddle at Cincinnati. Out-of-town Mazeppa fans wrote in. Lots of radio talk; the following were discussed: Dick Campbell, Jay Andres, Herb Jepko, Kerbango.com, Franklin McCormack and Charles Conner.
---