Maia Peters - 07/22/00 19:46:35
My Email: maia_peters@hotmail.com
Comments:
Hi. I guess I'm part of what came out of all those great parties and wild times of radio in Tulsa in the Sixties that my dad remembers so fondly. Part of that magic that brought my mom and dad together was Tom Gordon. I think that had he not met Casey, my parents would never have met and ... well, I wouldn't be here. I'm sorry to say that I learned of his death over email...technology of today makes everything so impersonal, but it doesn't make tragedies any easier. I didn't really know Tom -- we'd talk a little on the phone when he would call for Daddy, but I've been in California for the last few years, and I've definitely missed his talk and his laughter. When I was little, Tom told my parents that as soon as I turned 15, I was his - he claimed me. Of course, he relinquished his hold on me, but he will always hold a little piece o' my heart.

Maia, I added your comments to the Tom Gordon page.
---
Erick - 07/22/00 18:00:16
My Email:ericktul@webtv.net

Comments:
Thumbing through the last guestbook....concerning the Riverside Drive-In, when did it close? There's a small empty lot between the Red River Apartments and house west there. Could that have been the entrance? There's a treeline on the west side of the apartments that looks pretty old.

---

Gil Adams - 07/21/00 20:39:34
My Email:drawbrush@earthlink.net


Comments:
In response to your question...it seems as though Teddy Jack Eddy started to show up shortly after the move to KTUL. I don't recall him on KOTV before the move but I could be wrong. I don't remember Gary Busey being there right away at 8 but Gailard would know for sure. I will try to see if I have any photos from those years..I do remember taking some slides occasionally and I may have some stored away. If I find some, I'll scan them and send some to you....I just hope I can still find them. I do remember taking some slides of Wayne Johnson, Toby Brown and Mike Denney in the studio and Kent Doll as well. He was at TCI the last I heard. I did take some slides of our old sets that I worked on but it's been years since I've seen them. I hope they're still around.


Thanks, Gil.

---

Nancy - 07/21/00 15:29:49
My URL:http://www.beehappyintulsa.com
My Email:beemail@beehappyintulsa.net
Suggestions: KELI page


Comments:

I grew up in Tulsa and I'm collecting Tulsa Stories at my website, beehappyintulsa.com I'd love to collect a billion! Visit my site. This site brings back the memories, don't it? ;>) -Nancy Bee
....
Just found the KELI page so I'm writing again...my daddy, Forrest Brokaw Jr, was the news director at KELI for years. As celeb family ;>) We got to go up there during the fair and we got to watch the Bell's fireworks from up there. We just felt so speeeecial! We were also one of the ones everyone gave the evil eye to when we got to go to the front of the line when Zingo opened cause we were Press.

Remember when they had the contest to suntan KELI onto your skin? Hope all those who participated don't have skin cancer now!

By the way, when daddy left there it was because they transferred him to the sister station in Amarillo. I had to leave all my co-workers at Casa Bonita. Waaaaaaa.

That's all for now, folks.


---

Gil Adams - 07/20/00 21:23:40
My Email:drawbrush@earthlink.net


Comments:
I was art director at Channel Eight in the early '70's and just came across your site!

Great job. It has brought many memories back in full living color. I would like to inform those interested that Dennis Paine, the art director that hired me in 1971 passed away last November at age 51. I know there are those out there that will remember him. He and I were there when Gailard Sartain moved from 6 to 8 and made a truly memorable time in my life. I was witness to many studio events while watching the taping that made working there so much fun. The people made it even better..great people to work with. Monte Toon followed me in early 1974 and today I'm a freelance illustrator living in Tulsa. Best wishes to all those I used to work with and hope this site prospers.


Thanks, Gil. Sorry to hear about Dennis Paine. Monte Toon can be seen on the KTUL page. Question: was Teddy Jack Eddy with the show by the time it moved to Channel 8?

---

P. Casey Morgan - 07/20/00 15:06:12
My URL:http://kwgs.org
My Email:p-casey-morgan@utulsa.edu


Comments:
As Rob Walker has noted, Tom "Count Gordonski" Gordon, one of the Rockin' Big 97 KAKC jocks in the late 60s, has died. Tom was the first person I met in radio, when I was a starry-eyed fourteen year old. He was incredibly sweet to me, then and always.

Jim Peters, who worked with Tom then, has written a lovely remembrance of him, which he faxed to me and asked me to post here.

Here it is (added as a page linked from the KAKC page...webmaster).

---

Mike Bruchas - 07/20/00 14:40:09


Comments:
1970's American Freedom Train loco is parked at the B&O Museum in Baltimore - saw it a week ago Sunday - will try to e-mail a pic. May also have a spot I did for it from a "kit" they supplied that aired on 6 & 8.

It parked at the old Midland Valley terminal by 6 off Third Street when Tulsey and had "moving sidewalks" or conveyor belt walk ways to keep people moving thru the cars.

Incidentally did anybody ever take a train from the Midland Valley terminal any where????

---

Jim Ruddle - 07/20/00 13:10:51
My Email:gardel@erols.com


Comments:
Regarding the "Freedom Train": It was a product of the Truman years, coming to Tulsa in 1947 or '48. On board were (or so we were told) many of the original documents relating to the founding and development of the United States. At the time, as part of the hype, tin-pan alley had delivered an upbeat song:

"Here comes the Freedom Train,
You better hurry down!
Just like a Paul Revere,
It's heading into your hometown...."

Pathetically enough, the melody managed to match the quality of the lyric.

---

Rod Dent - 07/20/00 04:46:27
My Email:Kansaskate@worldnet.att.net


Comments:
I was born in the "brick monster" at 21st and Utica. Lived hear all my life. Greatest town in the the country to have grown up in.

In the early 70's, it was not uncommon to see J.J. Cale, Eric Clapton, Freddie King, or once or twice George Harrison at one of the local clubs. Including the Magician's Theatre, the Nine of Cups, The Jail, The Observatory, or the Ranch out on the Beeline.

Remember the Glencliff at 33rd and Peoria? Remember the Sheridan Drive Inn at 55th and Sheridan? Remember Sparky's? The riverbottom? Tulsa Tops? The cow pasture behind the Riverside drive-in? Sandy's, Burger Chef, Jerry's, Pennington's, Miller's, Webers (in its original location), Tallboy, Kip's, Cup's country club, Dutche's Party Barn, The Cimarron Ball Room, Mike's in Southland, The Machine, the Front Page News Club, BOOT's drive in, the old "BATES MOTEL" out on Garnett? The ZINGO road to Keystone before the expressway? Playboy Burgers? The Delman, The Continental, The Circle, The Orpheum, The Belaire, ??????????????


Whew! Many of the things you name have cropped up here before, but many have not. I think we will be seeing some follow-ups on your note, Rod.

---

Robert W. Walker - 07/20/00 03:34:43


Comments: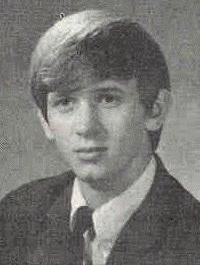 Well, well, well. There's much to tell, and little time. Hate to come back in touch with you with the following, but...There's no easy way to put this: my friend, colleague, sharer-of-the-heartiest-laughs-of-my-life, that High Master of Rant, and Ranting Master of High — Tom Gordon - has left the planet. He died yesterday (?) or the day before. Jim Peters relayed the news to me tonight. Count Gordonski's last incarnation was as a courier in the St Louis area. He contracted pneumonia, refused to slow down (much less quit smoking, no doubt), and eventually had to be forced to a hospital by his wife Vicki. There, he weakened further and then.. he is gone.
Peters has written an obit which I will try to relay to this site as soon as I can get it from him.
And then we'll catch up on happier matters. For now, please excuse me, I'm stunned.


It's good to hear from you Robert, we've been looking for you on the internet without success. I'm sorry that you must make your entrance on this sad note. Casey Morgan will forward the obit, which will be published here, linked from the KAKC page.

---

Darren Claybrook - 07/20/00 03:17:08
My Email:Tinytanic1@aol.com


Comments:
Does anybody remember a traveling museum on tracks called the "FREEDOM TRAIN" that made it's stop in Tulsa for a couple of years in the '70's. I remember my brother took a field trip from school to see it downtown, and the way he described it when he got home was amazing. I couldn't wait till I was old enough to go on the inside of it, but it never transpired. I've often wondered if other's found it just as mysterious as myself?

---

Terry Burcham - 07/19/00 23:48:21
My Email:BURCHAMPGSI@AOL.COM


Comments:
THANKS FOR THE STILL OF RANDY ESS... IS HE ONLINE AND DOES HE STILL HAVE A BAND HERE IN TULSA .. THIS SITE IS REALLY COOL.. THANKS FOR YOUR TIME AND EFFORT TERRY BURCHAM


Randy is working at KCFM today. I will forward your email address to him.

---

Mike Bruchas - 07/19/00 19:54:16


Comments:
Where is Ed Dumit? We know he has no PC at home and is NOT on the web but hear he still does stuff for KWGS. That and the OK Mozart stuff.

Can't someone get him on-line THERE at KWGS to peek in and contribute to this pool (or is it cesspool) of knowledge?

Time again to go after our non-web friends like Roy Pickett, too, for some memories!

---

Erick - 07/19/00 17:41:02
My Email:ericktul@webtv.net


Comments:
Just found out that former KVOO-TV/AM 'caster Len Morton will be guest-hosting the Sports Answerman phone-in show Friday morning at 8:30 on KQLL 1430AM.

By the way, I recently saw a flick at the Admiral Twin. It's in a bit of disrepair, but still lots of fun.

---

Mike Bruchas - 07/19/00 16:13:44


Comments:
Didn't Gil Felini or Falini - mentioned in one of the band squibs -- used to work at KOTV as an engineer, too? Had forgotten all about him.

There was a George (can't remember exact name here) Leemaster that also worked at 6 in the '70's and went on to become one of the leading video switcher design engineers in the US and nationally for the Grass Valley Group.

So for all of the Rube Goldberg seeming things George Jacobs played with at 6 - good people DID come from the Engineering side!

---

JoAn Kutz - 07/19/00 14:57:39
My Email:jkutz93017


Comments:
This is a great sight. I remember cruising Peoria while visiting some friends here in Tulsa. I had never seen anything like that.

My question is about the construction crew of the Falls apartments. My husband worked there in his late twenties. He is now fifty and we are running into folks that are in their thirties claiming to have worked there. Does any one know the construction dates of the Falls year to


I am thinking 1976, but it's a guess...

---

Andy Cravello - 07/19/00 03:25:13
My Email:ANDOOGA@AOL.COM


Comments:
Born and raised in T-town, now reside in Dallas (sorry!), but a very close friend gave this link to me and I'm now re-connected to the city I'll always cherish as Home. Grew up in the sixties with Gailard and Gary (Mazeppa and Teddy Jack Eddy), Mr. Zing and Tuffy and witnessed, first-handedly King Lionel's creator flip-off local TV viewers. Life goes on; memories never die. "Know what I mean?"


Re the flip-off: wasn't that a different 'caster on the news program?
---

Terry N. Burcham - 07/18/00 02:52:05

My Email:
BURCHAMPGSI@AOL.COM
Comments:
Anybody remember the Rogues 5 Band featuring I.J. Ganem and Randy Ess.... I used to play the bass in that group... What a great time at all the Pepsi dances and experiences of playing on Dance Party.... The Battle of the Bands at Oertle's parking lot... What a wonderful time in our highschool years .. 64-68... Thanks for this site and I'll be watching for more Tulsa Memories. Wish kids today could experience the fun we had as teenagers when nobody got hurt...


Randy Ess? Yes, my brother Alan was the bass player in "Randy Ess and the Invisible Band" in the late 70s/early 80s...and Randy's band, "Tulsa" more recently. Here's a still of Randy with the Rogues V.
Thanks for the visit, Terry!

---

Noel Confer - 07/18/00 02:32:01
My Email:nconfer@aol.com


Comments:
I was tickled to see your taking notice of Uncle Hiram's kid show. I was his clown friend "Elmer" throughout his stay. Hiram Higsby was an oldtime show biz pro... not "big time", but old time. He was with an act called Hiram and Henry on the old National Barn dance out of Chicago, and had a vaudeville history. Our program was slanted for younger kids than the other kids' show in Tulsa at the time. He was a grand old man.


Pretty neat that we got the picture of the old "Uncle Hiram" button, thanks to Joe Taylor! See the "Other kiddie shows" page for more about this show.

---

Mike Staniford - 07/18/00 01:38:39
My Email:mds 1948


Comments:
Does anyone but me remember Barnabas the balloon committing suicide on Spanky's Club House? Barnabas was a penny balloon with an evil-looking face painted on it. He would inflate and then Spanky would have a conversation with him. Barnabas' lips didn't move or anything. His whole thing was inflating and deflating. One day Barnabas became extremely aggravated and threatened to keep inflating until he burst. Spanky took him up on his threat and a day was set for Barnabas' self-inflicted death to be telecast on local TV. If I remember correctly, Spanky made a contest out of this and the kid who guessed the nearest time of Barnabas' death won a prize. It did happen. Baranbas got bigger and bigger. I don't remember what he was saying, but he kept talking until "POP" he blew himself into pieces. I often wonder how many kids who saw this have been marked for life. When I tell people about Barnabas, I sometimes doubt if it actually happened.

---

Bill Beatty - 07/17/00 20:17:07
My Email:jekyllbillybud@aol.com


Comments:
Thanks Mike for your great site which brings back wonderful memories of the early seventies in Tulsa. Every Saturday night there were 10-20 people crammed in an efficiency apartment @ 11th & Memorial watching the Uncanny Film Festival and laughing our a.... off! The Marx Bros. were the favorite movies of the bunch as were the skits of Mazeppa and Teddy Jack. On more than one occasion we would all be at the old Magicians Theatre, somewhere on south Main I believe, and see Gary Busey sitting-in with the Band of the evening. What a great time to live in Tulsa! Thanks again Mike.


You're very welcome, Bill.

---

Diane Lester - 07/17/00 06:41:08
My Email:cakesbydiane@hotmail.com


Comments:
Love the pics! Miss you guys..hope we can get together soon :)

---

Sue Wilson - 07/17/00 05:19:10
My Email:Mp07@aol.com


Comments:
Hi, I also watched Mazeppa during my highschool days. I remember "Bo Velvet"....Could someone please email me a picture or some information on "Bo Velvet". Thank you!

---

L. Stogsdill - 07/16/00 22:59:15
My Email:sgots.com


Comments:
I remember Tulsa in the 60's also. Worked at the Dairy Queen 1960-61 62. Would love to hear from old employees or patrons. Also Central High alumni from that era. I still carry a Mazeppa Uncola card.

---

Jim Downing - 07/16/00 22:40:27
My URL:http://www.Tulsamusic.com
My Email:Jimdown@go.com


Comments:
I've been a local starving musician since playing teen towns in 1963. The Caravans took 2nd place in the KTUL talent show at the fair that year. I played on dance party with The Fine Arts Quartet in 1964. KOTV gave us one mike and said "Have your singer sing into this and it'll pick up the rest of the band." (The famous 'channel six mix')We anticipated this problem. We ALL sang, even our drummer Don Brown (Brother of 20/20's Bob Brown). So we took our PA, set our amps in a semi-circle in front of the stage and played to the single mike. We were told it was the best sounding band that had been on to date. Later they had bands record at Gil Fellini's 3 track studio and lip sync. I appeared again with The Chessmen in 67 doing "I am The Walrus". Lastly, Soft White did a film by local architect Allen Hill which we submitted in lieu of lip-syncing in 1968. Ah, what fun! Check out Downing's Street online at www.Tulsamusic.com. Love your site!


I know Mr. Don Brown from our days at the now defunct Whitney Supply Co., and have played a little guitar myself with his group. Jim is the son of Jim Downing, Tulsa Tribune columnist for many years. Hi, Jim, thanks for writing in!

---

Peter McMahon III - 07/16/00 19:14:53
My Email:pmcmahon@atlghpo.hyatt.com


Comments:
I have very fond memories of growing up in Tulsa with Gailard, Leon and the incredible music scene. I read the World online since I have been away from T-Town. What a great new site!


Glad you like it, Peter!

---

mark sampson - 07/16/00 18:45:27
My Email:rjs-mls@worldnet.att.net


Comments:
I saw the article in the paper today and it reminded me of how I used to be mortally frightened by the Fantastic Theater music. I never stayed up to watch the actual show (too scary), but one afternoon I was in the house by myself, and a preview for Fantastic Theater came on, I was so scared that I could not move, but somehow managed to get up from the couch and run outside. Enjoyed listening to the audio clips about Fantastic Theater. I had not heard that music for about 30 years, but like an old smell or an old song, it came right back to me.


Great music, isn't it?

---

Dave Whisenhunt - 07/16/00 17:11:59
My Email:DWhisen254@aol.com


Comments:
Great site!! Saw the article in Sunday paper. Thanks for the memories!!


You're welcome, Dave.

---

Mike Bruchas - 07/16/00 16:55:38


Comments:
Must be "sweeps week" at the studios of "America's Religious Town Hall" in Dallas.

Is one of the longest running off-network and syndicated churchy "public affairs" Sunday morning or wherever shows on TV in the US. Think they haven't changed the set or panel since early color TV days.

Noticed the tape from Wednesday that my Librarian here at GoodLife TV was packing up. Instead of talk of the Talmud or how tall a 900 foot you know who really is - was "Sports: Women in Boxing".

Sorry friends no "jiggle" on this show as clerics of all (except Islam and Buddhism) religions and mostly over 100 years in age, charted the moral decay and change in the US.

What next - women soldiers on the front lines? That WAS a question.

Maybe ARTH as we call it - needs to retire.....


This show used to play in the wee hours after the Mazeppa show, I think. Here is a Bruchas-like feat of memory...how about these names: Bishop A.A. Leiske and Bob Leiske, Othal Hawthorne Lakey... oops, that's all I can remember. There was a ARTH credo that was read on every show...

---

Judi Grove - 07/16/00 16:31:34
My URL:http://hometown.aol.com/jugroove/JudisHomePage.html
My Email:Jugroove@aol.com


Comments:
What a TRIP! I saw the article in the World today and rushed in to find this site. My hubby of almost 30 years have "very fond" memories of Mazeppa! I had a curfew of midnight when we were dating, but we'd come back to my house, carry his tiny black and white tv out to the patio, and after mom and dad were asleep, we'd watch Mazeppa and make love on the chaise lounge! Probably one of the highlights of my life, was to meet Mazeppa in person at the Sheridan bowling alley and receive a piece of paper on which he wrote, "Lawzeee Pretty Judi, love, Mazeppa", and gave me a kiss and a squeeze. I carried that slip of paper in my wallet, until it basically turned to dust! I adored him then, and still do!

LOVED the site... thank you for helping me recall a very FUN and happy memory! - Judi Grove


I'm sure Mazeppa himself will enjoy reading your story. Thanks, Judi!

---

Mike Bruchas - 07/16/00 14:46:11


Comments:
Speaking of "cultural activities" like Jello Jumps, one of the first news stories I saw when I first went to OKC was of "Spaghetti Wrestling" at a "club" really a bar in SW OKC. Felt like I was in Atlanta - where "gentlemen's clubs" were of this ilk. The pretty but rather bovine female contestants (sorry this was NOT co-ed) looked like they had a good time. The club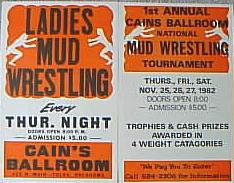 claimed it spent xx hours cooking the spaghetti each week to fill the "ring". Wonder how much they spent on sauce??? It must have been a slow news day...It DID air in Sports.(BTW the way later they tried chocolate pudding wrestling at the club - ended up being a money losing deal....).
At KOCO we had a female photog - whose name I forget. She was from the Midwest and was a big bodied but not fat person. Invariably at the State Fair - you had freak shows and entertainment of "marginal" redeeming value. Among them one year - woman's "wrestling". She looked more like a wrestler than the actual "athletes" who were pretty scrawny, tattooed, and on a "pre-release" tour... She came back from shooting a zzz story (5 had a lot of them then) on them for a late cast, more than a little irate. The "promoters" and her male reporter both thought she would be "perfect" to get in the ring and tried to encourage her to participate on a different level. She didn't. She was a news photog, not a female "Geraldo"...


Here is a poster to illustrate your comments from a new site that carries old Tulsa event posters... http://www.dreamscape.com/posters/tulsa.html

---

Sherrie Porter - 07/16/00 14:35:02
My Email:redpaint@ivillage.com


Comments:
This is a cool website! I just got thru reading the article in the Sunday Tulsa World about this site. It's so neat seeing the shows I watched with my brother when we were kids. Mr. Zing & Tuffy Show; The John Chick Show-he was a sweet man!; and of course Mazeppa's!!!! I still have my Mazeppa's 7-UP Uncola Underground Card. I wonder if anyone else still has their card- I got it at KELI radio station way back when. Keep up the good work--I love your website & I will be back visiting it. I was born, raised, & still live in Tulsa. Anyone that wants can e-mail me at redpaint@ivillage.com See ya!


It seems that lots of people have managed to hang onto their Uncola Underground cards! You can always print up a new one from this site---go to the bottom of the main page to find the link. Thanks, Sherrie!

---

Mike Bruchas - 07/16/00 14:30:46
My Email:jmbruchas@juno.com


Comments:
"Six Degrees of Separation from Norman Corwin."

Was going thru the old guestbooks about the guys and gals at Central High on their radio program doing one of his works.

I used to work - 12-13 years ago - at NAB,the National Association of Broadcasters. The Smithsonian's National Portrait Gallery did an amazing little show on broadcasting one year - they had Groucho's duck (under plexiglass) from "You Bet Your Life", appearances of early TV stars and old scripts and video/sound clips and stills from a lot of 50's shows.

I attended the gala and at a preview session heard we had a VIP with his daughter - walking thru the exhibit. I knew of Norman Corwin from other folks's writings of him. It WAS him.

I guess he was brilliant but one of the Smithsonian people who got to spend time with him while there, said - he was still mad at folks now long dead in management (at his previous employers') for not recognizing his genius and getting his "due" credit.

Maybe he didn't get his due....


Or call that "Brush with Greatness"... Writers for TV seem to get little respect, despite their importance to the production.

---

Frank Morrow - 07/15/00 18:24:16
My Email:fmorrow21@netzero.net


Comments:
I had not been working at KAKC very long and was learning about the music library. I found a record of Dinah Washington one night that I liked; so, I played it on my late evening music program. After I finished, I started the 78rpm record on the other turntable, but then got occupied with preparing stories for the 10pm newscast.

I became so absorbed in ripping the AP wire that I didn't realize until it was almost too late that I had not cued up another record. The three minutes was almost elapsed from the current record. I only had time to flip the Dinah Washington record over before the other song finished. (For the young folks: The 78rpm records lasted only about three minutes.)

Being inexperienced, I did not know that on the flip side of each Dinah Washington record was one which was quite racy for the time. Actually it was VERY suggestive. The title on the label seemed innocuous enough: "Trombone Man." But when Dinah started singing the first chorus, I knew I was in trouble. "Where is my Daddy? Where is my Daddy, with that big looong slidin' thang!" The words became more and more suggestive until at the end, Dinah was squealing at her highest register.

I got no adverse calls from the listening audience, and the boss men didn't have anything to say about it the next day. I figured either that I was lucky or that no one was listening to KAKC who was offended. (Maybe no one was listening---period.) But I learned one thing: Be sure to audition BOTH sides of Dinah Washington records before they were played.


I especially like Dinah's version of "Trouble in Mind" and her Fats Waller tribute album.

---

Mike Bruchas - 07/15/00 17:53:53


Comments:
Mike Ransom - NOPE not the Sandy's logo we knew so well when we were so poor! (re the photo in Guestbook 44, which is the immediately previous Guestbook to this one...webmaster)

Who can remember any wacky radio promotions? When I worked in Amarillo - KGNC radio (I think) sponsored a JELLO JUMP at a park. The had a large 3' tall swimmming pool full of LIME jello cube-lets and room for 5 or 6 folks at a time to search for keys - some to a car, some to a treasure chest or something like that. I think folks had :30 at a clip in the tank. It was HEEE-larious to see what folks would do for a Chevy. Don't think anyone ever found that key - it was "lost to the ages".

More hilarious when someone's key chain fell out of their shorts while in the jello tank, dumping THEIR keys in the mess! Bogus keys were found for the next few hours....some wise deejay forbade any new contestants from entering the pool WITH wallet OR house keys....

Now can used jello be donated to a food bank?

---

Mike Bruchas - 07/15/00 17:51:37
My Email:jmbruchas@juno.com


Comments:
Is the Admiral drive-in still open? I know the Capri is gone and the Riverside was only a story when I lived in T-Town.

Is the drive-in still open in Pawhuska?

Was up in VT about 3 years ago and that state still proudly had 3 working drive-ins, usually grass-paved. Now ya know there ain't much Winter traffic up there when the snows start burying cars - it kinda hurts business. But then again a lot of the reasons people went to a drive-in was NOT for the movie! They probably wouldn't have noticed the snow on the windshield obstructing their view....


Yes, the Admiral Twin is open for business...read a recent article about it from the Tulsa World on the Tulsa Drive-In Theatre page on this site! The Corral Drive-In, Pawhuska, is listed as dead on Driveintheater.com. There are 11 operating drive-ins left in Oklahoma.

---

Webmaster - 07/17/00 23:50:07


Comments:
Just consolidated and archived Guestbook 44 - take a look! This is #45.

In #44, we entered the world of Tulsa past via The Twilight Zone, discussed old record shops and drive-ins. We visited Sandy's Hamburgers, Weber's Root Beer and Tastee-Freez (the latter two of which are still in existence!) Heard from Boyce Lancaster, Jr. that his dad is still going strong in Orlando. Tulsa TV Memories will be featured in the Sunday Tulsa World--watch for a link to the story!
---
TTM main page