Tulsa TV Memories GroupBlog 277

TTM main | What's new on TTM? | GB Archive




December 11 2008 at 02:47:17
Name: roy lee
Topic: Delman
Email: royleeshouse@oneo'theminternetgiantsdotcom
Comments: There was a fun bar on the back end of that building but I can't remember the name of it!

Thanks for putting my Sheridan Village photos on your Flickr page! I'm going back for some more bricks, but it's crawling with demolition workers now. Gotta be slick about it and only on the weekend.

---

December 10 2008 at 21:24:00
Name: Dana's Sister
Topic: Mode o' Day in Rumble Fish
Comments: Just watched Rumble Fish (again) the other night (it was on either Sundance or IFC), and I remember seeing a Mode o' Day in the background of one of the scenes. Would have either been the one in downtown Tulsa or Sapulpa. I think there was one in nearly every downtown - certainly remember the one "on the square" in Nevada, Missouri, a little town where my grandparents lived.

Every time I see Rumble Fish I catch something different in the backgrounds, sound, etc... This time, I was astounded that I've never noticed that the flip-board advertising clock at Benny's Billiards flips ad after ad for business in JENKS (where I live)! Ads for Jenks Restaurant, Beaver Street Baptist Church, one that says something about the Trojans (Jenks High School athletics). I wonder what happened to that clock?!?



I found a photo of a "Mode O'Day" terrazzo in St. Joseph, MO. It looks very familiar.

The Mode O'Day label. The only reason I can figure for why Mode O'Day interests me is that the name made no sense to me as a kid, and I had an asterisk over it. That and the distinctive logo.
---

December 10 2008 at 20:43:07
Name: Mitch Gray
Topic: Mode O'Day
Comments: I know my credibility may be shot now but I think there was a Mode O Day next to the old Delman theatre.



Massad's was next to the Delman for a long time. Their fashions were pretty skimpy. Lowell Burch told his Massad's story in GB 78.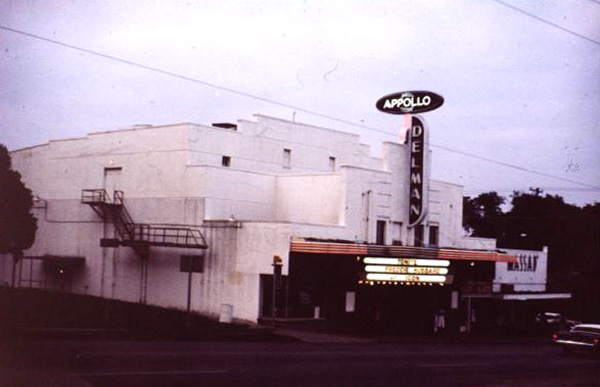 Courtesy of the Beryl Ford Collection. Sheesh, I don't remember Freddie Hubbard being here in 1979.
From GB 121, here's the Delman in 1950. A reader has suggested that Mode O'Day might have been a later occupant of The Delman Shop space in this photo. Another reader recalls a MoD at Brook Plaza.
---

December 10 2008 at 19:06:46
Name: joe @ aol dot com
Topic: Mode O'Day
Comments: What does it mean?



The French phrase "mode du jour" means "fashion of the day" in English. So I would say it's a jaunty splice of the two.
---

December 10 2008 at 17:24:55
Name: Beverly
Topic: Sheridan Village
Comments: Does anyone remember a dress shop at Sheridan Village...something like Mode O'Day? My friend said she thought there was one downtown at one time, too.



I think you're right. I had no idea what that meant as a kid.
---

December 10 2008 at 14:16:29
Name: Mark Erdwin
Topic: More fuzzy memories
Comments: I'm not sure where Bob Harvey was in 1973, but in mid-1976 when I started there, he was at KWEN. By then the station was on the second floor of the Liberty Towers. In 1973 it was most likely still upstairs with KRMG. Dick Loftin would know. By the time I left, about a year later, the station had dropped "beautiful music" and KAKC-FM picked it up. The format started on August 3, 1977 and the KBEZ call letters came about around the time Elvis died.



My place of business in the late 70s kept it on KBEZ. Bob Bethell (star of Eddie and the Ecclectics) was a DJ at that time. I won free tickets on KBEZ trivia contests to roadshow productions at the PAC of "Can Can" with Leslie Caron and "The Sound of Music" with Theodore Bikel and Tulsa product Susan Watson.
---

December 10 2008 at 08:03:57
Name: Mike Bruchas
Topic: R.L. Bullock
Comments: E-mail from NC: he is now a grandfather of twins. Born on 11-21. As he says, Older and Older... Long time and long ways from Sapulpa.

---

December 10 2008 at 07:51:11
Name: Mitch Gray
Topic: Sheridan/KBEZ
Comments: Well, perhaps I was mistaken about a broadcast booth in Sheridan Village, although I'm certain of making faces at a DJ in a glass booth somewhere. I was probably 8-10 years old at the time (which would have been 40 years ago).

So somewhere, in a place that was accessible to the public, I know there was a studio.
If I ever truly lose my memory I'll be able to hide my own Easter eggs.

---

December 09 2008 at 21:25:47
Name: Gary Chew
Topic: Zeppy's Sign-Off Theme
Comments: Kudos to Mike Hardeman for putting up the YouTube of Mazeppa's closer, "Why Can't This Night Go On Forever?"

I'm guessing that either my glasses need a prescription change or: IS THAT F. SCOTT FITZGERALD on drums in the Isham Jones aggregation?

I'm pretty sure that's Gailard Sartain blowing tuba in the brass section.

Delmeaux de Gillette du Coffeyville

---

December 09 2008 at 10:30:33
Name: Lanette Giese
Topic: Sheridan Village and KBEZ
Comments: Long time no write....I saw this talk about Sheridan Village and some talk about KBEZ, so I thot I would add to it.

I talked this past holiday with my 3 friends from the old days, and we reminisced about Sheridan Village and the ramp in back. Our mothers were all shoppers there, and the changes like this rob us of the tangible places to hold on to our times with our moms.

I wanted to offer something about KBEZ, and if it helps you and the guys down the road, on the puzzle of Tulsa and it's Voice Masters, I will be glad.

In 1973, I was dating the son of Bob Harvey. He was a DJ for KBEZ, I thot.... I can't recall EXACTLY where the station was at, but Denny Delk was also DJ'ing there. He would know.

I contacted Denny long ago, and he remembered Bob and his son Jim. So I know that the hazy days of my childhood experimentation aren't playing tricks on me!

Anyway....I don't know what ever happened to Bob, He lived at the Williamsburg apts there on Lewis. So I thot I would write and just throw this out and maybe someday it will help you.

I'm not 100% sure about the station he was at, but I do know it wasn't at the Sheridan Village. I'm almost sure he was employed by KBEZ. We went up there to see him at night, and he stuck cartridge cans in slots to supply the sleepy music for Tulsa. I never saw him on mike, and don't believe there was one. We had to go up elevators, and one night the doors opened and Delk was on mike, standing behind a counter that was waist high and he had no shirt on. It looked like he was standing there naked, so we laughed till we were hurting and that's my flashback of him. He rolled when I reminded him of that, and I guess he did it regularly. I knew Nugent recorded naked, so I remember calling him Teddy Boy.

Hope your holiday was good, mine was GREAT! My hubby and I came to Tulsa and I met up with some of the Hale kids from '74 at the London Square Sunset Grill that our classmate Paul and another Hale guy started.

Alan Caperton's (Rick Alan West) little sisters Melinda (my bud in school at Hale) and Melissa came to the Sunset, to catch up with me. We had SO much fun talking about Alan, because I knew him from Liz and Bob Johnson in the early 90's. (Alan went to Rogers years before.)

Liz was a Tulsa DJ for many moons, and cut her teeth with Alan and Ray Bob and the guys at KELi. She's in Dallas now and doing voiceovers. She was with KZPS. If anyone ever needs pics of Alan, Liz has TONS of them.

Annnnyway, I told Melinda that I had sent you the pic of Alan at Liz's house and I shared the TTVM addy with all of them. (Some weren't aware of your place, what planet have they BEEN on?!??!?!!? So now they know.)

We're back in June for a celebration of Hale turning 50, and even tho I haven't seen evidence of it really happening, we '74 guys are going to get together anyway and have a big ol' Tulsa party.

Karen Moon Tinker has a place out at Grand and they've been having parties there with good ol' Tulsa Sound! Sweeney and Campbell played one year and Pryor, our school buddy, played in '07. (vizable on You Tube of course)

Hope your Xmas is happy and sorry to be so long-winded, I'll see ya and you take care!!



Lanette previously contributed to the Pink Barn page.

(Added 12/10/08) Lanette has a great photoset from her years at Peaches Records on Flickr.

Tom Baddley at Lost Tulsa has a great photoset of the concrete blocks with artists' handprints at Peaches.
---

December 09 2008 at 09:18:38
Name: Webmaster
Topic: The Groovie Movie
Comments:

Below, Wilhelm mentioned "The Groovie Movie" on KOKI. I certainly remembered "Creature Feature", but not that one.

A Tulsa World article cleared it up. "Late Night Film Hosts Aired Laughs, Horror", by John Wooley, 1/19/1990:



"Creature Feature"...survived three years and one name change (to "Groovy Movie").

"They ran out of their 'Creature Feature' movie package, and went to another movie package that didn't work as well," said (Jim) Millaway, describing the package as "recent, first-run bombs."


(For some reason, "Fantastic Theater" is referred to in this article as "Nightmare Theater", though it appears to have been FT from the beginning; see the press release near the top of the Fantastic Theater page.)
---

December 08 2008 at 15:06:56
Name: Chris Kujawa
Topic: KTUL 1940s Matinee Showcase
Email: ckujawa1@wi.rr.com
Comments: I am trying to find ANY info (pictures or print) on a show in the late 40s early 50s called Matinee Showcase on KTUL radio where a gal named Gerry Perry was interviewing Donna Reid and John Derek.

Gerry (Geraldine) Perry is now 86 and living in Wisconsin. ANYTHING you could tell me would be appreciated. Thanks.

---

December 08 2008 at 11:14:18
Name: Mike Hardeman
Topic: Mazeppa's Closing Theme
Email: michaelhardeman@yahoo.com
Comments: I found this on YouTube last night, a live performance of "Why Can't This Night Go On Forever" by Isham Jones and his orchestra. Very tasty:



I always wondered what that singer looked like, and there he is!
---

December 07 2008 at 05:09:16
Name: Wilhelm Murg
Topic: R.I.P. FORREST J. ACKERMAN
Email: wilhelmurg at Yahoo dot com
Comments: Forry lived so long that I thought he would live forever; he was an old man when I was a teenager.

Probably no other person was as dedicated to bringing horror to the masses during my lifetime like Forry. I have been thinking about him recently because of the current reissue program of the complete CREEPY MAGAZINE run in hardback format (the third volume was just announced, but it's going to take thirty or forty books to get the whole run out.) VAMPIRELLA: THE CRIMSON CHRONICLES was also just released, which collects all of the Vampirella stories from the first 32 issues of her magazine.

The third-highest graded collection of FAMOUS MONSTERS OF FILMLAND actually resides in Bartlesville, put together by my friend Kenwick Cook. Kenwick took his obsession full hilt to the point where these monster magazines are now graded on the same standard as comic books and it's turned into a cottage industry for him, he's an eBay "power seller" who deals in all things sci-fi and horror.

The value of FAMOUS MONSTERS was that back in the pre-videotape days it was the only way to have some experience with a horror movie between weekend fixes of THE UNCANNY FILM FESTIVAL AND CAMP MEETING, FANTASTIC THEATER, STARLIGHT THEATER, THE GROOVIE MOVIE. THE PLENTY SCARY MOVIE, et al. Now I have a ton of horror TiVoed and a library of horror on DVD - magazines such as FAMOUS MONSTERS are no longer relevant, but they are endlessly nostalgic.

Forry will be missed, but he'll still cast a long shadow in the collectors world for decades to come.

http://www.time.com/time/arts/article/0,8599,1864854,00.html?xid=rss-topstories

---

December 07 2008 at 00:25:31
Name: Jim Reid
Topic: Sound Recording
Comments: This is in response to the posts about sound recording on news stories.

In the late 70s at KTUL, someone (I can't remember who) decided they didn't like the sound of the reporter's VO coming from the audio carts. The reporters had to record their sound on film, and it was spliced into the story, making all of them A/B rolls.

It was difficult for we projectionists to see the end of the picture portion and cue the directors out of it. It also made it difficult to leave pad for dissolves. It didn't last too long.

---

December 06 2008 at 18:03:19
Name: Stan
Topic: Re: Sheridan Village
Comments: I don't remember a radio booth at Sheridan Village, but I'm pretty sure it wasn't KBEZ.

When they went to the beautiful music format after the change from KAKC-FM, I'm pretty sure they didn't have DJs per se. Rather, I believe they had 'beautiful music' (and I use that term loosely based on my musical preference) which was on reel tapes and the heavily sedated announcer that would announce the call letters and say very little.

---

December 06 2008 at 15:46:45
Name: K. Bolen
Topic: Sheridan Village
Email: bojoker@att.net
Comments: A nice little scar across the top of my kneecap (from the stitches) of playing on the escalator is my connection to Sheridan Village that I will always cherish! *lol*

I can remember trying to run and jump on the escalator and trying to see how many steps I could make while the stairs were disappearing into the floor. Mom was mad, the store was worried, and I was bleeding. I think at the time, I was pretty influenced by Evel Knievel. Thank God I didn't have my Flying O!

Bo

---

December 06 2008 at 00:19:08
Name: roy lee
Topic: Sheridan Village
Email: royleeshouseatgeeeeemaildotcom
Comments: I drove by today and there was some good new graffiti on the walls.

I don't remember a radio station, but we explored that building quite a bit. Right next to the escalator, there was a podiatrist's office, so I learned that word early. Borden's was a regular after-church stop.

The only time I ever shoplifted was at T G & Y. They caught us and it wasn't my idea (it really wasn't). Scared me straight immediately!

When I was sick, my dad bought me a comic book at Med-X that was kind of "dirty". That was a lot of fun and I showed it to him after I finished reading it.

In recent years, they had a bingo hall in the old Borden's and my mother and I joked about going up there to play, but we never did.

Wow, my old neighborhood without Sheridan Village. That will be like watching an old friend get knocked over.



The topic started near the bottom of this page. Photos and 2001 comments about Sheridan Village are in GB 84.

I'm glad Tom over at Lost Tulsa took a new photoset of Sheridan Village. I now know from one of his commenters that I wasn't the only kid to get the seat of his pants snagged by the escalator.

(Added 12/10/08) Roy took a photoset at Sheridan Village. Look in the webmaster's Flickr in the TTM photo/video briefcase.
---

December 05 2008 at 21:24:50
Name: Clayton Crawford
Topic: The Eleventh Hour
Comments: I was looking for British mysteries on Netflix just this morning and saw that the original "Eleventh Hour" was a British production featuring Patrick Stewart in the leading role!



And Stewart's bodyguard is played by Ashley Jensen, whom I have seen only in the hilarious British series, "Extras", which starred co-creator of "The Office", Ricky Gervais. Hard to imagine her as a bodyguard after her role as the dim-witted Maggie, but I guess that's why they call it "acting".
---

December 05 2008 at 15:41:27
Name: K. Bolen
Topic: Elvis and Elton
Email: bojoker@att.net
Comments: I couldn't agree more with Mr. Woodward as well on how great the show was. I caught by accident while surfing. You could sense the great respect they had for each other and even though both have been around for what seems a lifetime, you learned new things about them. I especially got a kick on how they chose their names.

I would highly recommend as well.

---

December 05 2008 at 07:49:00
Name: Mitch Gray
Topic: Sheridan
Email: North of You
Comments: Mr. Ransom, I recall the Sheridan Village radio booth being located at the top of the escalator, in an area designed so that you could almost walk all the way around the booth. I remember the place from the late 60s, early 70s. Surely I can't be the only one to recall.



I didn't spend much time there after 1965, so that explains it.
---

December 05 2008 at 07:33:50
Name: Webmaster
Topic: Glenda Silvey's last day at KOTV
Comments:

"Ah, to be one of the 'ladies who lunch'" in yesterday's Tulsa World. We'll miss the warmth and intelligence Glenda brought to the airwaves over the years, and we wish here well in her new endeavor.
---

December 04 2008 at 22:14:21
Name: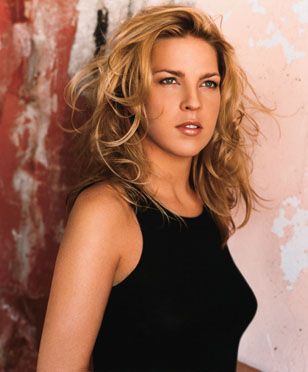 Gary Chew
Topic: Woody & Elvis
Comments: Woody's suggestion to watch Costello interview John on the Sundance Channel sounds like a good one to me. If Elvis is as good an interviewer as his taste in female jazz singers/pianists is, he must be great.

He married Diana Krall on Sir Elton's estate in 2003, I think it was.

Delmeaux de Gillette du Coffeyville



On our recent Jazz Cruise, we saw John Clayton and Jeff Hamilton, tremendous players who appeared on her DVD, "Live in Paris".
---

December 04 2008 at 21:14:20
Name: Mike Bruchas
Topic: Tulsa?
Comments: On tonight's CBS crime series, "Eleventh Hour", the show is set at TIA and "Tulsa State College".

Duh - none of it looks or SOUNDS like Tulsa...

Rufus Sewell, who stars, wasn't he the bad Prince in the movie, "The Illusionist"?



Yes, great movie. He also starred in "Dark City".
---

December 04 2008 at 17:32:26
Name: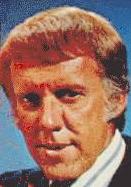 Lee Woodward
Topic: Spectacle
Comments: I watched an incredible show last night on Sundance Channel. It's called "Spectacle," hosted by Elvis Costello. His guest as interviewee and player, was Elton John.

Elton revealed a number of choice observations about a who's who of rock music legends. He paid particular homage to Leon Russell, who he credited as giving him his start in America. He was in awe of Leon and referred to him in an almost reverential tone.

Elvis is a consummate interviewer and that's what made it a tremendous program. This program may be available to some as an "On Demand" selection. I believe that it is to be a weekly show with a different guest, Wednesdays at eight.

I'm glad I recorded it on DVR as I want to watch it again.



Thanks for the tip, Lee. It's on Sundance (Cox 208) again at 10 pm this evening and I've got the DVR set. I caught Elvis at the Cain's in 2005 with special guest Wanda Jackson (GB 179).
---

December 04 2008 at 11:23:28
Name: Mike Bruchas
Topic: Changing Radio
Comments: I commented before on Pittsburgh, PA and its infomercial radio stations.

Here in Chicago, another small station group owner is trying to target audiences with a variety of programming - including "progressive talk" on one of their stations.

Basically an advertiser buys all the commercial minutes in an hour and basically sponsors the station's programming. Duh - that's the way it has always been, but the ownership group is pitching it in a different way.

They own 820 AM and operate 3 FMs in different parts of Chicago. The idea is to program for different parts of the city and sell ads localized for that geographic area.

They say that they are the last non-big radio group-owned stations in the Windy City.

Will it succeed? Don't know yet...

Go to:

ChicagoProgressiveTalk.com/sales

WBEZ also has a "community radio" service called Vocalo, which touts non-professional talkers. Their idea was to make radio "more open" to diverse interests. It may sound more like cable access meets a college radio station.

---

December 04 2008 at 08:02:41
Name: Mitch Gray
Topic: Sheridan Village Radio
Email: North of You
Comments: I know there was a radio station broadcast studio in Sheridan Village, I believe it was KBEZ or some other "Beautiful Music" format station. When I was a kid, I used to make faces at the DJ through the glass to see if I could trip him up.

Little did I know that someday, although not at KBEZ, I would be the guy behind the mike.



I don't remember that, but it would have added more magic to the place for me. Was it in the 70s or 80s?
---

December 02 2008 at 15:36:42
Name: Tim Gray
Topic: Sheridan Village
Comments: Oh no! I worked at the old Bud's Thrif-T-Wise that was in there, as well as the JC Penney's. Spent a lotta time in the TG&Y and used to pay the paper bill for my route in one of the offices upstairs. I think there was an eye doctor in there I used to go to, etc., etc. Passed through everyday walking from Bell when it was a Junior High.

I haven't lived there for *gosh* 23 years (already?) so I don't know how long the stores have been gone. Anyway, more old memories.



Take a look at this ad for Thrif-T-Wise at blogger Irritated Tulsan's feature on the University of Tulsa's Homecoming 1969 program guide. Lots of good stuff in there.
---

December 02 2008 at 09:18:12
Name: Charles
Topic: Sheridan Village
Comments: Sheridan Village awaiting the wrecking ball? Say it ain't so! There goes another piece of my childhood. Is anything going up in its place?

---

December 02 2008 at 07:34:00
Name: David Sherr
Topic: Cimarron Ballroom
Email: david.sherr at gmail dot com
Comments: Hello,

Does anyone remember the name of the manager of the Cimarron Ballroom in 1960?

David came up with the answer in GB 292: Peck Allen.

---

December 01 2008 at 16:11:52
Name: Steve Bagsby
Topic: Sheridan Village
Comments: Yesterday, I had lunch at the Arby's on Admiral and Sheridan. Looking out the South window, I had a chance to ponder the old shopping center (Sheridan Village), now waiting for the wrecking ball. When I was a kid, I think most of our food, clothing, medical attention, comic books, and assorted "what-nots" were supplied there. OK, we did backslide and use Eastgate as well!

---

December 01 2008 at 13:19:14
Name: Webmaster
Topic: "Tulsa Deco" on KTUL
Comments:

The latest in Jack Frank's Tulsa History Series, "Tulsa Deco", premieres Tuesday, Dec. 2, at 7 pm on KTUL Channel 8. The program is a tour of Tulsa's extraordinary art deco architecture.

"Tulsa Deco" is also sold on DVD at many places around town, including BOk locations, Walgreens, Borders, and online at TulsaFilms.com (see a preview there). An ideal Christmas gift.

Also check out his "Fantastic Tulsa Films", Volumes I and II. Volume I includes my short home movie of George Harrison at the Assembly Center in 1974, along with dozens of other rare and archival Tulsa film clips going back to the 1920s.

(Added 12/3) I watched the show last night. It was great, and really makes you understand how unique Tulsa's architecture is in the eyes of the rest of the world. It was a 30 minute program; the DVD is about an hour and has other extras.

"Tulsa Deco" plays again Sunday Dec. 7 and 14 at noon on KTUL Channel 8
---

December 01 2008 at 11:26:07
Name: Webmaster
Topic: Count Manzeppi / Dr. Mazeppa?
Comments:

I just ran across a reference to a TV role played by Victor Buono (best-known as "King Tut" on the 60s "Batman" series).

His character, the demented "Count Carlos Mario Vincenzo Robespierre Manzeppi", appeared on two episodes of "The Wild, Wild West" in 1966-67.

"Count Manzeppi" sounds a lot like "Dr. Mazeppa". And Victor Buono brought a lot of humor to his cultured villain roles. Is it possible there is a connection?

Now, Gailard Sartain specifically explained the origin of the Mazeppa name on this site. But I wonder if this character and his name might have lodged in Mr. Sartain's subconscious, then semi-emerged when the name "Mazeppa" in a 1902 comic strip came into his field of view in 1970. Then again, it could be no more than a coincidence.

(By the way, Mazeppa.com has 3 volumes of the Uncanny Film Festival and Camp Meeting on DVD for your viewing and gifting pleasure.)

Here is a 40 second clip of Buono chewing the scenery as Count Manzeppi:
Mr. Sartain replied via email, 12/7/2008:

"Mike.. In response to your query - I don't recall ever seeing this episode but I do remember Victor Buono as a uniquely talented actor. If there is a connection in my subconscious it will cost me a lot of money in a clinic to ferret it out. Most likely it was the writer who made the Mazeppa connection.

"Glad you all had a wonderful vacation.
Best,
G.Ailard"



Paging Dr. Jan and Dr. Judy for the webmaster...
---

December 01 2008 at 00:10:10
Name: Gary Chew
Topic: Famous Radio Consultant Passes
Comments: Special to Jocks Anonymous:

Here's the obit on Bill Drake in the NYTs.
---

November 30 2008 at 09:47:50
Name: Webmaster
Topic: Previous GroupBlog summary
Comments:
Archived GroupBlog 276, where we got a link to Guy Atchley's new photo blog...
---
Back to Tulsa TV Memories main page