Late-night lunacy
'Creature Feature' keeps zaniness on tube
by Bruce Westbrook
(From the Tulsa Tribune, November 1982 or '83. Bruce Westbrook now writes for the Houston Chronicle.)

Local TV hasn't been the same since "The Uncanny Film Festival and Camp Meeting" folded its tents 10 years ago.
Gone is the crazy comedy of Mazeppa Pompazoidi (Gailard Sartain) and Sherman Oaks (Jim Millaway, at left), whose off-the-wall humor on the late-night movie program attracted a cult following.
Such humor has survived in an unlikely place -- the national networks.
Since "NBC's Saturday Night Live" arose in 1975, it has helped make zany, free-form comedy a late-night TV staple.
"Fridays", "SCTV," "Second City" and "Night Flight" have also showcased such humor, which blends a modern irreverence with the spark and spontaneity of TV's early live days.
But late-night local lunacy isn't dead yet.
On KOKI-23, Oaks has begun hosting Saturday's "Creature Feature," which is a bit like the "Uncanny Film Festival."
Oaks introduces science fiction and horror movies and appears at commercial breaks to make ridiculous remarks and demonstrate things like finger puppet mud wrestling.
Jeanne Tripplehorn
He is joined by Jeanne Summers (aka Jeanne Tripplehorn), a KMOD fm 97.5 announcer, who portrays the Mingo Valley Girl, Hollywood gossip reporter Mona Garret and Nina K-Tel of "Commercial TV -- all commercials, all the time." (Was that prophetic or what!)
It's not exactly the old days, Oaks admits, but it's a step in the right direction.
"This isn't Mazeppa," he said. "then, we had guests and bands and the movie was just an excuse to do the other stuff. We used to do 20-minute breaks, and here we come in for only a minute or two.
"But this is local comedy, and that's something."
Why have such shows almost disappeared?
"At one time, every place had a little locally-produced dance party and monster movie show for the kids," Oaks said. "But now it's easier just to buy 'Solid Gold' to fill the time slot.
"Stations used to have a lot of 'down time' for people on salary," he said. "They produced local shows because they had the time to do it in the studio. Now, more people are using the studios for local ads, and studio time costs much more."
But with some ingenuity, it's not costing too much to make "Creature Feature" prohibitive.
KOKI advertising manager Dick Enderwood said the show costs $400 to $500 to produce in the studio.
"The whole idea is for it to be good enough to be entertaining, but also to look kind of campy and cheap," he said.
That's the aim of Oaks' show this Saturday at 9 p.m., when he'll appear to be cruising Tulsa in a 1960 Nash Metropolitan.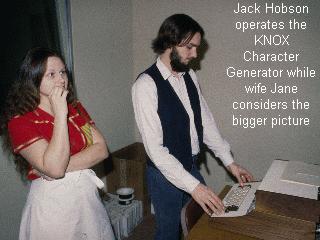 Actually, the car was stationary in the studio. Cameraman Jack Hobson shot Oaks and the car against a blue screen, which enabled Steve Pickle, directing the action in a control room, to superimpose them against another background. It's a technique often used in moviemaking.
With Hobson jiggling the camera, Oaks appeared to be driving through scenes shot the night before from the back of a van.
Oaks recently made a Halloween special with Sartain, who now appears in movies and on "Hee Haw." He said Sartain will appear on "Creature Feature," as will Gary Busey, another "Uncanny Film Festival" star who went on to film fame.
"Gailard is going to blast himself out of a Lazy Boy recliner with dynamite," Oaks said.
Oaks wrote Mazeppa material and has written for Shields and Yarnell and Roy Clark on TV. But "Creature Feature" is largely improvised.
It's all a throwback to live TV, "and what people like is there's always some surprise," Oaks said. "You never know what's going to happen next."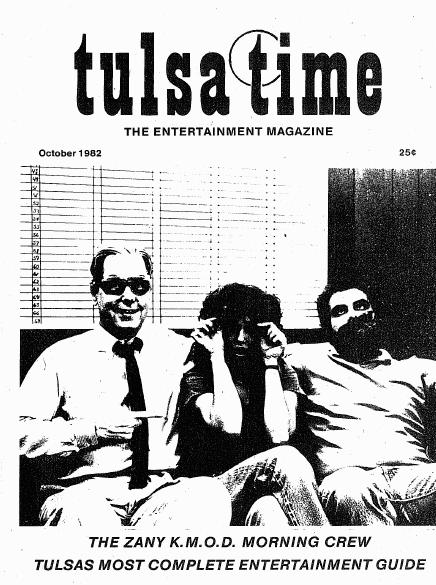 Jim Millaway, Jeanne Tripplehorn and Beau Chase, courtesy of Roy Payton. Roy said via email, 8/9/2008: "Beau Chase is the third one in the picture enclosed. He was part of the morning crew on KMOD along with Jim Millaway and Jeanne Tripplehorn (both pictured). I was the publisher of this old rag (TULSA TIME) that ran from October 1982 to November 1983."

Here is a commercial for the "Inflatable Dog Doll" by Jim Millaway, mined from a tape kindly provided by former KAKC jock, Steve Suttle. This faux spot was recorded circa 1975, a couple of years after the Mazeppa era, and about 7 years before Creature Feature. Think clean thoughts, and enjoy the moving testimonial by a young Henry Mark.
(from GroupBlog 277) The webmaster said:

Wilhelm has mentioned "The Groovie Movie" on KOKI. I certainly remembered "Creature Feature", but not that one.

A Tulsa World article cleared it up. "Late Night Film Hosts Aired Laughs, Horror", by John Wooley, 1/19/1990:
"Creature Feature"...survived three years and one name change (to "Groovy Movie").

"They ran out of their 'Creature Feature' movie package, and went to another movie package that didn't work as well," said (Jim) Millaway, describing the package as "recent, first-run bombs."
---
Sherman Oaks was a regular on the KMOD-FM morning show in the late 70s/early 80s. He casually turned daily newspaper items into great off-the-cuff comedy. It was a treat while it lasted.
In the 80s, he also hosted the "Afternoon Movie" on KGCT Channel 41 (watch a 10 minute RealVideo segment at the link!)
Jeanne Tripplehorn hosted a late night local music program, "Night Shift", on Channel 8 in the early 80s.
See a Java slide show of Jeanne on a 1983 "Night Shift".
Where is Steve Pickle today?


Ladies, dry your hair in a jiffy, but wait, that's not all!!
The Tidie Dryer quick-dries your unmentionables!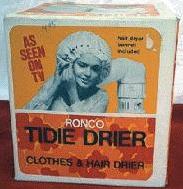 Back to TU23A KOKI Back to Mazeppa page 3 Back to main