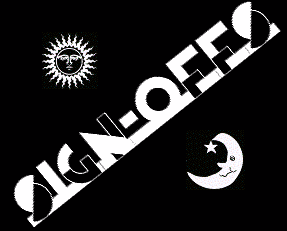 (from Guestbook 25) The webmaster said:

...I wish we could find a shot of Dick West from the KTUL signoff...


Dick West. More TTM video in the Photo/video briefcase.
| | |
| --- | --- |
| (Or above at YouTube) | |
(from Guestbook 61)
Steve Smith said:

... I noticed that the site
administrator wished for a
shot of Dick West's "Lord's
Prayer" sign language from
Channel 8's nightly signoff...
I happen to have an old
video copy of same from
1979 ...






Thanks, Steve!





(from Guestbook 25) Christopher said:

I was reading in the first guest book, and noticed a comment
about Dick West's Indian Sign Language. It was at the end of
Channel 8's day. Dick was a good friend of our family. Mr.
Leake got Dick (who at that time was resident artist at Bacone
College) to do it. Dick was a tremendous artist. He later went
to an Indian college in Kansas, then retired to Ft. Gibson Lake.
Some of his paintings can be seen at Gilcrease Museum, at
Bacone, and even the Smithsonian. He moved to Arizona to be
close to one of his sons, and died a few years ago.


(from Guestbook 212) Karen Manasco said:

Email: karen[at]wuvie[dot]net
Location: Hulbert, Oklahoma

Comments: Over the weekend I happened upon a bust, or statue, of a man by the name of Dick West. Needless to say, I was rather intrigued by a head sitting on the porch. The statue came home with limited information, only his name.

The back of the head has an inscription of N.F. HARRIS 11-67. It is made of a heavy plaster and painted to resemble bronze.

In searching the internet, someone suggested this might be the Dick West who once appeared in the sign-off of KTUL's daily broadcast.

Should you happen to be familiar with such, please let me know.


It certainly looks like him, and Hulbert is near Ft. Gibson, where he retired. Since Dick was himself an artist and teacher, N.F. Harris might be one of his students.






(from Guestbook 64) Dale McKinney said:

I remember how every single night, when we ran the tape of Dick West doing the Lord's Prayer
in Indian sign language, we did the same joke, as a ritual.

Gene Tincher: Say, does anybody happen to know this here Indian feller's name?
[the super DICK WEST would show up on the tape, built in]

Dale: There it is. I supered it for you.

Gene: Oh. Thank you!

When it's 2:00 AM, you have to amuse yourself somehow, I guess.


(from Guestbook 93) Steve Todoroff said:
Does anyone know the name of the sign-off song that KOTV used to play each night prior to the national anthem? It was a nice, slow big band sounding tune with lots of brass. I can't for the life of me remember the name.


(from Guestbook 93) Roy Byram said:
"Sunrise Serenade" was for sign-on and "Moonlight Serenade" was sign-off. Played the cart too many times for both shifts. (Hear a sample of each on Glenn Miller - Greatest Hits at Amazon.com)


(from Guestbook 14) Mark from Jenks said:
Late at night in the early to mid 70s when 6 signed off its broadcasting for the night, there was an announcer that began the sign-off with "the first one you turn to-KOTV channel 6 Tulsa. He then ended the sign-off message with," This is your announcer, _____ ____, saying, Good night and Good morning."
Help me with this blank answer. what was his name? There was music in the background while sign-off was commencing. Title of that song was "Moonlight Serenade" which was performed by Glenn Miller. The old 6 logo and the microwaves KKV-45 and KLO-73 were shown.


Ken Broo replied:
I believe the name of the announcer on the KOTV signoff tape was a man named Denny Delk.


Mike Bruchas replied:
Gawd - Ken Broo stirred my brain cells - it WAS Denny Delk on sign-off at 6, now a long forgotten announcer.

Actually, Denny Delk is a very successful voiceover man today. Here is his website.

Cy Tuma did sign-off forever at 8 on tape, but often the announcer/engineers would do it live and tag the next day's sign-on time and program as we had slide back-ups loaded for this.
Here is Cy's February 18, 1979 sign-off. The musical backing is Henry Mancini's "Dreamsville" from the "Peter Gunn" record. More about that piece of music in the the TTM Gift Shop (video courtesy of Steve Smith).


Featured on Boing Boing, 3/29/2008. More video in the Photo/video briefcase.


Tuma and the now deceased Cal Clopton (we called CLOMPton) - the KTUL transmitter engineer used to "violate" FCC rules by having 2 way conversations over the color bars test time a half hour before KTUL officially started its broadcast day some times in the days of 8 live doing the John Chick 7am show. The engineers at the transmitter in Coweta had a small audio board - for testing and in case of emergencies - so Cy would say howdy to Cal and he would burble something back.
Or we would play jazz or classical music over color bars in "test time". "Bars" replaced the Indian test pattern at the onset of color TV and most stations had their call letters burnt in to the bars. A lot of stations ran tone over them - a bit hard on the ears, though I worked with a guy that had a Sony b&w TV set with a built-in timer to switch it on, and he used it as an alarm clock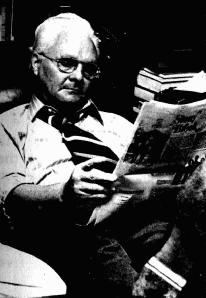 (from Guestbook 14) Lowell Burch said:
I used to get up and watch that crazy Indian show every Saturday morning (right after "The Attack of the Flys") and I loved to watch the sign-off and listen to "Moonlight Serenade". The only thing more exciting was "Moments of Meditation", since my pastor made occasional appearances.

The reality-impaired Native American show? Could you tell us more about that?

Dr. Warren C. Hultgren (left) was probably the local pastor most frequently featured on "Moments of Meditation", first show of the morning on KTUL. (See the 1961 TV schedule)


Lowell replied:
The "Attack of the Flys" was the broadcast static which played all night prior to the airing of the test pattern which featured, as we know, the chief's profile (aka the Indian show).
This BBC site explains the technical aspects of the test pattern.

Here is another British site with pictures of test patterns from around the world, and some history.


(from Guestbook 7) Mike Bruchas said:
Speaking of off-the-air times at KTUL. 8 went dark at midnight on Sundays for maintenance - all the senior engineers worked 11pm-7am. With spit and bailing wire it all ran well due to their efforts and a generally cheap Jimmy Leake who took all the profits to play with his car collection - made money.
On Mondays - coming in at 5:45am and KTUL being off air we saw another station. On our Conrac off-the-air tuner with pick-up antenna on the Look-out Mtn. antenna, we watched KNOE in Monroe, LA (ch.8) sign-on thru the buzz before we signed on. It was weird watching ANOTHER ch.8 in Tulsa. We assumed WFAA TV in Dallas was closer but evidently KNOE was kicking out more power or had a more directional antenna pattern. We were probably the only folks in Tulsa to ever see this.


(from Guestbook 7) Ray L. Rivera said:
During my brief stint in Tulsa radio/TV I heard a story about how some Tulsa TV engineer supposedly got fired for running (at the close of the broadcast day) video of a TV tower being blown down. As the story goes the engineer merely got reprimanded for that but he promised to make amends.
The next morning during station sign-on the engineer ran the video in reverse--which prompted the firing. Any truth to this rumor? Did this really happen, and if so, can somebody provide the juicy details?


(from Guestbook 14) Mike Bruchas said:
All stations did testing before sign-on and after sign-off on power irradiated and other kinds of mumbo-jumbo set-up of the transmitter (called xmitr).
As I recall both 2 & 6 had old stand-by transmitters in the 70's but both may have had dual systems with newer transmitters on-line with back-up klystrons or switchable A/B sides (where the A or B side could be on air, the other side on standby.)
KOTV for years also ran the OETA transmitter in the same building in Sand Springs before all bailed for Oneta.
There was a dedicated phone line to the transmitter and engineer Neil Willits used to drive us nuts some nights - calling KOTV about video levels and such. In retrospect this WAS good - kept KOTV at the top of their game


(from Guestbook 72) Harry Volkman said:
At the 50th KOTV anniversary in November of 1999, I don't recall anyone mentioning that we had a signon and signoff theme song over which the announcer read the standard messages that were made in those days. The theme song was a beautiful piano rendition of "Dream of Olwen" (you can hear the music at this Amazon.com link...webmaster). We always signed on and off in those days with our national anthem.

Harry was Oklahoma's first weatherman in 1950.


(from Guestbook 27) Jim Ruddle said:
Dick Campbell, who became Program Director at KOTV, originally worked for KGGF-AM, in Coffeyville, Kansas, in the forties. His classic sign-off there was "So long, and 73," 73 being the old telegrapher's bye-bye.


(from Guestbook 101) Robert Porrazzo of Cos Cob, CT said:
I never lived in Tulsa, but I am a fan of the rarest of TV oddities--the sign off. Seeing a 1979 one of KTUL-TV makes me proud to know there are some people out there who are keeping the memories of this art form alive and well.
And the Television Code--WOW! This 28 year old has some memories of sign-offs and music. One of my state's TV stations, WTNH-TV also channel 8 and ABC, used Barry White's "Love's Theme" for one of its sign-offs in the early 1980's. They then went to the National Anthem.
I know KTUL had the Ray Charles "America the Beautiful" at one point and that's all well and good. But what stations played the Star Spangled Banner at sign-off/on and which if any still do it today?

Our local PBS affiliate, KOED, Channel 11 still uses "High Flight" as their sign-off , but the only other stations here that actually do sign off are the Fox and UPN affiliates, KOKI and KTFO. Anyone know what they are using?

For anyone who zoned out after watching Channel 8 or 11 all night here is the "High Flight" sign-off in RealVideo. The jet has been updated.

Reader Ray Haas found the 60s version of this sign-off and is making it available on DVD. Check HighFlightProductions.com.

Michael D. Trout talks in GroupBlog 272 about the aircraft seen in "High Flight".

By way of Boing Boing, here is the original 1960s version of "High Flight":

1960s version of "High Flight".


1990s KOED sign-off with visually updated "High Flight".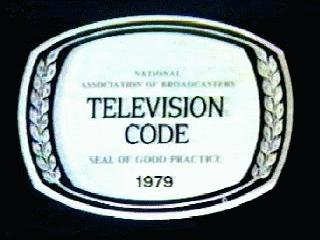 (from Guestbook 69) Jim Reid, formerly of KTUL-TV, said:
We had the same sign-off tape running for years. When they had produced it, the NAB seal was mounted crooked in the slide. Every night when the tape ran and the crooked slide showed up on the air, you could always count on Gene Tincher to announce over the production page, "Slide's high on the right".


(from Guestbook 101) Jim Reid said:
Speaking of sign-offs, at KTUL in the late '70s one of the news photographers, Glenn McReynolds put together a really nice music essay for the 4th of July. It was picnic scenes, outdoor concerts, etc. edited to Ray Charles' "America the Beautiful". It turned out so nice that we replaced the High Flight tape with it. It ran every night for a couple of years. (video courtesy of Steve Smith)

Here's a great personal story from Al Hess in Guestbook 177 about meeting Ray Charles at the Cimarron Ballroom in 1960.



Ray Charles KTUL sign-off. More TTM video in the Photo/video briefcase.


Mystery sign-off question:
(from Guestbook 101) Keith Purtell of Kansas City said:
I'm a former Tulsan with an obscure question. If this is impossible for anyone here to answer, I'll gladly settle for any suggestions as to where else I might ask. I've already tried the television station and a Web site devoted to television sign-off themes.
I'm trying to identify title and composer (and performers?) of an instrumental used in the 1970s as sign-off music for the educational television station (at least, I'm pretty sure it wasn't one of the other local stations). The style was spacey-pop with a jazz touch. It resembled the string background to Marvin Gaye's "What's Going On" album. The instrumentation is mostly strings or maybe synthesizer trying to sound like strings, with a wordless chorus (sounds like they're just saying "Oooo") and some subtle electric guitar. The tempo is moderately slow, and the melodic theme gradually rises through a scale; just the kind of thing that floats off into the horizon so the engineer can kill the power to the broadcast tower. I've got this music in my head and it won't go away until I identify it. Any thoughts? Or is this in the "likely hallucination" category?
AND
(from Guestbook 109) MJ of Dallas
I'm not sure if anyone remembers or not, but during the OETA sign-off in the early to mid 1980's, there was a Smooth Jazz tune that played in the background and I've been going crazy trying to find out the name of the song and artist for the past 20 years. It's jazz that mostly has piano playing the background, does anyone know the name of the artist and title of the song?

Could it be Barry White's "Love's Theme"? (Hear a sample from his All-Time Greatest Hits CD at Amazon.com.)

(via email, 8/10/2005) Keith Purtell said:
I think the song I remembered predated the Barry White song. But there is a resemblance. I finally decided that whatever I heard was probably "library music" used by many broadcasters.


(from Guestbook 189) The webmaster said:
Sign-offs could seem scary as a kid (It's still disquieting to wake up to static). They were like a kind of death; you wanted to be under the covers before the static, and it was creepy when a parent fell asleep on the couch and let it go on for awhile.