The end of Skyline Amusement Park
1994 photos by Bryan Crain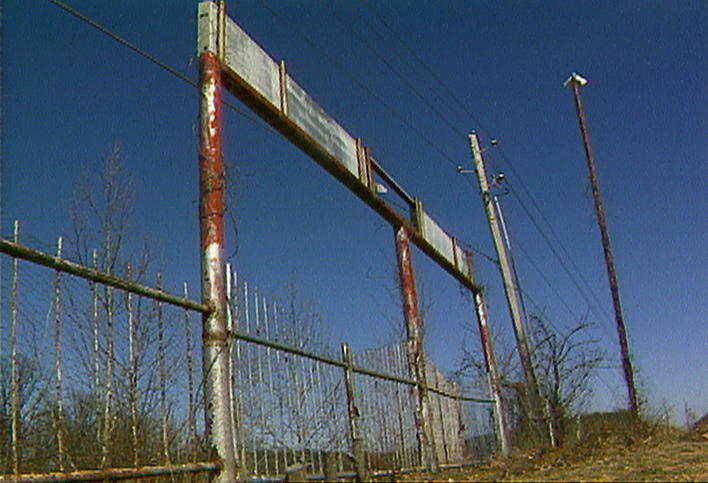 Skyline Park entrance in 1994
(from Guestbook 129) David Bagsby said:
It seems that roller coaster collapsed during a ride and killed some folks and after that the park could never recover and folded too.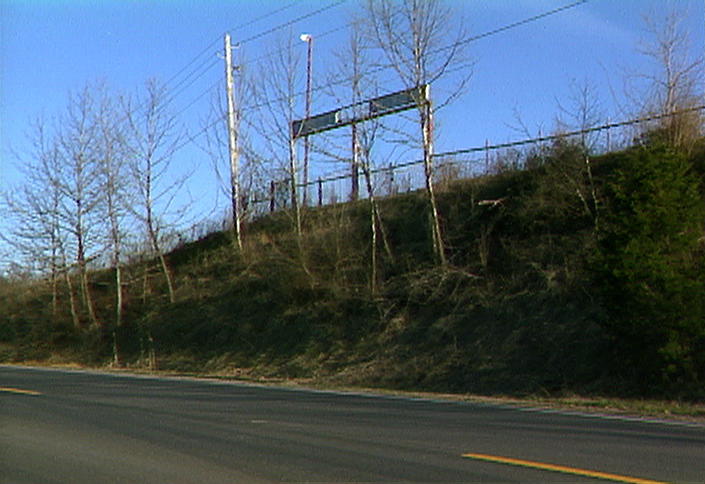 Roadside view of the entrance
(from Guestbook 163) David Worrell said:
In high school (early 70s), some of my friends and I used to do something kind of crazy which is related to recent discussion.
There was an old abandoned amusement park down south of Tulsa (pretty sure it was Skyline), and we used to go there after dark, climb the fence and get inside, and go and WALK the giant wooden rollercoaster all the way around in the dark. And yeah, we'd get high while we did that. I remember messing around in there 3 or 4 times until we got caught one night by a security guard while out on a small lake in some paddle boats. We didn't get in trouble; he just made us leave. :-)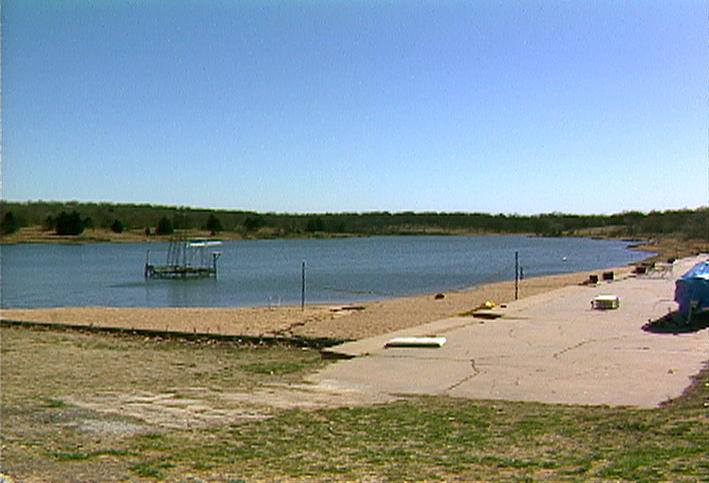 The lake
(from Guestbook 193) Joyce Richardson
Didn't a tornado take out the coaster in or around maybe mid-1970s? I remember driving to a park outside Tulsa and seeing the tracks go up and the rest was blown away.
If it wasn't Skyline, can anyone tell me what it was? I've wondered for awhile if it was Skyline or I've been mixed up.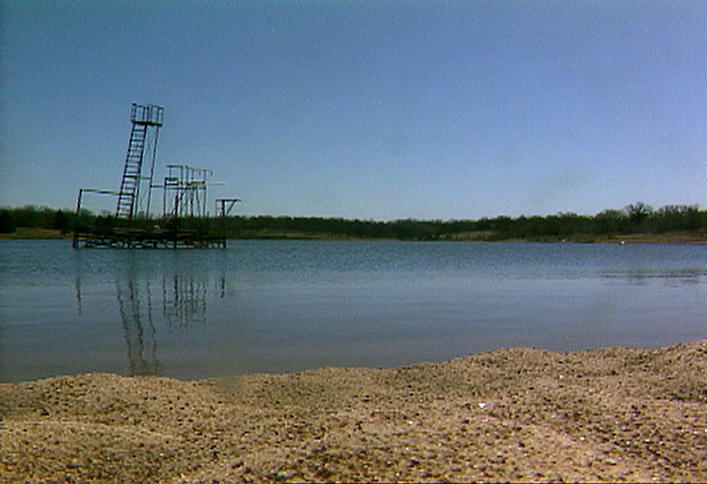 The shore
(from Guestbook 129 and 162) Lowell Burch said:
I went out to Skyline about a year ago. The property owner, who is the son of the amusement park's last owner, did salvage some of the old park (including timbers from the roller coaster) to build a lodge and few other things there on the location. He didn't have any interest in talking to me about the old park but he did give me a few sections of the old railroad for my amusement park-themed backyard.

Webmaster: I've seen Lowell's backyard, and it is fantastic, especially the cave.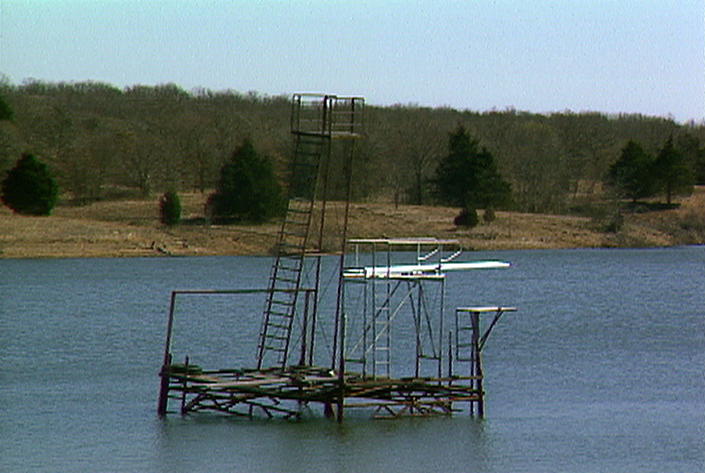 Diving platforms and lifeguard station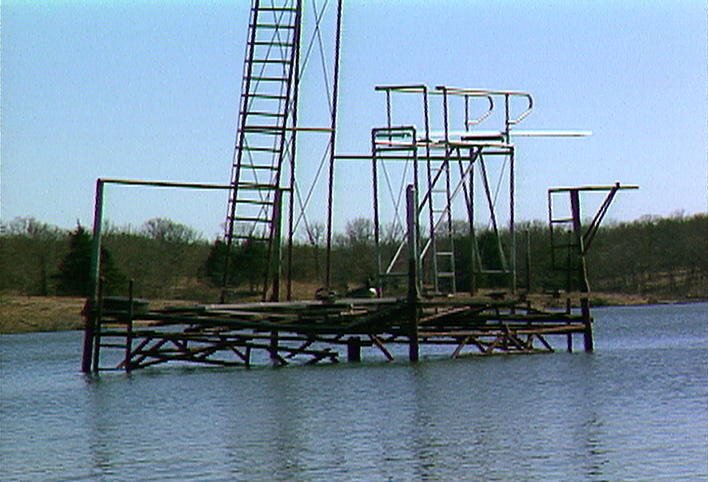 Diving board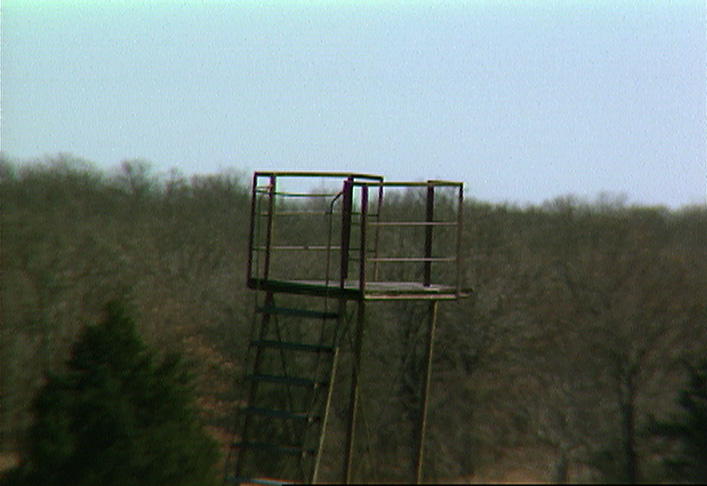 High dive, or is it the lifeguard platform? Does anyone know for sure?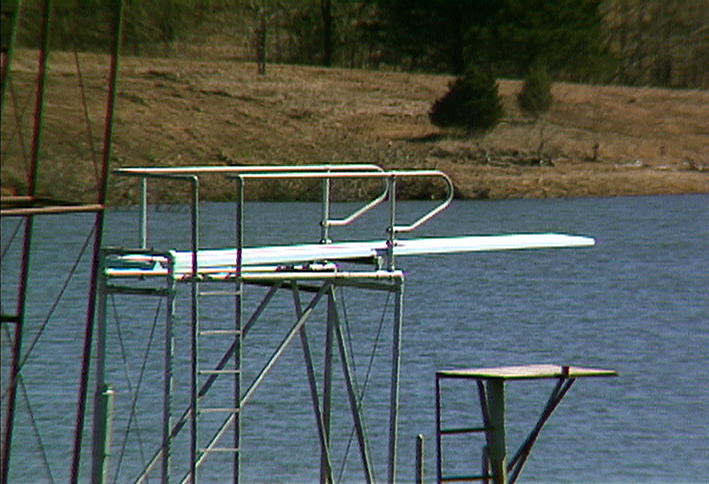 Diving board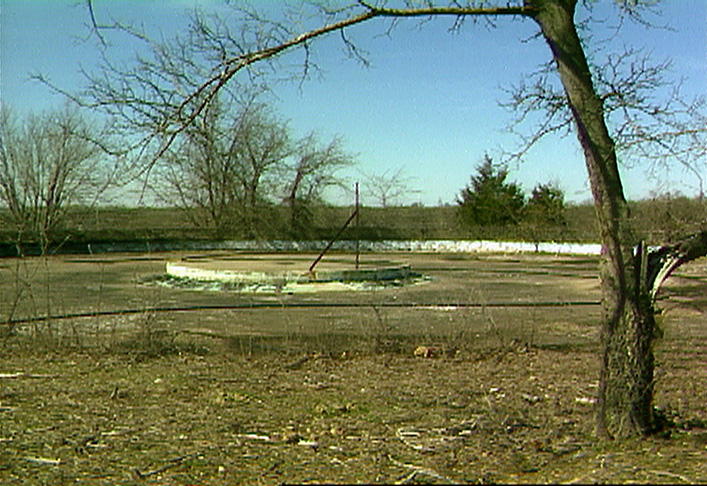 This round concrete structure was the electric boat ride seen on the previous page. Water was pumped in from the lake. Satellite view


End of the trail for the stagecoach
(from Guestbook 129) Steve Bagsby said:
Speaking of the Skyline Amusement Park, there is a Country Club at the site now. I played a dance there a while back, and noticed they had made fencing from the old iron tracks from the roller coaster. There are still some remnants of the old park on the site.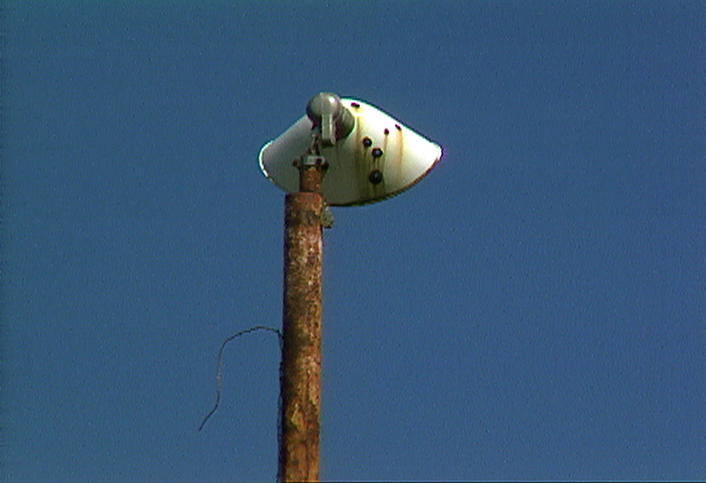 Lights out
A new life


(from Guestbook 162) Kenneth said:
Skyline Park is now an upscale housing development named Five Oaks Ranch. It features a ski-lodge type building that serves as a recreation and events center. A large deck overlooks a beautiful lake.
And when a worker there told me that lake was part of the old Skyline Amusement Park I was stunned. He pointed to where the roller coaster used to be and then I could picture the old park. There's a small building there - kind of rickety now - that was once a concession stand.
If you go east on 121st off the Beeline you'll see the entrance (a small stone pillar) on the south side...like between Elwood and Elm(?)...not the way we used to go to the park.

Skyline Lake is about 3 miles south of the Jones Airport on Elm (which is Peoria on the west side of the river), then about a 1/2 mile east on 121st St.

The FIVE OAKS RANCH site has a photo tour of the lodge, the cabin and the fishing lake today.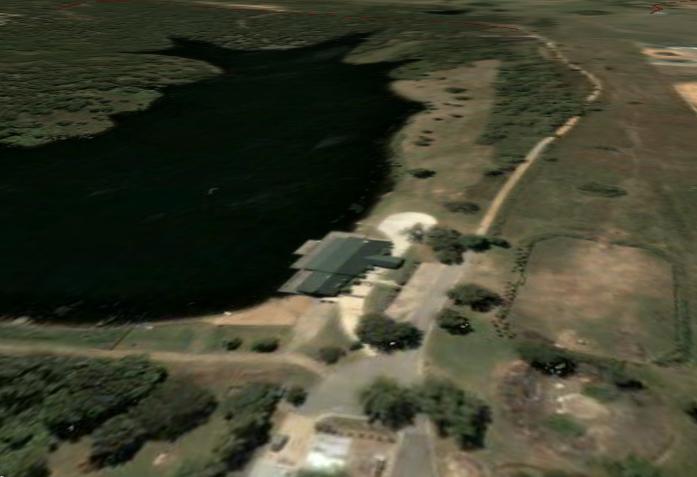 Google Earth satellite view today