Tulsa
Radio:
KELi

(illustration by
Gailard Sartain)

KELi surveys
KELi's: Scream in the Dark
Michael Hardeman ("Michael Evans" on KELi, KRAV and KWEN)has
written and shot a photography book: Oklahoma Wonder and Light.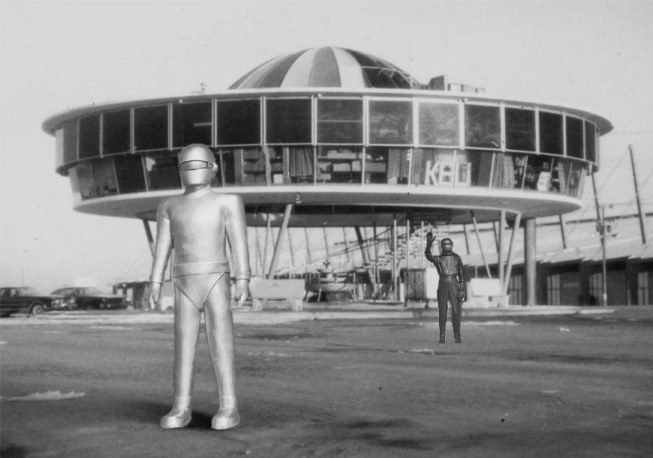 "The Day Expo Square Stood Still" (image and title created by Mike Hardeman, sent in by Chris Kelly)


Read about one-time KELi jock Les Garland, who was featured in Starship's song
"We Built This City" (his part of which you can hear at the link above). He hosted KOTV's
"Dance Party" around 1970-1971. He was later a co-founder of both MTV and VH-1.
(from Guestbook 3) Deb Walker said:

Has anyone mentioned KELi radio yet? AM radio, I believe, and they had that "space-ship" shaped station on the State Fairgrounds....my sister had a crush on Steve Kelly, one of the DJ's. I hadn't seen it mentioned in any of the guestbooks, so I thought I'd check.



KELi Klimbers on the Top 30 chart, 1430 on the dial, Rock of Tulsa, that KELi?
In 1962, I was once the 2nd caller, which earned me a chance on the KELi wheel. It spun, and made me a KELi Dollar richer!
Big hits I liked that year: "Old Rivers" by Walter "Gol' durn it, Little Luke!" Brennan, and the bathetic "Mr. Lonely" by Bobby Vinton.





(from email, 7/26/2006) Dale Williams of OKC said:
This photo is taken from a book on the history of the IPE shows that was published in 1983.




(from Guestbook 20) Brad Smith said:
Some KELI memories...
The KELI Klunker - a car they were giving away, don't remember what it was, but it was something they fixed up. A visit to Amarillo found their sister station, KIXZ, giving away the KIXZ Klunker!
All the DJ's were named Kelly (KELI?). Bill Kelly, Dan Kelly, Don Kelly (news), etc. Found out later, Don Kelly is Don Foster, a ham radio friend of mine. Bill Kelly had an alter ego, I think it was Jasper P. Jones, someone correct me if I got that wrong. One of their phone numbers was General 7-1430. I think the other number was Fillmore 5-KELI.
When someone lost a pet, they called KELI and they issued a Pet Alert.
In the summer, they rang a cow bell every 15 minutes and played a jingle - "Time to turn, so you won't burn."


(from Guestbook 20) Mike Miller said:
Re: Brad Smith's KELi recollections. Shortly before KTUL radio was sold, it switched its music format from "Big Band," to "Sing Along with Mitch." Following the bouncing ball on radio reminded me of the time someone featured a juggler on KWGS-FM. Anyway, we all hated it and bitterly complained, (along with most listeners,) and the format became known as "Sing Along and Bitch." When KTUL radio became KELi, Raymond Ruff kept only a handful of the old staff. As I recall, Gary Chew became "Pete Kelly" and Jay Jones was J. F. Kelly. Forrest Brokaw was named news director and he, Don Foster and I were allowed to keep our real names. The jocks were green with envy. (That news policy may have changed after I left.)


(from Guestbook 20) G.Ailard S.Artain said:
Concerning KELI experiences, I have one too: believe it or not, my first professional job, circa 1965, was as a mobile disc jockey for KELI. My dj name was Terry Knight and my duties were driving around to local drive-ins so that teenagers could request songs from Dan Kelly. I think I lasted about two weeks: in an effort to get home to study for finals I left a local high school football game early and reported what I thought was the score. In the meantime, a field goal was kicked. I got on the air and apologized for the incorrect score by saying "I really screwed up." Dan Kelly took great delight in having me fired for using such foul language. Some of the language that I use in this film I'm doing ("The Replacements") would have made Dan Kelly spontaneously combust! But he'd have to go through Warner Brothers to get me fired this time!!


(from Guestbook 96) Ken Sutherland said:
In early 1971, after losing my first 3 DJ jobs in short order, I applied to every radio station with an ad in BROADCASTING magazine. The phone rang, and a voice said, "Ken, would you work the overnight shift for $500 a month? Can you start Monday?" "Yes!" I said. "Who IS this?" It was Jon Steel, and shortly thereafter, I became Ken Douglas on KELi. (I was told that I couldn't use my own name, because KELi would OWN it if I did! I chose to let them own Ken Douglas).
At that time, Dick Daniels did morning drive, and spoke to 'hizzhonor the mayor' every week. Jon Steel worked midday, Les Garland was the afternoon drive DJ (and had a dance party show on Channel 6, which I hosted for him once) and Dean Kelly (the last, I believe, of the jocks-named-Kelly period).
Later, when Garland moved to Milwaukee, Dean Kelly moved up the afternoon drive slot, and I began working 7-Midnight. Denny Rogers came on the all night shift.
When I started at KELi, I was a horrible jock. Station Manager Joe Henderson deserves an award for his patience with me and my seemingly unlimited screwups. He gave me EXACTLY what I needed - a place to make mistakes and grow. After two years at KELi, I was ready to move on, and I was fortunate enough to have some astonishing successes during the rest of my career - but I would certainly not have made it if it had not been for the opportunity KELi gave me.
Thanks, Joe, wherever you are.
In those days, radio stations were required by the FCC to do a certain amount of news each day. KELi didn't do ANY news during the evening hours, but made up for it on the all night show. I had to do a ten-minute newscast every hour. I must have gotten a thousand telephone calls from News Director Forrest Brokaw correcting everything from my pronounciation to my timing. I'm SURE he would have corrected my haircut if he could have. I think that guy never slept! He was a long and lanky birdlike man who wore brightly-colored jumpsuits that had shrunk badly, and revealed about 6 inches of leg above his socks. Interesting character.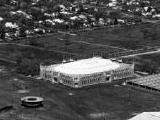 My last show on KELi came right after Richard Nixon was re-elected. Mazeppa dropped into the spaceship studios with a few friends, and the show went free form. The next day Joe Henderson presented me with all my belongings in a shoebox and wished me good luck. I got work at KONO in San Antonio, then Portland, Sacramento and San Jose. I went on to become General Manager of 3 stations in Reno and Las Vegas, and now work for Jones Radio Networks in Los Angeles. Please feel welcome to say hello if my name is familiar to you. The two years I spent in Tulsa made for some wonderful memories!

(from Guestbook 178) Gary Chew said:
(The station ID) "K-G-G-and-F" was the radio character, Jasper G. Jones. The man giving him voice was Bill Miller, who worked at KGGF for a long time.
I worked with him at KELi; his name there was Bill Kelly.
He lives now in Olathe, KS. He does a syndicated big band program, "The Bill Miller Show", that's heard in a number of markets.
I think a station in northwest Arkansas carries it. It's also carried on an AM in Wichita.
He used to do Jasper on KELi...or rather K-E-L and little i.
Gary Chew was "Pete Kelly" on KELi. Here is a Bill Miller bio.
---
| | |
| --- | --- |
| | Here is a review of the KELi-sponsored Yardbirds concert in 1966. The Yardbirds were a seminal English group that helped launch the careers of Eric Clapton, Jimmy Page and Jeff Beck. The latter two appeared in Tulsa on that occasion! There are also links to pictures and a short biography. |
| | |

More KELi Tulsa Radio in the Fifties
Channel Changer 2 Back to main