Banners/Uncola card
Take a free banner or icon for your site.
Tiny icons:


(The above banner is a transparent GIF.)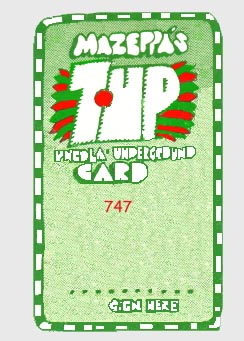 For a full page of Mazeppa-drawn Uncola cards, click here (original courtesy of Bill Groves; Photoshop touch-up by David Bagsby).
Print the above page from your browser. Cut out the cards, sign, laminate, and there you are.
The Uncola card is still good for a discount at any Der Wienerschnitzel in Tulsa you can find.
See the Uncola man, Geoffrey Holder, in his original 1970 Uncola commercial.
Just in case you need further credentials besides the Uncola card to get your Kraut Dogs from Der Wienerschnitzel, here is an U.N.C.L.E. card and much more: