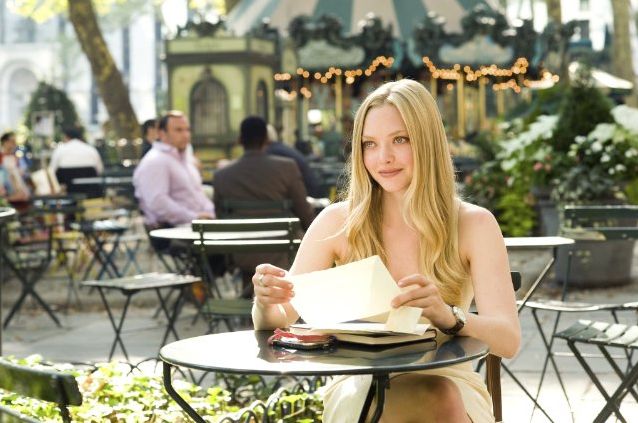 "Letters to Juliet"; a film review by Gary Chew


GARY CHEW/Sacramento
4/16/2010

Amanda Seyfried plays Sophie, a twenty-something graduate of Brown who's one of today's luckier young women. She's got a job fact-checking at The New Yorker. Nice work if you can get it in 2010.
Smart, attractive, cool, ambitious, engaged to Victor (Gael Garcia Bernal): she's all that, but more significantly, Sophie is level-headed and keeps her feet planted firmly on the ground all the way through "Letters to Juliet." Unflappability might be another trait Sophie possesses.
Both Seyfried and Bernal have impressive media lists. Amanda has been seen, recently, in "Chloe" as Chloe, a hooker. She also plays, Sarah, the oldest child of a closeted, Mormon family up to its ear lobes in polygamy on the HBO saga, "Big Love." Two earlier feature films come to mind as well in which Seyfried is quite convincing: as Needy in the ridiculous and blood-filled "Jennifer's Body" and yet another, but completely different, Sophie in "Mama Mia." Amanda could now write her own script and title it, "Sophie Comes Full Circle," I guess.
| | |
| --- | --- |
| | |
| | Gael Garcia Bernal |
Bernal has an even more heavyweight film resumé. Try these titles on for size: "Babel," "Y tu mamá también," "The Motorcycle Diaries" and, recently, Jim Jarmusch's "The Limits of Control." The guess is that Bernal got more money doing "Juliet" than for all his other films listed here.
Strangely, there's not a drop of chemistry between Sophie and Victor in "Letters to Juliet," which was directed by Gary Winick. Yes, they're engaged and take off on an Italian trip as the movie begins that seems to be a prequel to their honeymoon, which they'll take just as soon as they get married.
They get a room in Verona, but hanky panky isn't stressed in this script by Jose Rivera and Tim Sullivan. The movie merely and quietly suggests there might be a lack of chastity among the principle characters.
Bernal's Victor is an up-and-coming, entrepreneurial New York chef. The couple's Italian visit takes on more characteristics of a business trip, since Italian cuisine is what's most incredible to him. In fact, just about everything seems incredible for Victor, but not so much, Sophie.
Since "Juliet" is a feel-good romance (just in time for the close of spring semester), Victor turns out not to be gay. Moreover, what's to happen in this warm and comfy travelogue---which underscores meaningful communication between gals graciously tolerating the foibles of guys---the script comes close to telegraphing by strobe-lit words flashing above the screen. (Think: dialogue, sung at the Met.)
It is one hell of a date movie, though, with generous portions of cozy chickness and ain't-love-grandiosity(?). While Victor chases about Verona and other environs on business, Sophie stumbles onto a quaint Verona ristorante that boasts what might be called a Shakespearian wailing wall for lovelorn women. They leave their letters to Juliet on the wall in hopes the tragic heroine of yore "answers" their entreaties about the love in their life or, in some cases, the lull in their life.
Selected ladies at, what Americans would call, "Dear Abby's Pasta Palace," thoughtfully answer the letters which are then sent back to the emotional tourists. Sophie is entranced by the concept, and becomes friends with the answering staff. And then, as the script would have it, Sophie discovers a loose brick in the wall, finding a 50-year-old letter that's gone unanswered. After much pasta, the Letter Ladies allow Sophie to write the reply.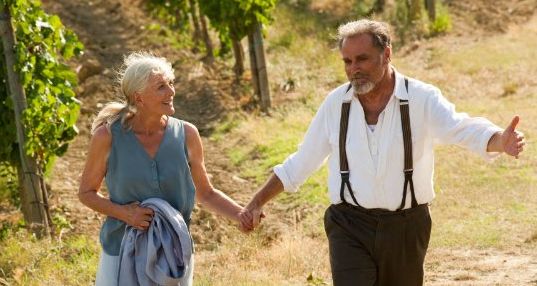 Vanessa Redgrave and Franco Nero

Quicker than a film edit, Claire Wyman (Vanessa Redgrave) shows up from London with her Heath Ledger-looking grandson. Let me introduce Christopher Egan. He plays Charlie Wyman. (See how Egan resembles Ledger by looking at the trailer, embedded below.)
Claire is now a widow who, when Eisenhower was president, met, in Tuscany, a young man, named Lorenzo Bartolini. They never saw one another again. But Claire and Lorenzo may meet once more before the movie ends. (I can't allow a spoiler here and ruin it for you, however.) Claire's letter to Juliet left on the wall of the Vernona Ristorante, so long ago, has to do with Lorenzo.
Most of "Juliet" has Claire, Charlie and Sophie motoring about some of the most beautiful Italian scenery you can imagine---or see in an earlier film called "Stealing Beauty" with Liv Tyler.
There are lots of Lorenzo Bartolinis in the area and, since Victor is off to a wine auction in another town, Sophie has nothing better to do than seize a perfect opportunity to write about "la dolce storia" soon to unfold. Besides, she wants to be more than just a fact-checker at The New Yorker. Being published in a famous, hip, cosmopolitan magazine where she already works would be awesomely neat. Oliver Platt plays Sophie's New Yorker boss.
Can we all imagine what eventally happens as the extraordinarily plucky, Claire, her handsome grandson and Sophie, all crammed into a cute, little foreign sedan, go on the hunt in some of the most beautiful terrain in the world for grandmother's would-be lover of a half century ago? (You didn't think Vanessa Redgrave wouldn't play Claire pluckily, did you?)
I was stymied to figure out what might come to pass, but shan't breathe another word here, only to say that, despite my slightly cynical manner in telling part of the story of "Letters to Juliet," I am again impressed by the talent of Amanda Seyfried. She shows real range with her acting chops: in "Juliet," "Chloe," "Jennifer's Body," "Mama Mia" and the recalcitrant Mormon daughter on cable TV. She acts her parts from the inside out. No surface stuff so far that I see for this young actor. Amanda Seyfried---coming soon in more movies for us to see, I predict.
Put all of "Letters to Juliet" together with the Taylor Swift record, "Love Story," (featuring its disarming banjo accompaniment), and you've got yourself one more freshly trite, big screen romance to enjoy. Every guy should promptly agree to immediately go see it with his gal friend----if he knows what's good for him.
Behind me at the screening were three middle-aged married couples, watching. Interesting asides frequently fluttered from the wives---and then there were the shorter comments from the husbands.


"Letters to Juliet" official site.
Opens wide Friday, 5/14.
Check Yahoo Movies-Tulsa for theaters and times.
Gary Chew can be reached at garychew@comcast.net,
Facebook.com/justin.playfair and Twitter.com/orwellingly.

Copyright © 2010, Gary Chew. All rights reserved.