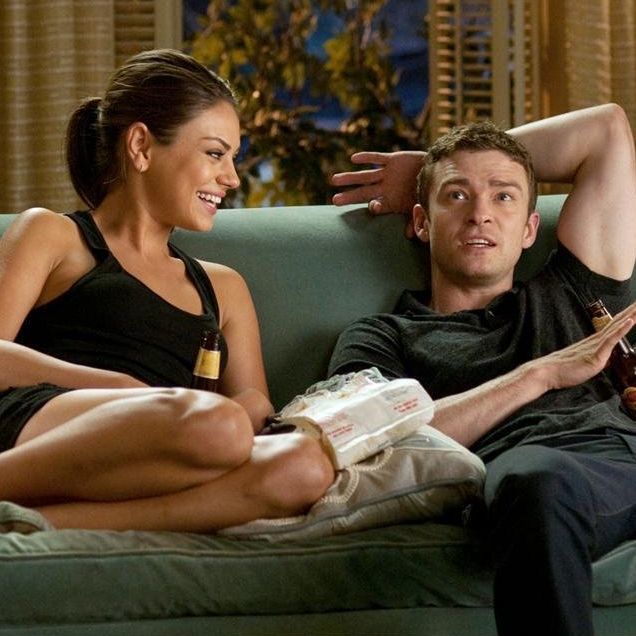 "Friends with Benefits" | a film review by Gary Chew


GARY CHEW/Sacramento
7/20/2011

Except for a hoarse, sexy voice, Mila Kunis has nothing in common with that memorable leading lady, June Allyson, who hit her feature-film-stride from about 1943 to 1955. But this movie is really about Mila Kunis, or at least: Mila playing someone other than Mila. Anyway, Mila uses her cute, raspy, but resonant, voice to say lots of words that June Allyson would have never uttered in front of another person on earth, except, maybe for---(Wait for it.), James Stewart.
Within yourself, if there's but only an ounce of disbelief to be siphoned by screenwriters, you'll buy-in to the idea that Justin Timberlake (as Dylan) has moved his "tent" from Los Angeles to New York City due to the classy and relentless urging of Ms. Kunis (as Jamie). Using her corporate, head-hunter charms, Jamie lures Dylan into an awful and totally unglamorous job having to head up GQ Magazine's Art Department.
Oh, the ignominy.
With only someone as ubiquitous as Mr. Timberlake seems... at being one of our best male entertainers, today... can one sense the poetry---even a little of the irony---that no person but Justin Timberlake, himself, can really do Dylan. But you still know, down deep inside, after seeing him DO Dylan, that... yes: "Friends with Benefits" is really, really quite bad.
Yip. Zero stars, nada, none... or maybe, instead: just one crumpled popcorn box sobbing to itself in the balcony.
Dylan and Jamie are so much more than just, TOO cool. They're also comically JADED. Surely, they must be the wisest twenty-somethings ever put on a wide screen. "Been there, done that" is their mantra. And besides, they get to live ONLY in New York or Los Angeles . Such a pair, for certain, can also handle not being romantically involved, but keep sex, "on the table," as people in the US Congress say. Yes, you know... that's being a pal or friend to someone with whom sex is being had. Something (you) the reader already knows will insure happiness for anyone who's ever volunteered for such duty.
Can you ever guess how the movie comes out? Well then, you surely can't guess how quickly "Friends with Benefits" gets everyone in the film punching all the hot, tech-fad buttons of the day, so everybody else, eventually, will have a social network---all to themselves?
Don't look now, but did I notice that "Friends with Benefits," is rated "R," when in fact it should've been given a: Chicken-R rating? A Chicken-R means the film-talk is about as tacky as you heard every time you watched HBO's "Deadwood," with its articulate saloon keeper and CEO, played by Ian MacShane. But wait, the skin that's projected on the screen in "Friends with Benefits" has been subjected to a craftsman's process, so as to limit the moviegoer's vision only up to, and not beyond, the point of full anatomical exposure. Which, of course, means: properly-placed blankets, afghans, bathrobes and furniture. That's combined with robust, little forays of bed-play, so silly and embarrassing... that it's only a little less erotic than brushing your teeth.
| | |
| --- | --- |
| | |
| | Richard Jenkins |
The cruelest blow, though, is that director, Will Gluck has cast one of the best character actors around, Richard Jenkins, in the role of Dylan's elderly father. He has Alzheimer's, but the character is written to slip in and out of dementia so it nicely accommodates the script's need for occasional sight gags and punch lines that come off almost as funny as when YOU laugh at an elderly member of YOUR family who refuses to wear trousers at the dining room table
In Gluck's defense, let me say, though, that his earlier film "Easy A" was one that rattled my cage rather smartly. Emma Stone is outstanding in it. See it, if you haven't. And, although I am partial to Mila Kunis ("Black Swan"), this lovely woman from Ukraine can't punch up, very much, what's been put on the page. I say this to give you an idea of how wooden "Friends with Benefits" really is, because Mila's got enough chops to perk up almost any movie.
Two fine back-up actors show-up for small parts: Patricia Clarkson plays Jamie's easy-goes-it mama and Jenna Elfman is a good sister to Dylan. Clarkson doesn't have to put much into what was written for her; Elfman, always pretty, chipper and warm... is fresh as a daisy.
| | |
| --- | --- |
| | |
| Patricia Clarkson | Jenna Elfman |

Woody Harrelson ("Zombieland") has to be the guy with an iron-clad sense of self. His character (one of Dylan's subordinate camera people at GQ) plays a butchy, jock of a guy---who's gay. It's the we-got-something-to-say-about-the-gay... part of the movie, which comes off more than a half-tone flat.
Of course, "Friends with Bennies" makes the predictable slip into the semi-serious, what with Dad Harper's mental condition and that Dylan and he have unfinished business. Then there's the awful reality Dylan's dad, sister and little nephew have had to live in an old house that sits where, when you look out the front windows, all you can see is an old, sandy beach---and just behind it, the Pacific Ocean making incessant waves.
Life is hard.
But now, to the deadliest blow: the assault that unhinges this film, as written by Keith Merryman, David A. Newman and, whoops, Will Gluck: Getting serious in a screenplay written for this kind of movie is not only dangerous, but eight clicks beyond any chance, at all, for satisfactory accomplishment.
But, what-the-hey, will it beat out the Potter boy and his oldish-looking mates this weekend or, next week, maybe, Steve Carell and his buds doing crazy?
Having said that, I'm sure Justin Timberlake will be remembered across the decades of the first half of the 21st century as a man of many talents, and that Mila Kunis will go on being an excellent actor, with excellent comedic skills, who'll likely have an even more successful film career. She's got the kind of looks that wear well with time.
And, have you seen Charlotte Rampling ("Swimming Pool"), lately?


"Friends with Benefits" official site. Opens wide July 22.
See Yahoo Movies-Tulsa for theaters and times.
Gary Chew can be reached at garychew@comcast.net,
Facebook.com/justin.playfair and Twitter.com/orwellingly.

Copyright © 2011, Gary Chew. All rights reserved.