---
Many Haunted Returns
Fantastic Theater Miniature House Back in the Limelight
By Martin Mitchell, 4/20/1994
(reprinted from the Tulsa World by permission of Mike Kimbrell, Web Editor, 1/10/2003)

Plenty of spooky houses have graced television and silver screens over the years. Think spooky and chances are the Munsters' residence on Mockingbird Lane pops into mind. Or who could forget Norman Bates' ominous house perched eerily on the hill?
Not to mention all those houses terrorized on Elm Street.
Mention ominous houses in Tulsa, however, and Fantastic Theater more than likely comes to mind.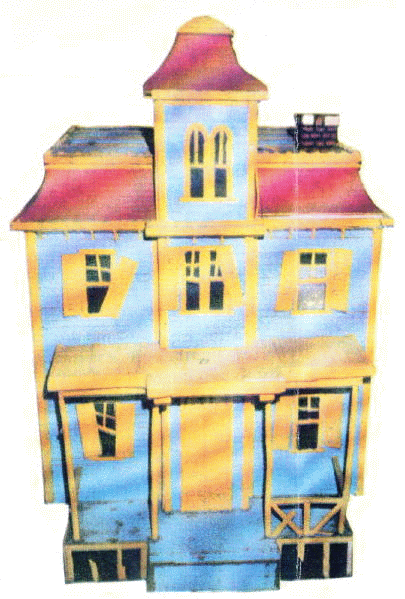 The popular television program aired for four years on KJRH-2 (then KVOO-2) in the late 1960s. Fantastic Theater was hosted by Josef Hardt. The program featured some of the best horror movies Hollywood had to offer.
"It was fun," said Hardt, who used the name Peter Hardt while at the helm of the Saturday evening spook show. "People watched it - especially the kids."
Most loyal viewers remember the haunted house used to introduce the program. The miniature three story Victorian-style structure was purchased in February at a garage sale by a Tulsan who wished to remain anonymous.
"I saw it in the garage and knew I wanted it," said the individual of her find. "I mean, parents used to give kids special permission to watch Fantastic Theater. They showed good horror movies - not the types that are shown today."
The house became Hardt's property after the program stopped airing. It sat in his garage for several years before being sold for the first time by Hardt in 1974.
"I didn't really want to sell it at the time, but (the first buyer) really wanted it," said Hardt, who retired from KJRH in July after more than 30 years. "Then, eight or 10 years ago, she called back and said she was moving to a smaller place and wanted me to have the house back."
The miniature house was once again stored in Hardt's garage until last year, when he sold it at a garage sale. The much-traveled house was then purchased last month at another garage sale.
"I don't want it back," Hardt jokingly said. "I can't seem to get rid of it. It's haunting me!"
Photos courtesy of Bill Sherwood

Perhaps Bill Sherwood remembers the house as well - if not better - than anyone. Sherwood, a radiology equipment specialist at St. John Medical Center, spent nearly four years peering at the house through the lens of a camera.
Sherwood said the prop was constructed by fellow cameraman Jerry Winn, who dabbled in woodworking in his spare time.
"Those were fun days," Sherwood recalled. "At that time we didn't have any zoom lenses. I actually had to move the camera close to the house when we zoomed in at the beginning of the program. I had to focus as I went, all the time trying not to trip over the cables."
The house originally lacked color because all programs were shot in black and white. The television station acquired a color camera in 1968 -- the first color camera for Tulsa television, Sherwood said. Winn then painted the house multiple colors, which still grace the miniature house.
Both Hardt and Sherwood admit those early days of television forced a certain creativity among staff members.
"Nowadays you can do things electronically, and you have to be a computer whiz," Hardt said. "Back then we had to be creative -- doing things like putting Vaseline on the camera lens for special effect. That's what made television so interesting."
"I've stayed up with the industry," said Sherwood, who does freelance work for KWHB-TV 47. "I can tell you it has really changed."
And it's props like the Fantastic Theater house that serve as constant reminders of television's infancy and how so much entertainment could come from a little hard work and imagination.

Copyright © 1994, World Publishing Co. All rights reserved