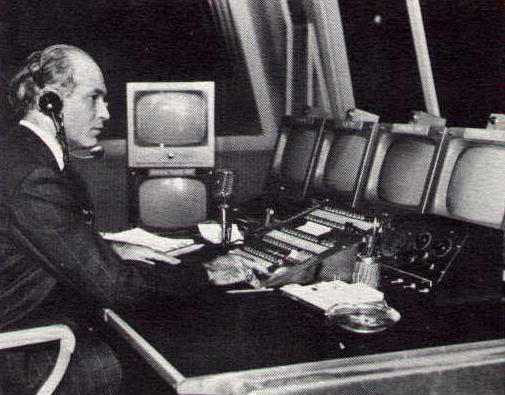 Josef Peter Hardt: Artist, actor, and director. Click the photo above for a 1965 profile. It shows Josef's appearance as I remember it when he was "Peter Hardt", host of "Fantastic Theatre". The original press release linked below spelled it "theatre"; the 1965 Tulsa Tribune spelled it "theater". Another view of Josef's director's console.

Archived Blog post, 3/9/2017: 3 Fantastic Theater themes ID'd from old tape?
Here is the YouTube that goes with the story in the above Wayback Machine copy of the post.
Introducing "Fantastic Theatre". Click to see the full press release.
Fantastic Theater was the late Friday/Saturday night sci-fi/horror movie program on KVOO, Channel 2 in the mid to late 60s.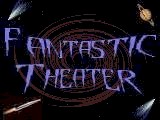 The opening theme was arresting. It began with a repeated organ figure that dissolved into a bizarre, churning rhythm. A fantastic electronic melody entered the maelstrom in a different time signature. Odd effects, perfectly integrated into the driving and inventive music, completed the impression of sounds created by a mad scientist.
The program was hosted by a sinister, well-dressed gentleman named Peter Hardt. He began each show with the ritual greeting, "Good evening, meine freunde, and welcome to Fantastic Theater." He then gave a short, philosophical monologue to the camera based on the theme of that week's movie. This speech was delivered in an ominous, authentic German accent.


Click at left to hear this intro (RealPlayer help) or here for a 174K .wav file. Peter Hardt's speech was from David Bagsby's "The Tulsa Project" (the CD has David's interpretation of the Fantastic Theater theme and much more!) The music...keep reading...


Fantastic Theater miniature house article from the 1994 Tulsa World

I was too young to stay up late enough to watch the show in its first years on the air. But just hearing that Fantastic Theater sound from the living room was frightening enough (I was a big wuss; see my diary entry at left).
A random survey of the newspaper archives at the library turned up this information about Fantastic Theater:
Can I use the phffone now?
July 3, 1965: After a rousing evening of prime time entertainment (the local Longhorn Wingding, Flipper, Gilligan's Island, Secret Agent and Gunsmoke) there was a 15 minute news and weather cast at 10:00 p.m. Fantastic Theater followed with "House of Wax" (a pretty good movie).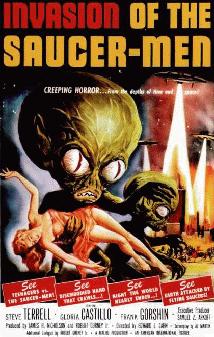 July 10, 1965: The 1955 epic, "Hideous Sun Demon". The next morning brought Astro Boy, Whirlybirds, and the Lewis Meyer Bookshelf (if you could sit still for a non-action program).
July 17, 1965: "The Black Cat", starring Boris Karloff and Bela Lugosi in their first screen teaming. Another good movie.
July 24, 1965: "The Mummy's Ghost", with Lon Chaney as Kharis, the slow but sure one. Sunday afternoon offered a choice: the Amateur Hour and Bishop Sheen on Channel 6, or "Beyond Control Theater" on Channel 8, showing "Invasion of the Saucer-Men" (with a young Frank "The Riddler" Gorshin). No contest.
Now fast-forwarding by 3 years we have...
May 4, 1968: a tempting double feature on Fantastic Theater..."Sombra, the Spider Woman" and "The Robot vs The Aztec Mummy". I wonder if this is the same Aztec Mummy that faced the Wrestling Women. The Robot should have been his tag-team partner in that film.
May 11, 1968: "Captain Mephisto and the Time Machine". A stitched-together serial...but a little threadbare. Fantastic Theater had a little competition over on Channel 8:

Ahem...back to Fantastic Theater...

In the last decade, I thought back to that haunting music and tried to identify it. I called Channel 2 with no luck. I have a friend who knows Peter Hardt (Josef Peter Hardt) personally. He asked Josef about the music, but even he didn't know what it was. I thought I remembered hearing Johnny Martin say once that the theme was "Quiet Village", but that was a different tune, a classic of the "Exotica/Tiki" genre of the late 50s/early 60s.

Reader Bob Shelton said in Guestbook 38 that "Quiet Village" was the 1st Fantastic Theater theme...I didn't even realize there WAS another theme. You can listen to Martin Denny's popular version in RealAudio by clicking on the album cover at the left. But now I seem to remember Johnny Martin saying that it was composer Les Baxter's version.

Frank Morrow was a DJ at KAKC in 1952. His first fan letter was a request for Baxter's version of "Quiet Village"

1/3/2008: Josef Hardt told me today that there was only one theme, the one described and heard below. Kenny Quinn was involved in its selection; it was on a tape from upstairs at KVOO-TV, he told me.

Musing about Fantastic Theater on the ok.tulsa.general newsgroup in 1998, I said "...The thing that is driving me crazy is the music. It was all early synthesizer, spiced up with odd bubbling and clicking sounds. Just hearing it was frightening. What was it?"
I did a lot of Internet searches on keywords such as "electronic", "music", "sixties". I singled out two electronic music experts: Jack Diamond in San Francisco and Des Hill in the U.K.
I emailed them a .wav file of me attempting to sing the entirely instrumental theme. Each wrote back and positively ID'd the music as....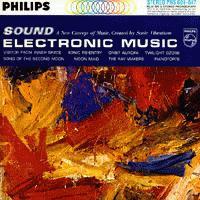 "Sonik Re-Entry" (400K .wav file) OR
(RealPlayer help) by Tom Dissevelt (BUMA) from the album "Song of the Second Moon - The Sonic Vibrations of Tom Dissevelt and Kid Baltan" (sound clip used without composer's knowledge and will be removed at his request...no disrespect intended...)

Miraculously, the CD was still available from Jack Diamond Music (3/2007: now out of business). I ordered it. I listened to it. I was thrilled!
Available from BastaMusic.com: "POPULAR ELECTRONICS: Early Dutch Electronic Music from Philips Laboratories". A 4-CD set including the complete electronic works of Tom Dissevelt and Kid Baltan (aka Dick Raaijmakers).

(from GB 280) Doodah Bagel said:
Whirling (known in the US as Sonik Re-Entry) is now available on iTunes for 99¢.
(from GB 275) The webmaster said:

Here is the MySpace page of Dick Raaijmakers.

The "Kid Baltan" moniker was adopted for copyright reasons related to his work at the Philips Laboratories, aka NATLAB. NATLAB backwards is BALTAN, and DICK backwards is KID (phonetically, anyway).

In 1965, Raaijmakers got a letter from Stanley Kubrick, asking if he could compose and produce electronic music for his film then in production, "2001: A Space Odyssey". Raaijmakers declined.

"Sonik Re-Entry" is just as good as I remembered it...better, even! It makes creative use of early synthesizer, organ, backward tape splices, speeded up keyboard parts, echo and other weird effects, yet is an elegant and satisfying piece of polyrhythmic music. The rest of the CD is interesting, too. It features some jazzy TV action series-type music and wild musique concrète. The track "Vibration" (US title: "The Visitor from Inner Space") is what the kids are listening to upstairs in the movie "Georgy Girl" (with James Mason and Lynn Redgrave).

These guys put together some sophisticated sounds back in 1957.
Des Hill is the manager of Jean Jacques Perrey, one of the creators of "The In Sound from Way Out", electronic music heard on Mr. Zing and Tuffy as well as Uncle Zeb. Des told me that the Dissevelt/Baltan music had a considerable influence on Jean Jacques Perrey's own creativity.

During the search for "Sonik Re-Entry", I have rediscovered my musical "roots"! Before rock, blues and jazz, there was Space Age Pop.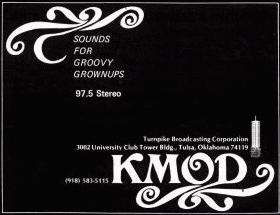 I was a little slow getting around to the music of the Rolling Stones, the Beatles, Cream, etc., in the 60s. What I listened to instead was Space Age Pop, or as KMOD in its first incarnation smarmily described it, "Music for Groovy Grownups". That's right, before KMOD was a rock station, it played such easy listening, bachelor pad music as the Bill Black Combo, the Tijuana Brass, and Walter Wanderley.

Speaking of "Groovy Grownup Music", check out Luxuria Music's The Millionaire on "Space Ghost: Coast to Coast" on this site and see it in RealVideo!
Read about local Tiki culture on the Tulsa Tiki page.
Weirdsville is a place to hear Exotica and Electronica on Internet radio. Also try LuxuriaMusic, and these free online programs on Basic Hip Digital Oddio.

Here is a great internet radio station I've been listening to lately: SomaFM. Actually, it is 14 stations on one site, piped out of a basement in San Francisco.

Some of my favorite Soma stations: Illinois Street Lounge features classic bachelor pad and exotica (also see the Tulsa Tiki page). Groove Salad serves ambient chilled beats and grooves. Sonic Universe is NuJazz + avant-garde EuroJazz. Secret Agent is...nevermind, I'll send you a message about it using my Secret Sam.

Josef Peter Hardt, the host of Fantastic Theater... He was a lot scarier in his persona of Peter Hardt, than as Mr. Oktoberfest. Geez, he looks pretty young. How old was he 30 years ago? He could be the twin brother of the Love Boat's Captain Stubing here!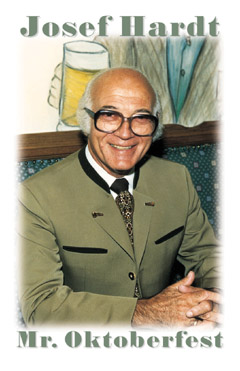 (From the Congressional Record, September 28, 1998:)
Senator James Inhofe: Mr. President, while I was the mayor of Tulsa, we started an Oktoberfest to benefit the ``River Parks'' which is an area around the Arkansas River for jogging, cycling or walking. Tulsa Oktoberfest is known as one of the best in world and a large reason for that is due to Josef Peter Hardt, whom I dubbed ``Mr. Oktoberfest.''
Born in Oberhausen (Rhineland) Germany, Josef emigrated to Ithaca, New York in 1951 and moved to Tulsa in 1955. His professional career was in broadcasting, retiring as the manager of commercial productions of Channel 2 in 1993. His civic career consisted of work in the Theater Tulsa, television and film production, one of the founders of Tulsa's Oktoberfest, an active member of the German American Society Arts Association and German American Society Building Corporation in Tulsa.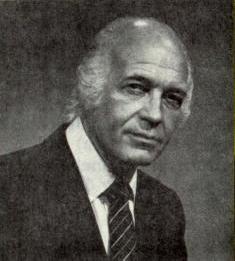 Because of his active involvement in the German American Society, he was awarded the Bundesverdienstkreuz (Distinguished Service Cross) by the Counsel General for the Federal Republic of Germany, on the tenth anniversary of the German American Society of Tulsa. During that occasion, the Honorable Peter Maier-Oswald noted that ``Joe Hardt has always worked for his old country and his new country to promote relations between the two.''
Our first Oktoberfest consisted of a small tent on the banks of the Arkansas River in 1979 and now draws over 200,000 people over a four day period. Since the beginning, Josef, has held various jobs but perhaps the one for which he will be remembered most is that of MC. As this is the last year of his active involvement in Tulsa's Oktoberfest, I wanted to take this opportunity to commemorate his leadership and faithful service to his community.
We will miss seeing and hearing him as the MC, but he will always be Mr. Oktoberfest in my book.
(From Guestbook 1) Robert A. Cook said:

I loved the old "Fantastic Theater." I remember the occasions when my parents let me stay up to watch it, and the old commercials for Cathey's Furniture that only ran late at night. The announcer's voice, saying, "Cathey's... eighth to ninth, on main," always made me feel warm and comfortable.

These days, eighth to ninth on main is only an empty lot.

The only movie I can still recall watching on "Fantastic Theater" was something called "The Giant Leech." It scared me so badly that I kept my eyes closed through most of it, which probably only made things worse. It would probably look pretty friggin' stupid to me now.
(From Guestbook 3) Deb Walker of Colorado said:

...And finally, I cannot believe, after all these years, I got a chance to hear the Fantastic Theater theme again. I remember at about age 5, that song scared the crap outta me! I made my bro and sis let me watch it with them (the power of the tantrum) but they had to help me hold my ears shut and hum during the theme. They wouldn't turn it down, and I was too terrified to listen!
(from Guestbook 17) Mitch Schauer said:

Just a quick note to let you know what your excellent website has done to me. Thanks to everyone's vivid memories, I now have the Fantastic Theater theme playing when Windows opens on my computer AND I play the "In Sound from Way Out!" CD (featuring music from Uncle Zeb's Cartoon Camp) over and over. I'm now considering purchasing Betty Boyd! PLEASE STOP ME BEFORE I BUY AGAIN!
(from Guestbook 45) Mark Sampson said:

...I used to be mortally frightened by the Fantastic Theater music. I never stayed up to watch the actual show (too scary), but one afternoon I was in the house by myself, and a preview for Fantastic Theater came on, I was so scared that I could not move, but somehow managed to get up from the couch and run outside. Enjoyed listening to the audio clips about Fantastic Theater. I had not heard that music for about 30 years, but like an old smell or an old song, it came right back to me.
And before Fantastic Theater, there was...
Shock Theatre on KOTV!


Back to main Tulsa TV Memories

Copyright © M. Ransom, 1999