(featured on Boing Boing, 10/10/2005)
(from Guestbook 162) David in Goldsboro, NC said:

Does anyone recall the name of, or have any photos of the recreation, swimming and amusement park south of Jenks, was it called "Skyline"...

Lowell Burch's Skyline Park home movie can be seen tonight (Thur, 9/26/2013) on RSU-TV's "Green Country People and Places" at 7:30 pm, . The show is about Tulsa amusement parks of the past. Producers are Bryan Crain and Tim Yoder.

See it on KRSC, broadcast channel 35.1, Cox 109 or 793.
Other showings: Sun 9/29 @ 12:30 pm, and

Thur Oct 3 @ 7:30 pm.

See Bryan's moody photos of the remains of Lakeview (near Mohawk Park) on TTM's Flickr site.
(via email to webmaster, 9/21/2005) Bryan Crain said:

When I interned at Channel 6, I did a package on Skyline.

I met the last person to own it (Farris Saffa) at the old site. He brought a bunch of pictures with him and I shot them on Beta.

I found the tapes!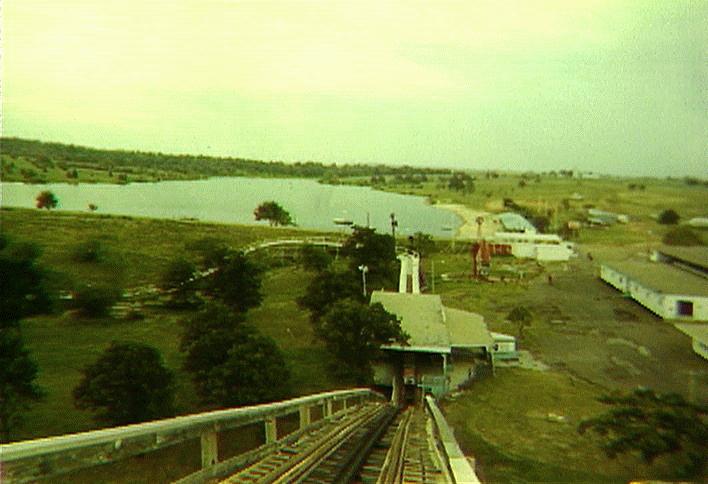 Skyline Park as seen from the roller coaster. Note the sandy beach as a point of reference. Compare Google Earth satellite views: 1 2
(from Guestbook 162) Carl Gregory said:
Skyline was owned by F. H. "Red" Cox and operated during the 50s and 60s until it was brought by Farris Saffa in '69 when it became Indian Nations Park. I remember going with my parents to some American Airlines picnics at the park. It had a really good roller coaster as I remember.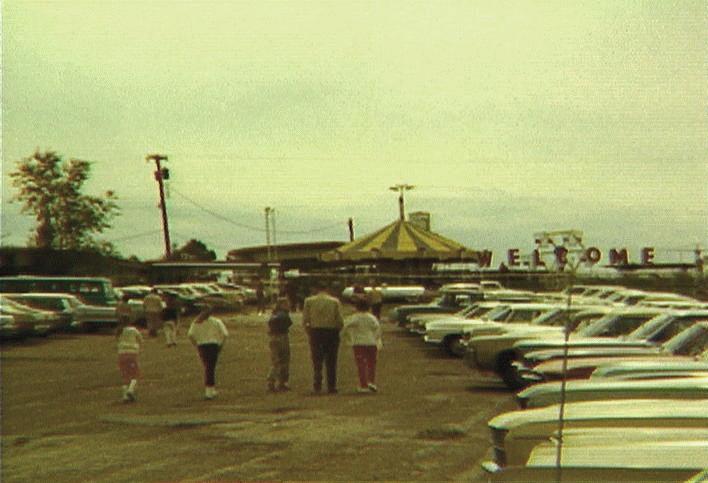 Entrance from the parking lot
(from Guestbook 129) Andre Hinds said:
A few days ago, Joe mentioned:

"I was thinkin' about that giant yellow slide from the late 60's-early 70's that we rode down on gunnysacks, and them humps on it that crushed our vertibrates. I don't remember where it was located, but it just popped back into me brain. Anyone else get crippled on it?"

I believe he might have been talking about the big slide at Skyline Amusement Park, which was north of Glenpool on 121st Street. It had older rides than Bell's, and had what I believe was billed as the "longest roller coaster in the world." It seemed to go for miles. It also had a large pond for swimming and a train ride.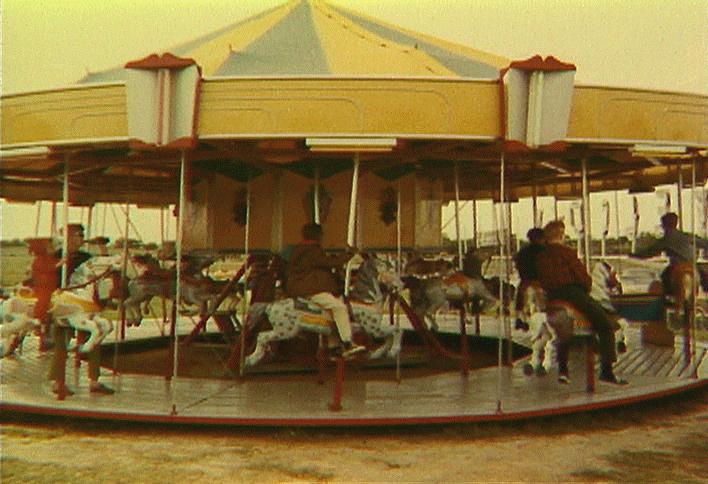 Merry-go-round
(from Guestbook 191) Rhonda Durham said:
...We also went to the old Skyline View Amusement park that had a swimming lake along with docks that you could swim to, tall diving board and bath house to change in. It had a real sandy beach area and was great. Got many a sunburn there.
I remember it had a merry-go-round and a concession that had a dance floor.

Many of us took our first (and maybe only) real pony ride here.
(from Guestbook 162) Dave Harmon said: I remember going to Skyline in '59 for a hayride.

Skyline Park's roller coaster, the Sky King. At one time, it was the world's longest.
(from Guestbook 129) David Bagsby said:
The Skyline Park roller coaster was, I believe, called the Sky King. It was a gigantic wooden one that I only rode once. My dad worked at American Airlines and they used to have the company picnic there before it moved to Bell's.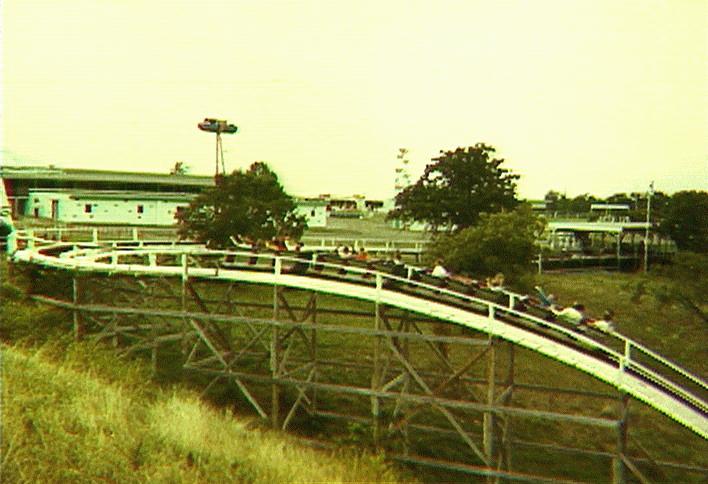 Another perspective on the Sky King.

A perennial favorite: the Bullet, aka the Roll-O-Plane

Another classic: the Tilt-A-Whirl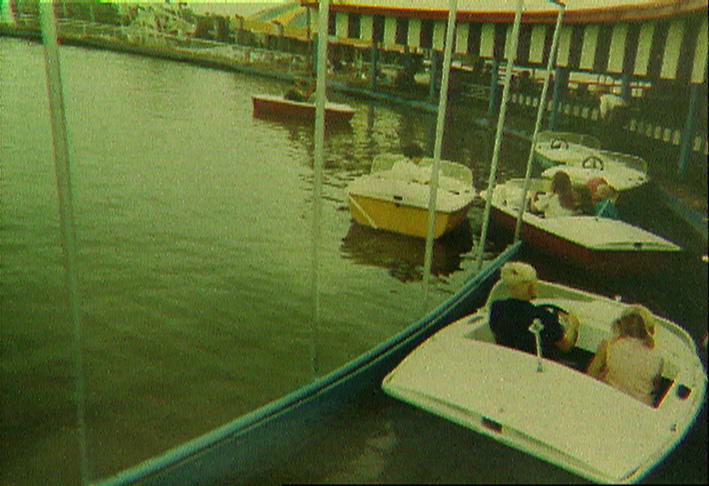 Anchors aweigh, mateys, for the electric boat ride.
(from Guestbook 129) David in NYC said:
My family used to go to the park in the mid/late 60s. My mom, sister and myself almost drowned in the pond (seen through the eyes of a six year old, I remember it as a big lake) when my mom stepped into a deep hole in the sandy bottom. My grandfather had to jump in fully clothed and rescue us. I also remember the old roller coaster as quite a wild ride.

A three-hour tour on the lake by paddle boat




Skyline Park lake in Jenks, 1950s, from Lowell Burch's family's home movies



Skyline Park stagecoach, train and rides from Lowell's home movies


(from Guestbooks 129, 191 and today) The webmaster said:
Warren Petroleum, where my dad worked, had its company picnic at Skyline one year. I remember swimming in that pond/lake. It had a sandy bottom, so it was very clear. Using a mask and being able to see something underwater was very important to me as a huge "Sea Hunt" fan.
There is a Jenks Centennial Special section in the July 13, 2005 Tulsa World with pix from Skyline Park.
(Skyline Amusement Park was not associated with Skyline Drive-In Theatre on the north side of town.)
---

(via email to webmaster, 9/21/2005) Bryan Crain said:

...I also shot video for the "now" (early 1994) portion, basically old ride foundations, the lake and diving board...