"Hawaiian Eye" lyrics:

The soft island breeze brings you strange melodies
And they tell of ...
Exotic mysteries under the tropical spell of...the
Hawaiian Eye
Hawaiian Eye

Where love and adventure await
This is your fate
And you can not stray from...
You can't run away from...the
Hawaiian Eye
Hawaiian Eye
| | |
| --- | --- |
| Martin Denny could sometimes be seen in the background on "Hawaiian Eye", playing at the Shell Bar of the Hawaiian Village Hotel. The tune for which he was best known, "Quiet Village" (written by Les Baxter), may have been the first Fantastic Theater theme. | |
---
Let's also remember the 1959-1962 ABC series, "Adventures in Paradise", created by James Michener.

Adam Troy (Gardner McKay) was a Korean War veteran who remained in the South Pacific after the war. As captain of the schooner "Kon-Tiki" (oops, the "Tiki"...see below), Troy drifted from adventure to adventure while carrying passengers and cargo.

(Adventures in Paradise: The Television Series book by James Rosin. With commentary from the series actors and producers, an episode guide, photographs, biographies. Read more at his web site: ClassicTVseriesBooks.com/paradise.html)

(from Tiki Central: Sven A. Kirsten, author of Tiki Style, Tiki Modern, and The Book of Tiki, wrote on 4/1/2003:

A little correction for the Tulsa Tiki site (which is truly great, thanks for the BOT links):

Adam Troy's schooner was simply called the "Tiki", and featured a grinning Marquesan Tiki as its figurehead. He also wore a Tiki necklace, which is what the ad on page 240 of the BOT refers to: "..Millions of TV viewers have each week seen the TIKI GOOD LUCK CHARM worn by the romantic Sea Captain.."

Aha, THAT romantic Sea Captain, yeah...
They didn't want to get in licensing trouble so they didn't dare to name him.


Opening and 10 minute clip from "Adventures in Paradise"


(From GroupBlog 286) Richard Wilson said:
William Froug (IMDb), brother of the retail magnate (Froug's in Tulsa), was a very successful producer in Hollyweird. He produced such memorable shows as "Adventures in Paradise" as well as a number of episodes of the original "Twilight Zone".


---
Webmaster, 11/30/2002: On our recent Hawaiian honeymoon cruise, my wife and I met Tiki carver Gecko and his wahine, Ailie at a fabulous Tiki bar in Honolulu, the La Mariana Sailing Club, and met Annette Nahinu, nee La Mariana, the original owner since the 50s. Gecko was most gracious to show us around La Mariana, and Ailie was kind enough to run us back to our ship (the Celebrity Infinity) after our visit, and is a delightful personality to boot.

While we were there, the piano player slid onto the bench and played "Quiet Village".

Webmaster & wife Gaye Brown with Tiki carver
Gecko at La Mariana Sailing Club in Honolulu

Jenny (our waitress), Ailie (native of Burkburnett, TX) & Judy

We also visited the chilly Keck Observatory at the summit of Mauna Kea on the big island, cruised the Kona coffee coast, enjoyed a luau on Maui, saw where Elvis made "Blue Hawaii" on Kawai (the Coco Palms Hotel), had our picture taken in front of the statue of Duke Kahanamoku at Waikiki Beach (see it live at the link!)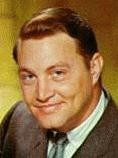 (from GB 119) Jim Ruddle responded:
Regarding honeymoon cruise and note about Kahanamoku statue:
In 1953, while in transit from a North Atlantic cutter assignment to the cutter Iroquois, based in Honolulu, I stopped for a few days on the west coast. Former KOTV director Herb Lightman, who was working in LA at his own company, invited me to join him for dinner out in the San Fernando Valley at Tex Ritter's house.
Ritter and his wife Dorothy, a former starlet in western movies, had two children who were playing on the floor as we sat talking. One of the boys had CP and the other helped him as they played. That kid's name was John, and he's had a hell of a career for himself.
During dinner, Dorothy Ritter said that since I was going to Hawaii, I should look up an old friend of theirs, Duke Kahanamoku, whom they had met through his work in motion pictures. I silently doubted that I'd do it, but I said I would certainly check up on Duke when I got there.
After I'd settled in on the Iroquois, we docked near the Aloha Tower, in Honolulu, and I saw a charter fishing boat nearby. On deck was a guy who could only be Duke Kahanamoku. I called out, introducing myself, adding that the Ritters had said I should say 'Hello' should I run across him.
The result was that he invited me to dinner with him and his wife at their home and treated me, a swabbie from Oklahoma, as though I were an old friend.
I'm glad he got the statue.
Webmaster:

Our cruise ship also docked near the Aloha Tower. Thanks for the great story, Jim.

By the way, the best Mai Tai I've ever had was at Duke's on Kalapaki Beach in Kawai.

There is an interesting connection between Tex Ritter and Tulsa TV's Lee Woodward. Hint: Tex' real name is Woodward Maurice Ritter. Read Lee's story in GB 119.


(from Guestbook 180) Tiki Queen in Kihei, Maui, Hawaii said:
I was first directed to Tulsa TV by my good friend Cody Hoover, a native of Tulsa now living on Maui.
I was surprised to see pix of my other great friends, Gecko & Ailie, in our old stomping grounds on Oahu, La Mariana Sailing Club.
We just recently lost Augie Colon and Martin Denny, undisputed king of Exotica. Martin was a lovely man, and I had the pleasure of meeting him several times and visiting him in his home with Gecko & Ailie. Gecko made a custom tiki bar for Martin, and my other half, Michael, did a custom montage of Martin's album covers for the bar top, which was then sealed under a thick resin coat on top of monkeypod. Martin loved it...and Gecko loved Martin.
We'll all miss him and I count myself extremely lucky to have met him. We were all glad he lived to see Tiki and Exotica make a comeback. He performed right to the end of his life and would come alive in front of the crowds. And, you can bet there were ALWAYS standing ovations for the king.
Anyway, cool site! Enjoyed seeing it. Check me out at TikiQueenArts.com and let me know if you enjoyed my stuff.
Thanks, Holly Lewis a.k.a. Tiki Queen