A Bagsby symphony? Get out the 8-track


By John Wooley World Entertainment Writer 8/29/1999
(Reprinted by permission of Mike Kimbrell of the Tulsa World, 3/9/2001)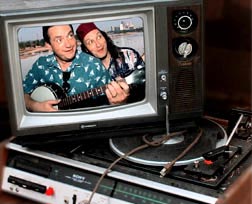 Without a doubt, "The Tulsa Project" is the most accessible recording that avant-garde keyboardist David Bagsby has ever produced.
Ironic, then, that of all his projects, it's aimed at the narrowest audience: people who watched Tulsa TV and listened to Tulsa radio between the years of 1965 and 1980.
Working collectively with his brother Steve, a noted steel-guitarist, as Squid Pro Quo, Bagsby offers up the themes from legendary late-night Tulsa TV favorites "Fantastic Theater" and "Dr. Mazeppa Pompazoidii's Uncanny Film Festival and Camp Meeting"; a version of the old pop hit "Why Can't This Night Go on Forever," which used to close the Mazeppa shows, a piece from the Joyce Martel stage shows of the '70s, and a long impressionistic electronic suite called "The Tulsa Sound," which includes pieces that refer to such ephemeral '60s and '70s Tulsa names as Rex Brinlee, Oom-A-Gog and the Capri Drive-In.
"I suppose every musician who lives here thinks, `I ought to do a Tulsa album,' " said David recently, "so the idea's really been kicking around for some time. But I didn't want to do a typical Tulsa blues album. I wanted to do something symphonic, or something else that was different."
"Different" describes David Bagsby's output pretty well. The catalog for his label, Esotericity Music, features such offerings as the three volumes of "Xen," a "surrealist rock" collaboration with Kurt Rongey, and "The Aviary," in which field recordings of birdcalls were converted to computer data and orchestrated. Known in progressive-rock circles, Bagsby has also worked with ex- Moody Blues member Patrick Moraz, and Jordan Rudess of Dream Theater.
For "The Tulsa Project" -- which David considered calling "The Magic Empire Strikes Back" -- he was inspired by the "Tulsa TV Memories" web site, created by Tulsan Mike Ransom.
"It's a great site, and there are guest books on it where people write in and reminisce about the weirdest things," David noted. "It has the theme to `Fantastic Theater' on it, and I remembered bits of that, but it was so long ago, and I just thought it was a local thing."
Instead, he found out that the tune had been appropriated for the local show from an album that had come out during the Moog craze of the late '60s. And once he tracked the disc down and cut his own version "as kind of a joke to send to the web site," things began to happen. Ransom told him how to contact Josef Hardt, Tulsa's longtime "Mr. Oktoberfest" who, as "Peter Hardt," hosted "Fantastic Theater." Hardt agreed to record an introduction in his old style.
Then, David got in touch with Dick Schmitz of Irving Productions, the man responsible for lots of memorable '60s and '70s TV and radio spots, who located some tapes cut by the late Jim Wheaton, of "U-need-um tires" fame.
"The floodgates just opened," David said. " And `Fantastic Theater' was the catalyst for it all."
Schmidt and Wheaton are represented by radio-spot snippets familiar to anyone who grew up around Tulsa in the '60s and '70s. Also familiar will be the TV themes, and maybe even the "Joyce's Firebird" track, which the Bagsbys created when they were both in the band for the Joyce Martel stage shows at the Brook Theater. It's a combination of the Martel theme and Stravinsky's "Firebird."
And then there's the "Tulsa Sound" suite, which no one has ever heard before.
"I'd always wanted to do some big symphonic `Tulsa Sound' thing someday," said David. "One time, a friend of mine came in from South Carolina and spent some time here, and then, 10 years later, she came back again. One night, we're sitting in a park, and she says, `Oh, yeah. The Tulsa sound.'
"I said, `What? Do you mean Dwight Twilley, or what?'
"She said, `No. The Tulsa sound. Listen.' And then I realized she was talking about the cicadas that were singing in the trees."
Cicada songs, in fact, begin "The Tulsa Sound," created mostly on keyboard but including a few flourishes from Steve Bagsby. By the time the disc ends, not only Steve's playing but his voice has been heard, crooning "Why Can't This Night Go on Forever."
"While he was doing this, Dave would call me up and say he needed some sound effects or some little pieces of music with steel guitar," recalled Steve. "At some point, he asked me if we could do something with `Why Can't This Night Go on Forever.' I listened to the original recording and I said, `Yeah, I think we could cause a catastrophe with that one.' I just tried to sound like those old crooners, who'd get out there and sing out like Dudley Do-Right."
"This was made by Tulsans, for Tulsans," said David. "It centers primarily on the early '70s, when Tulsa really started peaking out, and the baby boomers began hitting college age.
"It's kind of a narrowcasted project," he added, "but most of it's instrumental, so people in other cities could bring their own things to it."
And how does brother Steve look at the finished work?
"If you got trapped on the traffic circle, and your accelerator was stuck," he said, "this is what you'd eventually start hearing."
Copyright © Tulsa World, 1999
Back to David's "Tulsa Project" page on TTM
Back to Channel Changer 2 Back to main