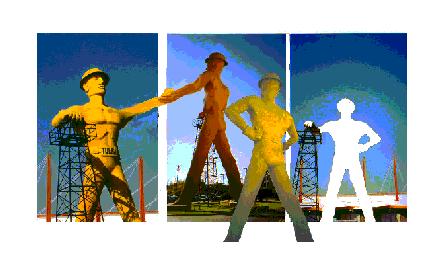 The Tulsa Project CDs


The Tulsa Project, Part 1
David Bagsby is a noted composer, musician, and native Tulsan. He has completed work on a CD he calls "The Tulsa Project" . He and his brother Steve (and special guests) comprise Squid Pro Quo.
The CD includes David's new interpretations and performances of:
Sonik Re-Entry (the Fantastic Theater theme), featuring the one and only Peter Hardt!
The Mazeppa opening theme, "Alone in the Rain/Chase Music"
The Mazeppa closing theme, Why Can't This Night Go On Forever?
Joyce Martel's theme (a la Stravinsky), plus original compositions, all based around, and inspired by Tulsa lore, such as >Ch-ugh Hole of the Week, Sparky's Graveyard, Oom-A-Gog, R-I-D-E-S-H-Y, the Capri Drive-In...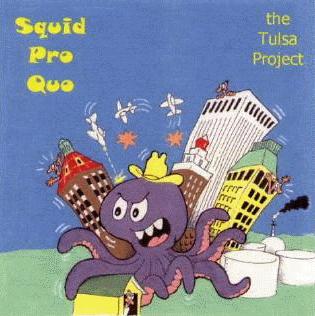 There are surprise voices from Tulsa's media past!
Local articles about The Tulsa Project:
"A Bagsby Symphony?" by John Wooley of the Tulsa World
"The Sound of Tulsa" by Jeff Billington of the Tulsa World


The CD is available at Starship Records in Tulsa, or direct from Mad Scientist International.

Good evening, meine Freunde, and keep watching the skies!






The Gibraltar Encyclopedia of Progressive Rock on "The Tulsa Project":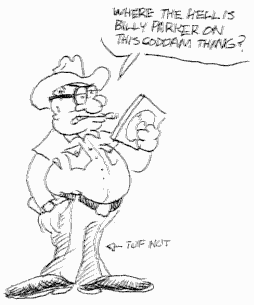 "It's supposedly a nostalgic look back at Tulsa local TV shows and their theme music, (but) if I was some pot-bellied Tulsa redneck buying this album at a local store thinking this was what I was getting, I would be really ticked off."

"The bottom line is, there's more than enough cool prog and related music on it to satisfy any progger."
Part 2 of The Tulsa Project:
Jethro Tulsa: The Magic Empire Strikes Back

David Bagsby's unique musical vision is again focused on T-town. Selections include: "I'm in Love with Beth Rengel", "8th to 9th on Main", and a sentimental favorite, "Swooty Crawdad". Stylistically, the album is all over the map, from pastiches of progressive rockers ELP, King Crimson, Frank Zappa and Jethro Tull, to a down-home ad for a prospective mate in the Thrifty Nickel, to classically-based pieces such as "Lesser Tulsa", to a soundtrack in search of a film, "The Magic Empire Strikes Back". This is amazing music from a talented Tulsa native; check it out! Available in Tulsa exclusively at Starship.

Ian Anderson of Jethro Tull said of Jethro Tulsa: "I enjoyed your varied work and the original take on contemporary progressive music. Keep up the great work."
Part 3 of The Tulsa Project:
Keystone Lake and Palmer



The third album in David Bagsby's "Tulsa Project" is a progressive rock outing in two free-form suites.

Homegroan, the first piece in The Tulsa Sound suite, bursts out of the gate with energetic tribal drumming punctuated by space-age sounds. In the following plucky synthesized string section is a shard of King Crimson's "Mirrors". This is echoed later, as in Court of the Crimson Zing. A Frippian guitar is sometimes in evidence, as is a meditative 12-string.

Sample titles: Cramalot Inn, Hwy 33 Revisited, Space Center (has anyone else had to explain to first wondering, then chopfallen visitors that the Space Center is a storage facility, rather than the site of a Tulsa-based missile program?)

The other suite on this CD is dedicated to Tulsa's Head Keepers: Dream Merchant, Odyssey Mall, Rubicon, Starship and Oz (see Tulsa Counterculture of the 70s on this web site). Did I hear the voice of "Flipper" amongst the melange of sounds that spice up these tracks?

One day, David will score a major science-fiction movie, but when you listen to his albums, the movie is in your head.

New, 1/7/2002: Review of Keystone Lake & Palmer by Wilhelm Murg!
Part 4 of The Tulsa Project:
The Lamb Fries Down on Broadway



The fourth CD in David Bagsby's "Tulsa Project" is entitled "The Lamb Fries Down on Broadway". David and Steve Bagsby are recording under the moniker "Turkey Mountain Öyster Cult" this go-round. It isn't exactly what you might call a hoedown, despite credits for dubious personages "Lou Boils", "Charles Chips" and "K.G. Croutons"

This CD was a topic in the article "Tull's take" in the 8/8/2002 Tulsa World by John Wooley!


Part 5 of The Tulsa Project:
The Ma-Hu Vishnu Orchestra:
Scream in the Dark


Webmaster: Here is a CD of highly cinematic music from multi-instrumentalist/composer David Bagsby, inspired by Tulsa's old Ma-Hu Mansion.

When Gaye and I got married in 2002, I took the opportunity to upgrade us to surround sound. I particularly like to play with the ambience when this one is in the changer. It has also proven to be a great background for handing out Halloween candy to friendly neighborhood ghouls.

Included is "The Chilling, Thrilling Tulsa Sound Pt.3".

If you plan some Halloween fun, this could be your soundtrack. David's flair for the fantastic is especially in evidence here.

Here is a humor-infested interview with David Bagsby about this CD and its Kansas-based follow-up, "Jethro Stull".


from the Tulsa World, 11/23/2002, by permission of Mike Kimbrell, Web Editor:
The Ma-Hu Vishnu Orchestra
Scream in the Dark
Esotericity Music

We're a little late on this one -- or a little early, depending on how you look at it. Designed for the Halloween season, and tied -- like most of the other discs from prolific electronic-music creator David Bagsby -- into Tulsa's pop-culture history, this one takes part of its name from the old Mahu Mansion, built around Memorial Drive and 27th Street in the'30s and put into use several years as a Halloween haunted house during the '70s.

While Bagsby's electronic pieces can be a little tough for the layman to fully appreciate, "Scream in the Dark" is perhaps the most accessible of all his discs, showing the influence of the great cartoon-soundtrack composer Raymond Scott on his work.

For ordering information, see TulsaTVMemories.com, and be ready with a soundtrack when the next Tulsa Halloween rolls around.

-- John Wooley

Copyright © 2002, World Publishing Co. All rights reserved.


12/3/2002: Part 6 of The Tulsa Project:
The Appalachia Bay City Rollers:
Gang Green Country


Bagsby is back and Tulsa's got him!

Figuratively speaking; he is currently domiciled in Kansas, but his musical spirit is still sweepin' down the astral plane.

Some of the cheeky Tulsa titles of this progressive phantasmagoria: Parkey's: Lord of the Rink, The Tink is a Fink, Yeti JaKeddy. There is a live track from the Brook Theatre, 1979...this CD has it all!
Part Seb'm of The Tulsa Project:
Led Zebblin: Outhouses of the Holy



The "Zebinator" (as drawn by Steve Bagsby) graces the cover of the latest in David Bagsby's Tulsa Project series.

"The Tulsa Sound, pt. 4" is the entree in this Yuletide spread. A marbled slab of progressive and musique concrète, it features such signature Bagsby Tulsa subtitles as "Dust Bowl-A-Rama", "Stairway to Heavner" and "Bleu Grotto/Pink Barn". Well-remembered Tulsa sounds season up this meaty offering.

Appetizers are vintage recordings of the OTASCO Christmas tune, "It's Holiday Time", and a "U-Need-Um Tires" commercial voiced by Jim Wheaton. With dessert, have a cup of "Cain's Coffee", featuring the TTM webmaster's vocal debut (1 min., mp3), sensitively backed by David's piano.

Let your life slow down, take a real look around, then strap on this CD!
Parts 8 & 9 of The Tulsa Project:
The Southern Hillbillies: "Jenks University"
& Zing Crimson: "Starless and Bible Belt"


Part 10 of The Tulsa Project:
The Golden Drillers: Highway 33 Revisited



This time around, David steps into the role of guitar slinger.

"33" opens up with "Speed Bump & Grind", which sounds like cartoon music written by Raymond Scott for a Shakey's Pizza piano and a banjo-like guitar.

"Twist & Frougs" initially conjures a mood not unlike that of the "Twin Peaks" theme, though it wends its way into other territory with some highly processed guitar and synth. "Rose Bowl Grill" is ska-ish prog or proggish ska. "Friggin' wiggin' @ the Braggin' Wagon" offers a bit of counterpoint with its electronics.

The diverse mood pieces on this album would be very much at home on a fantasy film soundtrack.
Some of David's CDs are available at:

Starship (918-583-0638)
2813 E. 11th St.
Tulsa, Oklahoma

To order any of these CDs,

visit David 's web site:
The Wacky Post-Modernism
of David Bagsby
Interview by Wilhelm Murg
"Tull's take" on David Bagsby
by John Wooley of the Tulsa World, 8/8/2002


Back to main