Date: 03-Jan-00 02:31 PM
Name: Noel Confer
Email: nconfer@aol.com
Geographical location: Okieland

I'm embarrassed to write so often. However, I found your wonderful page well after you started. I've been reading the earlier entries and have found some misinformation that probably needs to be cleared up. I'm getting ready to send your URL to Jim Harmon in California (He's the original owner of Mighty 690 in San Diego mkt. and later owned a TV station in S.D.) So...he's one of us...and a great guy.

I want to clear some entries about his sister, Helen Alvarez. Her maiden name was Harmon, she married a man named Alvarez in Tulsa. They divorced and she went to work in Tulsa radio...not on the air. She went into management at the new KOTV and ended up as part owner with Jack Wrather. She was NOT ever married to him. He owned the "Lassie" series, she did not. They sold ch 6 and bought KFMB AM,FM,& TV in San Diego. Brother Jim had worked as a director at KOTV and did the same at KFMB-TV. Wrather and Alvarez also built the Disneyland motel. When the partnership split, he ended up with the stations, she with the motel. She married an attorney named Hill and later H. Arnholt Smith. The last I heard, she is now single. This probably doesn't mean anything to most, but I didn't want Jim reading mistaken reporting about his sister. They now own a ranch in So. Calif.
Please write as often as you like, Noel. I inserted two links in Guestbook 4 to come here for the correct information.
---
Date: 03-Jan-00 12:36 PM
Name: Frank Morrow
Email: fmorrow21@netzero.net
Geographical location: Austin, TX

KTUL had a rather strange show called the "Silver Dollar Man," during which silver dollars were given away to people who had Pepsi Cola in their refrigerator. Roy Pickett did the fifteen-minute program for a long time, but when his shift was moved to earlier hours, I took over as host.

Here's how it worked. Pre-arranged lists of addresses were given to the announcer and to the three men who drove Pepsi trucks. There were three addresses per truck. The announcer would say, rather dramatically, "Calling #1. Calling car #1. Go to the _____ block of _____ Street." The announcer would dial the first of the three phone numbers. If there was no answer, the next number would be called, and the truck driver would go to the next address and wait outside while listening to the radio. If the person were home, the announcer would tell her what was happening, then ask her how many Pepsis she had in the refrigerator. (The bottles had to be inside the 'fridge.) If she said that she had some, the Pepsi driver would enter the house and check the refrigerator to verify the number of bottles or cans. He then would give her a silver dollar for each Pepsi he found. If she had no Pepsis, he would give her a carton of six. Following a commercial for Pepsi, the next car would be called. This continued until all three phone lists had been used.

One afternoon a man answered the phone—-quite unusual in those days. He roared with delight, saying that he had been waiting for us to call him for two years. He had a big freezer in which he had been keeping several cases of Pepsis just for this occasion. I don't know if the driver had enough silver dollars for him, but the man had more than one hundred cans of the soft drink.

After one program I got a call from a person with a complaint. She lived in Greenwood, and noticed that the Pepsi man never did make a call to anyone in the Black part of town. I had never thought about that. I got out of it by saying that I didn't choose the phone numbers, and referred her to the Pepsi Cola company.

A spooky situation occurred one afternoon when there was bad weather. It was not raining, but there were a lot of ominous, black clouds swirling low in the sky. There was no wind. I could see no vehicular traffic. It was eerily quiet, even inside the KTUL studios. No one was around but the engineer. I called number after number, but I got no answer. I began to wonder if something terrible had happened. It seemed like a script from one of the scary radio programs. (This was before the days of "Twilight Zone.")

I completed the show without making human contact. After the program was over, I rushed out of the announcer's booth in search of another human being. I only found a couple of salesmen. I continued my search.
Ha, ha!
---
Date: 02-Jan-00 11:37 PM
Name: Lowell Burch
Email: J9Z1B95@aol.com
Geographical location: TVLAND
Favorite Tulsa TV show or personality: Tulsa Memories

Thank you for putting the picture of the Lone Ranger on the home page. At the time of day I was there, very few people were at the fair so I had a chance to visit with him at length. He said he kept in touch with Jay Silverheels' widow and had just called her before he flew to Tulsa.
You're welcome, Lowell. See below for Jim Back's story about this visit.
---
Date: 02-Jan-00 05:39 PM
Name: Confer
Email: nconfer@aol.com
Geographical location: above ground.

Re: the Hamilton info.

Frank has a lot of it correct. We've been friends a long time and I never knew him to be an engineer. He did bluff his way into a lot, but he stuck after the bluffing. He was a TV weatherman in Phoenix, an ad man in Hollywood, acted in some movies, and gave Karate lessons to movie stars. No "bluff" about any of that.

Jean was indeed a part of the TU and Tulsa radio scene. She's now Jean Brody and is a novelist. Her latest, that I know of, is set in Oklahoma and Tulsa and is entitled "Cleo". It's terrific. She lives on the coast in central Calif., where she owns a book store. They've been divorced a long time but remain friends. Hamilton's next wife was one of the original Toni twins of TV.

While I'm at it, here's the staff of KAKC when it first went Top-40, the first in Tulsa:

PD was Rex Jones,
Mornings, John Trotter who also did a KOTV show. He came to San Diego while I was there.
Afternoon was Chris Lane,
Nights, Ray Combs,
several did all-night including me.
The manager was John Pace who went to KABC in Hollywood.

There are other names I wish I could remember.
Jean Brody has written a lot of books...click here to see a list at Amazon.com.
---
Date: 02-Jan-00 05:26 PM
Name: Jim Back
Email: jimback@mmcable.com
Geographical location: Edmond, OK
Favorite Tulsa TV show or personality: Dazé

Your photo of The Lone Ranger at the top of the home page (plus reference to Wayne McCombs' participation) prompts me to fill in some of the details of his visit to Tulsa.

In about 1985 or so, when I was in the Marketing Dept. at Tulsa Cable (now TCI Cable -- and it will become Cox Cable around the first of March), we decided to have a booth at the State Fair. We thought it would be fun to bring in celebrities to attract visitors to our booth. I was put in charge of finding as many as I could (within our budget) and getting them to Tulsa and to our booth. We brought in Len Dawson (host of HBO's "Inside the NFL") a cartoon character from Nickelodeon (actually a smallish 20-something actor in a hotter-n-blazes costume), an exercise guru from Lifetime channel, and even a Playboy bunny! At the time we had a local channel called "America's Shopping Channel" and we had some of those hosts at our booth. The Family Channel had started showing reruns of "The Lone Ranger" and folks at that network helped me get Clayton Moore for the fair.

His agent warned me that he had essentially taken on the persona of the Lone Ranger and that he would stay in character virtually all the time. We also were expected to pay for not only his expenses but also his "travelling secretary," who (the agent advised) was actually his constant companion (His wife had long-since died). She looked to be about 40 and was a little frayed around the edges, but clearly would have been a knockout in her younger days. He was about 70-something at the time.

When I met him at baggage claim at the Tulsa airport, he was nervous about whether his guns would arrive or not. He said they were the original guns used in the TV show and he considered them to be priceless. He said he had a letter from the FAA allowing him to carry them with him on planes, because he was afraid they would get stolen if he checked them through. But on this trip security people at the LA airport made him check them. He was relieved when they came around on the carousel. (I read a year or so later that indeed they did get stolen on one of his trips but they were recovered. A baggage handler had taken them.)

We had spread out our celebrities over the two week run of the fair and I kind of thought Len Dawson (former KC Chiefs great) might be the biggest draw at our booth. So I was blown away when we arrived that Saturday morning. The line waiting to meet the Lone Ranger and get his autograph was already long. He obviously loved the attention. I was struck by the age range of his fans. Not just baby boomers. There were grandmothers, little kids, and every age in between. People had him sign everything from quilts they had made containing scenes from the show, to gun holsters, to hats, you name it.

We took a break for lunch, and I escorted him to a restroom where he took off his mask and hat, and changed his shirt. I stood guard outside the door while he changed. He put on a different hat and tried to look incognito, but still couldn't help saying hello to people as we walked the aisles of the IPE building (OK, Expo Building) looking at some of the exhibits. After eating a hamburger from one of the booths, he re-donned his outfit and returned to another batch of waiting fans at our booth.

All in all it was a very successful visit. He clearly had a LOT of adoring fans. Cynics might call it sad that he couldn't accept the fact that he was just an actor who had played a character in a TV show for a few years and that he should let go of the past. I could tell that in his eyes, the country was short on heros and role models; and if people looked up to the Lone Ranger, it was his duty to not let them down.
---
Date: 02-Jan-00 02:42 PM
Name: Frank Morrow
Email: fmorrow21@netzero.net
Geographical location: Austin, TX

I wish to thank Noel Confer for reminding me of Hamilton's first name/nickname. That has been bugging me for years. Buddy arrived at KTUL in about 1953 or '54 along with his very nice and gorgeous wife. Buddy was a likeable person of rather limited talent as an announcer, but she was a very good writer. Buddy loved jokes, particularly if there were puns involved. He told me that the pun was not the lowest, but the highest form of humor. For his late morning music program he did his "patter" in rhyme, and, if the sponsor requested it, he would deliver the commercial in verse.

After a few months, Buddy's wife left for the West Coast to seek her fortune, while Buddy stayed in Tulsa. After a few more months she returned a changed woman: She had become a Marilyn Monroe "wannabe." Her blonde hair was longer, she affected a sexy, throaty voice, and she walked down the hall in a languid, hip-swinging way. If she had meant it as satire, it would have been humorous.

I am not sure of the chronology of what happened then. Buddy became a KTUL engineer. I don't recall if that was before or after he also left for the West Coast. He may have gone to Los Angeles, then returned as an engineer, or became an engineer, then departed for the Big Time. Regardless of the timing, someone told me that he had interviewed for a well-paying job in L.A. as a writer, but, since he had little talent or experience, he flashed some of his wife's material to the interviewer and claimed them as his own work. He got the job.

I'm glad he has done well in California. I would love to hear more about him and his wife (or ex-wife, if that be the case).

Vic Lundberg was at KTUL the whole time I was there from late summer of '52 to mid-Summer of '55. He was well liked by undiscerning people. Vic was an arrogant guy who was the only person from the non-management staff I ever encountered in my years in radio who was not friendly and helpful. He had a rather irritating voice, but a good facility for ad-libbing. He had been in radio in Tulsa for a few years, but I never heard that he had been with a network. He may have been telling a lie to Buddy Hamilton just to impress the young announcer, or perhaps he silently justified this claim from only doing network commercial cut-aways. This was no big deal; others did these when required, myself included. I had closely listened to radio from the late Thirties, and had never heard him.

Lundberg had a very nice family—a sweet, attractive, redheaded wife and a nice son. He had two buddies at work: newscaster Jack Morris and sportscaster Jack Charvat. They would have wild "Crazy-8" games at work when none of them was on the air and when Charvat was not occupied with his job at the Tribune as Sports Editor. They called the game "Dirty–8." You could hear them yelling loud obscenities all over the second floor of "Boulder on the Park," as they would triumphantly throw down a card which would stymie an opponent.

Lundberg was named Chief Announcer by Karl Janssen. The duties were rather nebulous, but Vic immediately took steps to rearrange my work schedule in such a way that would result in my not being able to continue taking classes at TU. He didn't care. He was CHIEF ANNOUNCER. After I complained to Janssen, I never heard any more from Lundberg. In fact, I never did hear much more about the job of Chief Announcer.

Vic did achieve a measure of notoriety in the late '60s when he made a "patriotic" record about the Viet Nam War. It was a talking record containing a supposed letter from a father to a son who was a war protester. Lundberg was berating his "son" for not supporting the war. The record ended by Vic saying that, if his son did not support the war, "you are no longer my son." I think that record tells us more about Lundberg than about his "son."
---
Date: 02-Jan-00 01:56 PM
Name: Kenneth
Geographical location: Tulsa
Favorite Tulsa TV show or personality: The Farm Report with Carl Meyerdirk
How did you find TTM? Newspaper article

This is a wonderful site. I was a member of the production crew at Channel 2 from the middle to late sixties so I know a lot of the people who are mentioned here. It's a lot of fun to look back. Thanks for coming up with such a great idea. We're all looking in!
You're welcome.
---
Date: 02-Jan-00 12:21 AM
Name: M. C
Email: redgreen@aol.com
Geographical location: Tulsa
Favorite Tulsa TV show or personality: Slappy White

I saw Sam Jones recently, he's working in the Layaway dept @ Wal-Mart.
---
Date: 01-Jan-00 07:58 PM
Name: Noel Confer
Geographical location: In Tulsa again
How did you find TTM? KOTV reunion

Well, here goes. I've read most of the pages and a few items have caught my eye.

First, the original staff at KVOO-TV were announcers:

Howard Bogarte (I visited with him in Salt Lake a few years ago.
Ken McClure (went back to Dallas as A DJ),
Joe Pierce, I hear he's still in Tulsa. I'd love to find him.
I went from a short time in film/camera to announcer.
Sam Snyder, farm, Jim Warren Sports and Bill Hyden weather.

Bogarte went into news and I became chief announcer (now there's an empty title.) Some of the KVOO radio announcers, my boyhood heroes, came over to do part time booth work. I was their 23 yr old supervisor. I couldn't stop calling them "Mister".

Directors were Ellison Stambaugh who went on to directing for Gene Autry's station in Hollywood, Fred Koma, prev. w/KOTV, and Ray Klinge. On the floor crew was the late Verdel Sexton, Ed Rickey, recently retired as director on ABC (Los Angeles). The kid's show host was Uncle Hiram, Hiram Higsby.

There have been mentions of the dance show on KOTV. The first host was Chris Alexander, aka Chris Lane. I'm in touch with him in L.A. He's still in the biz. The KTUL "Dance Party" was hosted by Buddy Hamilton, now known as Hank Hamilton in L.A. where he was a big time ad man, producing and writing TV spots. The KAKC D.J, Bill Walker, is still producer in L.A. I worked for him on one show when I first went back to Calif.

These were some obscure folks who were here in the really early days. Your page has caused me to come out of geezerville and revisit some really exciting, low-pay days.
Noel, your comments have been added to the KVOO and Dance Party pages, as well as the list of Tulsa TV people, linked near the bottom of the main page.
---
Date: 30-Dec-99 06:25 PM
Name: Noel Confer
Email: nconfer@aol.com
Geographical location: obscurity
Favorite Tulsa TV show or personality: Jim Ruddle, as portrayed by Zeta

Having hired on at KVOO-TV, Ch 2, before the station went on air, I've been wondering why there have been such a small percentage of mail, on this fine page, as compared to Ch's 6 & 8. I even read that Ch. 8 was Tulsa's second TV station. It was not. However, I've figured out why so few ex-Channel 2-ers have written to this web.....most of them are dead. There are rumors that I am too, but I don't believe that's true.
There has been a dearth of Channel 2 participation.
I think there is a chance we might get Bill Blair here at some point; I understand he is living in Texas. I have talked with Josef Hardt, but he is not very computer-oriented as of yet. His daughter has seen this site, though, and told him about it. I've heard that Len Morton still lives in Tulsa.
We have heard from Dan Satterfield, Frank Lilly and Alan Lambert of Channel 2, and Jack Frank actually put your webmaster himself on TV in one of his "Oklahoma Memories" segments. KJRH kindly allowed me to scan the great pictures that can be seen under the KVOO icon on the main page. But still, 2 is under-represented.
---
Date: 30-Dec-99 10:24 AM
Name: Lowell Burch
Geographical location: Tulsa
How did you find TTM? Interesting

Many westerns and other Hollywood productions were shot in the Alabama Hills in Lone Pine, California. That is where the Lone Ranger Canyon is located, the Big Rock, as we call it. Every cowboy (Gene, Roy, etc.) worked there as did many other actors. Popular location for tv and movies.
---
Date: 30-Dec-99 08:01 AM
Name: Mike Ransom
Email: ransom@busprod.com
Geographical location: Tulsa
Web site: Right here
Favorite Tulsa TV show or personality: Johnny Martin
How did you find TTM? It was easy.

This morning, KRMG aired an interview with Wayne McCombs re the passing of The Lone Ranger, Clayton Moore. (Wayne's picture of Oiler Park can be seen on this site)

He recalled an occasion when he picked Mr. Moore up at the airport in a silver Lincoln Towncar (borrowed from Fred Jones Ford) for a personal appearance for TCI. He said that he took over this task from Jim Back, who was described as driving a "funky" old Toyota.

Wayne also told a story about Gailard Sartain. GS had just returned from the making of Robert Altman's "Nashville", and was telling Wayne and others about his Hollywood experiences. One of them was getting to see the rock that appears in the Lone Ranger opening when Silver (the Lone Ranger's horse) rears up. (This possibly might have been in the Bronson cavern area outside of L.A., setting for many a sci-fi movie.)

This is KRMG's 50th anniversary, and they are airing a retrospective piece at the end of the hourly newscasts each day. Today's features Johnny Martin...I will record it later and get some of Johnny's voice out here.
---
Date: 29-Dec-99 08:47 PM
Name: David Reynolds
Email: joelcrowservo@yahoo.com
Geographical location: no one really *lives* in Muskogee...
Web site: The Walrus Was Crow (Beatles)
Favorite Tulsa TV show or personality: Don Woods

Thanks for the compliment on my rather decidedly 'lo-fi' Beatles site. Let me tell you how I'm reading the guestbooks. I don't have a computer so I have to use the libraries. So, I print off a few guestbooks at a time and take 'em home and enjoy 'em! (is that dedication enough?)

The movie show I asked about last time was on 2 around 1977. I say that because the theme song was either Billy Joel's "The Stranger" or "Manhattan Skyline". And yes, Sevco was there too!

Next time I'll tell you all about living down the street from the original KTUL building, and my recent Don Woods encounter...

Was just thinking about 8's Plenty Scary Movie commercials. Remember the one with the guy at the bottom of the ships hold from "Dracula" going "A HEE- HEE- HEE..." (Dwight Frye, I believe) That always really freaked me out!! And is anyone aware * tried to bring back P.S.M. a couple of years ago? That's what TV Guide told me anyway... See ya in 2000!
Hi, David, yes, that is mucho dedication for sure.
Dwight Frye had a real gift for weirdness! Hadn't heard about a Plenty Scary Movie revival, but we could use some local programming like that.
---
Date: 29-Dec-99 08:45 PM
Name: Noel Confer
Geographical location: Tulsa
Favorite Tulsa TV show or personality: Korsov and Elmer

Hell, everyone knows that Ruddle can't spell, nor could Zeta. Jim nmaed my character "Korosoff" but I had it legally changed. Unlce Hiram had ben in show biz since mby dick was a sardine. He had worked Vaudeville, "the Nat'l Barn Dance" from Chicago and recorded comedy songs, as part of "Hank and Hiram". He had a million stories and I expect one or two of them were true. It was ad lib city with us. The camera men were always breaking up and losing their shot. Much of our material was inside and much of it off-color. Nothing the kids ever caught and no complaints from parents...who probably never watched. It was terrible TV but a real romp for those of us involved. It was very important to me as was paid $5.00 a show.
Actually, it sounds like very good TV, and a paycheck like that is just gravy.
---
Date: 29-Dec-99 07:02 PM
Name: Mike Miller
Email: typo1@erols.com
Geographical location: Vienna, Virginia

Does anyone remember the "Hall Cannonball?" The campaign train took County Attorney David Hall from Tulsa to Oklahoma City for a very visual photo op. I was working at KOTV at the time and Pat O'Dell and I covered the trip, (I was using a Bell and Howell.)

David Hall had a great asset for a politician: He never forgot a name. Hall might meet you on the street and a year later, call you by name.

Also, don't remember who else was there, but when George Nigh was first contemplating a run for Governor, we tried to sell him on a campaign slogan: "An Aye for a Nigh." He rejected it.
---
Date: 29-Dec-99 05:07 PM
Name: Terry Young
Email: xmare@swbell.net
Geographical location: Tulsa

Regarding the 1958 gubernatorial election, do you remember the theme song for candidate George Miskovsky? It was a take off of the McGuire Sisters' "Sugar Time" hit. It went:

"Money in the morning,
money in the evening,
money at supper time.
I'm for George Miskovsky
for Governor this time."

He was the first to "barnstorm" the State in a helicopter. He landed in the helicopter in an undeveloped lot behind BelAire Shopping Center at 51st and Peoria during the campaign. Tours were given of the helicopter. It was a big deal.
Ugh! How about that "Happy" Camp theme song...what was the tune on that one? The search engine will also turn up the lyrics (and I use the term loosely) used by David Hall and Ron Shotts.
---
Date: 29-Dec-99 12:44 PM
Name: Noel Confer
Email: nconfer@aol.com
Geographical location: Tulsa

Talking of kid's shows, there've been several mentions of Jim Ruddle, as Zeta. Also, some remembered the bad guy on the show, Karzov. Well, now it can be told. I was that villain. Yes I, fresh from playing the dramatic role of boy-hero, Elmer the Clown, on the "Uncle Hiram" show on KVOO-TV. I moved to KOTV and was relegated to Zeta's arch enemy. (or was it, arch enema?) I have it on good authority that Jim still has his Zeta suit, and had been known to wear it to church.
Noel, that's some role reversal, boy-hero to arch enemy, and apparently a dramatic triumph, judging from former mayor and Zeta fan Terry Young's reports.
And we'uns would like to hear more about your role on "Uncle Hiram"!
I see there is a small disagreement on the spelling of "Karzov". Jim Ruddle spells it "Karzoff", which is similar to Boris Karloff (aka William Henry Pratt). But "Karzov" would be more proper Russian, like The Brothers Karamazov (quote from that book: "If everything on earth were rational, nothing would happen.") Any strong opinions?
---
Date: 29-Dec-99 10:19 AM
Name: Mike Bruchas

Speaking of "Prairie Fire" - do ya'all remember the Boren Broom Brigade campaign for Gov. Boren? Gonna clean up government - instead with him (and Gov. Nigh) - some of the worse abuses in Post WW II OK came after their regimes, though I personally liked them both -- I think they both let "the system" run out of control re DHS, tag agents and other Okie political fiefdoms.
---
Date: 27-Dec-99 11:12 PM
Name: Noel Confer
Email: nconfer@aol.com
Geographical location: Tulsa

There have been comments about woodshedding. Back in the 50's, a young friend of mine named Buddy Hamilton was working at KTUL. Vic Lundburg was on the staff. In those days (pre-D J), the position everyone wanted was as staff announcer for a network. Hamilton passed Vic, sitting in the hall, woodshedding a one-minute spot. Smiling, Hamilton said "You've been to the network and you still woodshed?" Vic replied, "Sonny boy, that's how I got to the network."
---
Date: 27-Dec-99 02:41 PM
Name: Mike Bruchas
Email: jmbruchas@juno.com
Geographical location: Sneezing my way across the Beltway

Is anyone still showing Rocky & Bullwinkle in Tulsa? It was old in the late 70's but a favorite of the staff at KTUL-TV. Though any old Road Runner cartoon would have Mike Denney rolling on the floor in the days he directed Uncle Zeb!

We all turned thumbs down on Crusader Rabbit - was done in "color" for b&w TV transmission. The colors were white, blacks and various shades of red.

Who ever ran Soupy Sales in Tulsa?
I remember watching Soupy Sales (along with White Fang and Black Tooth), I believe on Channel 8. He ran a Jello commercial with a granny hopping around in fast-motion that convulsed my kiddie sense of humor. The show was popular among adults as well--see TVparty's feature on Soupy Sales.
---
Date: 27-Dec-99 03:14 AM
Name: Bill Stemmons
Email: bstemmons@hotmail.com
Geographical location: Oklahoma City
Web site: Parliamentarian Bill Stemmons
Favorite Tulsa TV show or personality: Mazeppa
How did you find TTM? from brother

From Bill Stemmons (brother of Robert Stemmons The Whistler featured elsewhere on your site).

Enjoyed the Tulsa TV memories!

Does anyone remember Cat-the-Clown? (I'm not sure how it was spelled: Katt? Kat? Catt? I think his real name might have been Carter??) Anyway he was probably the earliest clown on Tulsa TV - KOTV channel 6. He was also a TV repairman and came to our house in costume one time to fix our TV right before his show! I was at a friend's house and missed it!

Does anyone remember KOTV's live coverage of the Tulsa Colosseum fire? No "live trucks" with microwave dishes in those days! But it was only a few blocks from their studios, so they strung cables!

Call letters of early Tulsa radio stations stood for:
KAKC - Avey, Kellough, and Condon;
KVOO - Voice Of Oklahoma;
KTUL - TULsa;
KFMJ - Fred and Mary Jones;
KOME - Oklahoma's Magic Empire;
KRMG - Kerr-McGee.

Tulsa's second TV station - KTUL channel 8 - was originally KTVX licensed in Muskogee.

Bob Latting's restaurant, The Golden Drumstick, was on the NE corner of 11th and YALE, just up the street from the Will Rogers theatre. As a kid, I was in the audience of several of his shows. No tickets or passes - We'd just go down there on Saturday morning when we felt like it! He was great with kids!

The 1958 governor campaign was the first in which TV played a major role - and TV time was still cheap! In those days the Democratic nomination was tantamount to election. The Tulsa D.A., J. Howard Edmondson, and his Democrat runoff opponent, Midwest City builder W.P. Bill Atkinson were both on TV about thirty minutes every night! TV played a major role in Edmondson's legendary all-volunteer "Prairie Fire" campaign.

Edmondson appeared great on TV, and Atkinson, a great man personally, appeared not-so-great on TV. Late in the campaign a comment was attributed to the Edmondson campaign that they wished they could buy extra time for Atkinson!

In 1960 (when I was in eighth grade), during the Nixon-JFK campaign, Vice-President Nixon was about two hours late to appear at the Tulsa Fairgrounds Pavilion. The Tulsa TV guys doing live coverage were hurting to fill air time until Nixon arrived. KOTV's Larry Gaffney interviewed me while I was waiting with my camera to take Nixon's photo. Then they let me into the press section directly in front of Nixon to take pictures during his speech! (a far cry from today's security!) That must have whetted my interest, because I've since done media work with several members of Congress and numerous other candidates!

Thanks again for the Tulsa TV memories!

Bill Stemmons - Will Rogers High School '65 bstemmons@hotmail.com

That's the first mention of Cat-The-Clown...KOTV's recent 50th anniversary special touched on the Colosseum fire coverage...call letters were recalled on the Radio pages under the KAKC icon...Don Lundy previously noted that the Golden Drumstick was Bob Latting's restaurant...you can see the TV coverage of Edmondson on the page under the KVOO icon. Try the search engine on any topic that comes to mind to see if it has been discussed previously.
(Added 10/20/2007): Richard Nixon at Skelly Stadium, I believe during the same Tulsa visit.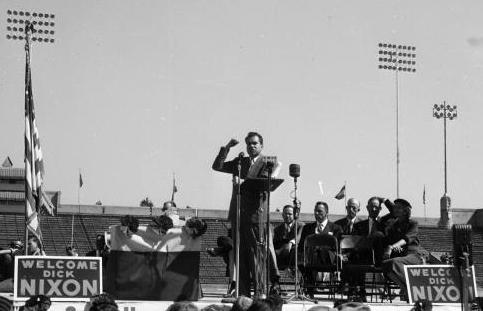 Nixon in Tulsa, courtesy of the Beryl Ford Collection/Rotary Club of Tulsa. Click for full view.
---