Tulsa TV Memories Guestbook 179

TTM main | What's new on TTM? | GB Archive




March 26 2005 at 12:29:06
Name: Harry Wilson
Email: hchoochoo@aol.com
Location: Oklahoma City, OK
Comments: I read Bob Duff say the last I was heard of was at the Oklahoma City Chamber of Commerce. That was a while back.
After I moved from KTUL-TV in 1969, I was director of the State of Oklahoma Tourism Division until 1974 when I opened and directed the Oklahoma City Convention and Tourism Bureau until 1978 when I went to Baptist Medical Center in OKC as VP of their Foundation. Then to St. Anthony Hospital in 1982 where I did the same and stayed until retiring in 2003.
I'm doing a lot of civic stuff now, was on the Oklahoma City Board of Education for four years.
Back to Tulsa broadcasting, I was on the radio and TV from 1952 (at KWGS at TU), to 1969, 17 years. After TU I had brief stints at KTUL and KAKC (the old), then longer times at KTUL until rejoining The New KAKC in 1956 as a Big 7 Deejay. Frank Morrow and Larry Strain and I at KRMG had some good times covering severe weather and establishing the old "Weather Wire" which ultimately became the state wire for OHP, the weather bureau, etc.
I wound up on the 6 to 9 AM show for about four years, then other shifts, then news director. I left in '66 to join the news department at Channel 8 with Jack Morris, Bob Gregory, Cy Tuma, Red Statum, et al. That was a great three years of my life. But it was just before the space program provided all of the great technology the changed TV so much.
I then met Governor Dewey Bartlett while covering the Republican National Convention in Miami Beach in '68 or '69. We became friends and, through Ken Greenweed at KRMG, I was offered the job of heading up the state tourism marketing program. I became good friends with George Nigh and his wife Donna during that time. We traveled all over the country promoting Oklahoma. We opened the first version of the state travel centers which are all being replaced today.
At the OKC Convention Bureau, Dan Saunders, Stanley Draper, Jr. and I courted many huge conventions in OKC and got to know the power structure in OKC. At St. Anthony, among many others projects, I managed and promoted three Luciano Pavarotti concerts to raise money for the Oklahoma Cardiovascular Institute. We raised the hospital endowment to well over $20 million before I retired as manager of the Healthy Communities Project. That's the highlights.
My wife Doris and I had three children and one, Layne, still lives in Tulsa. Our daughters live in Denver and Ft. Worth. We have six grandchildren and still get to Tulsa frequently and hear my long-time friend Dick Schmitz everywhere and visit his son Tim in OKC. I loved my years in broadcasting and the many friends I made in the media, in politics, government, religion and education. Radio and TV well-prepared me for the life I have enjoyed.
Send mail. I would love to hear from everyone.
Happy Harry

---

March 26 2005 at 11:11:54
Name: Wilhelm Murg
Email: wilhelmurg@ yahoo dot com
Location: Just South of White's Records
Comments: I vaguely remember a sticker for the Emerald City, but I might just remember seeing the logo. It's open again (along with the mothership and the outlet store) but I haven't been in there.
A couple of months ago a friend of mine bought a used truck that was pretty much in the "Girls for God" motif. We went to Oz to look for stickers and the cashier gave us free Oz sticker. My friend said "I'll put this on my truck," but the cashier stopped him short and said "Don't do that; the police will pull you over if you have that on your window." So I guess it's not the best publicity in the world.

Oz ad from from free newspaper "Osmosis", Nov. 1972
---

March 26 2005 at 10:05:00
Name: David Bagsby
Email: dcbatsunflower.com
Location: Lawrence KS
Comments: Anybody out there remember if Oz's sister water bed shop "Emerald City" had a decal? Seems like they did. Also, anyone have a KMOD quadraphonic decal?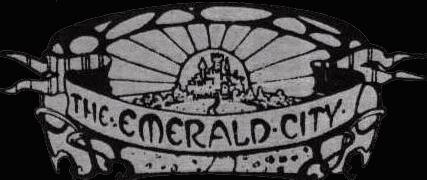 From the 1978 June Marquee Magazine
---

March 25 2005 at 21:01:14
Name: Mark Hershey
Email: mhershey@viewcast.com
Location: Dallas
Comments: Hey, came across this site looking for info on the old KOFM-FM in OKC (70's). I worked for their Sonax background music division in my high school years. C.R. Brown ran Sonax, and KOFM at the time was still an 'old folks' station to me...programming like weekday morning's "Weather Around the World" with Gene Dillehey (more famous for KETA-13 voice overs and I'm sure I've butchered his last name).
Studios and transmitter was in the white building at the base of KOCO TV's Britton Road transmitter tower. Their transmitters were at a nearby smaller building. Our transmitter (a wonderful Collins 830)was maintained by KOCO's transmitter engineer--a kindly gentleman by the name of L.D Ewy (pronounced 'Avey'). L.D. who taught me everything I ever wanted to know about transmitters. I spent many evenings sitting with him at the KOCO transmitter as he watched over the ancient RCA art-deco-style transmitter that was on the air at the time. There was a green General Electric transmitter there as a backup-- newer, but 'nothing near the quality of the RCA" per L.D.
In those days the KOCO studios were still over on Portland. We were in the middle of a wheat field and there were tarantulas everywhere certain times of the year. Pranksters delighted in putting them in desk drawers. I still hate the things!
Other pranks included blowing smoke through the old Continental Electronics tape logger while I was working on it (L.D's favorite) to more tarantulas in the Gates control board-- a Gates President!-- for me to discover while doing maintenance.
L.D. was a stickler about quality, so KOFM had the best of everything- Collins transmitter, Gates board, and some fine McIntosh preamps and Shure SME tone arms--with Shure V15 type IIi carts as I recall-- in the control room. Sheer delight to work there.
Years later my nephew Ryan Springer worked there (it was KMGL my then) and I stopped by one night while he was on the air. By then the transmitter was gone, the studios remodeled, the programming was on CDs, and no trace of the old KOFM anywhere...except the old red office Selectric typewriter and a genuine KOFM STEREO 104 sticker on the copy board.
So...hello to Steve Hester, Thomas G. Smith, and Don the Wedge (fellow employees) and to anyone who worked there as it transitioned to Progressive Rock about '72 or so? And, if anyone asks, I did keep the synthesised "Porgy and Bess" LP that had a track that was used for the background of the "This is the Weatherscan Radio Network with an In-Depth Report of Oklahoma Weather" intro.
And hello to Weatherscan's Ross Dixon (also on KOCO at the time) if you are still around...and yes, I was the one that screwed up your intro that infamous Saturday :-)

---

March 25 2005 at 15:44:01
Name: Mike Bruchas
Comments: Hokey smoke - I was reading a transit web group page and it mentioned "OKC's pro-transit Mayor, Mick Cornett.."!
No one here has noted that the Mickster has been OKC Mayor since last June! Why I knew Mick when he had hair and was the kid sportscaster at KOCO!

---

March 23 2005 at 15:04:25
Name: Wilhelm Murg
Email: wilhelmurg@ yahoo dot com
Location: The Record Convention at The Camelot...OH, WAIT...I mean the VFW Hall
Comments:
I was glad to see someone mention Professor Glenn Godsey at TU. I doubt that anyone ever put it together, but Godsey's influence accounts for the abundance of parrot art work that was really big in the 1980s in Tulsa (remember Cardo's Cadillac?) and I'm still seeing a few around town.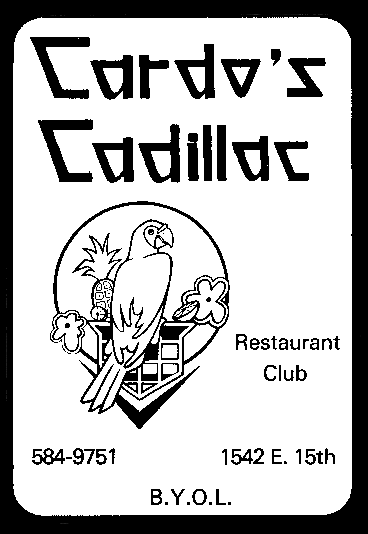 I never took Godsey's technical art course (I was in his 20th Century art history for non-artists course,) but most of my friends did, and they all had pages and pages of parrots in their sketchbooks (just like Godsey's fiddle).
Even though I was associated with his daughter Kallan (we started one of the early 'zines in Tulsa, Spyface, around the same time all the others were going (Pure Hype, Third Rail, Bad Meat, etc.) I never put all of the parrots together in my mind until a few years later, after we had lost touch. Does anyone else out there know how to draw a parrot?
Saturday looks interesting and nostalgic for Tulsa rock fans; Rob's Records is putting on the "T-Town Record Show" for one day only, 10-5, at the American Legion Hall at 8th and Peoria; 3 bucks will get you in. Last Saturday I went over to Rob's (where I bought CDs by It's a Beautiful Day wannabees The Great Peanut Butter Conspiracy and the long forgotten sax/surf band The Crossfires) and it was like a mini-convention of record collectors getting ready for the show (all of them were making sure that the mint condition picture sleeves they have hidden in the store were still there).
I love looking at records, and I've even bought a few lately (Cheech and Chong's "Big Bambu" with the giant rolling paper intact, Big Brother & the Holding Company's "Cheap Thrills," featuring R.Crumb's artwork) but once I got a CD player, I never wanted to go back to analog. I think I accidentally offended Rob (which is rare for me; my obnoxiousness is usually fired with a finely-tuned aim) when I asked what all was going to be there. He said T-shirts, DVD dealers, tons of CD dealers, and a lot more. I said "So it's not just going to be a bunch of old scratchy records?" Rob looked down at the ground, shook his head, and quietly said "Don't call them that."
That night, as Beerdrunk mentioned below, rockabilly rebel Brian Parton will be playing solo at Flashbacks, located right next to the dirty bookstore (Elite) at 9th and Sheridan. Now that the bar is under new management, they are bringing in live music (in just a few short years I've watched that place go from being a biker bar -heavily monitored by the local authorities- to a heavy metal bar, to an old man's bar, to a 50s bar, and now this new incarnation).
If you've never seen Parton in action, this is a good time to start; he's one of the best guitarists in town (which is saying a lot in THIS town,) he's a great person, and a true disciple of the Tulsa Sound (although I'm not sure if he ever owned a Leon Russell album; Brian's taste stops around the time of Wanda Jackson and The Collins Kids). If you've spent a good chunk of your life with an instrument in your hand or if you've built up the muscle in your arm from changing records all day, Saturday might actually be fun.

---

March 22 2005 at 06:36:50
Name: Joel Burkhart (via email to webmaster)
Comments: Below are a couple of pictures to go with that John Chick album cover I sent you last week. The first picture is off the back of the album (I missed being in that photo) and the second is all of us with John (who incidentally played guitar left handed), performing at the Disney Bluegrass Festival in '74.
For the weekly Friday morning show we would all faithfully gather up in the Channel 8 Lobby area about 6:30 in the morning to warm up for the 7:00 AM show. We never rehearsed other than for a few minutes.
After that we just filed into the studio and started "pickin' an' grinnin'". Bluegrass, like Jazz has a set of "standards" that everyone knows so we never prepared anything ahead of time. Gene Eoff would call the tune and away we would go.
I can't remember who the cameramen were but Cy Tuma was up in the booth and Al Clauser ran the show. He's the one that produced our record on his Alvera label (named after him and his wife, Al and Vera Clauser).
Johnny Stills, who was a fine country singer and songwriter would join us occasionally but he and Ted Creekmore preferred straight country and usually played on other days of the week. And of course John Chick did all the commercials and held the show together.
Occasionally we would back up some guest that John brought in. They ran the gamut from "so-so" to "not bad." We played a lot of 30 and 31 bar songs and eleven and a half bar blues to back them up.
John supposedly kept a couple of our shows on tape in case someone failed to show up. I tried to track them down years ago but never could find the right person at 8 who even remembered us. Any help or leads (if they still exist) would be appreciated.
The Friday Morning Bunch on the Big Channel 8 Sound Stage - 1973. Gene and Cleta Eoff, Ronnie Farrar, Johnny Stills, Ray Manning and Darrell Wilson
THE FRIDAY MORNING BUNCH MAKES IT TO THE BIG TIME -- DISNEY OKLA. BLUEGRASS FESTIVAL, 1974. L to R - Cal Bider, Dobro-Joel Burkhart, Mandolin-Ronnie Farrar, banjo-Ray Manning, bass-Gene Eoff, John Chick and Cleta Eoff, Guitar-Darrell Wilson, fiddle

---

March 21 2005 at 17:02:28
Name: Steve Bagsby

Location: On the bandstand
Comments: There's another Tulsa tradition that may be gone soon. The American Legion #1 at 8th & Peoria may discontinue Saturday night dances. The post has had dances since they opened in 1919, so they've been at longer than Cains Ballroom! Makes me wonder "what's next?"

---

March 21 2005 at 13:38:19
Name: Frank Morrow
Email: frankmorrow12@yahoo.com
Location: Austin
Comments: The demise of the Tulsa Philharmonic is a sad commentary on the contemporary Tulsa culture and the support of it by the community. Such a long tradition gone. Is there anything that is trying to take its place?
My mother took me to the Starlight Concerts at Skelly Stadium before the war. Later, as an announcer at KTUL in the early and mid-1950s, Program Director Karl Janssen gave me free tickets to the Tulsa Phil. I attended many concerts with Karl and his wife.
It was during this time that the organization was approved as a major orchestra in the country. For the big concert before the "judges," H. Arthur Brown, the conductor, hauled out Stravinsky's "Firebird." It was a spectacular performance that the orchestra played when they wanted to impress people.
There was a close association of TU with the orchestra. Many faculty members and students played with the group. Significant performers of national stature came through to play with the Tulsa Phil.
It's a really black mark on the city and our times that such a fine organization was permitted to die. Tulsans realized that, even though they might not attend the concerts themselves, the orchestra was worth supporting. Much of it was underwritten by the local corporations and wealthy patrons. I guess those types of people and businesses don't exist much anymore.
---

March 20 2005 at 19:56:35
Name: Dave Deatherage
Email: dave_satx@flash.net
Location: San Antonio, Texas
Comments: Doing some research on a guy named Don Bell who used to be a broadcaster & commentator in the Philippines up until the Japanese take over in 1941. He and his family spent most of the war as prisoners of the Japanese.
After the liberation of Manila, Bell went back to work, doing commentary and supporting the US effort. After the war, he continued working with stations in the Mutual Broadcasting Network.
I have been able to find references to Mr. Bell up until when he worked for KOME radio in Tulsa during the early 1950's. After that, I've run out of leads.
Does anyone know what happened to Mr. Bell?

---

March 20 2005 at 14:41:07
Name: Joel Burkhart (via email to webmaster)
Comments: Since there's a drive on to refurb the old drive-in, I thought you might enjoy these. They help date the introduction of in-car heaters at the Admiral Twin to the winter of '61.
I was the staff cartoonist for the TU Collegian, 1959-1961, and one of the J-students who was interning for some ad agency asked me to do this series of cartoon ads. I was paid the handsome sum of $30 ($5 each) and was very impressed with myself when they ran on the "movies" page of both the Tribune and World. They were supposedly very successful in moving a lot of these new "high tech" additions to off-season in-car smooching.
I also double-dated a few times at the Twin in the early 60s. As sophisticated TU students, intent on having a good time at the drive-in as well as making a political statement, our drink of choice was called the "Cuba Libre" (rum and Coke). As has been noted here before, those were a lot simpler times.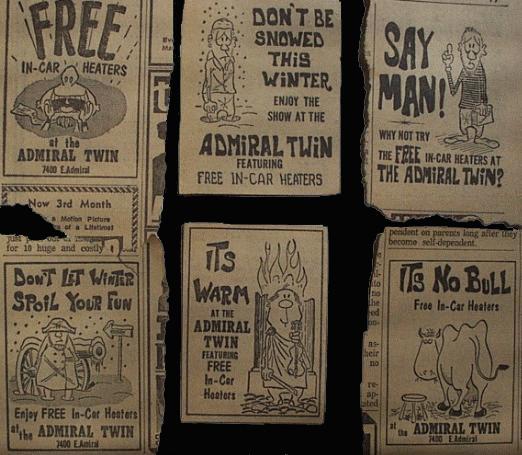 Much more about the Twin on this site's Tulsa Drive-In Theatres page.
---

March 19 2005 at 22:11:16
Name: Lee Woodward
Location: Aslut...(Tulsa spelled backwards)
Comments: Speaking of Weather Men: Consultants have raised their ugly heads at KTUL! Frank Mitchell has been dipped in hair dye. No more Mr.Gray Guy.
As happens in the bidness of TV, KOTV will have to follow suit with their two Gray Guys. Can "Miss Hotty" be far behind?
Warning to Mike Anderson; you're about to be "Rugged!" ..

---

March 18 2005 at 08:30:59
Name: Webmaster
Comments: Speaking of Tulsa TV weathermen, I hear that KOTV's James Aydelott is heading for a new job (and marriage) in Dallas. It sounds like a great opportunity for James, but I'll miss his witty, easy-going presence on "Six in the Morning". He has been a contributor to this site, and I hope he drops in here from time to time at his new post.
My brother Alan, a friend and I went to the Cain's Ballroom last night to see Elvis Costello and the Imposters (which is his original band, less bassist Bruce Thomas). Standing room only. I can't get over the fine restoration job on the Cain's. The low ceiling has been removed, the bathroom is now a "porcelain palace". The new adjacent bar, "Bob's", takes some of the people load off the main room and displays Cain's posters from the last 35 years.
I saw TTM contributors Mitchell Holt and Rusti Love, and TTM web host Tim Schmitz with brother Mike at the show. Paul James, the very funny "Gardener Guy" whose HGTV show, "Gardening by the Yard", is shot in his Tulsa backyard, was also there.
Rockabilly legend Wanda Jackson (who toured with and dated the original Elvis in 1955-6) took the stage with Elvis C. for "Cryin' Time".
Alan declared the event a "happening".
An all-time favorite album from Elvis and Burt Bacharach: Painted From Memory.

---

March 17 2005 at 18:46:42
Name: Lee Woodward
Location: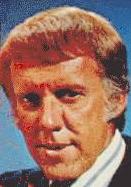 Tulsa
Comments: Joel Burkhart's recollection of Lionel trying to watch one of his favorite TV shows on the Announce Booth monitor is not surprising; he was an addict and let nothing interfere with his shows. He never understood why you could only get KOTV on the monitor.
I guess I was senile in my youth also, as I never recall making the connection of Joel to my dear friend Herman Burkhart. He was Principal Bassist with the Tulsa Philharmonic and we had plans of doing an original piece he had written, much like the things I did with the Phil; ("Braggity Rabbit", "The Man Who Invented Music", "Peter and The Wolf", etc.)
Lionel and I did over thirty concerts with the Phil and sad to say...it is no more. Happily Mr. Epperly is keeping things going with the Signature Symphony.
Good to hear from you, Joel.

---

March 17 2005 at 14:54:55
Name: Joel Burkhart (via email to webmaster)
Comments: Here is that short anecdote about Lee and Lionel that I mentioned in my previous e-mail to you:
I'd place this sometime in the '60/'61 timeframe, back in those days before uptight security, and when they used to let a few TU students hang around the Channel 6 studio on Saturday nights.
One of our friends, the night camera guy, would open the back door and let us in just to have some company. We would pop corn in one of those pie-pan-shaped packages that ballooned into a big aluminum bouffant (Jiffy Pop) using the ONG Cooking Show stove and watch movies.
This particular evening, Lee was doing the late evening station breaks in that little closet sized room the "voice over" announcers used.
Since he and my dad, Herman Burkhart, were acquaintances from the Philharmonic, I joined him in the booth for some small talk.

For some reason, Lee had Lionel on his right hand, possibly practicing some lines. As we were sitting there talking, I noticed Lionel sort of come to life and start weaving around the microphone that was hanging there. Suddenly, Lionel turns to Lee and says, "Damn it, move that microphone so I can see the monitor, will you?" Lee casually leaned over, pushed the microphone over and continued with our conversation.
It was like having a third person in the booth butt in while we were talking. Both of us just ignored him and kept on talking.
After I left, I thought, "Wait a minute, that wasn't real, Lee and I were talking and Lionel just butted in. A puppet can't just do that or...well, if he's Lionel maybe he can."
Even with an audience of one, Lee couldn't resist a chance to have a little fun with someone. He's a great guy and glad to see him posting here.

---

March 16 2005 at 16:11:26
Name: Steve Bagsby
Location: the center median on 11th st.
Comments: I looked out my front door last night and noticed the Rose Bowl is now boarded up. All the doors and windows are covered in plywood. funny thing is they're keeping all the signs and lights on like they're still in business.
Good hearing about the Friday morning bluegrass bunch again. Watching John's show was a good teaching experience for a young punk like myself, trying to learn how to play.

---

March 16 2005 at 12:38:56
Name: Joel Burkhart (via email to webmaster)
Location: Tulsa
Comments: Just ran across your great site on Tulsa TV memories to which I might be able to add a few more such memories.
I knew John Chick from the Great Folk Music Scare of the early 60s when he used to perform at various coffee houses in Oklahoma City and Tulsa. I ran into him again in about '73/'74 when he was hosting The John Chick Show. I was the regular mandolin player with the Friday Morning Bunch, a group of bluegrass musicians from various groups who would get together every Friday for an unrehearsed live show. We even made the long-playing, short-selling LP shown below.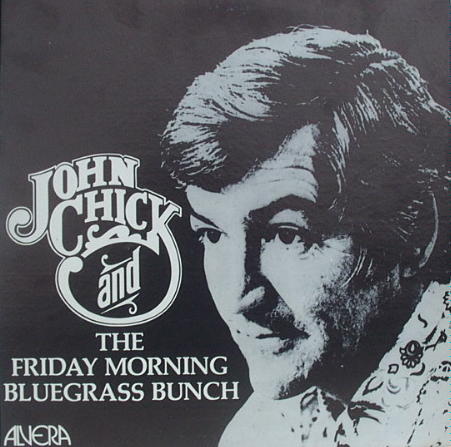 Recorded on the John Chick Show, Channel 8, April 1974

My regular bluegrass band, Stoney Creek, also performed once on the Mazeppa show. We were invited because one of Gailard's art professors, Glenn Godsey, was also our fiddle player.
We did a History of Bluegrass show at Channel 2 for the Arts and Humanities Council in 1973. Joe Hardt was the director and it was produced by Myrner Smart Ruffner who I think was later with Tulsa Opera.
Lastly, I used to hang around Channel 6 with some fellow journalism students from TU in about '62/'63 and can add a nice anecdote about Lee and Lionel.
Thanks a lot, Joel. Bring on that L & L story.
---

March 15 2005 at 13:18:08
Name: roy lee
Email: beerdrunk@msn.com
Location: gutter ball!
Comments: I was driving past the old Rose Bowl yesterday and decided to have a look inside. There were a few people working inside and I got a "can I help you" that sounded more like "what do you want?"
I told them I used to hang out in there years ago and just wanted to have a look. They looked at me like I was nuts, but said OK.
They were tearing out the lanes and it just looked awful. I asked them what was going to happen to the building and they told me they would sell it and beyond that they didn't know, and didn't seem to care.
Here's a story with photos at KOTV's site about the Rose Bowl's architect, Bill Ryan, who also designed East Central High School (my alma mater) and the space-age Immanuel Lutheran Church atop a hill in Broken Arrow. When the church was new in 1961, we stopped by and looked at it on our way to Fort Gibson lake.
---

March 14 2005 at 13:12:57
Name: roy lee
Email: beerdrunk@msn.com
Location: under the table
Comments: I've never been to the Protocrat 007, but their pool team plays at my neighborhood bar, "Flashbacks" at 8th and Sheridan. Very fun bunch and very good pool players.
Flashbacks has just changed owners (again) and they will have live music every Saturday. Last week it was an all Indian blues band that was really good. The week before, it was "Tuff Profit" a revved up, hilarious country band. They say Brian Parton is playing in a couple of weeks too!
I did my own northside bar search a few years ago but never quite found the right fit. "Thelma's" off 244 and Utica was strange because it was so unbelievably clean. Convenient too, just next door to Bill's Jumbo Burgers!

---

March 13 2005 at 19:06:28
Name: Erick
Email: ericktul@yahoo.com
Location: Tulsa
Comments: Re: My Tulsa tornado project.
For those interested, the project is still ongoing. However, I've run into the problem of a lack of information. Or, even more bewildering, conflicting information. I blame myself, really. I started way too big (I originally intended to document every tornado reported within Tulsa county. I smartly scrapped that very ambitious idea early).
I also haven't been devoting a tremendous amount of time to it. But, knowing there is some interest, I will be sure to finish it as soon as possible.
I believe the Rose Bowl closed Saturday. I like the idea of a Route 66 museum. Yesterday I watched a program called The Oklahoma I Remember on OETA during their spring pledge drive. They looked back on Oklahoma amusement parks, drive-ins, and other things. Most interesting was a virtual tour down Route 66 narrated by the great Michael Wallis. Try to catch it if you can.

---

March 13 2005 at 17:25:12
Name: RP (via email to webmaster)
Comments: I did a Google search on "Protocrat 007 Club" and found your post from a couple of years ago.
I was in the Protocrat almost 2 years ago...
I used to travel a lot for business. One of the things I enjoyed while on the road was to find "dive bars" with pool tables. The worse a part of town, the better. My experience in these places was that you could go in, order a beer and a shot of Jack and find a game of pool. No fight, no pretentiousness, etc.
While I was in Tulsa, I had found a place like that and went there a few times. It was a wanna-be biker bar. One of the guys I was in town with happened to be Puerto Rican. But he looked "black," especially to your average biker wanna-be in Tulsa. He wasn't welcomed at the bar I had found, so we set out on a mission one night to find a black dive bar to play pool in. We asked around town, found several disappointing spots and FINALLY found the Protocrat 007 Club. It was awesome. No windows, low ceilings.
The whole place reeked of old frying oil. 4 pool tables, 100 pool cues (only about 50% with tips that were playable). Three or four older black guys were in the bar, two middle-aged women and one young guy. The young guy was obviously there to learn. I think I was the first white guy to walk in some measure of time. And I walked in like I owned the place...not cocky, just like I belonged and it was "okay."
The Protocrat walls were covered with pool trophies and pictures of teams, except for the few spots with 1970s vintage Colt 45 advertisements. At some point during the evening, I asked to buy one. They wouldn't sell, but they did sell me one of their pool team T-shirts.
They had a drink called "Windex" as the special of the day, 5 white liquors and a splash of Blue Curacao. I had 5. Around 4 and a half, I had worked my way up to playing the ranking shooter.
I got as lucky as a drunk white boy in the Tulsa hood can get and beat him...actually he blew it on the 8 ball. We left. My buddy didn't drink, so he drove home. On the way, I decided to car surf...I blame the Windexes. There is an overpass just a few blocks from the Protocrat. That's where we got pulled over. I slipped back into my Excursion through the window. We got a stern warning and were sent on our way.
The reason I was thinking of the Protocrat recently was this: I was having dinner the other night with a National Geographic writer who ended his story about Cambodia in this way, "It was a place where the normal rules of civilization and society don't apply," I was at a loss for a good follow-up, having not done much international third world travel, so I said, "sounds like Tulsa". It broke the mood, the table laughed and ended up talking about the Protocrat 007 Club.
Classic.
I appreciate hearing from you about the Protocrat, RP.

"Trot-line journalism": a topic of interest is thrown out; eventually someone finds it in a search, and has something interesting to say about it.
---

March 12 2005 at 21:47:36
Name: msbv2
Location: Looking westward across Arkansas
Comments: Hi guys!
This site continues to be as informative as ever! (By the way, what in the world are they doing to the Rose Bowl?)
A quick question for you. Last year (or maybe the year before) the Tulsa TV Memories bulletin board had a link about a book being written about the June 8 '74, Dec. 5, 1975 tornadoes. (I think it linked to Erick). Anyway...any idea about when it might be available?
I was just out of the path of 2 of the '74 storms and at least one (I still think there were at least 2) in '75. I watched a couple of those storms (at least until I was too scared to watch anymore, which was probably about 10 seconds.) The memories have kind of run over each other over the years. I do know that every school I went to in Tulsa was damaged in one storm or the other.
There seems to be very little information about those particular events available on the web.
Also, anyone here remember a tornado outbreak in Tulsa in 1981? I seem to recall some storm damage in the Gilcrease Hills area.
Yes, Erick mentioned his research project in Guestbook 130. Maybe he'll drop in and give us an update.

There is a thread over on TulsaNow.org about the Rose Bowl. I don't know if the Rose Bowl is open today, but this is the end of its last week. One idea is to make it a Route 66 museum (I suggested a neon museum/cafe with Bill Stokely's collection of vintage Tulsa and other neon business signs).

Try to vote every day for the Admiral Twin Drive-In through March. Hampton Inns will put up $20,000 to refurbish a "hidden landmark", either a Bridge of Madison County or the Admiral Twin Drive-In, based on the vote tally. The link will also be on the Bulletin Board.

We saw "Be Cool" on the east screen last night. The evening started warm, but got cool after sunset, which was fine, since we followed the drive-in checklist. A crescent moon appeared above the screen and set behind it during the show. Hot dogs, popcorn, nachos and a pickle washed down with Sam Adams beer...that's the life.

See three new pictures of the Twin at SelectCinemas.com.
---

March 10 2005 at 04:07:34
Name: Billy G. Spradlin
Email: billygtexas@yahoo.com
Location: Kilgore, TX
Comments: Hi everyone, been awhile since I posted.
I've been trying to find information on a mid 60's Bartlesville garage band called The Skeptics. I discovered a 45 of theirs called "Apple Candy" on the Kampus label at a local Longview TX thrift store last year. The a-side's a upbeat blues-pop track that makes good use of the riff of Bo Diddly's "Oh Yeah" (later covered by the Shadows of Knight of "Gloria" fame).
From what I have found out via Google searches the group released several rare 45's with rarer picture sleeves. Since I found the 45 here in Texas I'm curious if they ever recieved regional airplay?
As for KGGF I remember them being Adult Contemporary with some Top 40 hits during the mid 70's to the early 80's. I mainly listened to them for Royals Baseball during the summer. KGGF had a long rivalry for sales with KWON 1400 (K-WON) which was also AC/CHR during that time and during the day could be heard loud and clear in Coffeyville.

---

March 09 2005 at 20:26:10
Name: Webmaster
Comments: Archived Guestbook 178...

---
Back to Tulsa TV Memories main page