Liquor-by-the-wink club cards
Club cards page 2 Club cards page 3

Oklahoma became a state in 1907---a dry state. Native son Will Rogers once commented that Oklahomans would vote dry as long as they could stagger to the polls; bootlegging was always a lucrative business in the state.
Beer became legal in 1933, but only beer under 3.2% in alcohol content. The Oklahoma legislature deemed this a "non-intoxicating beverage". (The Oklahoma judiciary was asked to dissent from this view at least once; see sidebar, from 2/6/1979: "Man says beer pickled brain, sues brewery").
In the late fifties, a determined effort was made to enforce Prohibition to the letter of the law. As Rogers had prophesied, since they were now unable to stagger, they instead marched upright into the voting booth and repealed the law in 1959.
Fake ID. The '51' was typed onto yellow paper, cut out, and stuck on with toothpaste. That way, it could be peeled off in an emergency. An ID-checker once squinted at it through its translucent cover and said "Good enough."

It served as an entrée into such educational establishments as "The Organ Grinder" (later renamed "Walter Mitty's") in Norman, OK. As you can see, the toothpaste is still working today. Maybe it's the fluoride.


Even afterwards, Oklahoma's liquor statutes remained quaint. To order mixed drinks, you had to be a card-carrying member of a "private club", where, according to the new law, you would bring your own bottle, have it labeled, and be served from it by the bartender (and charged for the set-ups).
In practice, however, the criteria for joining a "private" club often consisted of: (a) your presence at the bar, (b) a driver's license not too obviously faked, and (c) a pulse. Once passing these stringent requirements, you were issued a membership card and could then buy any drink you wanted. The wallets of urban Oklahomans were often stuffed with these cards.
At some clubs, you actually did need to bring a bottle. The bartender would label it with your name and place it in view behind the bar, to ostensibly comply with the law. You still had carte blanche on your drink selection.
This practice was called "liquor-by-the-drink", or more popularly, "liquor-by-the-wink".
Trivia question: in what year did this farce end? Hint: not so very long ago. Answer at the bottom of this page.
In memory of those halcyon days, here is a collection of Tulsa club cards.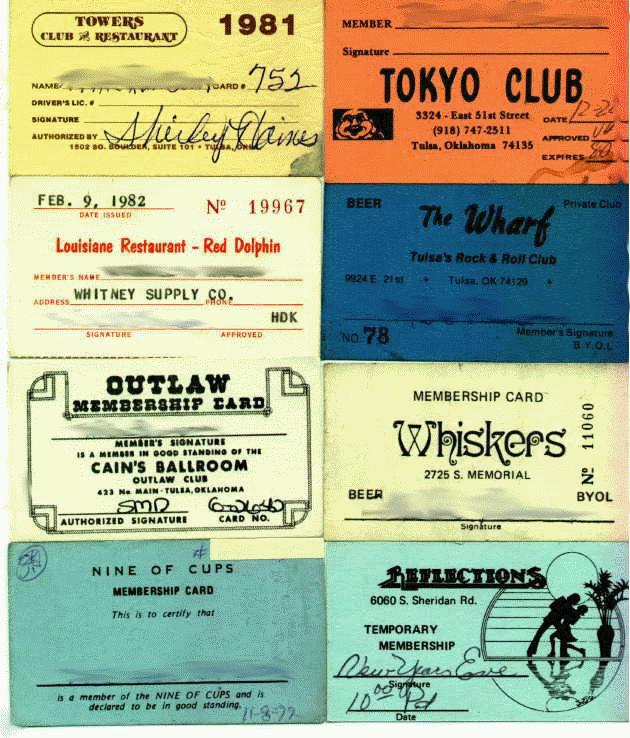 Notes:
The Towers - This was in the same building KRMG used to broadcast from, Liberty Towers. That's about all I remember.

The Tokyo Club - Continuing in my seeming fugue state, I have no recollection of being in this one...I think it was part of Benihana.

The Louisiane - Well-respected restaurant on Boston Avenue. See pix and read more about the Louisiane in GroupBlog 291.

The Wharf - Rock bar over on 31st and Mingo. I took a date there one time, and she said it was "too loud".

Cain's Ballroom- during its "country" phase. The house that Bob Wills built...still a great Tulsa landmark.
In the later 70s, it featured an eclectic mix of fusion (e.g., Stanley Clarke, Billy Cobham, Bill Bruford), new wave (Elvis Costello, The Police, Talking Heads, the Fabulous Poodles, or the "Fab Poos", as their cement handprint block at Peaches Records said; see #18 in this LostTulsa photoset), punk (The Sex Pistols) and beer/Nyquil-swilling country (Alvin Crow, Jerry Jeff Walker).
Cain's brought "Ladies' Mud Wrestling" to town in the early 80s (the word "Ladies'" confers a certain dignity on the activity, don't you think?):

(from Guestbook 72) Carl Bartholomew (who, as kid show host Uncle Zeb, closed each show with "We'll be lookin' for 'ya!") said:

Just recalled a bizarre KTUL-TV coverage incident in 1980.

Mud wrestling was going strong at Cain's Ballroom, promoted and managed by Mark Hine a.k.a. Mark Mason, who had worked at Channel 8 when I was doing 8's The Place stuff.

I knew it (mud) was a big thing then and tried time and time again to get the news department to do a piece on it, but no dice. Tried the same thing with the sports department, but they also declined (too hot to handle).

Finally, I decided to get it shot myself and asked cameraman T.C. Clark, better known as "T", if he would be interested. That did it!

So on a given night in 1980, "T" shows up at Cain's along with another production cameraman; I think it was Dale H., "Heits." Then surprisingly, Becky Dixon from Sports shows up with a cameraman. Then News also decides to send a cameraman. All in all, we had four cameras there to catch all the action, more than ABC Sports would have used for regional football.

The coverage was somewhat slippery, but EVERY angle was captured. True soldier that he has always been, T.C. found his way into the girls' dressing room and returned to say, "That's where the real action is!" All of the footage was carefully viewed by us many, many times.

And interestingly, one of the girls turned out to be an engineer's girlfriend or something and he did not appreciate her being shown doing what she was doing...go figure.

But the thing I remember most about that night was during one of the bouts, a girl's boob popped out of her top and Mark Hine shouted over the PA system, "There's one lookin' at ya!"
(from Guestbook 212) Ed Colton said:
While I was on (this page), I saw the "mud wrestling at the Cain's" section and it reminded me that I have some video that you might be interested in. I have a .wmv of Ch. 6's live news coverage of the first mud wrestling match at Cain's. It features Clayton Vaughn and Bob Losure, and the 2 lady wrestlers Jodie Williams and Jamesella. It's 5.8 megs in size, is 320x240, and runs 3:05. Bob's having a pretty good time with this story, so I'll bet you'd get a kick out of it.

With the FOX23 News Team present, a paranormal investigation of the Cain's in early 2003 detected, among other things, the "presence of a woman named Joan from the 50s, with a drinking problem." Also, a couple of "orbs" were spotted. Could these have been the "dead drunk" Joan, mooning the team?


Whiskers - A rock and roll bar near the old Oertle's at 26th and Memorial. Bring your galoshes!

Magicians Theatre - A big Mazeppa hangout so I heard..

(from Guestbook 46) Jana S. said:
Another memory lane flashback, when (Leon Russell) used to jam down at the Magicians Theatre (another great favorite of mine -- both the Leon and Magicians!)

(from Guestbook 46) Bill Beatty said:
On more than one occasion, we would all be at the old Magicians Theatre, somewhere on south Main I believe, and see Gary Busey sitting in with the band of the evening.

Courtesy of Don Duca

Nine Of Cups - a cool, eclectic place to hear music or dine.
According to the June 1980 "Breezy Stories" (a local free newspaper), the Nine of Cups was built with 12' X 12' oak beams and pine siding from actor Ben Johnson's old barn near Skiatook. It originally had nine partners, hence the name.The bandstand was close to the ceiling on the upper level.
(from Guestbook 168) Dave Lacey said:
I was one of the original people who built and operated the Cups in the years 1971 to 1973. Tulsa had quite the music scene then with the nationally recognized performers around and clubs like The Jail (and the Observatory) to party at. I remember our first bounced check at the Cups was from Emily Smith who Leon made famous in the song and who was featured in the movie Mad Dogs and Englishmen.
---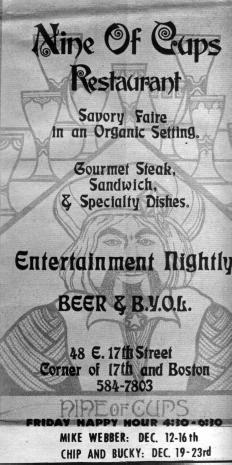 The webmaster said:

On December 24, 1982, jazz great and Yale, Oklahoma native Chet Baker played at the Nine of Cups. The members of the pickup band were all Tulsans: Frank Brown-guitar, Frank Adams-sax and flute, Ted Adams-acoustic bass, Ron Adams-electric bass and Wade Robertson-drums. There was no time for rehearsal, so the songs were picked from Chet's recorded repertoire.

At the time, I was not tuned in to Chet Baker's greatness, and instead attended a Johnny Winter concert over at the Cain's that same night. Johnny was in top form, but I have seen him on numerous occasions. I never got to hear Chet Baker in person. Luckily, the Nine of Cups show was recorded and posthumously released on CD as Out of Nowhere in 1991, so I was able to hear what I had missed.

I saw the Frank Brown Trio during the Sapulpa Royal Jazz Festival on July 26, 2003 at Doodle's Hallmark Shop. Frank is still a fine jazz guitarist. He plays gigs around town on occasion with my brother, bassist Alan Ransom. Ted Adams (father of Ron and Frank Adams) played in the bands of Bob Wills and Leon McAuliffe in earlier years.


* Here is a message in a bottle tossed into the internet ocean: a group I remember seeing at the Nine of Cups in the 70s was Freeway, a popular jazz/funk group I first heard while at OU in Norman, OK. Their big closer was a Sons of Champlin tune, "Gold Mine". I wonder whatever happened to them? I think they hailed from Bartlesville.


(via email, 7/25/2007) Liz Pounds from McGill's Restaurant found the bottle and replied to the message:

Mike, I enjoyed taking care of you, Gaye, Mary & Lloyd tonight at McGill's.

I went to your website and was amazed at the info you have there. One thing in particular caught my eye. It was info about bands at the Nine of Cups in the early 70s.

I worked there at that time and it was my first restaurant job.

You have some stuff about a band you thought was called Freeway-- it was Headway. They loved playing the Sons of Champlin songs. "Headway" is a "Sons" song, they were a Bay-area band that the guys in Headway loved and rightfully so. Bill Champlin is a great vocalist. Their closing song was always "Goldmine".

All the band members of the Headway band are still playing . The lead singer was my boyfriend at the time so I know the history of this band. His name is Howard Laravea, currently playing with a new country artist out of Nashville called Jamie Lee Thurston. He has played with everyone over the last 2 decades from Gretchen Wilson, Tanya Tucker, Frankie Valli, etc., the list goes on. He was their keyboard guy and lead vocalist.

The other predominant figure in the band was the other vocalist Mike Dragoo who was the drummer, a killer vocalist and great drummer. He now plays with the Jumpshots. The bassist was Danny Deason who was with a band called Big Kidd for many years. The sax player was Kurt Lybarger whose nickname was "Steamboat". The guitar player was Jerry Lee-Mills who is no longer with us. The band had a second drummer Ron McRorey who now plays with Jimmy Markham. At one point before we all went to L.A., they took on a girl singer Donna Williams and used Billy Estes as their drummer. His daughter has become an incredible vocalist, you may have heard of her: Toni Estes.

Thanks for the info about your website. I'm sooo pleased that someone out there is keeping up on stuff like this. It's fabulous.


The webmaster replied:

Great meal, and great to meet you.

Oops, glad you could set me straight on the name of the band! I still have the Sons of Champlin album with the live version of "Goldmine". I bought it because of hearing Headway perform the song.

Would you believe Mike Dragoo was in my high school class at East Central? I guess I didn't recognize him up there. My brother Alan has played (bass) with Ron McRorey.

Didn't Headway's guitarist have long hair, but slightly balding? I remember being very impressed with him (I was an aspiring guitar player at the time). Of course, they were all great musicians.

Well, this was a great birthday present!

Reflections - as in a disco ball.
(from Guestbook 84) James Lawrence said:

I used to hang out with Bob DeMers (weather man) and Bob Losure at Reflections - the best nightclub in Tulsa ever! DeMers was a wild man - he was young and liked to party a lot.

"BYOL" on the cards stands for Bring Your Own Liquor.
Liquor-by-the-wink came to an end in a popular vote on
April 30, 1985 by a 3-1 margin.


Club cards page 2 Club cards page 3 Channel Changer 2 Main