Tulsa TV Memories GroupBlog 269

TTM main | What's new on TTM? | GB Archive




June 27 2008 at 19:17:17
Name: Michael D. Trout
Topic: The Pink Barn
Email: michaeldtrout at earthlink dot net
Comments: The Pink Barn. I had completely forgotten about it for at least 30 years, until TTVM reminded me.

One evening 1965-ish, my parents loaded us into the station wagon (probably the bare-bones 1956 Ford), without saying where we were going. We pulled up into a small parking lot at 15th and Memorial, crowded with cars dropping off teenagers entering a long, low building. My parents then announced that this was where I would spend the next hour or so…taking dancing lessons! And some of the teenagers were girls!

I went into shock and was unable to resist or even speak. I was probably 13 or 14, and I'd probably never touched another girl other than to slug one of my sisters. I was starting to find girls interesting to look at, but they were so mysterious I had no intention of ever speaking with one.

I stumbled into the Pink Barn, too terrified to be angry. And for that night, and for many other weekly lessons thereafter, I continued to stumble, around a dance floor, with a girl.

It was the worst form of terror. The first night, a dizzying vortex of skirts, seemed to never end. I began plotting revenge.

Soon, I was required to put my arms around a girl. I didn't think I could do it. My hands shook, my heart pounded, the sweat ran down my back. But, amazingly, the girl helped me do it. And smiled at me.

After a few weeks, I was surprised to find myself looking forward to the Pink Barn. I did like the music, mostly top 40, played on a record player. But mostly it was the girls. To my amazement, they were not evil or dangerous. And the way they looked…..

My parents were probably a bit concerned with my bookish ways and lack of social skills. The Pink Barn must have had a shrewd advertising message that appealed to them. For one thing, teenage students at the Pink Barn were not allowed to leave the building, for any reason, until their parents pulled up in their car. I saw this enforced, quite strongly, on more than one occasion. My mother spoke of this policy with admiration, and told her friends about how the Pink Barn maintained "wholesome values" or something like that.

I remember the Pink Barn's dance floor was in a rather odd building. The room was unusually narrow. When the girls and boys lined up on opposite sides of the room, they were still pretty close to each other. And the room was long, with the record player in the center against one wall. We had quite a number of dances that required cavorting all the way from one end to the other. The ceiling was very low, too. As I recall, the room was also dark, with sort of a rough wood paneling. But there was enough lighting to deter couples from any funny business in a dark corner.

I remember the instructors, Jerry and Roberta Keith, as being fairly young. They seemed to have a good empathy with the students.

When I started at the Pink Barn, I didn't know any of the other kids. Most of them seemed to be from junior highs in the east and south parts of town. The socs and greasers thing was still going on and although I wasn't a greaser, I came from a predominantly greaser school (Hamilton). But I don't think anybody at the Pink Barn looked down upon me or treated me any differently.

Looking back, I'm sure I wasn't the only one who was nervous and uncomfortable. A few of the kids, though—the ones who seemed to already have good social skills—thrived at the Pink Barn. Still, I'm sure for most of us it was a valuable learning experience. Although I was never very outgoing through my teenage years, I think that without the Pink Barn I would have been even worse—probably an unbearable geek with no friends. Thank you, Jerry and Roberta, wherever you are.
Another place for 1960s Tulsa teens to learn: the Linkletter-Totten Dance Studio.

And in the 40s, 50s, 60s and 70s: Skilly's School of Ballroom Dancing.
---

June 27 2008 at 00:35:08
Name: Webmaster
Topic: KRSC's "Hillbilly Happy Hour" @ Circle Cinema Saturday
Comments:

Saturday 6/28, 9 am - 1 pm, "Hillbilly Happy Hour" host Johnney Hall will do his KRSC (91.3 FM) radio show from the Circle Cinema lobby.
---

June 26 2008 at 21:24:03
Name: Gonzo Gary
Topic: "Ozone Runner"
Email: Cah-lee-FORN-nee-yuh
Comments: Chapter One

When I left my flat today for some groceries and stuff, I looked and felt like a denizen of 2045 from some Philip K. Dick novel! Jeans, t-shirt, sneakers, Giants ball cap, big shades. Robert Downey, Jr. could have played me better than I ever did or would.

Oh yes, just under the Foster-Grants sat my 'physician's green' mouth and nose mask held tightly to the bridge of my snout and cheeks by its rubber band. I glanced in the rear view mirror before rolling out of the driveway into what there was of the very dark orange sunlight that was only slightly lighter than the shade of the large green trees that hung motionless in the smoke and ozone.

I've always wanted to spend more time in L.A. This way, it's cheaper.

Gasp, gasp. Cough, cough.

---

June 26 2008 at 20:09:39
Name: Richard Forney
Topic: Dance Party
Email: murphyforn at yahoo dot com
Comments: I'm a native Tulsan and love this site. Much to my utter surprise..I am "featured" as a dancer on the Dance Party photo along with my girlfriend (red hair).Think this was in '68 or the 8th grade. I am the one with sport coat probably dancing the bugaloo that I just learned at Pink Barn.

Million in one shot that this particular photo was selected. Anyway, hello to all my family and friends. Too bad there isn't a photo of me when I was on Big Bill...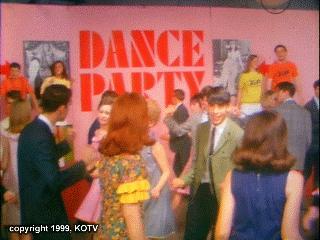 Richard, that's wild. The photo also became a Channel Changer 1 button on 12/8/1999.
---

June 25 2008 at 10:19:43
Name: Mike Bruchas
Topic: "Public Enemies" a feature film directed by Michael Mann
Comments: They have been lensing scenes all over Chicago and in nearby Joliet. I met the gofer for the wardrobe crew, picking up 60-100 period men's suits at my local cleaners. Turns out that the production office was here in my hometown of Downers Grove for about 2-3 mos. And yes, they had jobs.

---

June 24 2008 at 17:20:50
Name: Mike Bruchas
Topic: Radio automation in Tulsa
Comments: I think Drake-Chenault was one of the first automation vendors with gear at Tulsa FMs. But I am confused; Drake was also a music provider. Later, Chenault was dropped in the name. Fast-forward to about 15 years ago and Drake Automation was automating TV master controls. But I think it did not last. Scott L or anyone - can you explain or add to any of this?

BTW, I heard that Tulsa 23 and some of the Clear Channel venues in Tulsa may be spun off to a Wisconsin group. What's the poop? Just worried about friends still at Tulsa23.

---

June 24 2008 at 15:59:56
Name: Dave
Topic: Art Deco
Comments: Preservation magazine has profiled Tulsa's art deco heritage: Tulsa's Deco Gems. It tells about what's around today and the prospects for the future. it also laments the loss of many venerable structures in recent decades, as in these two paragraphs:

-------

"The 1970s were a pretty dark decade," says Lee Anne Zeigler, executive director of the Tulsa Foundation for Architecture, a nonprofit devoted to historic preservation. Recent satellite imagery, she says, shows that some 52 percent of downtown Tulsa has been conscripted into duty as parking lots.

"Zeigler estimates that demolition claimed about half of the city's deco buildings. Among the losses: the jewelbox-like Security Federal Savings and Loan, remodeled in 1937 with black Vitrolite and geometric shapes, and razed for parking in 1999. Grand theaters such as the Delman, the Will Rogers, and the Palace (the latter artfully redesigned in 1935 by Koberling with a subtle zigzag styling) came tumbling down. Tulsa Art Deco, first published by the Junior League in 1980 and republished by the foundation in 2001, is pocked with editor's notes that say "torn off" or "demolished."

-----

And on a completely unrelated matter -- George Carlin's best gag:

"What does a dog do on his day off? He can't lie around. That's his job!"

---

June 23 2008 at 16:20:57
Name: Armin Sebran (aka Yahootee Menu on the Mazeppa show)
Topic: George Carlin at TU
Comments: When I was at the University of Tulsa, I was on the Speakers/Entertainment Committee appointed by the president of the university. In this capacity I was blessed by having dinner with George Carlin, a kind and delightful human being.

We had a steak dinner prior to his performing for the student body. I remember clearly how he performed gymnastic exercises back stage before he 'hit the ground running'. What energy; what a mind, what a heart.
Yes, he will be missed. He had no sacred cows; he gave no quarter and asked none. This is a great loss.

---

June 23 2008 at 07:24:10
Name: Beverly
Topic: Hawk's Dairy
Comments: Is the original Hawk's Dairy building still there at 11th and Lewis? I saw a photo at the Tulsa Historical Society on Saturday and it made it want to look into it. After you showed me the "street view" and after looking at the old Safeway building, I went west. I decided to "go" by 11th and Lewis and look for the old dairy. There is a building there just east of Lewis on the north side that kind of resembles the one on the TTM Christmas card. If it is the same building, it looks like a second story has been added. Just wondering.

We went to Coney Beach yesterday. The shrimp was really good, but I thought it was really over priced. It was clean and the people working there were friendly, though.



Beverly, on the Ice Cream page, I added a photo of the building just east of the NE corner of 11th and Lewis as of 2008. It's similar to the Hawk building, but not the same one.
---

26 June 23 2008 at 01:02:03
Name: Gonzo Gary
Topic: Hippy-Dippy Weather Man Dies
Email: Kah-lee-FOR-nee-yuh
Comments: George Carlin bit the dust this evening at a hospital in Santa Monica from a heart attack. I just heard on the real blue XM Comedy Channel last evening that Carlin was about to receive the Mark Twain Award. I saw Carlin at the Tulsa Civic Center a long time ago. My ribs are still sore.

Bummer on a Sunday evening.



I loved his TV/radio-oriented material in the 60s. (I referenced it on the Car Dealers page.) I also remember a routine he did on HBO in the early 90s making fun of inflight announcements. I could barely breathe, it was so completely on-target:



(Bovine-voiced flight attendant) "Please stow any personal items you might have brought onboard under your seat or in the overhead compartment."

(Irritable passenger) "Well, I MIGHT have brought my arrowhead collection---BUT I DIDN'T!"


RIP, Mr. C.
---

June 22 2008 at 11:50:02
Name: Beverly
Topic: Pancho's Mexican Restaurant
Comments: Thank you for letting us know about Pancho's! I'm afraid I don't remember it, but my friend does.

I can remember taking our dog to a vet in a house just east of Harvard on the south side of 11th. That would have been in the middle or late 60s. I think Safeway was in the building at 11th and Indianapolis and then the vet was just east of that. I believe more recently the old Safeway building has been a pawn shop. I can't understand why I can remember the veterinarian's office, but can't remember Poncho's.

I wonder if those old houses/buildings are still there. I'll have to drive by there the next time I'm in Tulsa. Thank you for the information.



The old Safeway building is still there...use your up/down/left/right buttons and click on the arrows to get your kicks on this section of Route 66. There is a Pancho's Mexican Buffet on Admiral today, but I don't think it is related.
View Larger Map
---

June 20 2008 at 18:09:54
Name: Dave
Topic: On the ribbon
Comments: Speaking of hamburger joints, don't we need a link to Friday's World article about the new place way down on the south side doing a paean to Pennington's?



Excerpt from Tulsa World article, "Lost Tulsa classics find a new home; Coney Beach is dishing up Rex's chicken and favorites from Pennington's Drive-In":

"Coney Beach opened last summer at 11089 S. Memorial Drive, offering gourmet hot dogs, black Angus hamburgers, Polish sausages, loaded french fries, bottled sodas, cold beer, ice cream floats and milkshakes... menu now features Rex's chicken chunks, grilled chicken sandwiches and chicken salads... (and Pennington's Drive-In deep-fried butterfly) shrimp and onion rings."

Be sure to read the article's readers' comments.



Webmaster: We tried it out on Saturday as take-out. From the resident food critic:

The onion rings were great. The French fries were good. The shrimp were good, but needed salt. Rex chicken was ordered, but a grilled chicken sandwich was delivered. It was not yet up to the old Rex standard, possibly due to not being marinated. The place was extremely busy thanks to the newspaper article. We'll give it another shot later.

After this feast, we put on a Sci-Fi Saturday double feature: MST3K's "Secret Agent Super Dragon" and "Modern Problems" with Chevy Chase and Tulsa's Mary Kay Place.

The latter movie boasted music by Dominic Frontiere, mentioned below in connection with "The Invaders". It was directed by Ken Shapiro, whose only other movie was the 1974 TV spoof, "The Groove Tube", previously discussed on this site. "Modern Problems" is a mixed early 80s bag, but some good laughs in there.
---

June 20 2008 at 12:20:14
Name: Scott Linder
Topic: That Mexican place near Skelly Stadium
Comments: David,

Yes! You jogged my memory. The restaurant was indeed Pancho's. It was located in a house on the south side of 11th Street, just a couple of blocks east of Harvard. The food was very good. I seem to remember often enjoying a triple-tostada plate made with three smaller hand-made tortillas and lots of guacamole that tasted of fresh lime juice. Ummm...

---

June 19 2008 at 19:14:13
Name: Michael Evans
Topic: June 8th, 1974
Email: mcegeol at aol dot com
Comments: June 8th, 1974....what a long day! I showed up at my new job at Arby's near 42nd & Peoria. (the ONLY Arby's in Tulsa then) I had worked there two weeks. I was was given the opportunity to assemble two aluminum picnic tables to be used in front of the store. I was handed a hammer and the wrong type of screwdriver but after several hours in hot, muggy weather with Japanese instructions...I got them both built. They were beautiful!
As I was going inside I felt a kick in the wind and looked down Peoria to the South. There was hard, blinding rain in a green swirling cloud coming north on Peoria. I ran inside and told my manager a storm was coming and quick. He tossed the keys to me over the counter and ordered me to lock the doors. I don't know if anybody remembers but back then Arby's was essentially a glass shell up front with two doors. I locked the south door and noticed I could no longer see across the street. I turned to lock the north door and out of the corner of my eye saw both picnic tables were airborne. My reaction was to flinch because milliseconds later they pushed through the glass front. I have no idea what happened after that because for about 20 minutes I was unconscious.

Apparently after the swirling passed, the assistant manager dragged me to the back freezer, which is where I woke up. My only injuries were mild concussion and dozens of tiny cuts on my arms and back. Only one cut required two stitches. There were too many trees and power lines down for any rescue vehicles, plus there was about three or four inches of standing water between the curbs of Peoria.

After the store medical kit did all it could to help me, the manager set us to work in getting the place cleaned up all we could. (After all we were on the clock!) We worked until after 2 AM.

By then my Dad somehow made it to our store and took me to St. Francis for glass splinter removal and the two stitches, which by the way was not because of the picnic table through tthe front glass, but because my boss dragged me through broken glass to get me to a safe place!

Just before I left at 2 AM, two customers pulled up, walked through the completely shattered front, stood at the counter and tried to order sandwiches. I asked them if they minded roast beef with glass fragments which subdued their appetite and they left.

The next day I returned to work to continue reassemble work and my memory recalls that Shakey's Pizza had been really hit hard. The employees had gone to the freezer safe and sound. Apparently they had radio...Arby's had "musak".

Ahhhh memories!

---

June 19 2008 at 18:55:27
Name: David Bartlett
Topic: Mexican Restaurant
Email: dbartlett@ameritech.net
Comments: Don't remember a Mexican restaurant on Harvard, but "Pancho's" was on 11th Street, east of Harvard as I remember. It was a house on the south side and the first restaurant we ate at when we moved to Tulsa in the early 50s.

Pancho cooked and his wife was the hostess and server if this old memory serves me right. Great enchiladas (the best I've had to date) and Mexican hot chocolate. We were staying at the Whitt's Motel while my dad found a house. He became the chapter manager for the American Red Cross in Tulsa. Great memories!



---

June 19 2008 at 17:27:12
Name: Scott Linder
Topic: QM Productions
Comments: Yes, and let's not forget Hank Simms who did the VOs for all of the QM productions...

---

June 18 2008 at 16:06:50
Name: Webmaster
Topic: "The FBI" and "The Invaders"...in color
Comments: This is out of nowhere, but I just remembered an episode of the "The FBI" (starring Efrem Zimbalist, Jr.) in which the agents had some dealing with "Bartlettsville" or "Bartletsville", Oklahoma. Not Bartlesville. Oops. I think Dewey Bartlett was governor at that time.

"The FBI" was a relentlessly "adult" show. The stately theme music and its Sunday evening air time (tomorrow is a school day), made it seem even more serious.

Here is The FBI...in color. The Quinn Martin production style was aped in the great, short-lived TV series, "Police Squad!" which was the basis of "The Naked Gun" movie series.







Speaking of Quinn Martin productions, the first season of the 60s sci-fi/thriller series starring Roy Thinnes, "The Invaders", has just been released on DVD. The show hasn't been rerun in Tulsa (or anywhere I know of) since it went off the air in 1968, so I'm looking forward to seeing it again and the new commentaries. The QM serious-as-a-heart-attack style paid off handsomely in scariness.

"The Invaders" theme music was first heard in an "Outer Limits" episode starring David McCallum, "The Form of Things Unknown". It was composed by Dominic Frontiere; you may have heard of his ex-wife, L.A. Rams owner Georgia Frontiere. The "ripped" credit style was also taken from this OL episode.







Clayton Vaughn is interviewing Dewey Bartlett in this clip when a strange, unintelligible man butts in. It's preceded by Ken Broo butting in on a Clayton Vaughn promo in the late 70s. TTM contributor John Hillis can be seen on the left.




---

June 18 2008 at 14:10:47
Name: Barry Robb
Topic: June 8th tornado
Comments: I was living at the Boardwalk Apartments in the 51st and Yale area when it hit. It was my first tornado after moving to Tulsa from from Del Rio, Texas to go to school. I was between semesters. No TV. Just popcorn. I went outside to see what was up. I went back inside. It jumped over my part of Tulsa. I got my first Tulsa radio job that summer. That's the last thing I remember.

---

June 18 2008 at 01:17:46
Name: David Bagsby
Topic: Tornado
Email: deeceebeeattsunflowerdottcom
Comments: They talk about the June 8 tornado up here in Lawrence also. Must have been a huge storm.

---

June 17 2008 at 23:24:50
Name: Steve Katz, Illinois
Topic: The Oklahoma tornado on June 8, 1974
Comments: I was driving back to OK City that day. On I-44 right outside of Joplin, I noticed the sky looked funny. A sickly green color. Minutes later the hail started. Being from Illinois I knew what that meant. Twenty minutes later a calm set in. Very quiet with heavy air.


I just went through the toll check at Sapulpa on the Turner Turnpike and it blew in. I saw it to my right. I am not surprised it cut a 49-mile swath. It wasn't wide. It was a tight cone moving fast and fierce.

I tried to outrun it. Back then, I didn't want to be a sitting duck. I was white-knuckling with pedal to the metal in my Grand Prix. I was glad my brother previously blew the 400 engine in it. He replaced it with a 455. It gave me that extra push to get out of harm's way.

I'll never forget that as long as I live. I really thought I was going to buy it at the time.

---

June 17 2008 at 19:48:07
Name: Beverly
Topic: Mexican Restaurant
Comments: My friend who grew up at about 11th and Gary Ave. is the one who was asking me about the Mexican restaurant on Harvard. I lived about 1/2 mile south of her, but I'm a couple of years younger and I just don't recall it. I don't think it was Casa Bonita because we have talked about that one often. Do you know if the house/building is still there? She said the food was really wonderful. Thank you both for your responses.

---

June 17 2008 at 19:27:20
Name: Barry Robb
Topic: Cart machines and Scott Studios
Comments: Thanks Scott for the insight...

And please tell Jack Campbell "Hello" for me. I miss those days.

The cart machine I talk about was a configuration of straight stacks of three rows and not a carousel. I think you are right about the 16 units. I recall there being about 30 per row.

And yes, the management has already gotten it to the level where only one board op is needed for a whole slew of stations.

I am working for Radio Spokane as their "utility guy" just for the fun of it since I can now afford to work for min. w. I do a lot of news anchoring there, voice tracking, board-op stuff as well doing some live announcing & remotes etc., etc., etc...

And check it out... There are 7 stations in the building. Many times I am running all 7 by myself. Scott Studios does a good job at sequencing everything. It is really quite amazing... if not really sad.

---

June 17 2008 at 18:03:57
Name: Scott Linder
Topic: Shrinking crews/automation
Comments: Mike, yes, a big crew indeed! I fancy that most of todays stations have done all possible to reduce labor costs and to do radio with almost no one. I'm confident that announcers will soon vanish when managers decide that no one really needs to hear those pesky and annoying voices. It's amazing to me that KFWB news radio announcers here in L.A. still work behind-the-glass, with an engineer rolling all recorded elements and actually running the board. I'm sure that management has retained some six-figure consultant to find a way to run the station with one person per shift...

With reference to my previous posts, I seem to recall more about the Shaffer/Ampex 903 automation system at KVOO in the late 60s. The system was based on several full-track modified Ampex 400 series tape machines that could run 10" or 14" reels at 7.5 ips. The "music" decks ran in sequence, but the spot deck could random access any cut by reading 40 Hz tones that were recorded at the head of each cut and "counting" from the first cut on the tape. I don't recall the details of programming, but the spot deck may have been programmed via push-pins in a sequencing matrix patch bay.

I seem to remember Jack Campbell recording many announcements to be included on the "spot deck" for KVOO and another station who was programming "Sleepwalker's Serenade". I had completely forgotten about this interesting part of KVOO history. I'll give Jack a call and see what he remembers...

---

June 17 2008 at 17:12:01
Name: Mike Bruchas
Topic: WGN Radio in the Doremus days
Comments: When Wayne McCombs and I visited the late John Doremus on his overnight show at WGN in the 70s, I think for part of the night he had an announcer for live spots but after midnight, Doremus read almost all of the ads.

The show was sponsored by Meister Brau beer. For news, he had a newsman and there was a carousel cart machine in another room with nothing but national PSAs on it. One of the engineers minded it when not at the board and Doremus cued his turntable man for starting and cross-fading records. A big crew compared to Tulsa radio!

---

June 17 2008 at 15:48:28
Name: Scott Linder
Topic: More carts
Comments: OK, I just remembered that the other popular cart-based automation system in the 70s was the IGM 770 Insta-cart. As I recall, these were not "carousels", but sixteen-cart modules that could be assembled into a system of any size.

Sorry for the addendum, but my memory doesn't work as well as it used to.

---

June 17 2008 at 15:18:32
Name: Scott Linder
Topic: Carts, etc.
Comments: Barry, the cart machines you speak of were installed after I left Tulsa and KVOO, but I assume that they may have been the carousel-style machines that made their debut in the 70s. Each carousel held 24 carts, and the systems were most often sold in a three-carousel array that fed modified Gates cart players. I also recall that KVOO installed a Shaffer/Ampex reel-to-reel programming system sometime in the late 60s. Do you remember seeing or using that system?

The only person who would remember all of this would be KVOO engineer Jack Bushnell. Sadly, Jack passed away on February 16th of this year at age 83. He patiently taught me a lot about radio and electronics when I was just a snot-nosed high school kid. Thanks, and God Bless you, Jack.

---

June 17 2008 at 11:18:45
Name: Barry Robb
Topic: Cart machine at KVOO in the mid 70s
Email: cda#coffee#atmsndotcom
Comments: When I worked at KVOO in the mid 70s, we had a cart machine that was really a cart jukebox. It was loaded up with all the current Billboard Top Country songs (1 per cart). Anyone one of us would have to dub the record to cart during our scheduled production time. That is if there was a new release that had just come in.

Anyway... That cart machine had three rows that holding some 20 or 30 carts in each row. We would set a dial located at the bottom of each row that would select which cart to load in that row. The machine would then automatically load the cart. When it came time to play the cart we pushed the corresponding row's start button (lit up red) located on the board. The song would then play. We could have three songs ready at any given time (WOW!)... and the queing/scratching problem was alleviated, although there were other just as obnoxious problems with playing dubbed records on carts. And that's not to mention the thudding noise of the cart machine engaging.

This was the first semi-automated system I had ever worked with in radio. That was pretty advanced and gave us a clue as to where radio was heading... ie., Scott Studios, Maestro etc...

Does anyone know who made that machine? I don't remember it being manufactured by Gateway.

---

June 16 2008 at 16:09:45
Name: Kenny Bolen
Topic: Casa Bonita?
Email: kwerks@comcast.net
Comments: Not being obvious here, but could you be speaking about Casa Bonita? (21st & Sheridan) I remember it being pink and many rooms. I just remember it being right in the same shopping center as Crystal's Pizza back in the day.

---

June 16 2008 at 15:19:03
Name: Scott Linder
Topic: That Mexican restaurant on Harvard
Comments: Beverly,

Yes, I clearly remember that Mexican restaurant and recall having very good food there in the late 60s. The dining areas were in various rooms of what was obviously a home before becoming a business. I think I discovered it one afternoon while on my way to Harden's to get a burger. Sorry, I don't remember the name...

---

June 16 2008 at 14:35:27
Name: Beverly
Topic: Mexican Restaurant on Harvard
Email: BeverlyW58@hotmail.com
Comments: Does anyone remember a Mexican restaurant that was on Harvard between 11th and 15th - on the west side of the street, I think. It looked like a house and it was pink. This was in the 1960's. I was just wondering if anyone else remembers anything about it.

---

June 16 2008 at 13:02:21
Name: Gonzo Gary
Topic: Regis Philbin
Email: Nor Cal
Comments: Don't forget, TTM Surfers: Mr. Philbin was also the announcer on ABC's 'The Joey Bishop Show' about a lightyear ago.

---

June 16 2008 at 06:53:20
Name: Don Lundy
Topic: Regis Philbin
Email: don_lundy@rtv6.com
Comments: Correction. Regis Philbin is a prime time star. See the new Million Dollar Password on CBS and don't forget Who Wants To Be A Millionaire on ABC.



Jerked my chain: I was the "phone-a-friend" on "Who Wants To Be A Millionaire?" 1/7/2008, but with Meredith, not Regis.
---

June 15 2008 at 10:28:44
Name: Mike Bruchas
Topic: 6 degrees of Regis Philbin
Comments: Am down at Charlottesville, VA at The Look 3 Photo Fest. Wednesday night, famous whale photog, Flip Nicklen, talked about growing up in San Diego in the '50s. His Dad was a film photographer and one day they were photographing whales, then a new thing. Flip was in the water and somehow got on a docile whale and rode its back. His Dad filmed all.

He was interviewed on KFMB-TV and Regis Philbin was the show host. After the interview, the film was picked up by the wire services and network TV. Flip used this hook to start shooting whale pix of his own and travelled the world and worked for the Geo. He has spent so much time underwater water, his hearing is messed up. But he said, "who would have thunk it?". He becoming a famous whale photog, and Regis, a daytime star.

---

June 14 2008 at 19:16:18
Name: Barry Robb
Topic: Union and Teenage America Pageant
Comments: I was working at KTFX (owned by Bill Payne at the time) with Wayne McCombs, some guy who called himself "Moonshine" (was that Wayne? I don't remember exactly), Bob Reavis, Doug McKinnon, Duane Allen Helt and Jay... I don't remember his last name and another newsman named Marty (I think he was interning at the time).

There was a union organization attempt at KTFX in about '81-'82. I remember meeting with the Union guy at a house down in that neighborhood near the old University Club Towers. When I walked in all the air staff was there. The room was even a little dark. I felt like I was walking into a trap. Later I was told that the DJ staff all thought that I wouldn't sign on with the rest of the staff during that organization attempt. But I did... and to their surprise. I am a little more conservative in my philosophies than most, so I guess they were worried I wouldn't join them. It had to be unanamous.

I remember the union guy being very spooky and creepy. Makes me wonder why I signed that card. It was a very strange moment...

We were all let go when it was discovered we were organizing. The Paynes fought the move and we all ended up in court.

Years later I got a call Bill Payne offering me a job. But by then, I was already on and into another chapter of my life.

What a trip. I haven't thought of that in a long, long time...

And as for the Miss Teenage America Pagent in 1975 at Mabee Center... I did the voiceovers for NBC for that show. I was hired and paid by the John Cates Co. out of New York City. I think they paid me $295 for that gig. I did the open and close for the show for NBC. And yes, Oral Roberts went on.

---

June 12 2008 at 11:58:02
Name: Webmaster
Topic: Previous GroupBlog summary
Comments:
Archived GroupBlog 268, which was about...
abc
ad
announcers
bo diddley
book
building
camera
capitol
casa bonita
chambers
chicago
city
director
drive
east
feed
google
hinton
keli
koco
kotv
ktul
kutv
letters
linder
management
movie
okc
original
passed
radio
recording
reverb
rock
station
story
street
studio
think
tonight
tv
union
view
watch
weather
wi-fi
worked
years
---
Back to Tulsa TV Memories main page