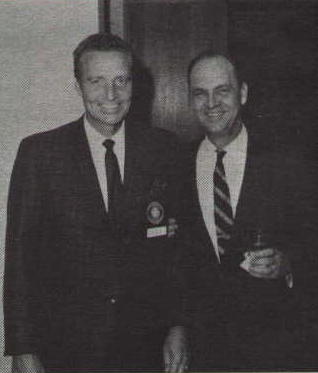 (from Guestbook 1) The webmaster said:

Now, what about the Horn Bros. Furniture Show, featuring live country music? Pam Van Dyke, now a local jazz singer, performed on it. I think Roy and Candy (of the eponymous music store here in Tulsa) were regulars, too.

Horn Bros. was located at 129th and Admiral, where Duke's Country saloon later took up residence. A longhorn steer mascot ("Ol' Blue") was penned up outside.

"Ike Horn" was the host (real name: M.A. Eichhorn). He received a belated Bronze Star in 1995 for his participation in Operation Varsity -- the biggest Allied airborne invasion of World War II..

Today, he and his family own the North Carolina Furniture Mart.

(Left: M.A. Eichhorn and KOTV's Dale Hart, from the 9/17/1968 "6 Photo News", courtesy of Chris Sloan)



(from Guestbook 1) Mike Bruchas said:

I worked Horn Bros. on KTUL (gulp).

Ike Horn also owned Zelbisco (I am not making this up) Ad Agency.



(from Guestbook 9) Rex Daugherty (formerly of KOTV) said:

Meanwhile, on the Horn Brothers furniture ads. We need to remember that once we hired an Ike Horn relative, Debbie Eichhorn .. to do the noon news. I reckon things were going okay for Debbie, except one day she decided to change her hair color -- without notifying management.

They fired her the same day she walked in with her new hairdo.

I made up my mind to never change my haircolor without first checking with Al Howard.



(from Guestbook 13) Denise Lundy said:

All I can remember is (Pam Van Dyke) making goo goo eyes at Ike Horn and singing "You Give Me Fever" (the old Peggy Lee hit).



(from Guestbook 13) Janet Lundy Fann said:

My sister and I and a group of teenagers went and sat in the audience for the taping of the Horn Bros. show one evening while our brother, Don Lundy ran the camera. None of the other members of the audience would sit next to us, because we wore afro wigs and hooted and whistled after every song.



(from May 2001 interview by Wilhelm Murg) Gailard Sartain said: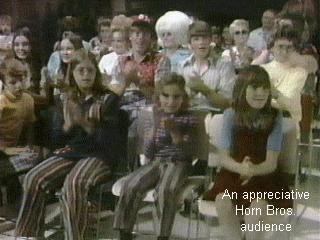 The Horn Brothers Show was a country and western show that was on just before we were on Saturday nights. They always had a good audience with some intriguing-looking characters and I always videotaped them.
Sometimes I would sit in the audience and pan the camera by the people real slowly, just to see if they would recognize me.
One time I had a little kid on my lap and I bounced him up and down like a jackhammer while the camera was going by. His hair was plopping all over the place. He looked like a puppet.
The Horn Brothers Show was hilarious. Those people were for real. That was funnier than Mazeppa ever thought about being.


(from Guestbook 236) Craig Roszel said:
Gailard comments about a kid he had on his lap during the audience shot of the Horn Brothers Show. That kid was ME! My dad, the late Ron Roszel was the Producer of that show and Gailard and he were friends.


(from Guestbook 52) Mike Bruchas said: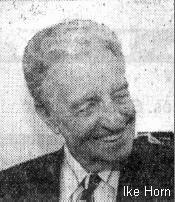 Does anyone remember the little town Ike Horn took over to make furniture in?
In the pre-NAFTA days, someone told us he basically put a furniture factory in some small dying town in OK or western AR to build his sofas, ScotchGuard them and make rough "woodsy" pine frames furniture.
Maybe this is where the infamous "HOME PACKS" came from?
Anyone know where this was?
By the way - it wasn't till I came to Tulsey that I heard of furniture grouped in suits - or was that - suites - in TV/radio ads.


(from Guestbook 2) Denise Lundy said:
RE: Ike Horn's furniture factory...you must be referring to the "Zamora Home Pack". You got a whole houseful of cheap vinyl Spanish-style furniture, plus your choice of free bunkbeds or a stove. All for a couple of hundred dollars!

Zamora is a city located in the peninsular northwest of Spain, so the "Home Pack" was indeed then-fashionable Spanish-style furniture...webmaster


(from Guestbook 52) Steve Bagsby said:
That music store you guys refer to is "Roy and Candy's". They were at 21st & Memorial for years and have since moved to 61st and Mingo (in Alsuma U.S.A. by golly). I believe Roy Ferguson and Candy Noe were regulars on the Longhorn Wingding, but I'm not sure. They still do live ad spots over KVOO (Big Country 1170 by golly). They are some nice folks.

Alsuma was a small town eventually engulfed by an expanding Tulsa...webmaster


(from Guestbook 148) Kirby Chaney in Alexandria, Egypt said:
We got together and went to several tapings of the Horn Brothers Show. Pam Van Dyke later did a belly-dancing show on early Tulsa cable. Who was the regular on Horn Brothers who always sang Kansas City?


(from Guestbook 77) Becca said:
...wasn't the guy that sang Kansas City on Horn Bros. named HANK KILLION and his Country Gentlemen or something????


(from Guestbook 148) Mike Bruchas said:
Horn Bros. was a big production for 8 - but typical of a lot of country music shows that we did. Pam Van Dyke often appeared as a semi-regular. It has been noted that she became a big band singer or has appeared with jazz groups. Anyone know if Pam ever did a CD of her country or jazz stylings?


(from Guestbook 148) Pam Van Dyke Crosby said:
Comments: A few days ago my friend Casey Morgan of KWGS Public Radio let me know that the Horn Brothers Country Music Show on Channel 8 was being mentioned. I had a great time on that show. That's where I met some of Tulsa's finest western swing players. I also got acquainted with Gailard Sartain because his show was taped later that night.
Although I grew up in Oklahoma I had only recently moved to Tulsa from New York City where I had been singing in nightclubs and with the Sammy Kaye Orchestra. I've stayed in Tulsa and continued singing.
I have my own jazz quartet and I work with Sentimental Journey (18 piece band) and Swinghouse (10 piece). I'm a founder and president of the Tulsa Jazz Society and I'm involved with the Oklahoma Jazz Hall of Fame. I do have three CD's available and I'm getting ready to record again.
It has been fun to be talked about. Those were amazing, exciting times in my life.
Thanks for remembering.
Pam


(from Guestbook 125) Rusti Love said:
I am looking for anyone who knew my dad and uncle back in the day!! They were called The Russell Brothers (Bob & J.R. Russell) and performed very regularly on the Horn Bros. Music Show back in the 60s. I have only one pic and no other archive material on them when they were on the show.
My dad, J.R. Russell, has since passed away and I have followed in his music footsteps as a performer here in town and it would mean a great deal to not only me, but my son who never got to see my dad in his element. Feel free to e-mail me...rusti[at]rustilove[dot]com
(p.s. my dad J.R. is the one on the right in the duo pic.)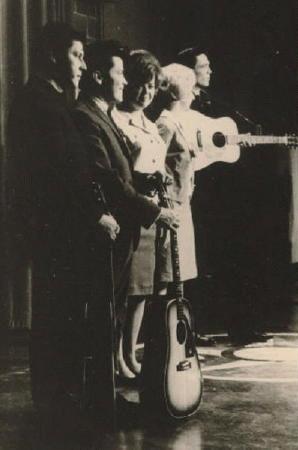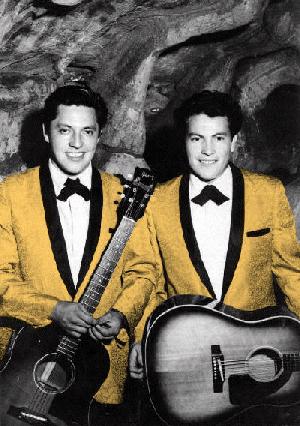 There is little or no surviving footage of most local shows of that era due to the practice of reusing video tape. However, the Eichhorn family might be able to say definitively whether there is any surviving video or film.

My brother, Alan Ransom, has played in Rusti's band, Cat Daddy.

Rusti's web site: http://RustiLove.com...webmaster

Margaret Janeese Brixey Flanagan - As a kid, she sang on the Channel 8 country show with Billy Parker, also the Horn Bros. show; she worked with Leon McAuliffe, Ernest Tubb, Hank Thompson and many other stars. Janeese tells us about her career, illustrated by great pix at the Cain's and the Cimarron Ballroom with some of these stars.


(from Guestbook 213) Joe from inside the padded booth said:
The Tulsa World obits page (5/25/2006) is reporting that Ike Horn has passed away. I can't remember the Horn Brothers Show, but I certainly remember him from the North Carolina Furniture commercials.
I'm sorry to hear that. Thanks for letting us know.

Ike Horn was once on track to be co-owner of a proposed KTOW Sand Springs TV station on Channel 29. This was discussed in the 1967 masters thesis on Tulsa TV history by former TU student Greg Corarito.
---

Other Tulsa furniture advertisers


(from Guestbook 53) Mike Bruchas said:
How many TV/radio FURNITURE pitchmen can you remember? My brain is addled - having lived in both markets, Tulsey and OKC.
Claude Riggs did upholstery and I think had a distinctive voice. We used to accuse Cy Tuma - who looked a little like him - of having an alter ego.
There's Frank Tutt. I think at one time someone told us that Ike Horn was his silent partner. I shot spots for him when at 6 but think 2 did most of his production.
8 used to do Cathey's spots with John Chick as talent - "8th to 9th on Main" I think was their slogan.
We had the Mathis Bros. from OKC who were Evans-Mathis Furniture Revolution and ALSO later Mathis Brothers.
Jude 'N Jody - or were they OKC?
Who else can you think of - besides our patron saint, John F. Lawhon????? Someone said Lawhon had been a minister at one time, too!

How about Bargainin' Bill, Wynn Lanham and Pigskin Manhattan?...webmaster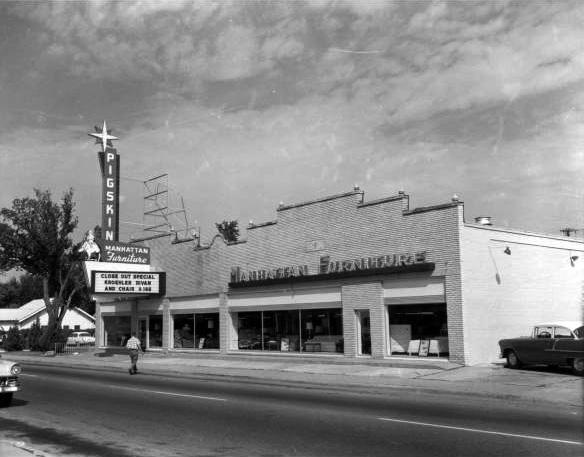 Pigskin Manhattan on Admiral, east of Lewis. Courtesy of the Beryl Ford Collection/Rotary Club of Tulsa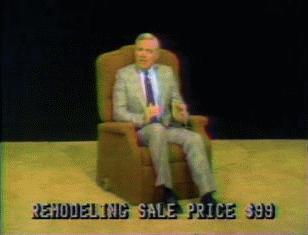 (from Guestbook 52) Erick said:
Okay, I also have more "where was it?" questions. The photo on the main page is a still from a John F. Lawhon Furniture ad. Where was this store located? When did it close down? And the dire question, how exactly is Lawhon pronounced?!?
1970s-80s advertiser John F. Law'-hahn was on Pine between Memorial and Sheridan? I always liked the way he said "sofas and loveseats"...webmaster


(from Guestbook 98) John Hillis said:
Doug Dodd, who I always thought was good folks, even if he did become a lawyer, did some wicked imitations. His John F. Lawhon was particularly good. Perhaps someone on the campaign trail will ask what one should do if one is looking for the best furniture buy in Oklahoma.


(from Guestbook 9) John Hillis said:
Somebody asked about "The Chughole of the Week," a feature that was well-established by the time I arrived at KOTV, but was one of those things born out of desperation to fill that 60 minute newscast. You found a large hole in the street, and figured out a set-up to feature it.
One gem that was before my time (which Doug Dodd told me about when I was there for my job interview) involved having the TU men's chorus in full tuxes standing in a pothole on S. Yale, singing "The Whiffenpoof Song." Yale...get it?
Another was to use commercial spokesmen to do chughole pitches. I can still hear John F. Lawhon saying, "If you're looking for the best chughole buy in Oklahoma..."


(from Guestbook 52) Linda DeVault said:
It's funny, but I realize now at the ripe old age of 36 that some of these TV personalities helped shape my perception and even some of my preferences...
I guess that's how it works for all of us, but it's just a little startling to realize it so consciously while staring at their faces again for the first time in 25 years or so. The John F. Lawhon commercial picture on your opening page made me actually gasp, like something out of The Twilight Zone - I had totally forgotten those, but when I saw it they all came rushing back. I can still remember his voice.


(from Guestbook 107) Si Hawk said:
One of my very favorite people to have worked with at several stations was Scott Yates. Here Scott and I appeared in a series of TV spots for "Wild Bill's Furniture". They were silly spots, but inspired by the incredible wit that was Scott. In case you haven't met Scott, he's the one on the right of the frame.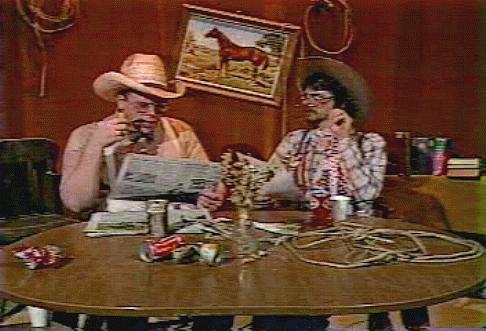 Photo courtesy of Si Hawk
Sadly, Scott Yates (aka Bob Scott) passed away a year ago. Don Cook remembered him in Guestbook 73 and on the new KTBA page. This screen capture is from 1982.


(from Guestbook 4) Erick said:
Jude & Jody. A formidable duo. But, now it's Jude & Jody and Sons. You usually see the sons on the ads these days. Their showroom is down in what I call Furniture City. It's in central OKC by the fairgrounds. The Mathis Bros, Bob Mills, Evans, Jude & Jody and Sons, and several others have their businesses basically surrounding White Water Bay just off of I-40.

(via email, 2/7/2008) Bill Fisher said:
Hi. I'd like to make a correction to your Furniture Dealers portion of this site.
Jude, and Jody, and Sons Furniture is still in business in Oklahoma City at 509 S.W. 29th. They are NOT now, nor never have been located at furniture row where Mathis Bros, and Bob Mills reside.

(from a posting to ok.tulsa.general) Gecko said:
While we're at it, can we resurrect those two old hicks from Jude 'n Jody - "Where we love folks!"

"'Cuz we love folks!"...I remember aping that one in a cornball accent...webmaster


(from Guestbook 115, 9/30/2002) The webmaster said:

At the Tulsa State Fair yesterday, we dropped by the Four Day Furniture booth to rest for awhile and learned that the tireless fellow below is Johnny Ross, an advertising man who used to sell furniture himself. His commercials appear in a number of markets. We were told that he is as funny in person as he is on the screen.
| | | |
| --- | --- | --- |
| | | "If you don't come see me, I can't save you any money!" |