"Questions are a burden to others, answers a prison for oneself." - sign seen in The Village (from British cult TV series "The Prisoner", 1967.)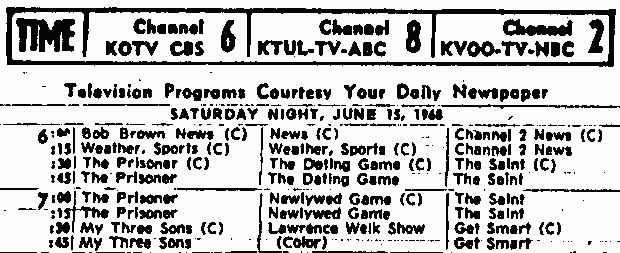 Where am I?
In the Village.

What do you want?
Information...about Tulsa TV/radio/pop culture of the past (8/6/2014: also, cord-cutting and home theater).

Whose side are you on?
That would be telling...

Who are you?
The new Number Two...
(ahem) Actually, my name is Mike Ransom (mike@tulsaTVmemories.com). I started this website just for fun in late 1998 and continue to maintain it and add new features with a lot of help from my friends, the readers.
I'm a Tulsa native. I attended McKinley and Mitchell elementary schools, Lewis and Clark junior high, East Central high school, OU and TCC. (LinkedIn profile)
I lived in Lille, France for three months in 1993, on loan from American Airlines to SNCF (the French national railroad), and have travelled to London, Paris, Rome, Luxembourg, Germany, Hong Kong, Beijing, Tokyo, Venezuela, Mexico, Costa Rica, Panama, Hawaii, Alaska, and many spots in the Caribbean.
Height: 6'6".
Some personal experiences:
Participated in the chimp sign language project at OU in 1971 (No, Pav, they didn't run out of chimps.)
A couple of parachute jumps in Cushing in 1978.
Spent a week at Esalen-Big Sur in 1984.
In 1990, I dove 800' just off Grand Cayman in a 3-person submersible, the same one in which James Cameron researched "The Abyss".
I witnessed the space shuttle Discovery blast-off with the Hubble telescope, also in 1990.
Rode upfront with the engineer on one of France's TGVs (200 mph trains) in 1993.
In 2002, I got married!
We went on The Jazz Cruise in 2008.
I've finished 11 Tulsa Runs so far (fortunately, the same number started).
A bit more autobio on the Pop Bottles page.

Where is Channel One?
Here is Channel Two. There is Channel Six. (For Zeb, Eight's The Place.)

I have cable... I'm a free man!
(Mocking laughter)


About the Tulsa TV Memories web site Back to main page