As a kid in the early 60s, I picked up pop bottles spied on my daily bike rides to cash in for 2 cents apiece. My preferred outlet was the Lucky Seven convenience store on King Street across from McKinley Elementary School. I immediately reinvested the currency into comic books, Topps baseball cards with the brittle slab o' gum, plus other tooth decay-promoting items.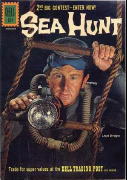 Some of the bottles on this page I associate with stopping at gas stations for snacks on the way to Ft. Gibson or Tenkiller or Grand Lake. The brands were not seen in Tulsa (at least not by me), and therefore seemed exotic. Typical choices would be Grapette and Tom's Peanuts for me, and Nesbitt's Orange or (ugh) Chocolate Soldier and a Payday candy bar for my brother.
In those environmentally unconscious days, I remember spotting some of these bottles languishing near the shore full of muddy water, and fishing them out. My ambition was to become a professional diver, like my hero, Mike Nelson of "Sea Hunt" (played by Lloyd Bridges). Selling these particular bottles made me feel closer to my goal.
Here is a 1961 Tulsa TV schedule with "Sea Hunt" on at 8:30 pm.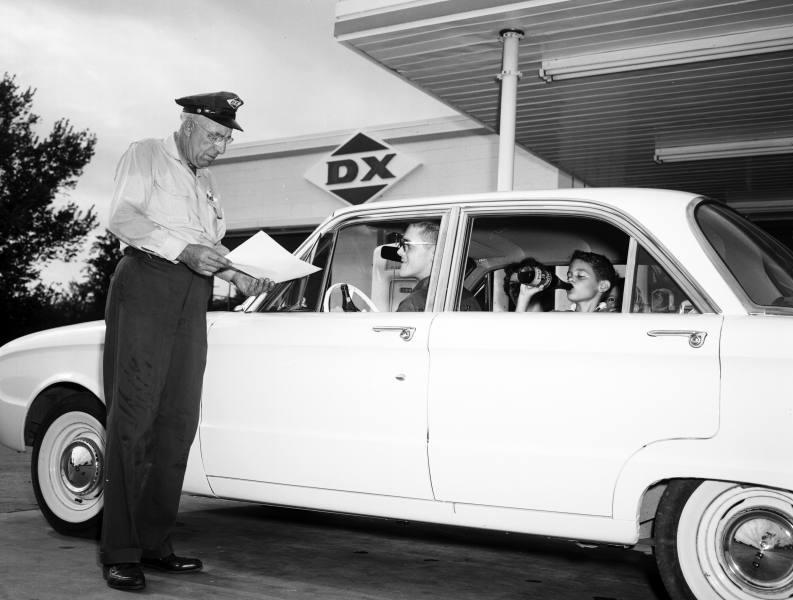 Drinking RC at 11th & Garnett DX. Courtesy of Beryl Ford Collection/Rotary Club of Tulsa, Tulsa City-County Library and Tulsa Historical Society.
Close-up photo of the Royal Crown Cola bottle the kid is chugging.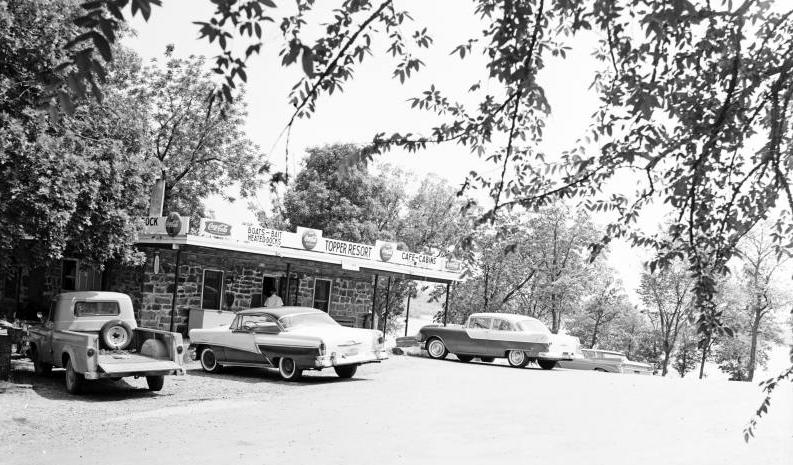 Frequent destination: Topper at Ft. Gibson. Beryl Ford Collection/Rotary Club of Tulsa, Tulsa City-County Library & Tulsa Historical Society
The 1960-61 series, "The Aquanauts" / "Malibu Run" (cast and locale changed mid-season) also got me pretty fired up.

I drew the "Malibu Run" logo in crayon onto a cloth bag and had my mom iron it in. The initials belong to me, my brother and David Walsh, the other intrepid member of my diving club.

I see now that the logo was a stylized landscape (Paradise Cove) with sun and fish.

Here is an episode guide.

A scuba-related personal story before showing you some pop bottles of that era:
Central Skindivers of Jamaica, NY featured a pulse-quickening item in their 1960 catalog: a real, working miniature scuba tank. Every time I looked at the photo, I visualized myself slowly swimming underwater without holding my breath, like Mike Nelson. But $38.95? How could I get that kind of money? Not by picking up pop bottles, that was for sure.

The answer appeared to me in Boys' Life magazine: selling "Grit" newspaper. I'm not sure what kind of market there would have been for Grit in my neighborhood in the early 60s, but it proved to be a moot question; my parents absolutely wouldn't go for it, no matter how many copies of Grit I might sell.

In retrospect, I see that I conveniently ignored the "12 or older" requirement in the Grit ad.



The next best thing from Central's catalog was the Surf-Lung. It looked cool and was much less expensive. I put it on my Christmas list.

It was a long wait for weather warm enough to try it out. I was already well-equipped with a Healthways "Ostrica Jr." mask and Mares "Caribbean" fins from a previous Christmas.

The Surf-Lung proved to be less thrilling in practice than in concept.

As a snorkel, it was inferior to the regular kind. It was also nearly impossible to dive below the surface with the Surf-Lung strapped on. Loading up the unscrewable compartment at the bottom with sand did little to offset its cork-like buoyancy. It was frustrating.

As the years went by, my interest shifted to less athletic pursuits, like programming the Digi-Comp I mechanical computer.

(See a color photograph of the Surf-Lung in The Vintage Scuba Shoppe.)





Later in life, I returned to diving. I've taken scuba trips to Cozumel, Grand Cayman, and the Florida Panhandle. I also became a computer programmer.

I was reminded of this story when I watched reader Kirk Demarais' Flash cartoon "Uncle Laff's Legacy" from his web site, Secret Fun Spot.





The webmaster in Vortex Spring near Ponce De Leon, Florida, 1986


As Mike Nelson said at the end of each "Sea Hunt" episode: "Plan to be with us again, uh?"

And now, back to our regularly scheduled program.
---

Perhaps the bottles displayed below will resonate with you, too. ;-)



My brother's choices as noted above: Nesbitt's Orange or (ugh) Chocolate Soldier.
"Mama" Size Dad's & a "King Size" Junior Dad's? Head-scratching concepts at the time.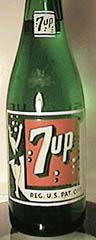 7Up's slogan prior to the 1970s was "You like it, it likes you."
The Uncola, 7Up, was one of Mazeppa's early sponsors.
Watch Geoffrey Holder's classic Uncola commercial.
Grapette felt great in the hand.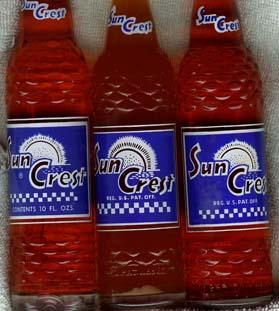 I think of Sun Crest and Crush as strictly "lake" pops.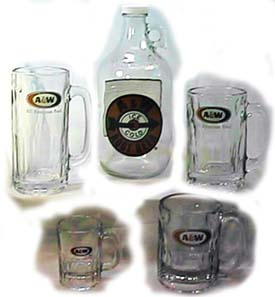 A&W root beer was best appreciated at the
A&W drive-in across from the Admiral Twin Drive-In..
(from Guestbook 131) Deric Davis said:
CharlieO ad from 1/1983 "Tulsa
Time", courtesy of Roy Payton
This site is the most fascinating and addicting I have come across. I am 28, so my earliest memories start around '78 and '79.
Does anyone remember an odd company called Charlie-O or Charley-O's that would install a carbonated water tap in your kitchen and give you a variety of syrups that you could mix for soda? It was a home fountain drink service in the early 80's. Does this sound familiar to anyone?
I do remember it, and CharlieO is apparently still a going concern in OKC. You can see and read about Charles O. Gordon at Soda Traderz. Interestingly, he had a hand in the Mountain Dew story on the same site.

Gordon is also noted for creating "Dr. Enuf"...maybe the knock-off version would be "Mr. Adequate"?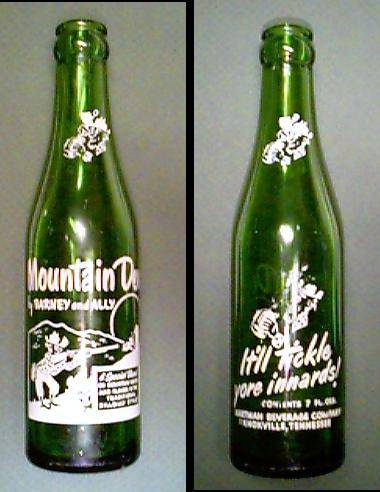 It'll tickle yore innards with a wallop of caffeine and sugar.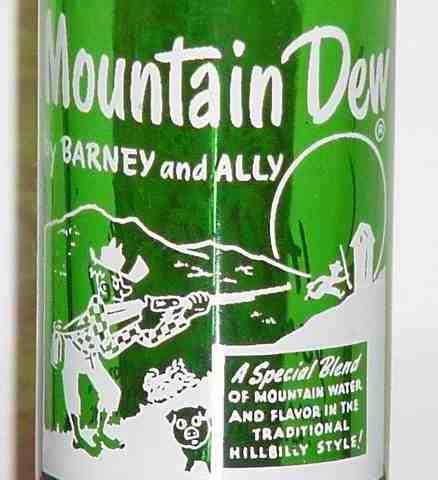 (from Guestbook 75) David Bagsby said:

...does anyone remember how Mountain Dew used to change the graphics on its bottle? I know the basic theme was a hillbilly scene with the changing element being the pig: sometimes laughing, sometimes horrified, sometimes running in fear. I used to try to collect them all, but alas, pop bottles being the currency of childhood, undoubtedly ended up being cashed in for comics, monster magazines, or Wacky Packages.
Cragmont Sparkling Punch is a little out of place here...maybe not...


(from Guestbook 128) Steve Bagsby said:

Speaking of drive-Ins, our clan spent a lot of time at the 11th Street Drive-In. Dad told me it was originally called the "66" and was one the first big landmarks you saw before getting into town. I can remember Mom loading up a metal ice chest with Cragmont Soda Pop (Sparkling Punch for David and me). Seems like it was a big deal in the 1970's when they added a second screen on the West Side. I do remember seeing a long line of tail lights stacked up on 11th whenever they had a big feature.

It made you appreciate the strength of a Ford Galaxie to have seen me and Dave climbing all over that car waiting for the show to start. Too much Sparkling Punch and Oreos I guess.


(from Guestbook 198) Frank Morrow said: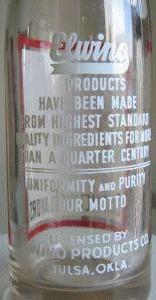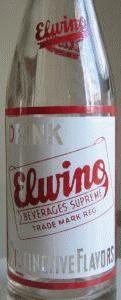 The soft drink El Wino had many commercials on KAKC (1950s). They had a bit of a tongue twister each time you read it, "Get your favorite flavor of your flavor favorite." In half of the commercials they'd reverse it, "From your flavor favorite, get your favorite flavor." I hated reading those commercials.
During the early Monday evening shows before the wrestling matches upstairs in the Coliseum, Sam Avey (owner of KAKC) would come down and interview the wrestlers who were on the card that night. Jack Moore was the announcer in the studio. He'd introduce the program and read the commercials for El Wino. It bugged him that Avey would look over his shoulder and follow the script while Jack read the commercial. Jack loved to say the "flavor favorite" words the opposite of what was on the script, just to bug the big boss.