(from GroupBlog 298) Johnny Donut said:
Topic: RIDESHY (circa 1974)
When the characters R-I-D-E-S-H-Y were dialed on the telephone, you were indeed connected to one of Tulsa's most famous brothels.
I think we found the number scrawled on a bathroom wall's For-A-Good-Time-Call section at a local Der Weinerschnitzel. Somehow after numerous prank calls, we managed to 'make an appointment' and were directed to a house behind and directly west of the old Camelot Inn. The house was just recently razed as part of the I-44 expansion project.
As high school kids would, we launched the most heinous assault of taunting and outright vandalism that we could muster. After all, what were they going to do? Call the police? It started one night when John's mother gave us the remains of their Thanksgiving bone-in ham. Naturally, we took it to the residence and threw in through a window. Don't try this at home! We should've been shot!
Another night we egged a baby blue Lincoln Continental parked there, only to be chased by the owner/driver from one end of the expressway to the other several times. We assume the Lincoln was low on gas; at least lower than John's mother's Blue Country Squire station wagon. Lucky for us.
We continued to harangue these poor people for months, driving cars through the yard, throwing water balloons, eggs, biscuit dough from cans, and almost anything else at the front of this house. We even went to the door on Halloween wearing masks to get a closer look. No one came to the door, only a quickly pulled back curtain revealed a woman's face. As we were leaving a taxi drove up dispatching a customer clutching a brown paper bag containing a large bottle. This cemented our suspicion that the location was still entertaining guests.
Finally, after months of harassment, a few close friends took up a collection one night and dared each other to take the funds and complete a real transaction at RIDESHY. Money rolled in more quickly than a volunteer to claim it, but eventually one of our own took the dare. After successfully making a 'reservation' over the phone, we were directed not to the residence we tormented, but to a motel just east of Peoria that still stands behind Waffle House.


The Valley Inn, courtesy Beryl Ford Collection/Rotary Club of Tulsa/Tulsa Library/Tulsa Historical Society
As I.. er the volunteer climbed the stairs to the appropriate room number, he became filled with the terror of the 'what ifs'. What if she's hideous? What if I get busted? What will I tell my parents? What if I catch a horrible disease? He thought about turning and running away, but the gang was in the parking lot ready to ridicule any 'chicken', so he knocked anyway. There stood a scrumptious woman in her thirties with long hair and huge breasts. I.. er I mean HE walked inside the room sheepishly as the call girl quickly disrobed. "See anything you like?", she queried.
What took place next I'll never forget. Although a brief encounter, it was also memorable. Exiting the room sans cash, I arrived at the car to a chorus of cheers. He did it! He did it! As we were leaving, that very woman walked out of the room and down to a parked car across the parking lot. It was only then we realized to our dismay that it was a Tulsa County Sheriff vehicle. She bent over and passed something to the occupant through the driver side window. We never called RIDESHY again!

(from Guestbook 173) J.T. said:
My name is Joe Tanner. I'm currently working on an autobio and research led to your site. As an adolescent and the son of one of the highest earners there, I was employed at RIDESHY. I mowed the lawns of the various houses, tended bar at Bud Holt's private residence, etc. - flunky, gofer, call it what you will.
I'm now 42 and trying to make sense of many things, not least of them being memories of the people and events at Rideshy and my time in Tulsa. My uncle was a local musician named Lynn Tanner. He played at Jose's Hideaway and the Filling Station, among other places.
Any help you can offer wouild be greatly appreciated. Any persons with perspectives on the place and/or people, please contact me at rashlingo@yahoo.com. Thank you.
We would like to hear from such persons here as well.

It was previously noted in Guestbook 89 that dialing RIDESHY (an old RIverside telephone exchange number) in the 1960s-70s would connect you with a brothel.

In the early 80s, the Filling Station (mentioned above by J.T.) was in the same building on the southwest corner of 15th & Peoria as the Empire Bar today.

I've learned several facts from a reliable source (a former Tulsa vice squad officer):

The final location of Rideshy was near the old OK 33/Route 66 junction just east of Tulsa in Wagoner County. "Get your kicks on Route 66", indeed.

(In reference to the map below, 66 coincided with I-44 in this vicinity.)

Rideshy made its last (one-night) stand there before being put out of business around 1975 by the sheriff in those parts.

Bud Holt, the owner of RIDESHY, was a product of the "Cheyenne Club" downtown, and spent a good bit of time at the Avalon Steak House in west Tulsa.

Any more help out there?

(from GroupBlog 218) David Freiberger said:
RIDESHY wasn't a place as much as it was a system. As indicated, it was the telephone number of a very big prostitution operation in the 1970s. The nonsensical moniker was easy to remember and didn't need to be written down or looked up in an address book. It was in the Riverside exchange (RI 3-ESHY) and therefore was portable, with an order through the phone company, from the Arkansas River east to maybe Lewis; close to Jenks to about 21st Street. It was the incoming Customer Service line.
But no one ever went to RIDESHY, including most of the employees. If you were a regular customer, or referred by one, you called RIDESHY and left a message on a recorder. RIDESHY would call you back, unless they thought you were trouble, and take your "order". They then called to dispatch the appropriate Representative to come to you.
Lots of "orders" came from hotels. Some of the Customer Service Representatives worked out of their own house or apartment. Once the service was arranged, the customer was directed to the employee's residence where the order was filled. So to speak.
At times, RIDESHY rented apartments, typically in the Riverside area, but they could be anywhere. Customers, after calling the RI 3 number, would be directed to one of the organization's apartments.
The only thing that actually existed at the RIDESHY telephone address were telephones, a dispatcher, and a manager. If the police took down one of the apartments, or an employee's home, all we got was a couple of Customer Service Reps and a couple of customers. The organization stayed intact and only a small piece of the business was impacted. Services were still be rendered elsewhere while the handful of suspects were being booked.
They managed their risk very well. If the telephone location was raided, it was back up in business within hours and the same location or within a business day or two if they needed to move.
Those people are all gone now, but I'd bet someone is doing the same thing with BlackBerries today.


(from GroupBlog 245) JT (presumably a different JT than above) said:
I was reading through some of the RIDESHY info and thought I would relay what people in my age group had heard about this legendary "RIDESHY" service.
Sometime around 1983-85, my group of friends had always heard of RIDESHY to get a hooker. We ranged from 5-7th grade, so it wasn't as if we could actually do anything, but we knew what it was, but had no idea how it worked. That didn't matter because we just prank-called the number. Over time, we realized the number was actually ringing to the pay phone of a bar somewhere in Tulsa, and it was inevitable that the later you called to prank the number, the more inebriated the person on the other end of the phone was. We were just being stupid kids, but sometimes, through our sophomoric cockiness on pretending to be a potential customer, we would get some MAJOR vulgarity to the drunkard on the other end of the line. We always thought it was hysterical.
Sometimes they would lay the phone down for the long periods of time and you could hear lots of background noise, music and sounds that seemed to be pool tables.
I can't ever recall that we were ever told the name or location of the bar, but for some reason I seem to think it was near I-44 and Peoria to just across the river on the west side off I-44.
With that said, does anyone have any idea what that bar would have been? Obviously, RIDESHY was already dead and gone for almost a decade when we were calling. But the legend if it stayed alive at LEAST through the mid 80s, thanks to a bunch of adolescent pranksters.

From the webmaster's 1971 Gulf Tourgide Map, kept in his beat-up '64 Chevy while at OU.

---

Courtesy of Beryl Ford Collection/Rotary Club of Tulsa/Tulsa County Library/Tulsa Historical Society
Looking west on 1st Street (one-way) from Elgin in 1953.


(from Guestbooks 115 and 173) Mike Miller said:
Ah, the May Rooms, one of Tulsa's finest. Shot one film story at the hotel which was a hop, skip and a "jump," from KOTV.
I remember a robbery one time at the "house of ill repute" and some of the "johns" were tied up when arrived. Many offered us money not to film them. We shot most of them of course, but edited out the faces, as a KOTV community service.
Strange, now that I think of it, that no one needed directions.
----
I tried for years to get an exclusive interview with the Madam there. Pauline Lambert used to tell me some of Tulsa's most prominent families had daughters that worked for her. She was so interesting, but wouldn't talk on film. Bob Gregory met her once and called her "Madam." It was funny because he called every woman "Madam."


(from Guestbook 116) Don Norton said:
The address of Charlotte Bradford's Pearl Hotel in the 1945 telephone book was 17-1/2 East First, but I didn't go down to see if it's still there; I very much doubt it. There was no address for Pauline Lambert's May Rooms....
Pauline Lambert died, I think, about a decade ago and the local newspapers delved into history, but I would have no idea of the date, and this may not be what the public library normally keeps track of. Undoubtedly she appeared in stories by the late Tribune police reporter, Nolen Bulloch. I understand she appeared to be a genteel sort of lady away from the May Rooms. This didn't keep her out of court from time to time, of course.
May Rooms (326 1/2 E. 1st St.)

The same former vice officer who told me about Rideshy (and who has a framed section of wallpaper from the May Rooms as a souvenir) told me:

Pauline Lambert wound up owning four contiguous and communicating hotels on 1st Street, including Charlotte's and Broadnose Ruby's. Her husband, who worked as a miner 30 miles south of Okmulgee, abandoned her and her kids during the Depression. She eventually raked in 40% of each girl's take. She ran the May Rooms from 1936- 1979.

5/5/2005: The new May Rooms Gallery at 328 E. 1st St. is now featuring a series of works on canvas of women's backs, showing "women being vulnerable at times while having the strength to carry the weight of life's offerings," according to the artist, Michelle Firment Reid.

The nightclub "Bad Girls Inc." operates nearby at 332 E. 1st St.

The May Rooms were upstairs, but downstairs was Logan Concession Supply (source of Walt's "Awful Fresh" Goobers). Did the twain ever meet? Read these comments at the top of Guestbook 203 from Mark Tillotson, who worked at Logan's in the mid-70s.

(from Guestbook 204) Michelle Reid said:

I want to update you on the former May Rooms located on First Street in Tulsa. The upstairs is now being enjoyed as private art studio space for artist Marjorie Atwood, who has one side, directly above 326, and myself, Michelle Firment Reid, on the other.

Some of the rooms remain standing, as well as the vintage wallpaper. The sign above one door, 324, now reads, "The Best Little Art House in Tulsa..." We have a private gallery space upstairs in one of the long halls as well...still has the old laminate dark red floor tile.

Michael Sager of Blue Dome, LLC owns the property and has his office down below at 326. He has a sign out front, "May Rooms Gallery", where he occasionally displays local art. Marjorie and myself have an art exhibit, "Down On First" which opens May 11, 2006 at our studio hall gallery at 324 E. 1st.


(from Guestbook 173) Mike Miller said:
(Referring to J.T.'s Rideshy note at the top of the page) The only part that rings a bell with me is Jose's Hideaway. I do know there was a high class call girl operation off Riverside Drive during the 70s.
I have a mention of it in my still unpublished book (it is now published: How High Can a Guy Stoop?):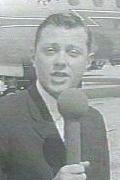 Alcohol was not the only vice offered to Tulsa newsmen by flacks. At an informal news conference at the Tulsa Press Club announcing a big drag racing event, the promoter handed out a card with a call girl's phone number. "I had a budget to promote this event," he said. "I put the money where I figure it would do the most good, between a beautiful hooker's legs. Give her this card and services are free." As far as I could determine, seven or eight business cards were later exchanged for sex in the racy promotion: "These street cars were named desire."

This was all I had in the book. Apparently I was careful not to incriminate the author. Those of us who were lucky enough to have landed a business card that night would certainly agree that the promoter used his budget wisely. That racing program got a ton of publicity.
The girl's apartment was just off Riverside Drive. And she was gorgeous.
---


Strictly Business
May Rooms Was Best-Run Brothel in Town
By Terrell Lester of the World Staff
7/20/1997
(Reprinted courtesy of Scott Nelson,
Tulsa World Web Editor, 12/28/2004)
A small and inconspicuous blue-and-white sign positioned above the doorway at 326 1/2 E. First St. gave only a hint as to the true nature of the business transacted within.
There were flophouses and pawnshops and cafes that could only be classified as "greasy spoons."
There also was a succession of bawdy houses -- houses of prostitution -- along First Street, just a few short blocks from the heart of Tulsa mercantilism.
The May Rooms was Tulsa's best-known and longest-standing brothel, operating from the Great Depression through Urban Renewal under the exacting business standards of madam Pauline Lambert.
Daughter of a Tennessee cotton farmer, Lambert opened the May Rooms in 1936 and continued uninterrupted until 1979. Tulsa judges referred to her as "a living legend" and "an unforgettable character."
One judge said: "In the 1930s and '40s, coaches and alumni of winning high school football teams used to arrange for the team to go to the May Rooms."
Lambert was ultimately forced by a Tulsa court to close the May Rooms in February 1979. She was 88 years old at the time.
It was during this appeal process that the legend of Pauline Lambert was enriched and nurtured and grew to fabled proportions.
She died on Oct. 31, 1979, in a Tulsa hospital of heart disease. The local obituary the next day carried the name of Clara Palmer, her maiden name. There was nothing to connect that name with the notorious bordello queen.
Even her attorneys were unaware of her death. They continued to appeal her conviction -- for more than four years.
In April 1980, an attorney filed a motion stating that Lambert had suffered enough by losing her home and business. A district court judge said he would indefinitely delay sentencing.
In December 1983, the appeals ran out, and a Lambert attorney asked Presiding Judge Clifford Hopper to suspend her three-year prison sentence.
Lambert's bondsman, ordered by the court to produce Lambert or forfeit the bond, spent several weeks tracking her, only to discover that she had been dead for more than four years. With that, Hopper closed Lambert's file by dismissing all charges against her.
Thus, four years after her death, Pauline Lambert's career as Tulsa's mythical madam had come to an end.
Upon learning of her death, a Lambert attorney said he was convinced that she had deliberately chosen to die in obscurity to protect her family's privacy.
Jim Wilkerson was a taxi driver between 1946 and 1950 when Tulsa was going through the salad days of post-World War II. He met Pauline Lambert during those years, driving her many times between her home in Red Fork and "the place," her name for the May Rooms.
"She was a very nice lady, really," Wilkerson said. "She could have passed for somebody's grandmother.
"She wasn't a coarse person. I was amazed that that lady would be in that business."
Apparently, Lambert abhorred smoking and drinking. She did not wear makeup. Once she threatened to sue a newspaper for writing that she had been arrested for public drunkenness.
"I don't want to come off like some old gal run down like an alley cat," she said in a 1978 interview.
"She was a mother and a housekeeper and a well-thought-of person in that area.
"But three or four days out of the week, she would come down to her place of business. She had a little two-room apartment back on the southeast corner. That was her place. I don't think Pauline was one of the working girls; she merely kept the cash register.
"She was a frequent customer of the taxi company. And she was fairly generous. We'd go to Red Fork from downtown for 60 cents.She was always good for a buck, maybe buck-and-a-half.
"She never was anyone to make a big high profile, and I guess in that kind of business, you don't want to."
From two marriages, Lambert said she raised six children. In a 1978 newspaper interview, she said all of them had died. She said she helped to support a sister who had four children.
The May Rooms was a walkup. Patrons walked up a flight of narrow stairs and entered into a lobby, or waiting room. The six or eight women who plied their trade there were perched on sofas scattered throughout an area that might measure 20 feet by 20 feet. Rooms were down a hallway.
Those halls, Lambert said, were frequented by Tulsa's best and Tulsa's worst, by those who evaded the law and by those who enforced the law.
"I'd say some of the founding fathers of our city grew up under her tutelage," said one Tulsa judge when informed of Pauline Lambert's death.