Some Tulsa TV News
men and women
of the past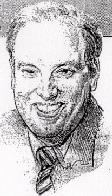 (from Guestbook 7) John Hillis (John is a former KOTV news producer...see his Dewar's-style profile or read about his Nelson's Buffeteria chicken-fried steak addiction.)

Since I'm here..about the Moose.

The hearty big-guy look and voice and the propensity to malaprop from scripts (some of 'em mine, I confess) that perhaps weren't the best written I think led the King/Woody to the "Moose" nickname.
Bill was a warm, likeable guy off-camera as well as on, and was, like his brothers Bob Gregory and Jim Pitcock, quite a newsman. Bill was trained in a CBS program at Columbia in the early-mid 60s.
I met Bob only once, but spent a fair amount of time with Jim in my work here.
Down in the basement, I also have a 3/4 tape of Bill dissolving in laughter after calling the Hong Kong Flu the "King Kong Flu." All Irv Johnson could do was roll the break...but it was a long, long three second pre-roll. (This footage was seen on the KOTV 50th anniversary special, 10/29/99! Here is a still of it. And here's an audio clip:

)
(from Guestbook 7) Mike Bruchas said: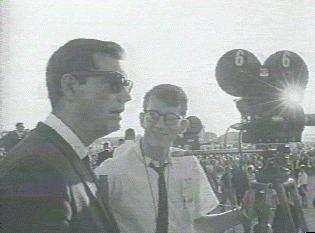 I'm not sure if it was on John Hillis' watch or Jan Berry's - that we were told to never, never write, "Good Evening, I'm Bill Pitcock" on the first page of Pitcock's newscopy or promptercopy.
Because if the writer did - Bill would do his live top of show opening of show greeting, "Good Evening, I'm Bill Pitcock" -- then go to read the prompter copy. Which might make him say the same thing again! I remember folks talking about this happening and rolling on the floor. - LOL - It still is one of my favorite "Moose" stories....
(Mike is a former KTUL cameraman/director, and a prolific contributor to this site; see the Origin page for more about him.)
(Rest your cursor on the picture to see names)

Guy Atchley anchors at KGUN in Tucson.

Margaret Radford was Healthwatch reporter at NBC's San Diego affiliate. 2/16/07 update: she left KNSD to pursue opportunities in L.A.

Doug Dodd is a Tulsa attorney, past Chairman of the American Diabetes Association, served on the Tulsa School Board, and ran for Oklahoma's First District Congressional seat.

Jeff Rosser is a VP at Raycom Media.

Chris Lincoln is Executive VP at Winnercomm and is back as Sports Director at KTUL.
(via email to webmaster, 9/2002) Margaret Radford said:
Thank you so much for sharing your site with me. It was great fun to read about what everyone is doing.
I'm still working in San Diego. General Assignment reporter at the NBC O&O. I've been in San Diego since I left Channel 8 in Tulsa. I came out to do General Assignment reporting at the NBC station which six months later switched to ABC. (how often does that happen?) After 14 years, I went over the the CBS affiliate as Weekend Co-Anchor. A year later, they made me morning Co-Anchor. Inside of six months we dominated the mornings. Two years later, and many bleary-eyed mornings later, I left for the NBC affiliate in San Diego to do a three-way Anchor early evening newscast. Six months later, I found myself doing three shows a day. For the first time in the history of the station we won at 11pm.
Now I've gone full circle, back pounding the pavement covering all the news that's fit to air. (and some that isn't)
I lost my loving husband, Joseph McMahan to a brain tumor four years ago. I have a beautiful daughter, Danielle Treco. She's an Entertainment Attorney. And a cute little Scottish Terror, ah Terrier, named Tulsa.
Take care and thanks for remembering me.
Sincerely,
Margaret Radford
Mike Miller and Jeff Rosser
working on a
6 p.m. broadcast.
(from Guestbook 9) Bob Brown (of ABC's "20/20") said:

I happened across the site on a friend's recommendation and was impressed by the range of knowledge Mike Bruchas displayed. I would like to correct one thing. I was drafted into the Army in 1968 and served two years, working in army information, but did not serve in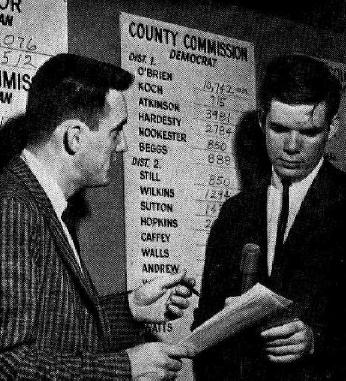 Vietnam, although I helped write and produce Vietnam-related material. Vietnam was a whole other level of service, and the ones who were sent or volunteered to go deserve special recognition for their time in the army...which I do not deserve.
I had worked at KOTV from 1964-68 while I put myself through the University of Tulsa. I returned there in 1970 after my army service, and left late in 1973 to anchor at KHOU-TV in Houston, which was owned by Corinthian Broadcasting (no longer with us) the same company that owned KOTV. I was at WFAA-TV in Dallas from 1975-77, and have been at ABC since
1977. Mike's right about my having worked at KRMG. I started there in 1960, when it was owned by the Meredith Broadcasting Company, and left at the end of 1961 when the station was sold..to Swanco, I think. By then I was a high school senior, and Dick Schmitz hired me to work at KAKC. That's where Scooter Segraves started calling me 'Baby Bobby Brown,' after which I used the nickname on the air.

Thanks for taking the time to visit, Bob. We're honored to hear from you back here in Tulsa, where many folks remember your Tulsa TV stint fondly.

"The Boss" with Anthony Mason on CBS Sunday Morning, 5/22/2005. Anthony reported for Channel 2 in the late 70s.

(from Guestbook 184) Kristi Stewart said:

Nice to see Anthony Mason again! He's done quite well for himself. I used to work with Anthony at KTEW in the late 70's early 80's. I was the associate producer of the 6 & 10 p.m. newscasts.

One fond memory I have of Anthony was when he attended my ? birthday party at my parents' home in Tulsa. And, in a close race with then-reporter Roche Madden and, I believe "Troubleshooter" Jim Forbes (Jim, I'm not sure on this one), he won the coveted title of "BEST LEGS" during the evening's festivities!

YES girls (and guys), Anthony had great gams!

He was also one of the best investigative reporters around.

Go get 'em Anthony!



(from Guestbook 9) Rex Daugherty said:

John Hillis, mentioned the "Chug Hole of the Week." ... Or, "The Chuck Hole of the Week."
Depending on which side of the Mississippi you were born on. Let's see, so for John that would be "chuck." Clayton Vaughn let me do absolutely ANYTHING for a chughole of the week. Being a big goof, I thought it was great --- a chance to be silly in front of 100-thousand people every week.
One week I got little toy wind up Godzillas and let them churn around in a chug hole -- I got some neighborhood girls to stand way down the street and run around screaming .... it was, how you say, "forced perspective."
I got the idea from my cousin, Pat Daugherty, now a drama teacher in a community college in OKC. Pat was a Junior at Chelsea High School.
I could have gotten all my techniques by going to one the expensive film school in California, like Channel 8's Greg Sherrill -- did ... but, hey, if you can't get learn from a high school kid -- you just can't learn.
Once Clayton let me spend a hundred bucks to haul the KOTV grand piano out to a street off Admiral and Sheridan ... I hired a TU pianist, rented a tuxedo and bought "Mendelson's Spring Song" from Saied's music company. However, first -- and I never told Clayton this ... I wasted half a day seeing I could figure out how to play the song myself -- finally I called this guy I knew at TU to come do the deal.
It worked. The piano was kind of cockeyed in the chug - chuck hole ... and Dave played away. Clayton loved it.
Of course, for me -- the big deal was .."Did Clayton like it?"
I remember once when Clayton didn't like it -- that was when I was Rocky Stegman's photographer ... and he had me shoot a bunch of Christmas decorations at Gilcrease museum ... then he and Susan Bunn got in the recording booth and sang Christmas songs acapella.
After the story aired, Clayton had this dry look ... He looked at Rocky and said, "That was the worst thing I've ever seen."
Of course, there was lots worse to come ... when we went to live reports from reporters in the field -- but that's another day.
And, what am I doing now? ... Business TV at Williams. See ya later -- we'll talk about Henry Lyle's fake heart attacks and Macho Van Dyke's feet.
Veteran newscaster Clayton Vaughn, "The Dean of Tulsa Television".

He also hosted an excellent interview show, "A Conversation With...".

He was a Silver Circle Inductee in 1999 by the Heartland Chapter of the National Television Academy. Read a bio of Clayton at their site.

"Claxton" (as Lionel addressed him) recently retired as director of the Tulsa Historical Society, now based in the Travis mansion at 2445 South Peoria.

He was voted a "Tulsa TV Icon" by the Tulsa Press Club, 5/22/2003.

Clayton interviews Jenkin L. Jones of the Tulsa Tribune
---
"And now, let's do something about Highway 33!"

Dan P. Holmes did his own insurance commercials during the evening TV news in the 1960s and 70s. He always ended with an angry exhortation to help get Highway 33 fixed.

He ultimately succeeded: The old OK 33 east of Tulsa is now US 412, with a slightly different and safer routing. It is designated as the Dan P. Holmes Memorial Highway.




Highway 33 bumper sticker


From the webmaster's 1971 Gulf Tourgide Map, kept in his beat-up '64 Chevy while at OU.



On to the 2nd News page! Back to main