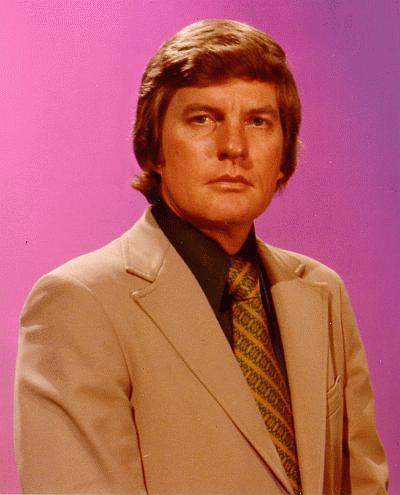 Photo courtesy of Andy Taylor, TaylorNews.org,
Sportscaster and newsman
Jerry Webber


(via email, 11/21/2008) Andy Taylor, editor of the Montgomery County Chronicle, said:
I found this publicity photo of Jerry Webber back in the day when he was sportscaster for KTEW, which later become KJRH. This was a publicity photo when KTEW used to put together a group of station employees to play basketball in benefit games in northeast Oklahoma and southeast Kansas. I recall when the KTEW team played a group of alumni in my hometown of Caney, Kan., in about 1975.

(from GB 13, 07/8/1999) Erick said:
I had the great fortune of meeting Jerry Webber a few years ago. I believe it was shortly after he was diagnosed with cancer. He was in great spirits, and very funny! He didn't talk like he was a big news anchor, just a great neighbor. Indeed, he will be missed.

(from GB 13) Dan Satterfield said:
I was also on the set the night of the famous Girl Scout story that Karen Keith read...the one where she mispronounced 'they went off into the woods to pitch their TENTS". What you may not know is that Sam Jones held it together while Jerry Webber and I were about to fall over and then when the camera was off, Sam fell over backwards out of his chair on the set laughing... Karen didn't realize what she had said until we told her!
One last thing, in the years I worked at KJRH I never heard Jerry Webber say a bad word about anybody..he was the greatest.....he is surely missed.

(from GB 46) Erick said:
Regarding Mr. S.Artain's query on the late John Hudson...to the best of my recollection, he passed away sometime in the spring of '94. At the time, he was co-anchoring the morning and midday newscasts on KJRH. He died of a massive heart attack some 30 minutes before he was to go on the air with the morning news.
I remember watching KJRH news that evening, and seeing how the news team, particularly Jerry Webber, was devastated. I found the same reaction, although it was less of a shock, when Jerry Webber succumbed to a long battle with cancer in late '98. Watching a story on his life, it was alarming how his body withered away so quickly. He had long resigned from doing daily news, but was still doing a series called "In the Heartland".
The Jerry Webber I remembered, so strong and confident, had lost probably lost 30 pounds, and his face was sunken in. His voice had also taken a toll. Just by listening to him talk, you wouldn't know he was suffering from such a horrible disease. He was very sure of his ability to defeat it. What a sad loss, both men.

(from GB 48) Lowell Burch said:
Concerning Jerry Webber and John Hudson, I asked both of them at one time or another to come speak at my church, both did and both were great. They were true men of the faith. When Jerry came, he actually judged our chili contest and he awarded me first place! It was a blind judging but some folks felt money must have changed hands prior to the contest.

(from GB 54) Sharon said:
Jerry Webber coached my brother's junior high school basketball team, and my dad was assistant coach. My dad had great respect for Jerry. None of Jerry's sons were on the team and I remember wondering why someone of his stature (famous TV sports guy) would bother coaching kids basketball. Shows you the kind of guy he was...

Here is the 12/20/1998 story about Jerry Webber in the Tulsa World.

Jerry Webber, Jack Morris and Frank Lilly on KTEW, Channel 2, courtesy of KJRH.


The Sports Page Newsmen, page 1 Back to main