"Star Captain": Homegrown electronic music in the late 70s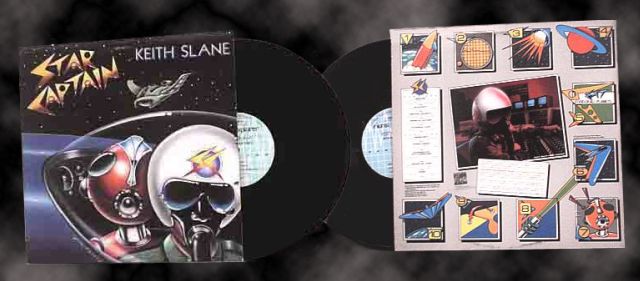 "Star Captain" cover by Jim Cherry, based on drawings by Keith Slane


Keith Slane
3/11/2009

I recorded "Star Captain" at Tulsa Studios. Bill Belknap was one of the engineers on the session, who is a long-time Tulsa musician. He took over Tulsa Studios and it became Longbranch. He still has his own production studio.
Originally, I sent a tape to Tulsa Studios thinking they might have some label contact interested in electronic music. It so happened that they had been contacted by MMO Music Group which had an electronic music label, Aural Explorer, which was indeed looking for material/artists. Tom Claiborne, who managed the studio at the time, contacted me about coming to record. I secured the financing from my bank and began recording in late 1978. The finished master is dated 1/12/1979. The LP sold locally at Peaches and Starship, and was nationally distributed.
Tom also functioned as co-producer along with me and played some drums on a couple of tracks. I played all the guitar and synthesizer parts. There were no vocals. In an effort to reach a broader market than "serious" electronic music fans of the time, and riding on the success of "Star Wars" a little, Tom talked me into adding some robot voices in parts of some of the songs. At the time it seemed like a good idea, and it was my first professional recording. I now wish I hadn't done that because the LP wasn't taken as seriously as I had hoped.
I did get a letter and check from Dr. Demento asking for a copy for his personal collection. I also got a request for a copy for review from a magazine in Budapest, Hungary when it was still communist. If you Google "Star Captain LP" or even "Keith Slane" you can probably turn up a copy or two. I purchased one myself off eBay a couple of years ago, as all I still had was the original test pressing.
Aural Explorer was based in New York City and did pay most of my production costs. They also had the artwork done, based on my rough drawings by Jim Cherry, who did the covers for "Heavy Metal" magazine. And the disc was mastered by Bob Ludwig, who is one of the top mastering engineers in the industry. But the album took until 1980 to be released and the downturn in the economy took its toll on Aural Explorer and they filed for bankruptcy. So the three other albums I was signed to do were never done.
I put out a cassette EP in 1981 which I marketed through an ad in DIY magazine, and sold some on consignment at Starship. During this time I also composed an electronic score for ATC's production of "Frankenstein," which I unfortunately did not keep a copy of for myself. I was also playing and recording with Al Cahen, who owned Infinity Studios at 17th and Harvard. We did one LP called "Cosmic Christmas," which was never released.
I've continued working on electronic music to the present. I had quite a few compositions on mp3.com and on IUMA, but both of those websites have shut down. I placed at #4 on GarageBand.com in the electronic category, and even got song of the week honors twice. The best part of that was getting reviews/comments from all over the world.
I currently have a MySpace music site where I change out music every once in a while.
I have compiled a large catalog of my music, but none is commercially available right now.
MP3s from "Star Captain":

Quantum Jump
Escape Velocity
Home


Quantum Jump and Home are actually remixes from the LP where I enhanced the drums and took out the robot voices.


Back to Tulsa Counterculture in the 70s