Former KTBA free-form underground DJs Don Cook, John Moore and Stacy Richardson have contributed to
Reflections on KTBA.

Liquor-by-the-wink club cards, including Magicians Theatre, The Wharf, Whiskers, Nine of Cups, 20th Century Electric Company, Cain's...

Tulsa Film and Cinema: the TU Subversive Film Festival of the late 70s, the Williams Cinema and more.

The Uncanny Film Festival and Camp Meeting, starring the incredible Dr. Mazeppa Pompazoidi (Channels 6 & 8, Sat. night/Sun. morning, 1970-73)

Tulsa Coffee Houses of the Past with a Cain's and Griffin's TV Coffee Break.

Not exactly Tulsa counterculture, more like subculture, definitely a bit seedy:
RIDESHY and The May Rooms (both historic, infamous Tulsa houses of ill repute.)
(from Guestbook 88; seen above in his room, 1972)
Stevo Wolfson said:
The most influential radio station on me at quite an early age (around 9 or 10), was KWGS. "Kweeges" as they used to call it!!! "Subterranean Underground" with the "Foxy Lady"!!!! That was some great music from the psychedelic era that really turned my head around and made me wanna grow up fast and get into all the counterculture!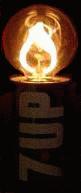 I started decorating my bedroom like a psychedelic shrine...
Fluorescent posters plastered the walls and ceiling. Some I painted myself including a fluorescent Mazeppa portrait. I had flashing Christmas lights, a black light, lava lamp, a (Mazeppa 7Up) Gizzer Blinkie (at right) and lots of incense!
Next I probably listened to KMOD's progressive format, but eventually discovered KTBA. This was an awesome station. Particularly, Rob On Your Radio, my favorite all-time Tulsa DJ!!!
Once I was able to drive, a few of us would occasionally drive out to Broken Arrow and hang out at the station. On one of these visits I snuck the car out without permission, while my parents were out for the evening, and managed to get two flat tires at once! I had to have my older brother Rick rescue us by bringing out a second spare. I don't think my parents ever found out!!
Around 1975 KKUL switched from soul to progressive and Rob started working the graveyard shift there. We continued hang out late nights and had some wild times. I was there alone with Rob one night when these two young ladies showed up with a pound of mushrooms and wanted us to help them celebrate their birthdays!!! How could we refuse!!!!
With my love of music went my love of buying albums and Tulsa had some great record stores. Of course, there were the standards like Greer's (remember when an album cost $3.33!!!) and Honest John's! But, my favorite was Starship!! There are some others that I can no longer remember, but I used to spend hours and hours record shopping.
I also loved the Starship head shop, and Oz! Spent a good amount of time there, too!
Anyone remember Bill's Bongs? I still have an aluminum one dated 5-29-74 #1 !!!

If you like "psychedelic" art, or think you might, check out Stevo's site, sTeVo iN yR sTuDiO.
Writer Wilhelm Murg recently boosted his counterculture "cred" by having an article published in High Times Magazine. Yes, it's still around!
Says Wilhelm:
Excuse me for beaming with pride for a minute, but in 1975 I bought a copy of High Times Magazine and I read it from cover to cover that night. I knew it was the last breath of the late 1960s hippie presses, and more dangerous than pornography. I knew I would write for it one day.

That day has finally come. The first piece is on the web.

For those who are unfamiliar with this great publication, it's only sold in porn shops and independent convenience stores because of a clause in the state law.

See Wilhelm's record store articles for this site listed at the top of the page; two of them are linked just below:


(from Guestbook 44 & 82) Mike Bruchas said:
When the late Honest John Foutz started supplying KWGS in '69 or '70 with music for "Subterrania" - a new source for non-mainstream material appeared. I presume Matt Bunyan at Starship may still be supplying non-mainstream music to stations in Tulsey.
Bill's T Records at Admiral and Harvard was the local joint that we from TU could walk to. It was a general record store - heavy on country and pop, some decent jazz, nil classical unless a special order. You paid LIST price but sometimes got 50 cents or a buck off. Can't remember if they were the store that had the punch cards - the more you bought, they punched your card and sometime you either got a free record or a discounted price.
In the 70's we had Greer's, Honest John's discounting and some shopping center music emporiums then Sound Warehouse starting to discount. Peaches came in, cleaned up and went bankrupt nationally - while putting a lot of small record dealers out of business in Tulsa.
Regretably Honest John Foutz has gone to the big record store in the sky. About 13-14 years ago and it was heart-related. He died too young - in his 30's. But he had worked for Greer's and bought stock originally thru them....
In the early '70's I sat out a tornado with him and his first wife in the hallway of his then house and part store on 11th Street.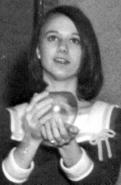 (from Guestbook 89) Joy Cooper said:
Counterculturally speaking, does anyone remember the Head shop very close to Nathan Hale high in the late 60's early 70's? First of its kind that I can recall, I used to go in to buy incense and drool over the owner. And there was a record shop on 15th I think that was the first to offer non-top 40 music...Dr. John's or something similar (Honest John's), does anyone recall that? It was at that record shop where I first laid eyes on anything about Leon Russell...that wonderful piercing stare from a poster declaring him The Master of Space and Time which he was and still is in my opinion.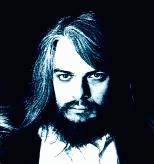 My counterculture liked to "drop" and go to the airport and look at the pretty blue lights and feel the rush of the airplanes when they landed...once a friend and I sneaked on to a plane empty for cleaning and we ran amuck only to be politely but firmly escorted off...would have been gunned down today.
Also recall a teenage hangout called "The Machine"...very psychedelic with black lights, strobes, melting butter on the walls...no booze though but I was easier to please in those days!

(from Guestbook 210) Rick Brashear said:
To Joy Cooper...
The headshop near Nathan Hale was called 'Lord's Tape Deck'. I went there several times for various records. One day, while waiting for the buses to arrive at school, I walked on down and bought The Rolling Stones High Tide and Green Grass album (which I still have today).
Another day, there was a communist/anarchist in there and he pulled out a cap & ball Colt pistol, saying he was ready for "the revolution". I guess he thought we still used muskets. What a schmuck. The smell of incense and pot were interspersed in the place and I wasn't sure the guy behind the counter knew what day it was, much less who he was. Girls with 'granny glasses' and 'peasant tops' abounded. Those sure were fun times!
There is an unusual song, "Shoot Out at the Plantation", on Leon's first solo album. ("Leon Russell" at Amazon.com, now with the original Shelter "egg" logo art, which had been discontinued due to a legal dispute with D.C. Comics. ) 1970 Rolling Stone review here.

As related in Don Nix' book, Road Stories and Recipes, the song was based on an actual 1968 event in Sherman Oaks, California involving Tulsa musicians Junior Markham and Chuck Blackwell. See a page from the book on the "Tulsa Time" page at HollywoodHangover.com (thanks to Alex Rivers).
Marcella, aka Marcy Levy (Dec. 1973 ad, courtesy of Don Cook)

(from Guestbook 45) Rod Dent said:

In the early 70's, it was not uncommon to see J.J. Cale, Eric Clapton, Freddie King, or once or twice George Harrison at one of the local clubs. Including the Magician's Theatre, the Nine of Cups, The Jail, The Observatory, or the Ranch out on the Beeline.

(Banner from Leon Russell's Shelter Records
Church studio courtesy of Lowell Burch. )


(from Guestbook 210) Rick Brashear said:
I was reading (this page) and remembered a place I was at where George Harrison and Leon Russell showed up one night. It was generally known as "The Free Store" and was located at about 13th & Peoria. It was a small brick building where hippies and street people would gather and do whatever they wanted. It had furniture, heat and 'lectricity. No one knew who paid the rent and utilities and we didn't care.
Anyway, one night after one of Leon's birthday bashes (pictures from the 1986 bash), he and George showed up and played chess for awhile and BSed with folks. I had seen Leon around town for some time, but George was a new face, locally. Sure, we knew who he was but nobody made a scene or got stupid. We were all there to just lay back and have a good time.
There was also a guy we called Weird Beard who looked like Aqualung. He would stand over a small gas heater up front and fart. Turned out the guy was a Fed! Baretta had nothing on that guy.


(from GroupBlog 231) Rick Brashear said:
I was at a friend's house one night not three blocks from The Nine of Cups. Another guy burst in and said Eric Clapton was over there. We hauled butt, only to face a packed parking lot and a line of people out to the street.
Obviously, we didn't get in, though we could hear the music because the door was open for a bit. Clapton played with the house band and we went back to listening to Firesign Theatre records. A day late and a dollar short.


(from Guestbook 113) David Thayer said:
I was about 17 and my brother (an electrical contractor) called and said he got a job to install lights around the fence on the old Aaronson Mansion that Leon Russell had just bought. Wanted to know if I would like to help. I was tryin' as hard as I could to play the guitar and piano and loved Leon so I jumped on the chance.
Leon took us to Claud's in his Rolls and told me that he and a bunch of friends would be jamming at the Stables (yes, it was a live music club back then) lounge that night.
I went but was too young and could not get in. I stood outside and in absolute amazement watched Leon, George Harrison, Eric Clapton get out of his car and go into the club. I think Chuck Blackwell was playing drums that night along with Carl Radle on bass.
In case you don't know, Chuck has a very nice Stained Glass business on 145th E Ave in Broken Arrow, he made me a nice door for the front of my home.
As years went by, the Stables hired some Go-Go dancers to spice things up a bit. The bands went away, the girls stayed. (the addition of Lewis Meyer makes this a Tulsa TV-related and PG-rated Stables matchbook cover...webmaster)





Attention, young people!

I, the Editor of the Tribune, am breaking into this foolishness to insist you read my incisive treatise:


"Knocking the rock"
(from the Tulsa Tribune, 4/17/1979)


You will then understand the peril you court so ardently. One of your clay-footed idols, Eric Clapton, is displayed in the Tulsa drunk tank. The effect of this "music" upon the development of a Tulsa youth (one "Russell Bridges") is also shockingly depicted.

The following July 1975 precis demonstrates that my ideas were years in the crafting:


Webmaster: I was always kind of partial to that "Whang-a-roo" tune he mentions.




Other Tulsa Counterculture-related links:

George Starostin is a young Russian with a taste for rock music of the 60s and 70s and a talent for writing about it. Whether or not you agree with him, his takes are highly entertaining. Give him a try on one of your favorite albums and see if you agree.
KDVS-FM - really fun freeform FM radio streamed from Davis, California. Keeping the spirit of underground radio alive; the DJs are free to play what they want.
Read more about the freeform era of radio history online at Radio Free Binghamton WHRW-FM (coincidentally, Rod Serling's home town). WHRW is another streaming free-form station worth listening to.
KVMR-FM community radio out of Nevada City, California presents an extremely diverse spectrum of music and talk. Of Tulsa-area broadcast stations, KRSC comes the closest to it on the music side. Gary Chew hosts a jazz program and reviews a movie there on occasion. What's the frequency, Kenneth? Why, it's 89.5, just like Tulsa's KWGS!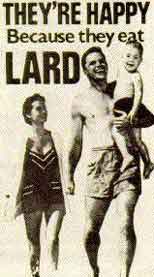 KPIG Radio - On the internet from Freedom, California. Features a format-defying blend of adult rock, acoustic music, blues, progressive country, Hawaiian, cajun, bluegrass, and folk.
Both Don Cook and Stacy Richardson agree that KPIG carries the flame of free-form progressive radio, exemplified by KTBA in its heyday. I've got my KPIG Lard Card.
(from Guestbook 29) KPIG's Unkle Sherman said:

I grew up in Fayetteville, Ark. Watched Tulsa TV... ZETA on Satellite 6 made me what I am today. Found an email for him on yer site, wrote, and Zowie!! Got a return email from my hero.


John Wooley's article about Tulsa TV Memories captures some of the atmosphere of the early 70s in Tulsa.
David Bagsby's recent CD, Keystone Lake & Palmer, features the Tulsa's Head Keepers suite dedicated to Dream Merchant, Odyssey Mall, Rubicon, Starship and Oz.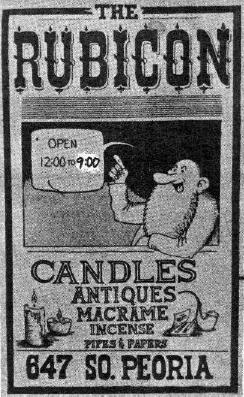 (from GB 244, 6/16/2007 ) The webmaster said:
After the unearthing of the Plymouth Belvedere time capsule yesterday, I had a tasty Thai Pepper rib-eye burger at J.J.'s Gourmet Cafe at 647 S. Peoria (open only from 11 am - 1 pm, M-F).

When a friend recommended it to me, I told him it must be close to the old Rubicon head shop. Turned out it was the same building. In fact, the proprietor, Jerry J. Conley, was the Rubicon's owner. He's an energetic and funny character. He had an interesting career in TV and the movies, including doing some model work for "2001: A Space Odyssey".

He created "Tulsa Tops" rolling papers, and recently sold the last rolling machine from the Rubicon days on eBay. You can still see a custom "Rubicon" license plate on the wall.

The following article fills in more about J.J.'s career: "Comfortably turning customers away". He doesn't want or need any advertising, but I had to tell you about him.

Here is a great internet radio station I've been listening to lately: SomaFM. Actually, it is 13 stations on one site, piped out of a basement in San Francisco.

Some of my favorite Soma stations: Illinois Street Lounge features classic bachelor pad and exotica (also see the Tulsa Tiki page). Groove Salad serves ambient chilled beats and grooves. Sonic Universe is NuJazz + avant-garde EuroJazz. Secret Agent is...nevermind, I'll send you a message about it using my Secret Sam.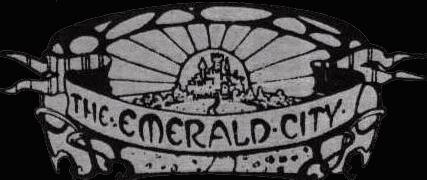 Emerald City: Waterbeds and Home Decor