The Sound of Tulsa


By Jeff Billington, World staff writer 9/1/1999
(Reprinted by permission of Mike Kimbrell of the Tulsa World, 3/9/2001)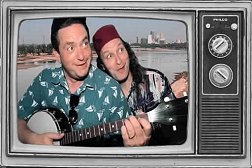 Local musician David Bagsby (right) and his brother Steve hope their new CD will rekindle off-the-wall memories of what made Tulsa special from the 60s through the early '80s. At right, the CD cover has drawings of several Tulsa landmarks, including the old KELI-1430 spaceship at the Tulsa Fairgrounds.
(Photo by David Crenshaw/Tulsa World)

Good times gone but never forgotten

Lawzee!
Break out your Uncola Underground Card, it's time to revisit and rekindle some of the sights and sounds found only in Tulsa during the 1960s, 70s and 80s.
To help everyone remember, local musician David Bagsby recently released his CD titled `The Tulsa Project,` a compilation of music based on his memories of Tulsa and the surrounding area, recalling the city's landmarks and people.
Bagsby and his brother Steve make up the group Squid Pro Quo. They have put together several other projects, but Bagsby said this work has been in the making for quite some time.
During a previous CD project, Bagsby was searching the Internet and found a website dedicated to memories of Tulsa television and radio history, including old Tulsa landmarks (this site, Tulsa TV Memories).
`It was the stuff of legends when we were kids, and I found that website and I thought it was cool, people talking about all these things, because there's so much of Tulsa that's gone,` Bagsby said. `Everything that's weird, or cool, kind of offbeat is gone, there's nothing left. Everything is a big parking lot or something.`
He found on the website a reference to `Fantastic Theater,` a Tulsa television station's late night movie program in the 1970s, and the actual theme music from the show.
`I got the album that the music was on and I did the final version of it. I had been wanting to do it for years,` he said.
`This Tulsa album is the same way. I had been toying around doing a Tulsa album for many years, and there wasn't any conscious effort until I found the Fantastic Theater.`
Bagsby contacted the webmaster of the Tulsa memories website and told him what his plans were, and he told him he should contact Peter Hardt, who introduced Fantastic Theater each week, Bagsby recalled.
`That's when I started thinking if I was going to go to the trouble of getting him on it, then I should really make it a project,` Bagsby said.
He also attempted to get in touch with Jim Wheaton, the once-familiar voice of the `Ugh, you need-um tires?` radio commercial for another track on the CD, but found Wheaton had passed away years earlier. He then contacted a former Tulsa disc jockey, Dick Schmitz, who was able to give Bagsby several other ideas for his CD, including a person who did the old OTASCO radio spots.
`He said if you want that, I'll stick that on there too. Through Dick Schmitz, a lot of the really cool Tulsa elements came from him,` Bagsby said.
Bagsby, who was also involved with Joyce Martel and Friends, and Eddie and the Ecclectics as the musical director in the 1980s, also did his version of the theme music from `Mazeppa Pompazoidi's Uncanny Film Festival` on the CD, including the sign off from the show, `Why Can't This Night Go On Forever.`
The mostly instrumental CD draws references from other Tulsa landmarks as well, including Uncle Zeb's Cartoon Camp where Uncle Zeb was attacked by a spider monkey during a visit of animals from the Tulsa Zoo; an unforgettable incident with a local newscaster; the old Capri Drive-In on Charles Page Boulevard; the infamous Hex House; the urban legend of Sparky's Graveyard and many others. `It's one of these things that the way I have it arranged, you may recognize it a little bit but not quite understand what you're listening to. I redid the original themes that they always played to death, so if you can't quite put your finger on it, just wait and it will become quite apparent,` Bagsby said.
`It's like when you say you're going to do a Tulsa album, the first thing people probably think is that you're going to do an Eric Clapton, J.J. Cale thing, something like that. I really didn't want to do that, I really wanted to get more impressionistic and make it more symphonic. In a way it's that way, it's definitely kind of rock.` The approximately 50-minute CD was originally much longer, but Bagsby had to cut almost 40 minutes. He said he hopes to have a follow up, with such titles as `I'm in Love With Beth Rengel,` and `Submarine Races at the Batfish.`
`I kind of wish they were on the album. Maybe I'll do a second album and call it 'The Magic Empire Strikes Back,' or 'Turkey Mountain Breakdown.' It depends on how it goes,` he said.
Bagsby also recorded cicadas and tree frogs, which he said are also essential Tulsa sounds.
`It never really dawned on me, you grow up here, you just get used to that sound. On the track, the `Tulsa Sound,` that's the very first thing you hear. I just stuck a mike on my porch. It starts with that and it ends with tree frogs,` he said.
`The one problem of this record is that it's probably going to be so narrow-casted. I targeted it when I was growing up, which was the mid-60s to about 1980, but I concentrated around 1974, about the time the Underground Card was a big deal.
`That was probably the very end of the baby boom, so there was a huge youth culture in Tulsa. Then we had shows like Mazeppa, that everybody watched,` Bagsby said.
`I was targeting that great transitional age when we were going from pinball to fooseball.`
Copyright © Tulsa World, 1999

Back to David's "Tulsa Project" page on TTM