Oklahoma Folk Music of the 1960s: Steve Brainard,
The Gourd in OKC and Tulsa, The Buddhi in OKC;
The Wayfarers Trio

by Bax Taylor of The Wayfarers


Steve Brainard and Oklahoma City's coffeehouse The Gourd were major contributors to the early folk music revival of the 1960s.
Steve was born in Buffalo, N.Y. in 1938, but his family moved to Duncan, Oklahoma when he was very young. By 1958 he was living in Oklahoma City with his father and attending the University of Oklahoma. Folk music was getting radio play, and like many others, he began to play guitar and sent off for Pete Seeger's "How to Play 5 String Banjo." With some tutoring from the Reverend Jack Campbell, Jay Bailey, and Billy Cheatwood he learned to play very well very quickly. By 1959 it was obvious that Steve was far more interested in singing and playing than in his college studies. He dropped out of school and began to support himself working a farrier.
Steve's father, "Pop" Brainard, was working for Max Backrack, and Max was looking for a use for an old ice house he owned on 10th and Broadway Circle in Oklahoma City. In 1959 a deal was made, and Steve Brainard and his dad went to work on The Gourd Coffee House.
With several other would-be performers, Steve hung jute netting to hide the cracking plaster and ceiling, built a raised "stage" at one end and hung lawn lights to shine on it; Pop Brainard bought a coffee maker and found an old cigar box to make change and we had it - A Coffee House. Admission was 50 cents and the place could hold about 50 or 60 people. It was packed every night. No seems to remember what the coffee costs - people came for the music.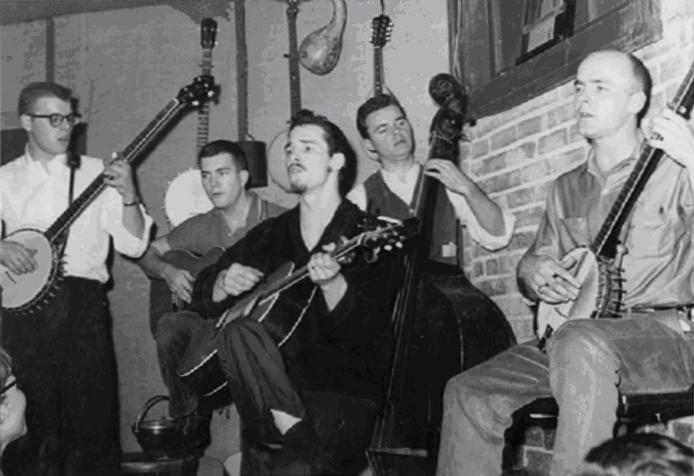 Five of the "regular" performers. Left to right in back: Billy Cheatwood, Baxter Taylor, Mason Williams (The Wayfarers). Left to right in front: Johnny Horton, and Steve Brainard. Joe Lawrence Hampson was usually there playing bass, and Mike Settle joined us from time to time. You may not know all the names, but they they all went on to have long careers in the music business.


In 1960 Max decided that he could make more money if he took over operation of The Gourd (he was wrong).
Steve and Pop opened a new place around the corner at 9th and Hudson and named it The Buddhi. This was a far better venue; it would seat about 200 people and had a larger stage. To add to the revenue, Steve's judo teachers, Mr. Kim, held classes during the day. The Buddhi was an immediate success and began to book entertainers from all over the United States with Steve, Johnny and Joe serving as the house act. The cost of admission was raised to match the cost of seeing a movie.
In late 1961, Steve branched out and opened The Gourd coffeehouse in Tulsa. However, this was the era of the military draft. A young, unmarried man not attending college was a prime candidate for service, and Steve was drafted into the army. By Christmas, The Gourd in Tulsa was closed.
Steve returned to The Buddhi briefly in 1963, but in 1964 he elected to move to California to further his musical career. The Buddhi continued under the management of Pop Brainard into the late 1960s.
For a time Steve sang with The Chad Mitchell Trio before he was replaced by John Denver, but after a few years he elected to settle down and raise a family instead of performing.
In 1997 he and his wife, Pat, moved to Guthrie, Oklahoma, where he works repairing antique clocks. When he is not working, he is still playing his banjo and sharing his beautiful voice with anyone who wants to listen.
Steve never made a nationally released recording or received a great deal of notice on the national scene, but to anyone who visited, or performed at The Gourd or the early Buddhi he was an inspiration.
There is no list of the performers who appeared at The Gourd and the Buddhi. But we will list several we are sure of, roughly in the order they appeared, and hope that others can add to it:


THE GOURD AND THE BUDDHI:
Steve Brainard: The host at the Gourd and Buddhi.
Billy Cheatwood: The Wayfarers Trio with Mason Williams and Baxter Taylor. Considered by many one of the world's best traditional banjo players. Played backup for many artists including Hoyt Axton and Dick Rosmini.
Johnny Horton: The Andy Williams Show, musical director and singer with The Goodtime Singers, L.A. sound recording engineer for the likes of the famous "Wrecking Crew" and Ike Turner.
Mason Williams: head writer for The Smothers Brothers Show, wrote and performed the Grammy Award winning "Classical Gas," many other songs, recordings, and books.
Baxter Taylor: The Wayfarers Trio, The New Christy Minstrels, wrote the hit song "Marie Lavoux" and other recorded songs.
Joe Lawrence Hampson: The Fred Waring Orchestra and many recording artists in both the US. and Canada.
Mike Settle: The New Christy Minstrels, The First Edition with Kenny Rogers, wrote the hit song "But You Know I Love You" and many other recorded songs.
John Chick: Did radio and TV in Tulsa before we lost track of him.
Tom Paxton: International performer and writer, including "Ramblin' Boy" and too many others to mention.
Judy Henske: singer, recoding artist with many recordings to her credit.
Maxine Sellers: recorded for Prestige Records in the late 60s / early 70s before we lost track of her.


THE BUDDHI:
Dick Rosmini: One of the primer guitar players with many recordings to his credit.
Peter Yarrow: Songwriter and political activist. Peter of Peter, Paul and Mary.
Hoyt Axton: Song writer ("Greenback Dollar", "Joy to the World"), actor and singer.
Eric Darling: Singer/songwriter and master guitar player.
Don Crawford: Did some recordings for Verve Folkway records before we lost track of him.
Byron Berline: Considered one of the world's great fiddle players. Many recordings. He hosts the Guthrie, Oklahoma International Bluegrass Festival.
Judy Collins: a master songwriter and singer. Many recordings.
The Dillards: a premier bluegrass band. Many recordings.
Art Estridge: still one of the best at "old time" blues singing and guitar.
The Smothers Brothers: world famous performers.
Robert "Bob" Grossman: Recorded for Electra Records before moving into an acting career.
Bob Gibson: Singer/songwriter. One of the people who popularized modern folk music.
Pete Seeger: Singer/songwriter. The man who inspired us all.
The Wayfarers Trio was composed of Mason Williams, Baxter Taylor, and Billy Cheatwood. The group formed at Oklahoma City University in 1959.
At that time Steve Brainard opened The Gourd and later the Buddhi coffee house where they frequently appeared. They later attended North Texas State University where they appeared at several Dallas area and toured with Kai Winding. They recorded for Mercury records. They made a 45 recording of "Run Come See" and "Little Billy Blue Shoes" (catalog 71676X45 TW 20204 Westwood Publishing and MCR Music Corp, BMI) and one long play album "Songs of the Blue and Gray" (catalog MG-20634). The recording was issued to coincide with the beginning of the 100 year anniversary of the start of the American Civil War.
When the group broke up, the members when on to individual careers. Mason Williams is most noted as head writer for The Smothers Brothers Show and the Grammy award-winning "Classical Gas", an instrumental he both composed and played on the guitar.
Baxter Taylor was an early member of The New Christy Minstrels and wrote BMI award winner "Marie Lavaux" (BMI Catalog 960027) with Shel Silverstein, recorded first by Dr. Hook & The Medicine Show and was later a a hit record for Bobby Bear in 1974.
Billy Cheatwood worked in the LA area as a folk music accompaniment playing backup for Hoyt Axton and others.