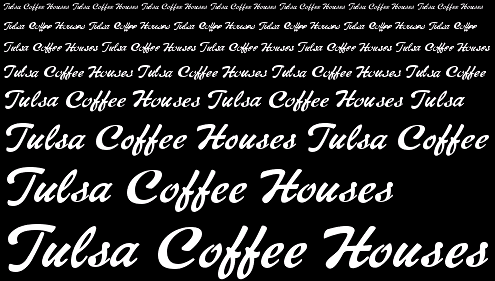 Tulsa Coffee Houses:
The Early Years (1960-1970)
by Joel Burkhart

Page 2: The Later Years (1970-1980)
(With material from the Mazeppa show, plus the Cain's Coffee
ballad performed by the webmaster, spoofed by John Hudson)



LE CIRQUE
The first "Coffee House" that I remember was located on the NE corner of 6th St. and Lewis west of TU. It was owned and operated by a guy named Bill Cunningham, a one-armed guitar player and folk singer (he used an artificial hand that held his flat pick). The only decoration was a silk parachute hung behind the stage and some basic tables and chairs. It later moved to 15th between Birmingham and Columbia (2600 block). Neither location lasted too long.
(via email, 12/17/2008) Ron Padgett said:

About the original Le Cirque at Sixth and Lewis: The one-armed folk musician who performed there and was the titular manager was definitely not the owner. He didn't have a dime. It was bankrolled by, I believe, Marge Wheeler, a delightful southside woman who also provided for an exhibition/auction at her home for the artist Joe Brainard, then a graduating high school senior (1960).



Ron wrote a book about his friend and fellow Tulsan, Joe: A Memoir of Joe Brainard.

Joe was not related to Steve Brainard (mentioned below with The Gallery).

Ron's first public poetry reading was at The Rubiot in the spring of 1960...


THE RUBIOT - Now a standalone page about this 1960s-70s Tulsa jazz coffee house and its creator, Sonny Gray, his Rubiot record label, later-renowned habitués such as poet Ron Padgett and cartoonist Russell Myers, plus comments from Lee Woodward, Robert W. Walker, Mike Miller and Scott Linder.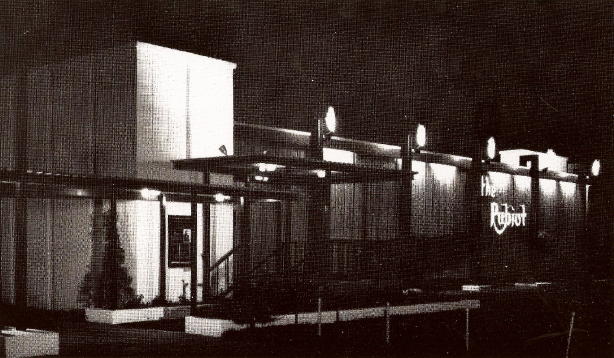 The Rubiot at night, courtesy of Kenny Quinn


The next that I remember was a place called "The Gallery" located at about 25th and Harvard on the east side of the street, adjacent to the current Subway Sandwich Shop.

It had a very well done decor with fish net ceilings, art work and exotic (for Tulsa) non-alcoholic drinks. The place was bankrolled by some wealthy lady (Marge is all I remember) A friend of mine was the manager and a group called The Wayfarers came from "The Gourd," a coffee house in Oklahoma City, to play there.

Mason Williams, who later became a writer for the Smothers Brothers (and composer/performer of "Classical Gas"), was a member along with Steve Brainard and John Horton (see Bax Taylor's correction below).

They played there regularly. As nice as the place was, it also didn't last much past a year.

(via email, 2/25/2009) Bax Taylor said:

I was one of the members of The Wayfarers, the group that played at the Gallery. The members were Mason Williams, Baxter Taylor and Billy Cheatwood. Although Steve Brainard is/was a close friend and the major performer at The Gourd and Buddhi in Oklahoma City, he was never a member of The Wayfarers, although we often appeared on stage together.

Steve did own the Gourd in Tulsa that briefly opened in 1962.

Another thing I would love to see mentioned is the music of Loraine Parker. Loraine was the cook for the couple who owned the coffeehouse, and she worked in the kitchen at the Gallery. One night while we were singing an old spiritual we heard this fantastic voice from the kitchen, it was Loraine, and we invited her on stage. After that she would join us and sing one or two songs every night. She was a gifted singer and performer, and although I don't know that she ever did any professional singing, she could mesmerize an audience like few performers I have ever seen.


John Chick (KTUL's "Mr. Zing") was a
part-owner and performer at the Gallery.
(Article courtesy of Joel Burkhart.)


An obscure neighborhood recreation center building located just east of Yale on 12th between Braden and Canton. Weekend folk concerts were held here and I think Bob Anderson was the organizer behind this one.
My first bluegrass band, The Black Mountain Boys played there as did Bob's group, The Steptones, and others just becoming interested in folk music. All it took to appear was enough nerve to stand up and sing for an audience, however small, and "do your thing." No small task for 16 to 20-year old kids.
(from GroupBlog 270) Tommy Harris said:

Have been fascinated in reading so many of these great memories, but wanted to make one small correction. Folkland was my baby - not Bob Anderson's. It ran for about a year and was a place that folk musicians around the area could perform.

Each Friday night would feature one or two booked acts, and then open the floor up for guest sets. It was a labor of love for me since I never made any money at it. I took all the money taken in from the door and refreshments and split it among the performers.

It was there at Folkland where I met James Smith, and he and I were teamed up for some 14 years as The Rovin' Singers. Our first show as a duo was at The Dust Bowl, which Bob Anderson and Mike Flynn opened after Folkland closed.

Jim (Little Jimmy Smith, as I called him) and I changed our act from straight folk music to folk based and pop oriented and in addition to the coffee house circuit, went on to become one of the first folk groups to take the music into bars and clubs around the Southwest.

I just recently ran across an old reel-to-reel tape from Folkland and Jim had it converted to a CD. On it are The Goliard Singers (3 young folks from Will Rogers High School, The Folkmen, Sandy Wark, Mike Flynn, John Chick and Sam and Lou (Routh). Fun to go back and hear these folks sing again. Even had some of our own stuff that we recorded converted to CD, shows at The Village Pub, the original Blue Coat Inn (on South Lewis) and a concert at the American Airlines Stewardess College in Texas.

Great music was available all over Tulsa if you just knew where to look.
This one was located on the north side of Fourth St. just west of Peoria at 1217 East Fourth in about 1962. Currently all that's left of the place is the foundation. It was an old furniture factory that was rented, converted and run by the Brainard family (the same Steve Brainard who was with sometimes played with the Wayfarers.) He and his father had a couple of very successful coffee houses in Oklahoma City ("The Gourd" and later "The Buddhi" at 919 N. Hudson.)

2/26/2009: New page from Bax Taylor: STEVE BRAINARD: THE GOURD AND THE BUDDHI

This one was also called "The Gourd" (as in "Follow the Drinking Gourd," a popular folksong at the time) and was the first attempt to try to link up venues for a performers' circuit. Traveling acts from as far away as California played there. In fact, I think Lee Woodward used a fast banjo recording of "Cripple Creek" by one of the groups as a lead-in to some portion of his show.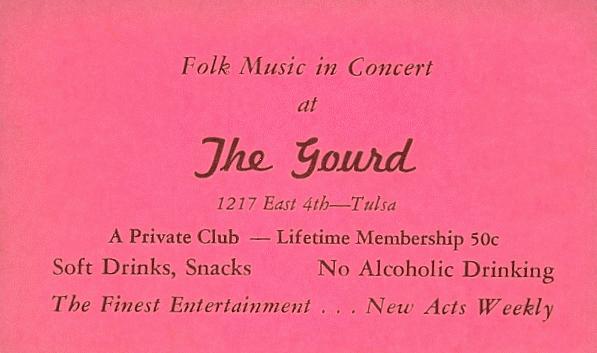 The Gourd club card, courtesy of Joel Burkhart

From GroupBlog 253, 10/2/2007, Randal said: "Visited Tulsa this weekend to enjoy the State Fair. Parked where Bell's once stood. Depressed by the demise of the amusement park that will be forever linked with my youth, I then decided to visit St. Michael's. I hoped to have a drink and recall better days. St. Michael's was CLOSED! The notice on the door referenced non-payment of rent."

From GroupBlog 270, 7/8/2008, Mr. Zoid said: "Was it on this venerable site I heard the rumor that the venerable Rick's Cafe Americain was moving into the space of the late, lamented, venerable St. Michael's Alley? I think we may regard this as confirmed. I was at Ranch Acres this eve, and, on the plywood covering the windows of the late, lamented, etc., was stapled the Rick's menu. The door was open, and I peeped inside; it was pretty much gutted."

Still going strong after 45 years at its original location of 31st. and Harvard behind Ranch Acres Shopping Center, on the east side facing Indianapolis (3324 E 31st St). It's the only Coffee House to survive the end of the great Folk Scare of the 60s. It's basically the same as it was when it first opened in 1960 and is still featuring live music. After having weathered a few name changes and close calls to its existence over the years it's still the same familiar place.
A guy named Ty (or "Cy"; see Ginny Moss' note from GB 218 below) Kelly built it originally to resemble an English Pub. He sold out after only a year or so to a guy named Dick Greenwood, who then ran it as a coffee house for about 20 years. A fire in a back room in '81 or '82 put an end to his ownership.
The place was then bought and restored by Steve Lovely who renamed it the "Glen Again" after his original "The Glen" restaurant that had been run out of Utica Square to make room for The Polo Grill.
Steve sold out in '88 to a Mike Lovell who re-christened it St. Michael's Alley and ran it up until '98. Current owner Jeff Killion is keeping up the tradition. Check out the original 1960 menu inside the doorway and the original outdoor sign, now mounted on the wall inside the dining room.
It still survives in pretty much the same shape as forty years ago and still has live music. Drop by and hear Tommy Crook perform on Saturday nights.
(from Guestbook 66) Lowell Burch said:

St. Michael's is located on the east side of Ranch Acres Shopping Center. Great place to eat or drink and talk. Burnt once, but rebuilt.
Webmaster: London's first coffeehouse was opened in St. Michael's Alley on Cornhill Street in 1652. Tulsa's St. Michael's Alley was created as a San Francisco-style coffee house in 1960. Interior decor: wooden booths, paneling and dim lighting, Beverages: espresso, cappuccino, tea, beer...


I recall beer presented in a mug with an olive in the early 70s. Dave Brubeck's "Take Five"/"Blue Rondo a la Turk" single was still on the jukebox then. It was probably left over from the earlier beatnik period.

The Dave Brubeck Quartet performs "Take Five" in 1961

(from Guestbook 92) Joy Cooper said:
Our favorites were...St. Michael's Alley (best atmosphere and that cranky black chef that ran the coffee/expresso machine)...

(from Guestbook 138) Sandra Merwill said:
Is St Michael's Alley still there? We used to get orders at the Celebrity Club for their banana frappes. And what happened to Mike S. - Celebrity Club owner?

(from GB 218) Ginny Moss said:
In response to Jeff H (in GB 206)
"Still in the food category: I have a menu from St. Michael's Alley (circa 1965) very similar to the one on display at the restaurant (1960). Mine has a limited food section. Does any one know if they served food from the start? The menu on display only shows the coffees and teas."

I don't have a menu, but St. Michael's was my first "real job" the summer I graduated from Edison (1960). The menu had only the many espressos and home made German chocolate, cheesecake, and a date/nut torte. Soon, Cy put in draught beer - served in tall Pilsner glasses. The "olive in the beer" idea came from a lounge at the Crystal Bowling Alley, where we went on occasion. Then he added the hot pastrami, Swiss cheese, and peppered beef sandwiches; the pièce de ré•sis•tance was a standing rib roast sandwich – served at the tables from a cart, au jus. That was the extent of the menu when I left St. Michael's to go to work at Shell Oil in July, 1962.
I noticed that Joel Burkhart referred to Cy as "Ty" Kelly. His full name was James Sanford Kelly, nicknamed "Cy" (pronounced Ky) by his older brother when he was a baby. Unfortunately (or fortunately), it stuck.
When Cy sold the coffeehouse, he assisted Bill McLaughlin build a venture called "The Forge" in Utica Square.
I left Tulsa for about 15 years in 1965, so I don't know what happened to that. Anyone?


THE DUST BOWL - Another

standalone page. The Dust Bowl was started by Mike Flynn (then a KOTV newsman) and Bob Anderson. It was part of an informal circuit of regional folk clubs in the mid-1960s. Performers included Michael Martin Murphy, Ramblin' Jack Elliott, B.W. Stevenson, and Dan Crary, as well as many local and regional musicians.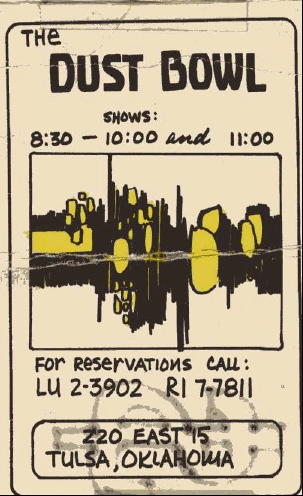 The Dust Bowl menu courtesy of Carl Gregory
This was a little known coffee house located somewhere around 46th and Peoria. Paul Stuckey, later of Peter, Paul and Mary fame had split from a traveling Israeli folk group passing through Tulsa and he performed here for a while before moving on to bigger and better things.
(from Guestbook 196) Moby Anderson said:

The Purple Cow was located at approximately 42nd & Peoria (nearer 41st St., but not on the corner) in an old house that was very colorfully decorated.

The Par Three Trio played for the opening night of the coffee house.

The Par Three Trio (named after the golf course behind the hamburger restaurant at 51st. & Lewis that is now Goldies) consisted of: Keith Hunt, piano; Mike (Magoo) McGoffin, drums; J. Martin (Moby) Anderson, bass; and that night we had David Bartlett, on trumpet. The Par Three Trio Played jazz in and around Tulsa from 1959 until about 1962.

The opening evening at the Purple Cow was hampered by the lack of a piano! The piano was supposed to have been delivered but it had not arrived by the time we were scheduled to play.

Keith just happened to have an ACCORDIAN in his car's trunk. He brought it into the room (which had pillows all over the floor), laid it flat on the floor, put his leg through one strap. Then we enlisted volunteers to pump the accordian while he played it like a piano! We had to change 'pumpers' often, but that worked unitl the piano arrived! It is one of my favorite memories of playing music in Tulsa.


THE BASTILLE

Joel: Another half-forgotten coffee house has surfaced thanks to this site and Armin Sebran's great memory. The following exchange tells it all.
(from Guestbook 200) Armin Sebran (the Mazeppa show's Yahootee Menu) said:

Could not overlook a major oversight in the Tulsa Coffee House article: The Bastille Coffee House, on Positively First Street, T-Town USA. Is there such a weak cultural memory of such an important place? Demolished to make way for a post office parking lot. Yep, in the shadow of Bardon Loans, pawn sign and all. Across from the Jewel Box. Really interesting when passing winos got the wrong address.

Anybody out there got game? Write in about the Bastille.



Bastille membership card, courtesy of Armin Sebran


Joel: Yahootee is "right on." Yes, there was the Bastille on First St. and I was there a few times but I had totally forgotten about it. It was a great but short lived location with beautiful natural brick walls and a high tin ceiling. I don't remember it as a music venue but there might have been the occasional guitar strummer. Seems like it was some time in the '71 -'73 time period.
(via email) Armin said:

Might let Joel know that the Bastille dates back to around '64/'65. It was owned, jointly I believe, by a graduate student at the U of Tulsa and a young would-be film maker, Dale Pelton. It also served as a residence.

He remembers quite correctly the high ceilings and the acid-washed brick (I believe from the Sapulpa Brickyards). It also had high tin ceilings. When I was in High School, my friends and I helped run the place on weekends. A number of downtown characters stumbled in. One of them was a woman who walked the downtown streets throughout the night with a silver whistle around her neck---said she was the guardian of the city.

It was a place of many soirées and private parties which attracted a variety of artists, poets, musicians and politicos. Candlelight; wall hung tapestries---always a tip of the hat to the Beat Generation. Bill Rabon, a tremendously talented Tulsa artist and muralist, was often seen sharpening pencils and sketching. Sometimes a guitar, sometimes an accordian, sometimes a poem---a place, a time, long gone.

Wishing you a Happy New Year (2006)

Yahootee


(via email solicited by the webmaster, 12/21/2008) Dale Pelton said:

The Bastille was my creation. The graduate student and filmmaker were one person, not two. I believe a couple of articles were written about the Bastille; one was in the T.U. student newspaper.

I went on to get a masters degree in film at U.C.L.A. making the first laser generated film, "Death of the Red Planet" (IMDb), a musical ballet in outer space, 35mm cinemascope with quadraphonic sound. You may go to my website for current work: DaleAllanPelton.com.


Webmaster: The electronic music written for "Death of a Red Planet" was performed this year in L.A. Read about it toward the middle of the composer's blog page, just below the fascinating material about Bebe Barron, co-creator of the soundtrack for "Forbidden Planet": BarrySchrader.com

Mr. Pelton also made the film, "Season of Visions, a Dwelling of Mine", while at TU.

(from GroupBlog 272) Jim Downing said:

There are a few lesser-known coffee houses missing.

Though I'm known as a rocker on keys, I spent a time as a guitar-carrying songwriter; traveling light.

In 1969, there was The Canarium that started out in a basement at 13th and Detroit. I think Steve Phillips and Jeff Rivkin started it. Then it moved over to 15th Street and Cincinnati; about where the Dust Bowl used to be, next to the original Starship. I played there as did Sam Routh, Charlie Rayl, Keith Slane, Geoff Bond, Kelly Ellis and all sorts of people.

In late '69, Phillips took over an old halfway house at 15th and Cheyenne. We helped probationers integrate back into society and the coffeehouse supported that. The staff included Jack Wolfe, Stan Moss and myself.

Then it turned into The Phoenix on Boston in the 1300 block. I ran that for awhile. Phil Seymour and Dwight Twilley did some of their first gigs there. It was condemned in fall of 1970 for the Broken Arrow Expressway.

I also recall vaguely playing The Channeled Whelk at about 33rd and Peoria in '69 or '70.

(from Guestbook 165) George Tomek said:
Is the Mecca Coffee Shop still there?
There used to be a great place to get a huge ham sandwich down the block from KOTV in the early '60s, especially working Saturday night when not much was cooking downtown and I did the Saturday night news solo. A lot of the crew ate down there. As I recall, the cafe got state or federal money to help feed the folks on welfare (or less). People working in the fascinating world of local TV didn't exactly push a wheelbarrow full of money to the bank each week either back then.

Page 2: The Later Years (1970-1980)
(With material from the Mazeppa show, plus the Cain's Coffee
ballad spoofed by John Hudson, rendered by the webmaster.)