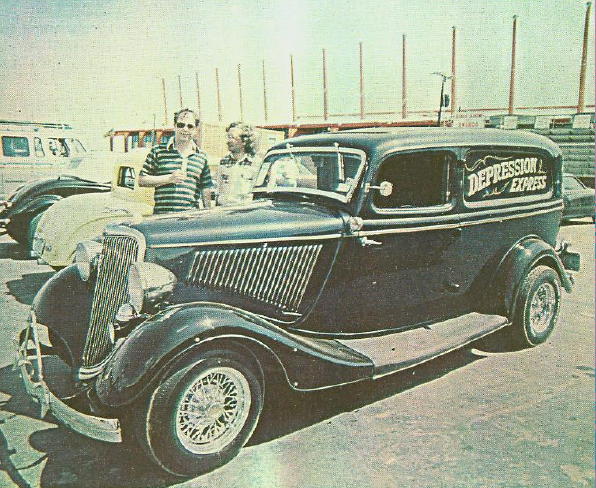 This is a shot of Jim Buck Millaway and myself at a custom car show at the Fairgrounds. (Photo by my brother, Adam Sebran.) The "Depression Express" seemed to say it all at that time...post-Vietnam, stuck in a world of Disco Madness. Like Howard the Duck...stuck in a world we never made. We were waiting like Howard (or like Godot), for the Cosmic Axis to Shift and we couldn't be certain the Cosmic Axis ran through Tulsa.
It seemed then, and it seems to me now, that writing, like any creative expression, was a powerful antidote to the ennui, boredom and depression I experienced in Tulsa. Laughter is an antidote to pain---so in a sense, I remember The Uncanny Film Festival and Camp Meeting as a form of group laugh therapy for myself, my friends and for my city, the city I both hated and loved.
It is Saturday night and all those cultural and social shut-ins gather by their televisions. Perhaps they feel they should be out doing something else...but they can't for the life of them, think what that might be. All those beautiful and lost people, all those lonely people---the Outsiders that S.E. Hinton and Francis Ford Coppola could see that somehow were invisible in our midst...they gathered around the TV for a spark of laughter to brighten the night. And it did. And for an hour or so we didn't feel quite so alone in the Oil Capitol of the World.
A powerful mythology developed around this experience...something like the mythology surrounding Wolfman Jack in American Graffiti: that there was a group of Tulsan's creating hilarious comedy in the middle of the night somewhere in downtown Tulsa. The fact that the tape was taped in daylight hours was lost on most everyone. Gailard, Jim, Judy-Judy and I were sitting home also, watching our televisions...and thinking, "this is quite amazing, in fact, it's Uncanny!." And we were laughing.
Many of us watching were searching for something lost in the heartland: a sense of the simplicity and wonder that existed in our world and on our television sets in the 1950s and was washed away in all the bloody battles, atrocities and assassinations of the 1960s. We were searching for our own lost childhoods and sorting through the schizophrenic magic carpet ride called adolescence. And in a crazy-ass way, The Uncanny Film Festival made sense out of the absurd. It helped us to get unserious, to laugh at ourselves and at our wiley ways. It helped us to see where we had come from and just perhaps, get a hint of where we might be headed tomorrow.
I dreamt about Gailard Sartain and Mazeppa last night. Lord knows what that might mean? It probably has something to do with the reminiscences that accompany the approaching holidays.
I believe this was drawn by Mazeppa. A number of the posters and on-camera inserts used on Mazeppa were done by Gailard who has an amazing ability to draw and to paint--very much in the tradition of his famous mentors, Paul Davis (from Tulsa I believe) and the great Robert Grossman of Push-Pin Studios in New York City. Perhaps Gailard can provide you with more information on his 'internship' at Push-Pin.
You may wish to try to locate certain wonderful films that were done in the time frame preceding and during the Mazeppa show. Jim Millaway did a number of fantastic films while he was at the University of Tulsa. I acted in a film called "The Violin Man" that was done by a talented film student at the University of Tulsa whose name is Paul Stevenson. It is the Violin Man that first showed me, bearded, in tattered concert tail-coat and playing the violin. I stopped in to visit my friends Gailard and Jim at KOTV Channel 6 while filming for the Violin Man and that is how I was tapped out for a part on Mazeppa.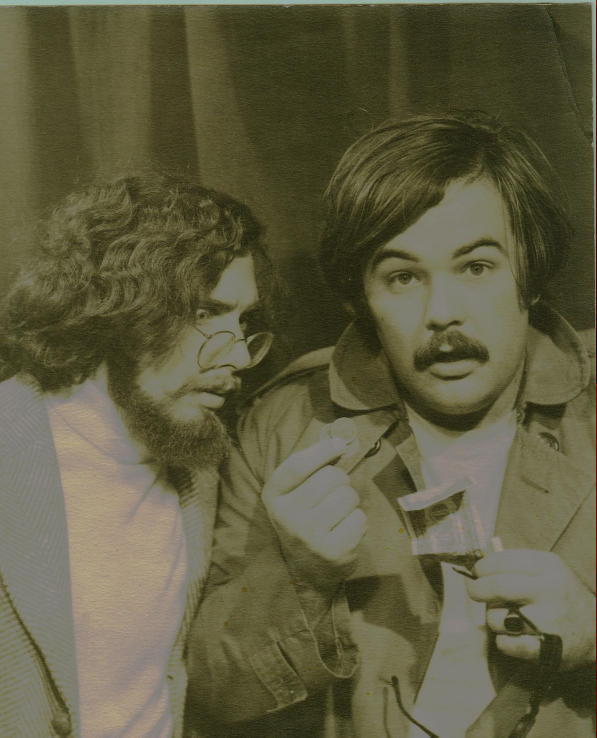 This is a shot taken in a now-vintage photo machine at the Tulsa State Fair. Gailard is doing a Yiddish Theatre schtick with a little Rod Steiger "The Pawnbroker" thrown in for good measure.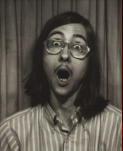 Machine photos have gone down hill since, the shots are on a little strip and the sepia values are lost. (like the one at right of a Mazeppa fan, taken around the same time period...webmaster)
The time is hard to pin down but I believe it coincides with one of two trips I took with Gailard to Hollywood, staying at the Farmer's Daughter Motel on Fairfax Avenue.
On the way to L.A. we fell in behind a convoy of 18 wheelers that were carrying caskets. It seemed meaningful at the time, where meaning was spelled Franz Kafka. Of course Gailard couldn't resist getting on the CB radio and playing with their minds.
The casket theme stuck with me on the trip: a sort of modernesque Moby Dick with Ahab bound for Hollywood and Quequeg along as a sidekick. Hollywood, the great whale that could make you a hero or leave you floating on a dead man's coffin, adrift in a 20th century sea of meaninglessness, strangeness and despair.
It was probably the 2nd trip when I managed to get Gailard's VW van impounded on Sunset Strip while he was working at Paramount with Robert Klein. They were filming a special called "Klein Time". Klein came out to meet us at the Paramount gates, truly a gentleman.
I also remember eating bagels at the "Posh Bagel" with Allen Katz, one of the producers of "MASH" who was a friend of Gailard's.
I paid a night time visit to L.A.'s Chinatown to see where a filmic Dunaway was shot dead while Nicholson strained at his handcuffs and Roman Polanski orchestrated the stunning conclusion. And as Gailard and I made our way out of L.A. across the concrete estuaries and water conduits, I considered the great whale and said, "Gailard, let's get out of here. It's Chinatown."