(The following 3 items are not available on Amazon, but can be ordered directly.)

Fried pies, pasties, pie, cake, stew, chili, lamb, Irish beef, vegetables...just like mother used to make: Recipes That Time Forgot! Cookbook by TTM contributor Johnny Young.
Buried 1957 Belvedere DVD
Cowboys in Tall Grass DVDs by Tulsa radio pioneer Ken Greenwood. Read more about the DVDs at Urban Tulsa and GTRNewsOnline.

(from GB 272) Chuck Adams said:

Ken (Greenwood) also recently helped produce, write and narrate an excellent six-part DVD documentary called "Cowboys in Tall Grass". It may have been on your local PBS station. I've got my copy and it's a great addition to my DVD collection.
World of Fingerstyle Jazz Guitar DVD, with solo performances by Tulsa's Tommy Crook, Martin Taylor, Jim Nichols, Woody Mann and Duck Baker. I know just enough about guitar to understand how brilliant these guys are.



(from Guestbook 79) Lee Woodward said:

I have had the pleasure over the last thirty years of sitting in with Tommy for an audience of one and an audience of thousands. It does not matter to Tommy. I have always found him ready to jam at whatever AM or PM. He is an incredible guitarist and is also well-informed. People have asked me if I knew why he didn't go to the "bigs" and I guess the answer is he is living La Dolce Vita right here.


(from Guestbook 79) Richard Wilson said:

Eric Clapton was quoted in an interview at one time as saying that the greatest guitar player he ever saw was playing at the Holiday Inn in Tulsa, Oklahoma, and his name was Tommy Crook.


(from Guestbook 79) David Bagsby said:

Tommy Crook once told me the story of how someone had bet him that he couldn't play bass and guitar at the same time so he set about learning to play bass guitar with his feet. When the debut performance of this new technique arrived, he got barefooted and perched up on his stool, but when his feet touched the bass strings and his hands touched the guitar strings, the polarity of the amplifiers were off and he shocked the living piss out of himself and that was the farewell performance of this now lost art form. My brother Steve drew a cartoon of this; maybe he'll post it here sometime.


(from Guestbook 79) KAKC's Robert W. Walker said:

Back in '64 or so, Tommy Crook taught guitar at a music store somewhere on the east side of town (The Guitar House). He taught every Saturday, and had I known with whom I was dealing, I'd have been more diligent.

Tommy Crook plays Tulsa clubs on a weekly basis as he has done since the 1960s.

I saw Tommy Crook in the mid-90s with Herb Ellis at the Sunset Grill on Brookside. He grabbed chords out of thin air, creating multiple moving voices. Wow.

When Tulsa visitors dine at Lanna Thai and St. Michael's Alley today, they must wonder if such monster talent is the norm in our fair city. And then there is Buddy Bruce of "Tequila" fame...
The webmaster from the Tulsa Counterculture of the 70s page:
There is an unusual song, "Shoot Out at the Plantation", on Leon Russell's first solo album. 1970 Rolling Stone review here.
As related in Don Nix' book, Road Stories and Recipes, the song was based on an actual 1968 event in Sherman Oaks, California involving Tulsa musicians Junior Markham and Chuck Blackwell. See a page from the book on the "Tulsa Time" page at HollywoodHangover.com (thanks to Alex Rivers).
5/29/2006: I just read Don's book. He was one of the first Shelter artists, signed soon after the Joe Cocker "Mad Dogs and Englishmen" tour that launched Leon's solo career. His Wildman Chuck stories are especially hilarious (Chuck somehow survived. Today, he runs Blackwell's Stained Glass & Doors in Broken Arrow, and still plays drums around town). Current-day Tulsa musicians Tommy Tripplehorn and Jimmy Karstein also figure in some of these tales.
Don wrote the classic "Goin' Down", recorded by Freddie King and Jeff Beck, among others, and his association with these artists is fascinatingly described. He was also one of the Mar-Keys (with Duck Dunn and Steve Cropper, later of the MGs), whose big hit was "Last Night" in the early 60s.
Don's laconic writing style makes this wealth of stories all the more fun. If you are a fan of Tulsa and/or Memphis music, you must read Road Stories and Recipes.
(from Guestbook 126) Edwin said:

I have rented the Groove Tube along with the Kentucky Fried Movie (cool also, but not as nasty) from a couple of places in the past couple-o-years. Of course my couple-o-years could be more (ya know?) but I'll bet you can still find 'em. Problem is....most look for the NEW movies and not the BEST movies. I, myself, have a hard problem understanding the "new" movies....they tend to look like my kids latest computer game.


(The other 70s TV spoof was "Tunnel Vision".)

I wrote Edwin back:

We borrowed "The Groove Tube" on Netflix this week. I know I saw it at the theater in 1974 when it came out, but didn't remember much about it. It was hilarious. May have been that second glass of wine, but I don't think so.

Gaye said it was about junior high level humor. If so, that's right where I am!

But then again, the great movie critic Pauline Kael said of it in late 1974:




"There's a little picture kicking around called 'The Groove Tube,' which was also produced and directed by its star, Ken Shapiro, who wrote a lot of it, too. It's mainly a series of innocently scatological skits lampooning TV, but at the end Shapiro does a lovely, flaked-out dance. Looking gracefully berserk in a pin-striped pink suit, he galumphs sideways through rush-hour crowds along Park Avenue to the tune of 'Just You, Just Me,' and there's an entrancingly silly purity in his madness."


Beware: in this year of 2005, some may consider it more than "innocently scatological", but it's very funny (in my opinion).
The Coon Sanders Nighthawk Orchestra recorded "Alone in the Rain", which served as the first segment of Mazeppa's opening theme. The earliest documented after-midnight radio show was their "Nighthawk Frolic" on WDAF-Kansas City in 1923. Listeners could join a "Nighthawk Club" and send for a membership card...much like Mazeppa's Uncola Underground card almost 50 years later.

The Nighthawk radio info is from Sounds in the dark, a history of late night radio.
Every weekend for two decades, millions of American radio listeners spent their weekends glued to one program -- Monitor on NBC Radio. Begun as an incredible 40-hour-a-weekend broadcast, Monitor featured big-name hosts like Dave Garroway, Hugh Downs, Frank Blair, Gene Rayburn, Henry Morgan, Bill Cullen, Ed McMahon, Jim Lowe and so many, many others -- all broadcasting live from Radio Central in New York and presenting a kaleidoscopic phantasmagoria of news, sports, comedy, variety, music and live remote pick-ups from around the nation and the world.

I remember hearing it on KVOO-AM, the NBC affiliate in the 60s. Who could forget the Monitor Beacon sound?
(From Guestbook 104) Sonny Hollingshead said:

Just finished reading "FM - The Rise And Fall of Rock Radio" by Richard Neer. It's a good chronology of what was perhaps the last U.S. major market free-form commercial Rock radio station, WNEW-FM in New York. WNEW-FM went from Rock to Talk in late 1999.

Unlike "Radio Waves" by Jim Ladd, Neer names stations and the players and holds little back.
Those of you who have either worked in or remember free-form radio from the 60s and 70s will find this an interesting read. If you worked in the business many of the players will be familiar to you.



(from Guestbook 104) Don Norton said:
Elizabeth MacLeod's list of the 100 most significant moments in radio broadcasting is quite interesting, even though some of them occurred much before all of us were born.
I'm reminded of a recent (1996) book I've noticed, called, "Blast from the Past: A Pictorial History of Radio's First 75 Years." It's probably unfair to call it a "coffee table book," but it is jammed with photos of most of the people who contributed to the growth of the industry--all the way from a rare 1878 Matthew Brady photo of a 32-year old Thomas Edison with one of his early phonographs to one of actor Kelsey Grammer as "Dr. Frasier Crane" conducting Crane's mythical talk show on NBC's (and KTUL's) "Frasier."
About the only people I couldn't find in the book's excellent index were overnight talk show host Art Bell, who managed to exceed Larry King's Mutual station lineup a couple of years ago (King brought Bell on CNN to talk about it) and Herb Morrison--though there's a picture of the dirigible Hindenburg burning and two of the airship's skeleton. The book's chapters treat each decade from pre-1920 to the 1990s. And the forewords are written by Rush Limbaugh and Tulsa's own Paul Harvey.
"Thumbs" Carllile once told Michael Parks (of "Then Came Bronson" fame, featured on this site) that he had a "good voice...for coolin' soup"...thus the title of this CD.

Oklahoma Music Hall of Famer Byron Berline is the violinist on this date.

Highlights are "Rockin' Chair" by Hoagy Carmichael, "But Beautiful" by Van Heusen/Burke, Johnny Cash's "Big River"...it's an album that rewards repeated listening.
| | |
| --- | --- |
| | The Complete Directory to Prime Time Network and Cable TV Shows. Includes the complete broadcast history, cast list, and plot summary, along with exciting behind-the-scene stories about the shows and stars. You can get lost in this book. |
Forbidden Planet: Original MGM Soundtrack

From Science Fiction in the Cinema by John Baxter:

The soundtrack, "Electronic Tonalities" by Louis and Bebe Barron, collaborators at one time with avant garde composer John Cage, is reminiscent of Karlheinz Stockhausen's work in this field, specifically his "Kontacte."

VideoHound:

Despite the abstract nature of the sounds produced, there are recognizable motifs, such as the percolating theme for Robby the Robot and a frightening "footstep" effect for the movie's invisible Id monster. Some of the cues will set your teeth on edge, particularly the hair-raising "Deceleration," while many create hypnotic, undulating textures that might actually lower your blood pressure.
Joe Bob Briggs said, "I keep this reference work by my bed at all times. Never has so much worthless information been gathered together in one place. I'm in awe of the man."

Presents critical and humorous reviews of science fiction, fantasy, and horror films from every medium, offering thousands of capsulized reviews, a five-star rating system.
| | |
| --- | --- |
| | "Television's Greatest Hits, Vol. 4" - check out the RealAudio theme to "M-Squad"; The Naked Gun (aka Police Squad) theme is a barely disguised version of this Count Basie score. Also check out "Highway Patrol", "Soupy Sales", "Victory at Sea", "Mr. Lucky", Ted Mack...There are several other volumes of "Television's Greatest Hits"! |
Remember that old "Like Father, Like
Son?" public service announcement?
It shows a boy imitating his father's
actions...and the last thing the father
does is light up a cigarette..."Think
about it." The catchy music (in 5/4
time) is carried by a jazzy flute.
| | |
| --- | --- |
| | Amazon.com: Noting the need of the newly created class of motorized, moneyed teenagers of the 1940s and '50s to find a dark and private place for their pubescent pastimes, Don and Susan Sanders place the origin of this outdoor entertainment form in the birth of popular culture. The sections on the amusement park-style rides, refreshments, and attractions that were used to lure the bored and their cash to this form of voyeurism are especially delightful. |
Wes Horton:

"Don and Susan's latest work, 'Drive in Memories : Popcorn and Romance Under the Stars,' while physically smaller, is full of additional pictures and information about the drive-in theatres of yesterday. The new book is well written and edited. It will make a worthy edition to any one interested in the drive-in theatre."
Larry Baker ran the Admiral Twin in the late 60s and early 70s.
While this novel is set in Florida, it is based on his experiences.
Frank Morrow said: Jeff Archer (the author of this book) tells me that "(Gorgeous) George was the FIRST wrestler to identify television as the future for wrestlers creating a persona and becoming household names. According to the legendary Killer Kowalski, 'Because of his antics, most people did not realize the Gorgeous George was one great wrestler. There were few who could match him in wrestling skills.' Kowalski attributes all the notoriety he and others received to Gorgeous George putting wrestling on the TV map."

Some of Frank's memories are a sidebar in this excellent book.
The GE Superadio III is an AM/FM radio with high-performance station selectivity and sensitivity. A two-speaker sound system with a 6.5-inch woofer offers outstanding sound quality. It's the radio of choice for many AM and FM DXers. Here is an FAQ I found on the internet about this high-quality, low-cost radio. Amazon seems to have the best price.

Movie sound at the Admiral Twin comes in on 88.3 and 90.9 (it was 88.7 before KWTU signed on in 2004). FM; the Superadio does a superb job at the drive-in, and you don't have to keep the electricity on in your car. I also have a little FM transmitter hooked up to my computer, and use the Superadio to hear whatever I've tuned in on the internet!
TV's "Superman" in the 1950's, George
Reeves, paid a visit to The Kids Korral
with Don Marvin on Channel 6! There
are 3 more volumes of Superman
available!
I remember a French movie that was shown often on Saturday afternoon: The Red Balloon. A balloon followed the boy around...at the end he is lifted into the sky by a lot of balloons. That one made quite an impression on me. Anyone else remember it?

1/30/2001: I just saw it again for the first time in over thirty years. No wonder it won the Grand Prix at Cannes! It was just as spellbinding to a 4 year old who was seeing it for the first time. A magical tale, well told.
The Tulsa stretch of Route 66 is now known as 11th Street (Admiral Place was also part of a 1920s extension of the road).

Tulsan Michael Wallis' book takes you the rest of the way: "Oklahoma City's lookin' mighty pretty...you see Amarillo...Gallup, New Mexico. Flagstaff, Arizona (don't forget Winona), Kingman, Barstow, San Bernardino..."
| | |
| --- | --- |
| | Route 66 is the great American road trip game. Race cross-country on the U.S. map. Advance your roadster by completing challenges on U.S. history, U.S. geography and your favorite road trip moments. Can you name 10 state capitals in 30 seconds? Can you hum a few bars of a favorite road-trip song? Comes with game board, four car-shaped movers, 320 postcard cards, 80 side trip cards, 12 police tickets, four power window cards, a red answer revealer, die and rules sheet. For 2 to 4 players or teams. |
Route 66 Motel - Office Built-Up, O-scale

Bring the romance of the open road to your layout with this American classic!

Fully assembled model includes a glitzy simulated-neon sign with chase lights, motel office with its own rooftop neon sign plus an interior light, guest cabin and a 110V wall transformer power supply.






1/12/2002: These books, The Stinky Cheese Man and Other Fairly Stupid Tales, and 2095 (The Time Warp Trio) are here because I recently learned that the illustrator, Lane Smith, is my second cousin! I found this out when my mom called, telling me to watch Becky Dixon's special...Lane was a guest. Since this was the first I knew of him, I guess our intra-family communication leaves something to be desired. Congrats, Lane!


(from Guestbook 117) Lane Smith said:

"Hi Mike,

"Great site! Thanks for throwing some of my books on there. As you may have heard in the interview I did with Becky, a lot of my twisted imagery comes from childhood memories of Oklahoma mixed with a hearty dose of Universal horror films, strange puppet animations, Buster Keaton silents, EC comics, Rt 66, Major Matt Mason, Tex Ritter records (Tex was named after a relative of Lee Woodward; see Guestbook 119), Lewis Meyer shows and lots more.

"p.s. For all you Okies out there, a book on Woody Guthrie that I did the cover for was just nomimated for the National Book Award. It's called This Land Was Made for You and Me, written by Elizabeth Partridge."



5/3/2006: Lane now has a web site: LaneSmithBooks.com.

He has written and illustrated a new book: John, Paul, George & Ben.
The wisdom of Agent Cooper: "Every day, once a day, give yourself a present. Don't plan it, don't wait for it, just let it happen. Could be a new shirt at the men's store, a catnap in your office chair, or two cups of good, hot, black coffee."


A nice present for Agent Cooper, or your own coffee-crazed
family and friends: implements for a home coffee bar.
Bodum
Chambord
8-Cup
(32 oz. total)
Coffee
Press
Capresso
Infinity
Burr
Grinder

Webmaster, 11/30/05:
My wife Gaye recently mentioned that the coffee she had at Flavors Restaurant was excellent and had a "head" on it. I had just added the Tulsa Coffee Houses of the Past page to this site, so I was interested to see if I could improve our home coffee.
l have had a hot water reservoir Bunn coffee maker since 1989. The internal stainless steel tank and copper tubing are the same as the model used in restaurants, but in a plastic housing for home use. After 13 years, it developed a small leak. Thrifty fellow that I am, I found an inexpensive kit at D.A. Karlen to fix it.
We already had a Thermos carafe to keep the coffee from turning into sludge like at-work coffee. I used a regular blade-type coffee grinder with the Bunn (I wonder if Jim and Susan Bunn of Tulsa TV fame are related to the manufacturer.)
After doing some reading, I thought a coffee press might brew better, but it requires coarsely ground coffee. A burr grinder can produce a suitably uniform coarse grind, so I ordered one of those, too.
The press is undeniably a way to make great coffee, but labor-intensive in the clean-up phase. I'm too lazy to do it on a daily basis.
But I found that medium grind for the Bunn with the new grinder was a step up in quality---and the coffee, dispensed from the Thermos, had a head on it as well.
I'll use the press on weekends.
9/9/2006: Update - my Bunn sprang another leak (ha ha). That's all she wrote; I'm not buying another patch kit.
Now that I am determined to replace it, I am better in touch with my misgivings about the Bunn (psychologists would explain that as resulting from a reduction in cognitive dissonance).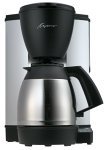 I don't think it was brewing at 200°, probably more like 170-180°. I read CoffeeGeek.com and a few other sites, and settled on the Technivorm KB-741, regrettably not available at Amazon.com. Next choice would have been the Capresso MT500 (at left).
I'll report my findings.
As predicted, I have used the press hardly at all. Too lazy.
10/3/2006: The Technivorm does indeed brew much hotter.