Date: August 11 2001 at 17:04:04
Name: Stevo Wolfson (via email to webmaster)
Comments:

I gotta a whole lotta reminiscing to do, on many subjects that haven't been discussed much....

First off, Tulsa radio was always really important to me, as I've loved music as far back as I can remember.
The most influential radio station, on me at quite an early age (around 9 or 10), was KWGS. "Kweeges" as they used to call it!!! "Subterranean Underground" with the "Foxy Lady"!!!! That was some great music from the psychedelic era that really turned my head around and made me wanna grow up fast and get into all the counter culture!
I started decorating my bedroom like a psychedelic shrine...

Fluorescent posters plastered the walls and ceiling. Some I painted myself including a fluorescent Mazeppa portrait. I had flashing Christmas lights, a black light, lava lamp, a gizzer blinkie and lots of incense!
Next I probably listened to KMOD's progressive format, but eventually discovered KTBA. This was an awesome station. Particularly, Rob On Your Radio, my favorite all-time Tulsa DJ!!!
Once I was able to drive, a few of us would occasionally drive out to Broken Arrow and hang out at the station. On one of these visits I snuck the car out without permission, while my parents were out for the evening, and managed to get two flat tires at once! I had to have my older brother Rick rescue us by bringing out a second spare. I don't think my parents ever found out!!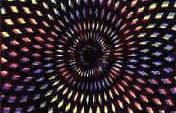 Around 1975 KKUL switched from soul to progressive and Rob started working the graveyard shift there. We continued hang out late nights and had some wild times. I was there alone with Rob one night when these two young ladies showed up with a pound of mushrooms and wanted us to help them celebrate their birthdays!!! How could we refuse!!!!
Rob On Your Radio was of course my inspiration for calling myself Stevo In Yr Stereo when I became a DJ in 1979. There's more on that on the Nightmare City Halloween website in "The Story Of Nightmare City Halloween".
With my love of music went my love of buying albums and Tulsa had some great record stores. Of course, there were the standards like Greer's (remember when an album cost $3.33!!!) and Honest Johns! But, my favorite was Starship!! There are some others that I can no longer remember, but I used to spend hours and hours record shopping.
I also loved the Starship head shop, and Oz! Spent a good amount of time there, too!
Anyone remember Bill's Bongs? I still have an aluminum one dated 5-29-74 #1 !!!
That should do it for this entry, but I'll be back with more T-town stories....



I think we need a "Tulsa Counterculture" page and this is a good start. Now if Edwin can dig some MAINTAIN footage out of the vault...

If you like "psychedelic" art, or think you might, be sure to check out Stevo's art site, sTeVo iN yR sTuDiO. I found his work fascinating, evocative, and informed by modern ideas in the realm of biology and information technology...a serious "head trip", man.