Central High alumni;
Miss Isabelle Ronan, teacher

Webmaster, 2/28/2009: Paul Harvey passed away today at the age of 90.

Paul Harvey's childhood house is still at 1014 E. 5th Pl. Google Street View

When he was 9 years old, Paul Harvey saw Charles Lindbergh land in Tulsa. On the KVOO page, read and see more, and hear him tell about it.

Circa Nov. 18, 1963 15-minute ABC Radio Paul Harvey broadcast on MP3 (6 meg).

He gave a speech in Tulsa (Library of Congress link) on April 2, 1994 in which he remembered HIS Tulsa, and mentioned Isabelle Ronan.

Back in GB 164, I wrote a little piece in the style of Paul Harvey's "The Rest of the Story" about an early Tulsan, later illustrated with Beryl Ford Collection photos. I'm going to miss Paul Harvey.
---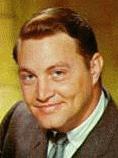 (from Guestbook 34) Jim Ruddle said: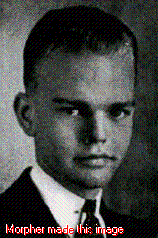 Paul Harvey, real name Paul Harvey Aurandt, was one of Miss Isabelle Ronan's major products. He made his first big splash in Chicago when he went over the fence at the Argonne National Laboratory, in the Chicago suburbs, to prove that security was lax at this top secret installation. He got arrested and it was big news at the time.
When we produced "KVOO Day" at Central High School, each year, Harvey would always send a good luck/good wishes telegram to the kids.
The thing that always impressed me about him is that he writes his own stuff--he has the formula down pat after fifty years, but it's still good, even to the well-planned pauses and seeming search for the right word. Some of his commercials are half script-half ad lib, but he knows so well what he's doing that they come out as straight-from-the-heart endorsements. He won't endorse something unless he knows the product. I told Noel this story:
People from Tulsa (the Southwest and Midwest generally) have frequently differed from the East in the pronounciation of the words "either" and "neither." We prefer "eether" and "neether," while the more effete types go for "eyther" and "nyether." I first met Paul at some benefit event in Chicago. Of course, I knew who he was, but I'd been on the air there for only a short while and, somehow, he knew I was another Ronanite from Tulsa. He walked over to me, shook my hand, and said "I'm glad to note that you don't say 'eyether' eether."
Paul Harvey refers to Miss Ronan and KVOO on "Larry King Live",
1/30/2003. (RealPlayer help)

The early photo I used to create the morph above is courtesy of Don Norton
from Central High's 1936 "Tom Tom" yearbook. The other one was
found on the internet. I'm kinda proud of that morph.

Read about Jim Ruddle as "Zeta, On Satellite Six".


(from Guestbook 30) Frank Morrow said: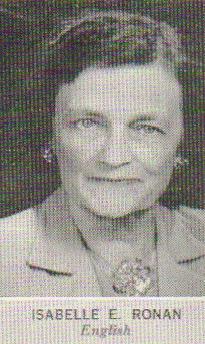 Tulsa Central High School students from the '30s until the early '50s had a unique opportunity to get experience in radio. In addition to "KVOO Day" where Isabelle Ronan's speech students took over the production and performance responsibilities of the 50,000 watt, clear-channel station for one broadcasting day, the young people had a weekly thirty minute program over KOME on Saturday mornings---"Experimental Theater of the Air." Under the guidance of Miss Ronan we produced a wide variety of works, including music performed by students, comedy programs and drama shows, some of which were written by the students.

Some of the music programs were purely of a performance character by individuals or small groups, while others were sections of operettas which were under production by Central's Opera Club, songs by the Central Acapella Choir, or band combos. Because the copyright laws were not so restrictive then as they are now, as a non-commercial program we could perform almost any scripts we desired. Consequently, we could re-create some of the best programs available such as "Untitled" by the premier writer Norman Corwin.
The show was created at the KWGS studios, with the director being a TU student who was getting credit for being the director. In my years, Bob "Dusty" West, who narrated the Easter Pageant, was the first director, followed by Dave Croninger the next year.
Many students from 1949-52 later had significant careers in radio, TV and the theater. Jim Ruddle, Noel Confer, and Larry Bettis from the Class of '49; Charles Connor from '50; Jack Eddleman, Shirley Barbour, and myself from '51; and Bob Griffin and Lo Rene Washburn from '52. Shirley and Lo Rene became Miss Oklahomas after they graduated from Central and were students at TU.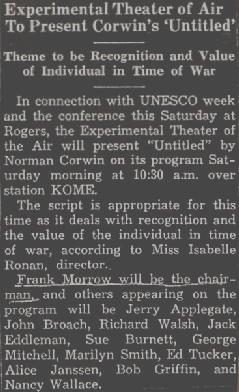 I don't know when "Experimental Theater of the Air" was started; "KVOO Day" (or "Central Day" to the people at the station) commenced in 1936. After Miss Ronan retired in 1952, all the special productions went with her: The weekly radio program on KOME, "KVOO Day," and the large, prestigious Easter Pageant at Memorial Park ceased to be produced, although "Experimental Theater" continued for a short time, but it was broadcast over KWGS (to a non-existent audience because there were no FM receivers). Selecting an annual recipient for the full, four-year radio scholarship to TU also was dropped. Miss Ronan had been speech teacher at Central since 1922. She deeply touched many, many young people. She was an incredible inspiration to all of us. Her retirement marked the passing of a golden era at Central High school.


Hear Frank and cohorts on
"Sleepwalker's Serenade", KVOO day, 1951



(from Guestbook 101) Jim Ruddle said:
A couple of personal notes about Isabelle Ronan.
As a teacher at Central High School, Miss Ronan was not in the high income brackets. She wore the same clothes year after year, and lived frugally.
In the school year 1948-49, the Southwest Theater Conference, a creation of the depression era Federal Theater Project, held its annual meeting at the University of Oklahoma. She was invited, but said she couldn't attend. Instead, she asked Ted Machler and me to represent her there. Two high school students among the leading university and community theater leaders in the Southwest. I will always remember the appearance of B. Iden Payne, the legendary actor, director, and Shakespeare scholar from the University of Texas. It was a heady weekend for Ted and me.
We were broke, as always, and had no way to get to Norman, but we hitchhiked down. She gave us an envelope which she cautioned us not to open until we got there. Of course, we opened it as soon as we were on the road. It had a five-dollar bill and a note telling us to have a good time.
Every year, the Tulsa Public Schools held dramatic reading contests for students, including all the high schools. Dramatic monologues and poetry presentations made up most of the performances. I decided to offer Oscar Wilde's "The Ballad of Reading Gaol," a work that was, no doubt, beyond my full comprehension because I knew so little of the background of Wilde's own imprisonment.
Some time later, Miss Ronan gave me a small volume, one of the old Peter Pauper Press editions, of "The Ballad of Reading Gaol," which she had purchased and which she inscribed "Because you read this so well."
Unfortunaately, it was lost when my family's home burned a couple of years later, but it, and the five bucks, still stand out in my memory as acts by a great teacher who took an inordinate interest in the growth and education of her students. I'm sure she did many other similar generous things for other students, never getting public recognition for her kindness and interest.
As somebody once said: They don't make 'em like that anymore.

(from Guestbook 101) Frank Morrow said:
I was given a 1927 Tulsa Central Tom Tom that had many pictures of the teachers I had who were still there in the late '40s and early '50s. One of these pictures is of Isabelle Ronan, the sainted speech teacher about whom I and other people have written so much.
Here is her picture from that yearbook.
Not only did this incredible woman inspire so many people to excel in broadcasting and the theater, she enriched the lives of everyone with whom she came into contact. Here is the memory that a Central classmate recently shared with me:
"Although I had Miss Ronan for a teacher, I was never a good enough Thespian to participate in any of her productions. One day I was bemoaning this fact to her, saying that I wished that I had more talent. She said gently, 'It is not what you accomplish in life that is important. It's the type of a person you are.' That made me feel so much better, and I never forgot her words."

(from Guestbook 42) Frank Morrow said:
On one of our weekly radio programs on "The Experimental Theater of the Air" in 1951, we presented a play about the life of Jesus, written by our speech teacher Miss Ronan. She gave me the lead role. Using my best, pubescent, lowest voice register, I read the part with such profound, pietistic slowness that we only got halfway through the script when it became obvious that the program was running out of time. We could see our director, TU student Bob West, frantically discussing the situation in the control room with his engineer. Finally, with time expiring, Bob held up both his arms to let us know that a cue was coming. Then he gave a big "cut" sign--the finger running across the throat. We had to resume the next week, leaving Jesus hanging from the cross for an extra seven days with only a lonely loin cloth to protect him from the coldness of etherland.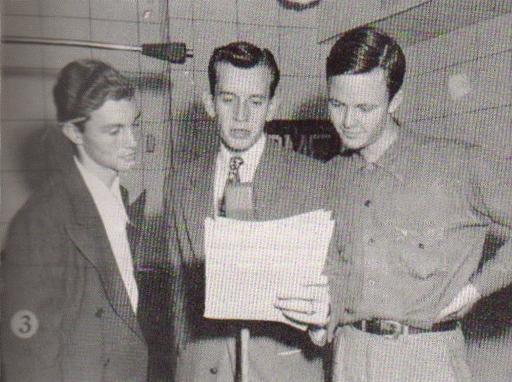 Jim Ruddle, Larry Bettis and Noel Confer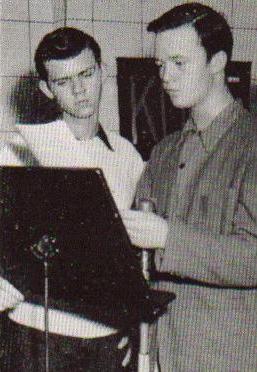 Noel Confer (aka Noel Kelly) began his career under the tutelage of Isabelle Ronan. He took radio acting roles on local stations, attended the University of Tulsa's broadcast school, and served Uncle Sam in the Army.
He spent a year in Hollywood as a member of Actors Equity, his first role being the lead in a stage play.
Upon his return to Oklahoma, he worked in radio at Muskogee and Shawnee.
He joined KVOO-TV before the station hit the airwaves. There, he worked up to the position of chief announcer. He did comedy on the road with Al (Uncle Zeke) Clauser as "Grandpa Hawkins", and performed as the same character on KVOO-TV's "T-Town Jubilee". He was an announcer at KOTV for most of 1955.
Noel revealed that he played the bad guy, Karzov, on the Jim Ruddle KOTV kiddie show, "Zeta on Satellite Six":
"...Yes I, fresh from playing the dramatic role of boy-hero, Elmer the Clown, on the "Uncle Hiram" show on KVOO-TV. I moved to KOTV and was relegated to Zeta's arch enemy. (or was it, arch enema?) I have it on good authority that Jim still has his Zeta suit, and had been known to wear it to church."
He spent the subsequent forty years in Southern California as a radio/TV announcer and stage actor.
Noel's first television appearance was on KOTV in 1949 --- when he arrived at the studio, he had never even seen TV!
I had a chance to meet Noel at the recent KOTV 50th anniversary reunion...he struck me as quite a sophisticated gentleman!



(from Guestbook 32) Noel Confer said: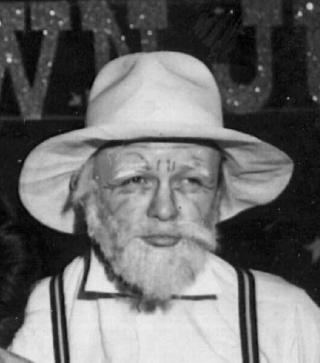 I never worked for KRMG, but they were our downstairs neighbors at the original KVOO-TV in the old Akdar Shrine building.
Some names I haven't found in these pages are Country DJ Marvin McCullough and a great DJ from the Joe Knight, Johnny Chick days.
I refer to Lynn Higbee. He left Tulsa to go to a PD job in Kansas City even after the station went country. Lynn left to go with a chain in Topeka as station mgr. He passed away after a series of heart attacks, several years ago. His widow, Jan, and his daughter, Cristi, live in the Kansas City area.
I did comedy on Marvin's Channel 2 show "The T-Town Jubilee". I was Grandpappy Hawkins. I'm sure you all hold that memory close to your heart. We had a great local Gospel quartet.
(from Guestbook 33) Noel Confer said:
When I was a teen I was a hand on Bob & Johnny Lee's (Wills) horse ranch, north of Tulsa. Later, in California, on more than one occasion, I worked with live C/W bands on remotes from clubs. Often when they started recounting the stars with whom they'd worked, I mentioned that I had worked for the Wills brothers when I was 14 years old. Someone always asked, "what was your instrument?" I enjoyed their expressions when I answered, "the shovel".
So, Bob Wills might have said "Take it away, Noel! Ah-haaaa!" Note that "Noel" is "Leon" backwards.


(from Guestbook 90) Jim Ruddle said:
Now that the subject of soap operas has been broached, let me add that one of the queens of the daytimers was a Tulsa Central grad: Mary Stuart (Houchins). She starred as the lead character on "Search for Tomorrow" for more than twenty years.
After graduating from Central (a Ronan pupil), she went to Hollywood where she was in a couple of movies, one opposite Errol Flynn--How the hell do you spell "Erroll"?? One "L" two "Rs"? Forget it. You know the guy. Anyway, she had a brief shot at the movies, then went back to New York and got into television. Her brother, Guy, was a few years younger.


(from Guestbook 96) Don Norton said:
The TV Guide issue currently being distributed (Nov. 24-30) carries a nice tribute (Page 63) to Tulsa Central high school and University of Tulsa alumna MARY STUART HOUCHINS. Mary went off to New York about fifty years ago, dropped the "Houchins," and ever since has made a pretty good living in soap opera ("Guiding Light"). In 1962 "she bacame the first and only performer to win a prime-time Emmy nomination for a daytime role" and TV Guide wants a 40th anniversary celebration of that next year. We heartily "second the motion."
Not many of our "communicants" are old enough to remember Mary Stuart's Tulsa days, but she definitely belongs in the Tulsa TV Memories pantheon.
Here is Mary Stuart Houchins' filmography at IMDb, her autobiography, and a link to Bookpals, of which she is the chair. Bookpals is a national organization of actors who read stories aloud to children. It was founded by Barbara Bain of "Mission: Impossible" and "Space: 1999".

Sad news: she passed away on February 28, 2002 in Connecticut. Here is a tribute site. Guy Houchins passed away on 2/6/2006.



(from Guestbook 90) Edward Dumit said: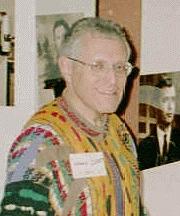 Edward Dumit announces his entrance into the 21st century! Effective immediately, he has e-mail and is in residence at edward-dumit at utulsa dot edu!
"But seriously, folks," it's great to have access now to the media memories of so many former students, classmates, and associates. It's been a long, wonderful journey from my first broadcast in 1935 at the age of 5 on KVOO's "Kiddies Review" from the Jenkins Music Company auditorium (I recited the immortal poem, "I had a little pig"), weekly appearances throughout the 5th and 6th grades on KVOO's "Junior Playhouse," frequent parts on Central High School's "Experimental Theater of the Air" on KOME, regular shifts on KWGS throughout college at TU, and my first commercial job at KWON in Bartlesville to my retirement from the TU Communication faculty 8 years ago and my second retirement in May of this year from producing and hosting broadcasts of the Tulsa Philharmonic Orchestra and OK Mozart Festival.
Now I relish the opportunity of catching up on your memories and experiences and sharing a few of my own.
Frank Morrow... you're on!
On to Tulsa Radio page 5
Channel Changer 2
Back to main