KRMG's John Erling, longtime Tulsa morning radio personality
7/28/2005 was John Erling's last day on the air He is now executive vice president and managing director of the Tulsa office of advertising firm Ackerman McQueen.
Before John Erling and Watson Jelks, Chuck Adams was KRMG's morning man
Jerry Vaughn was KRMG's afternoon man
Step into evening man Johnny Martin's darkened studio at KRMG
"America's Greatest Voice" on Chicago's WMAQ in the 50s-60s...John Doremus of Sapulpa, who worked first at KOME, then at KRMG

Media People in the 1970s Made Major Difference in Race Relations (including Sam Babcock, KRMG Sales Manager)


(from Guestbook 212) Candace Conley said:
I worked at KRMG during the late 70s...I think 76-78? My shift started at 3:30pm and I did traffic reports, followed by newscasts until midnight.
I remember Ed Brocksmith saying "we have this great broad in the traffic". Johnny Martin was the greatest. Later I was promoted to midday! Bob Stevens and I did the noon news where I was known to say almost anything that would enter my head...somewhat dangerous at that time.
When I would take over in the morning, John Erling was finishing his show and we would have a brief interchange (on air). This was during Nixon's book writing year and John asked me if I knew where you could find Nixon's book...I said I don't know, maybe in the fiction section. Boy, did we get letters and phone calls over that. A very interesting time to be in radio...


(from Guestbook 25) Dick Van Dera (Uncle Zip) said:
I just remembered a funny...or not so funny...incident that happened to me while at KRMG.
When Johnny Martin was on vacation, I would do his all-night show, big band music and all. Truckers calling in, too.
Watson Jelks, who was the crazy morning man before John Erling, would come in the studio 15 to 20 minutes before his on air shift and sort of organize, I guess. In those days, a lot of live spots were done.
Watson was behind me pulling records. I opened mike after warning him and preceeded to read the 60 second spot. I don't remember who the sponsor was, but the tag line at the end was "located at Crystal City Shopping Center." I read, with Jelks blowing in my ear: "located at Crystal Shitty Shopping Center."
Red-faced, I had learned to just go on and listeners maybe would not hear what I just said, but no! Jelks said, "did you just say what I thought you said?"
Future mornings with that same spot and Jelks in the room were never the same. I just use to sweat.


(from Guestbook 13) Former KJRH weatherman Dan Satterfield said:
The greatest thing for me about working in Tulsa was getting to do the afternoon weather with Jerry Vaughn and the gang at KRMG. I would listen to him and (alter ego) Arlton J. Do Right as I rode my bike home from Junior High... then one afternoon in 1984 I was on the air with Jerry doing the weather!...it was a great thrill....anyone know where Jerry is now??
Anyone still remember his sign off each day..."Hang in ever so lightly and ever...so ever-lovin tightly... straight ahead!"



(from Guestbook 21) Ray L. Rivera said:
I really enjoyed working with the entire news crew at KRMG as well as with the late David "It's nine o' clock. Set your Waterbury" Stanford. Occasionally he'd bring his roommate's dog (a beautiful yellow Lab named Griffin, or Grif) into the studio while David did his talk show. Grif would always sit under David's console and David would always tells his listeners about Grif's "smile."
Apparently one night Grif decided to move his bowels while he was in David's side of the studio. David was always a relaxed, professional and very placid man but I had never seen him so mad as I did that night.
I also remember my meeting the great Johnny Martin. It was pretty intimidating because he always kept his studio darkened, so I had a hard time adjusting my vision going from harsh neon hallway lights to a completely darkened studio. Both of them were such nice men and I do miss them.


(from Guestbook 5) Jim Back said:
I remember one election night in the early-to-mid 70s, Don Cummins was anchoring our election coverage on KRMG, and Jim Bunn was at Democratic headquarters and I was at the Republican HQ (or vice versa). Don is trying to keep everything running smoothly, while trying to anticipate where the next report is to come from. Jim and I both called in on the 2-way about the same time and Don called for one of us by name when he meant to cue the other. Anyway, he apologized to the aucience and tried to say, "Sorry folks, I got my Jim's mixed up." Instead, what came out was, "Sorry folks. I got my Back and my Bunns mixed up."
It was pretty funny at the time, but to this day I've wondered if he didn't do it on purpose.


(from Guestbook 5) Mike Bruchas said:
Where are those KRMG voices of the 70's - Don Cummins and Ed Brocksmith?
(from Guestbook 5) Jim Back said:
Since we've kind of drifted onto radio for awhile, here's an interesting story about KRMG. Those call letters, of course, stand for Kerr-McGee. The station license was originally assigned to the late U.S. Senator Robert S. Kerr. It signed on the air on Dec. 31, 1949.
The story we always heard is that he wanted a radio station to match the one owned by his friend/competitor W. G. Skelly, which was KVOO. When AM radio was in its heyday the FCC assigned a few stations around the country as "clear channel" stations, meaning they were authorized to operate at the maximum allowable power of 50,000 watts and there would be no other stations anywhere else assigned to their frequency. The theory was that these stations would assure that people in rural areas could hear radio entertainment without interference. The rest of the stations had to share their frequencies with other stations in other parts of the country.
So KRMG had to be shoehorned into its 740 MHz frequency without interfering with a Canadian clear channel station and a Houston, TX local station, both also at 740. Kerr wanted his station to serve not only Tulsa, but also Oklahoma City, so he aimed the station's signal southwest from its tower location near Mannford. It took (and still takes) six towers to direct the signal correctly.

That's the background on this story: In the late '70s a storm knocked one of the six towers down and the engineers spent several weeks after putting up the new tower, trying to match the directional pattern prescribed in the original FCC license agreement. They hired experts, and even called in FCC engineers to try to get it right. No one could match the proper pattern and the result was the KRMG signal encroached on the Canadian signal to a slight extent.
After extensive testing, station lawyers and the FCC attorneys concluded that most likely the signal never did comply with the legal pattern and that someone connected with the powerful Senator and "done whatever he needed to" to get the license approved anyway.
So KRMG is probably one of the only radio stations in the country that has FCC approval to be out of FCC compliance.


(from Guestbook 5) Don Lundy said:
As Jim Back noted KRMG was for Kerr-McGee, owned by U.S. Senator Robert S. Kerr and his oil partner, Dean McGee.
KAKC was for Avey, Kellough and Condon. Sam Avey was a Tulsa entrepreneur, owned the old Coliseum on 4th Street and Cincinnati (or Detroit) that burned down in the 50s, think Kellough was a local businessman and Glen Condon was news director at KRMG in the early years. I believe this is correct, it was all part of a unit on Oklahoma history we took in the sixth grade mandated by the state. For some reason, this has all stuck with me.
Jim Wheaton, Tulsa radio pitchman

Hear 4 Jim Wheaton Needham Tires commercials on MP3, courtesy of Joe Riddle and Wayne McCombs! (Click to play, or to download to your computer, right-click and select Save Target As.)
A bit of this MP3 previously appeared on David Bagsby's Part Seb'm of The Tulsa Project: Led Zebblin: Outhouses of the Holy.

(from Guestbook 199) Lee Woodward said:
I cannot remember the name of the eccentric fellow who did the spots for Needham Tires (Jim Wheaton), but I came into the men's room at KOTV one evening as he was engaged in recording an ad-lib spot on his portable tape recorder...in one of the stalls. He emerged in a moment, looked at me and said; "I like the acoustics!" (He must have been right because Ridge Bond used to warm up in there.)
I found out later that he did most of his commercials this way and many times to good effect. Art Ford told me of one in particular where he stood on the curb at the corner of 3rd and Frankfort so he could get traffic sounds as he did the spot.
His was a one man agency and I think he had most of his materials in his unkempt suit. I seem to recall he always wore a hat, summer or winter.
I think Needham Tires had the head of an Indian Chief in full war bonnet as a logo. So, I suppose that accounts for the "Ugh!" that was the keynote word in all the spots?

(from Guestbook 199) Gary Chew said:
My dear colleague, Der Meistersinger Woodward, reminds me of yet another entrepreneurial tactic Mr. Wheaton employed; it was his "borrowing" of the Bell Amusement Park jingle that I vocal-quadruple-tracked to the tune of "Over the Waves" next door at KELi on the Fairgrounds. This was prior to my KOTV stint and realizing that Lee was more equipped to do such singing, not to mention zinging. Right, Claxton?
Mr. Wheaton's residuals allow me a lifetime complimentary pass to ride Zingo which, I'm told, is in the mail.
"Bellllll's Amusement Park, Bell's Amu-u-u-u-usement Park..." And so on, ad nauseum. Anybody have a dub? Sorry.

Courtesy of the Beryl Ford Collection/Rotary Club of Tulsa

(from Guestbook 10) Jim Back said:
| | |
| --- | --- |
| | |
| Courtesy of Gerald Weathers | |
Jim Wheaton's name has come up on this page a few times. He was a colorful radio pitchman in the late 60s and 70s (and a little into the 80s) in Tulsa. His unique voice was heard on spots for Connor's Corner, Gary Henry Chevrolet, and many others. His most famous series of spots was for U-Need-M tires. That hokey tom-tom opened each spots, followed by Jim's gutteral, "Ugh! You need 'em tires?"
He was basically a one man ad agency; obtaining clients, buying time, writing and recording the spots, etc. He didn't pay too much attention to the length of his spots and the radio stations in those days didn't worry too much about it. (Unrelated to Wheaton, those live remotes from car dealers, etc., on Saturday morning back in the 70s never got within 50 yards of a stopwatch either) Anyway, I was Program Director for KRMG about 1981 when we added ABC Radio. I told the sales rep handling Jim's account that he would have to crack down on him because we had to meet the network. Jim got so mad at us "tampering with his creativity" that he pulled all his spots for a week or so. I had to send him a letter assuring him that he was wonderful, but if he buys 30 sec he gets 29 and if the spots went overtime we'd have to reject them. In response he bought a schedule for some client
where he complained (in the spot!) about KRMG rejecting his spots, and used the last five seconds to count down to zero. He eventually got over it, however, and tightened up his spots, but he held a grudge against me ever after.
Sadly, Jim died of cancer in the early 80s.
Jim Wheaton was a colorful part of Tulsa broadcasting history.

(from GroupBlog 243) Ray J. Johnson (KRMG Sales 1977-1982) said:
I'm responding to the late Jim Back's comment about the time when he had do crack down on Jim Wheaton. Jim mentions speaking to the sales rep at that time about Jim and his disregard for time. Well, I'm writing to say that the story is absolutely true. I was the sales rep at the time.


(via email, 2/13/2005) Gary Chew said:
Oh my God, if there's going to be some KRMG on your marvelously growing site, you're gonna run into me, again. Ubiquity in broadcasting is not uncommon.
I got there just before they changed their format to chicken-rock (MOR, or middle of the road).
I can always remember when I worked there by simply remembering one of the years I was on Radio 74 was in 1974.
Dick Andert, Jerry Vaughn, Watson Jelks, Bob Losure in news, Ed Brocksmith was the news director. Rita Thomlinson (her name then) was the Traffic Director, before she went into sales.) Ron Blue, the manager. Gerry Swanson, the owner.
Johnny Martin relieved me on the air every evening at 8. What a guy!
I got to start Johnny's opening theme, "Basically Blues" with the Buddy Rich Band, I think it was. I also coveted the music he got to play.
P.S. Dick Andert has been a police officer on the LAPD for many moons, now.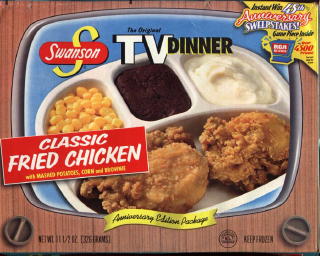 (from Guestbook 15) Jim Back said:
You probably don't realize this, but even that TV dinner at the top of your home page has a Tulsa tie.
The Swanson family sold the company (and the rights to the name) to Campbell Soup in the early Sixties. Each of the Swanson kids got a share of the fortune.
Young Gerry Swanson used his share to get into the radio business; he bought KRMG and moved to Tulsa and create Swanco Broadcasting (later renamed Swanson Broadcasting).
At its height, the company consisted of KRMG and KWEN in Tulsa, KKNG in OKC, a station in Wichita, one in New Orleans, one in San Antonio, and the Texas News Network.

The above item was featured on Boing Boing, 7/20/2005. This TV dinner scan of mine is also featured at a faux web site created for the movie, "Never Been Thawed" (review on this site).
(from Guestbook 113) Here's to our good friend, Jim Back, who contributed much to this site.

Jim Back, 57, of Edmond, passed away Monday, August 26, 2002. He was born March 1, 1945 in Tulsa, OK to Ernest and Neil Back. Jim married his wife, Charlotte, on June 5, 1976. Jim worked at KRMG Radio in Tulsa and at Tulsa Cable before moving to Edmond in 1990. In Edmond he was in the marketing department at Multimedia Cablevision and Cox Communications. The past year he had been pursuing a Master's degree at Oklahoma State University. He is survived by: his wife, Charlotte; sister, Neilia Weatherly of Santa Fe, TX; and many family and friends.


Channel Changer 2 Back to main