(from Guestbook 85) Jim Back said:

Wasn't there some sort of weird, abstract moving art type program on Channel 8 for a short while sometime in the 1970s? I seem to remember it was on very late at night, maybe Saturday and it didn't last very long. I think it was pulsing light or random shapes moving and changing in sync with music. I don't remember if this was filler material, a real show, or if it is just me having some sort of "senior moment."


(from Guestbook 68) Edwin Fincher said:

Anyone here remember the program that took Mazeppa's place on 8 in '73? (MAINTAIN - A concert of video realizations)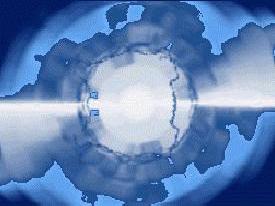 Webmaster: Is that the show that played music such as Yes' "Close to the Edge" (in its entirety), while showing abstract visual patterns? It was used by some in the audience as an assist in achieving a state of "expanded consciousness". I was hoping someone else would remember it.

(from Guestbooks 68 & 85) Edwin Fincher replied:
INDEED - that was a program I just had to do. It WAS '73 after all.
Hey webmaster-type guy, thanks for the pic of a MAINTAIN realization! Of course it does not make much sense when not moving, but if I stare at it long enough maybe a good old-fashion flashback will happen. Yee-Haw!
Webmaster:

In Windows Media Player, if you select a Full Screen Visualization, bring up some spacy music on MP3 or internet radio, then light some incense, you will have a fairly decent MAINTAIN simulation.

However, Edwin interpreted the music by personally manipulating video feedback, so the show was actually performance art.

MAINTAIN took over Mazeppa's time slot when he went off to Hollywood in 1973.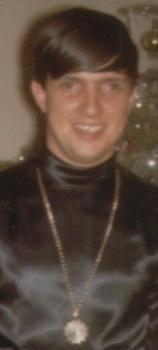 In the beginning (as I recall 'twas my teenage years) I owned an audio recording studio located (of course) in my parents' garage. KELI xmitter was but 1.5 miles away, so I had to wrap my studio in "tin" foil and ground it. I would not make much money recording since I had no idea how to, BUT I had a nice device. I used it to create what I called "audio realizations". (At left: Edwin in 1969)
At first using the normal tape loops (Robert Fripp) then sound on sound - sound with sound, etc. (Les Paul) I eagerly found "other" effects to use. At first (since my studio was, at least, well made) I could use audio feedback. It, of course, depended upon the cheap speakers used and the very cheap mics used.
Ah yes!, but I soon discovered "internal" feedback. You can find that in the old song "Crimson and Clover". (The audio beats back upon itself - cool!) Now let us head into the future.................
Brief stint at KOSU-FM (at that time 220 W. of pure stereo power!) doing the DJ thing. Dean of boys and some other strange creatures came to my apt. and explained to me that "my kind" really shouldn't be attending OSU. I still don't quite get it since I hadn't even HEARD of drugs then!
Oh well, I needed to go where I could learn REAL TV anyway. My Father was a meteorologist for the gov. at that time and knew the local TV weather guys. Hence, an "in" for me. Camera for a bit, lighting for a bit (still do it), floor director and etc. until **FLASH!**....if there is audio feedback then what happens with video? (note: of course by this time those horrible-horrible drugs had found me and twisted me into the fiendish thingy that exist to this very day!) Ever the mess....onward thru the fog!
Early 70's - KTUL - GE color cams begotten in '68. Up-graded and as "new" as can be.
Any person interested in video feedback will need to know THIS info: the new GE color cams at KTUL in the early 70s had an additional 4th gun...a luminance gun. We called it the "white gun". This was my key in controlling the video level and thus having control over the amount of feedback you get. As you will find now (without it) - it is difficult to control. HEY! use a B&W cam - you'll find everything I did there. Take a fine cam, shoot a fine monitor, and there it is. Iris, contrast, brightness, etc. is all important. Use a scope, if possible.
Gene Tincher (among others) made sure the levels didn't go above 110%. Screw around all you want and go "YA-HOO!", but if it is technically wrong, then it is a bad recording. It may not even record at all! TECH correct is and will always be prime. Try playing a Moog without proper voltage! (kinda sickly sounding)
So, why do you keep shooting the monitor right on? I call that "blanket feedback". Turn the monitor on its side. Now you have quad feedback. Turn it just a bit more...then you have...FUN. Had a friend once who became a Christian from seeing a cross in quad feedback for a bit. Thought I was "preaching" to him (acid, I think).
I am overjoyed at seeing your new thing with the 70's page...I really must make copies of Mazep & Leon film I have of the Baseball stadium concert...copies (bad) of some MAINTAIN stuff...a good logo (bumper) of MAINTAIN...and worst of all...a copy of yours truly asking viewers to send in letters.
Thanx...

3/1/2009: MAINTAIN videos recovered by Jason Fincher!
Be sure to go full screen for best effect.



Edwin asks viewers to send in letters.













From Edwin, with conversion assist by Derick Snow, a MAINTAIN-style realization of Yes' "Madrigal" (1978)

Edwin, 8/24/2007: "I created a feedback thingy for my very self at one time. It must be viewed, me thinks, by a one eyed guy as me. One must stare into the very center at all times to understand (hence, one eye helps). Always wanted to do this "Realization" for this piece by Jon Anderson. The record was old and scratched and could do nothing for it at that time, but I have it on dvd now and thought you might want to view the thing (dirty as it is). While most prefer ever-changing-quick-type video, as I said....I did it for me. The words (and Realization) explain everything one needs to know about my craft......if you wish it....keep these words to explain it. I thank you and yours."
Edwin Fincher and Oklahoma governor Frank Keating enjoy a segment of "MAINTAIN" at the governor's mansion:

Ooooh....

Pretty colors!



(from Guestbook 69) Peter D. Abrams said:
Edwin Fincher I met once. Maybe twice. He left right after I got there so I have small memories. What I DO remember is MAINTAIN. I was at TU when that was on the air.
What is most prominent in the remaining brain cells was Richard Wilson's tale of how, why and why not:
"We put this show on the air, David and I and most everybody else involved knew what it was all about, and people all over Tulsa were lovin' it! Then, the management figured out what we were doin'!"
And that was the end of that.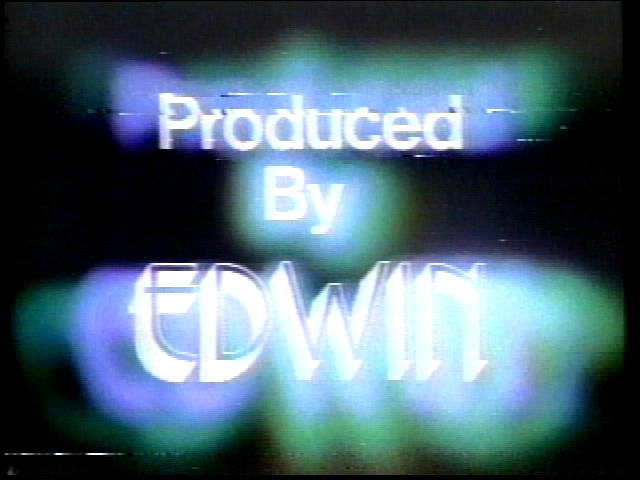 (from GroupBlog 264, 4/9/2008) Derick Snow said:

J. Edwin Fincher passed away today, I thought you folks at TV memories should know. Edwin was a great storyteller and I've had great fun working with him. He helped to design the set and lighting for my little show here on Tulsa Public Schools (Cox Cable Channel 20), Quick Draw Derick and worked with me in many, many other venues through the last eight years I knew him. He was just about the most unique, "bizarre" character I ever knew. I'll miss making Edwin sounds around my work. I loved that guy!

Here's the last picture I took of Edwin: King of the world.

Webmaster:

This is a terrible shock. Just today, I had sent Edwin an email about a newer, computer-based approach to the video realizations he had created for MAINTAIN in 1973. Thank you, Derick. Our deepest condolences to Tami and the family.

Here is a painting, done by Derick last night during Open Mic at the Gypsy Coffee House in memory of Edwin.

Derick also helped Edwin get the above realization to us for the MAINTAIN page eight months ago. It's a fitting way to remember Edwin.

(from GroupBlog 264) Mike Bruchas said:
Nooooo - well he lived his own way.
I worked with him at 8 and at 6 and with his former wife, Sherry, as a weekend fill-in at Starship 25-26 years ago at the old location.
MAINTAIN, old son, MAINTAIN...

(from GroupBlog 264) John Hillis said:
One of the (many) crappy things about getting older is losing friends. Though I hadn't seen him in 30 years, I'd count Edwin as one.
I don't know if the non-TV folks realize how amazing it is for someone to spend all those years in media in one place. It speaks well of Edwin's skill and his sense of humor that he did, and was well respected.
My recollection of Edwin will always be of the long-haired kid on the headsets at KOTV with a quick remark and a passion for good lighting, and, as Mike said, living his own life.

(from GroupBlog 264) Anne Pace said:
I had the privilege of knowing Edwin from the day he met Tami, who has been my friend for many years. I also had the honor of being at his side shortly before he passed. He was full of life to the last, and kept us laughing until the final hour. He taught me to love television, love life, and above all to love and honor family. I was glad to have him as a part of my "extended family." Thanks for everything, Edwin!

(from GroupBlog 264) Sara Fincher said:
The family would like to let you know that he passed away this evening, April 9th, at 6:40 p.m. at St. John's Hospital from heart disease.
There will be a memorial service for Edwin Fincher on Saturday, April 19th, 2008, at 2pm. It will be held at the Mark Griffith Memorial Funeral Home, Westwood Chapel, at 4424 S. 33rd W. Ave., Tulsa, Oklahoma. All are welcome.
We all agree that Dad would have wanted the folks who frequent Tulsa TV Memories to know. It was the one online community that he was glad to be a part of. Television was his life.

(from GroupBlog 264) Lee Woodward & King Lionel said:
We are saddened to hear about Edwin. He was a favorite at KOTV and one of those individuals who kept the mood light in the studio; I meant "light" in both ways in which he was expert in that department.

He astonished me one day some few years ago, when I pulled into a gas station at 31st & Sheridan. I had not seen him in years, he came up and re-introduced himself (not needed), and handed me a twenty dollar bill. I was astonished as he told me that I had loaned him that years before and he had felt badly that he had forgotten to repay me. But, that was Edwin.

He always laughed when I called him Marty Feldman when we were joking around. He was unique and I know his friends and family will miss him. Our condolences.

(from GroupBlog 264) John Boydston said:
I'm very sorry to read about Edwin's passing. I only knew him by what he wrote on these pages - and he usually made me laugh or think, sometimes both.
He seemed to have a real knack for saying only what needed to be said, and nothing more, which is a rare talent indeed.

(from GroupBlog 265) Mike Pierce said:
Edwin was a major creative talent who was the original rebel and defiant son. He fought Authority and it always won. His show, "Maintain" (very brief on 8 '73), was so out there and creative, the rest of the world still hasn't caught up. There's not a day goes by running a camera, that I don't remind myself of something Edwin taught me about operating a camera.
Edwin's last message to us was at the top of GroupBlog 263.
Thanks to Alan Lambert and the presiding Unitarian minister, the words of Lee Woodward, John Hillis, John Boydston, Mike Bruchas, the webmaster, Anne Pace and Sara Fincher were heard by all at Edwin's service on 4/19/2008.
Leon Rollerson told this story at Edwin's funeral...Willie Nelson did a concert at Mabee Center sometime in the mid-70s. Edwin lit the event. Backstage before the show, Edwin patched in a segment of "MAINTAIN" to the video monitor system. Willie raptly watched the episode, then asked to see the whole thing again, delaying his show.
"MAINTAIN: A concert of video realizations" was brought to you by this fine Tulsa sponsor...


One of Leon Russell's 1971 groups was also called "Tulsa Tops".

(Courtesy of John Moore and Don Cook)