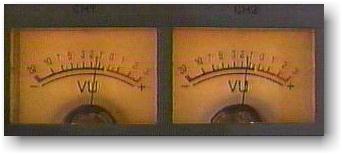 Oklahoma radio forum at Radio-info.com - Insider commentary on the state of Tulsa radio.
List of Tulsa-area HD radio stations
Webmaster: Since I got an HD Tuner (See the Radio pages in the TTM Gift Shop) and hooked up a Select-A-Tenna for AM and a rabbit ears for FM, I can pick up KRVT, KGTO, KRSC-FM, none of them HD stations, even though I am in far-south Tulsa. The presets make it much easier to visit all these fine stations, plus all the new HD ones.
List of Tulsa-area radio stations - with links to station web sites.
---

Recommended Tulsa radio today:

KRSC-FM 91.3 "Real College Radio" from Rogers State University in Claremore (formerly helmed by "Captain Alan" Lambert).
A small sample of KRSC's local, original programming: "The Local Flavors Show", all Oklahoma music from all genres on Mondays with Davit Souders at 7 pm; "Hillbilly Happy Hour" is old and new music with Johnney Hall, Saturday at 9 am. "All That Jazz" with Dan & Debbie Kara is great straight-ahead jazz Saturday at 3 pm. "The Meaning of Life" is hosted by Dr. Jim Ford. He serves up a different philosophical theme along with illustrative and free-associative alternative, classic rock, blues and soul, Sundays, 3-5 pm. "Saturday Nite Trip" at 7 pm is the best in Electronica. "Spectral Voyages" at 2 am offers an hour of ambient, electronic music from around the world! Here's the schedule.
Folks at KRSC who have contributed to TTM include Dale ("Melvin Simpkins") McKinney and Bryan Crain. Listen online.

KWGS-FM 89.5 (aka HD1) at the University of Tulsa offers classical, jazz and folk programming, NPR, PRI, and the BBC at night. Tulsa radio legend Ed Dumit can still be heard on station breaks. News Director John Durkee and former Tulsa TV anchor Denise Brewer have added even more distinction and local appeal to the station. Development Director Casey Morgan is a TTM contributor. Listen to HD1 online at KWGS.
The syndicated portion of KWGS' HD2 straight-ahead jazz content by JazzWorks can be sampled online at their site. HD3 is the "Ideas" channel.
Playlists for local Saturday night music programming can be found on KWGS' web site (look to the left).
Locally-produced KWGS HD1 programming includes:

Rich Fisher's "StudioTulsa", intelligent talk at 11:30 am & 7:30 pm weekdays
John Wooley's Western Swing show, "Swing On This", Saturday nights from 7-8 pm. A dedication.
Alan Lambert's "Big Band Saturday Night" follows John from 8-10 pm (Tulsa TV's "Captain Alan").
Scott Gregory's All This Jazz - Saturday 10 pm to midnight for the straight-ahead jazz fan. Scott is the son of Bob Gregory.
Scott Aycock's "Folk Salad", an eclectic mix of folk, singer/songwriter, Americana, bluegrass, blues, and Red Dirt music 7-8 pm Sundays.
Mike Flynn's "The Folk Sampler" Sunday 8-9 pm. Mike is a former KOTV newsman, and former co-owner of 60s Tulsa coffee house, The Dust Bowl.




---




(from GB 274) "A Prairie Home Companion" was broadcast live from Tulsa's Performing Arts Center on 10/25/2008 over KWGS. Guests included Stillwater's Monica Taylor, The Hot Club of Cowtown, and hometown blues boy Elvin Bishop. It's a delight. Listen online.




---


While a student at Tulsa Central High, Ron Padgett co-founded a magazine called The White Dove Review. In its five issues (1958-1960), the magazine published Allen Ginsberg, Jack Kerouac, Robert Creeley, LeRoi Jones and Ted Berrigan. He left Tulsa in 1960 for NYC. There, he became a noted poet, translator, and memoirist. His first public poetry reading was at the Rubiot in the spring of 1960.

He read several of his poems on "A Prairie Home Companion", broadcast over KWGS, 4/5/2008.

13:10 Garrison Keillor introduction.
14:48 Ron reads "The Drink", "Poet As A Mortal Bird", "Haiku" and "Morning".
1:15:30 GK intros Ron Padgett again.
1:16:02 Ron Padgett recites "Dead or Alive in Belgium", "Words From the Front" and "Bastille Day".
---

KWTU-FM 88.7 (aka HD1) is all classical music. A nice bit of symmetry: sister station KWGS was the first FM station in Oklahoma (1947). KWTU signed onto the last available space on the FM dial in Tulsa on 10/15/2004. Listen to KWTU HD1 online.
KWTU-HD2 is Café from XPoNentialRadio (sample it online; playlist), an eclectic blend of blues, rock, world, folk, and alternative country---excellent listening, somewhat KPIGish (see internet stations below).
KWTU-HD3 is World Radio from the BBC.

KOSU-FM 107.5 (serving Tulsa and NE Oklahoma) and 107.3 (a new frequency serving south Tulsa as of June 26, 2007) Oklahoma Public Radio from OSU-Stillwater. Programming is similar, but not identical to that of KWGS and KWTU; it features NPR and syndicated classical music. Saturdays: 9-10 pm "Marian McPartland's Piano Jazz", 10-11 pm: "Jazz Set with Dee Dee Bridgewater", 11 pm-12 am: "Night Lights Jazz. The proto-ambient "Hearts of Space", is heard at 9 pm on Sunday. Also Sunday night/Monday morning, 12 am to 6 am, the syndicated "Jazz After Hours". Frosty Troy, a trenchant observer of the Oklahoma political scene, can be heard at 7:35 am and 4:44 pm Friday mornings. He was regularly featured on KRMG in the days when opinion on Tulsa AM radio was not 24/7 and ran a gamut greater than A to B (to paraphrase Dorothy Parker). Listen online.

KGTO-AM 1050 operates on 1000 watts in the daytime, just as it has done since it started as KFMJ, and on a mere 22 watts at night (a DXing challenge out here in south Tulsa, solved with a Select-A-Tenna and the Sangean HDT-1 HD Tuner). Its call letters were derived from the names of its owners, car dealer and wife Fred and Mary Jones (not "Keep Feeding Me, Jesus", as low-paid employees jested during the years of religious programming). The format is now ABC Radio Networks' syndicated "The Touch": Today's R&B and Old School. KGTO's west Tulsa transmitter site was a locale for Weird Al's movie, "UHF", shot in Tulsa. Today, KGTO is a box on a wall; all syndicated programming.

(Defunct as of 3/2010.) KJZT-FM 107.9 "Jazz Tulsa" is a 76-watt low-power station offering smooth jazz with an emphasis on local musicians such as Mark Bruner, Wayman Tisdale, Shelby Eicher, Jenny Labow and Grady Nichols. All kinds of jazz can be heard on the 8-10 pm Sunday show co-hosted by singer Pam Van Dyke (you may remember her from the 60s Horn Brothers local country music show) and jazz pianist Gayle Williamson of the Tulsa Jazz Society. Lee Woodward said in Guestbook 199: "Having listened to "Jazz Tulsa 107.9 for over thirty minutes now, I can say I heartily approve." Current playlist at the site. Also on 94.9, reaching north of downtown, Owasso, Claremore, Catoosa, and almost to Bartlesville. GTR News Online article.

KRVT-AM 1270 ("The music you grew up with") is a station transmitting from Catoosa. TTM contributor Joe Riddle is onboard. KRVT also broadcasts the games of the St. Louis Cardinals (long-time parent club of the Tulsa Oilers) and OSU athletics. The station's 1950s-80s popular music is diverse and not playlisted (they even play Mrs. Miller on occasion!) Give it a try, and it will become a preset. CBS News and KOTV local news and weather. The webmaster won a contest 3/2/2009 (MP3).
---

KVMR-FM is community radio out of Nevada City, California, presenting an extremely diverse spectrum of music and talk. Of Tulsa-area broadcast stations, KRSC comes the closest to it on the music side. What's the frequency, Kenneth? Why, it's 89.5, just like Tulsa's KWGS! Gary Chew's Reviews are heard Fridays on KVMR's evening news. Listen to archived podcasts of his reviews.

KDVS-FM - really fun freeform FM radio streamed from Davis, California.


KKJZ (formerly KLON-Long Beach) used to be carried by Tulsa Cable as part of their FM service. I listened for hours on end in the 90s to their straight-ahead jazz. In 1994, I visited L.A. to try out for "Jeopardy!", go on a blind date, and see Kenny Kirkland in the Club Brasserie at the Bel Age Hotel. I also spent 6 hours working a phone drive for KLON, and met some of the on-air personalities: Helen and Ken Borgers, Sam Fields and Chuck Niles, who has a star on the Hollywood Walk Of Fame (Chuck passed away in March 2004, Sam in September 2005. They will be missed by all L.A. jazz fans.)

JAZZ.FM in Toronto is another good jazz internet station, recommended to me by Frank Brown.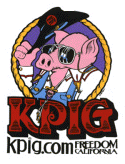 KPIG in Freedom, California features a format-defying blend of adult rock, acoustic music, blues, progressive country, Hawaiian, cajun, bluegrass, and folk.

(from Guestbook 29) KPIG's Unkle Sherman said:

I grew up in Fayetteville, Ark. Watched Tulsa TV... ZETA on Satellite 6 made me what I am today. Found an email for him on yer site, wrote, and Zowie!! Got a return email from my hero.

LuxuriaMusic features outré lounge and Latin jazz, groovy 60s go-go, psychedelia, quirky oddities, retro pop and surf music. In the late 90s, I learned of this station from then-host, Jack Diamond, who plays a part in a story on the Fantastic Theater page. Another former Luxuria host, The Millionaire, was a member of the combo, "Combustible Edison". Here is The Millionaire's guest appearance on "Space Ghost: Coast to Coast".

Lux was bought and killed by media giant Clear Channel Communications in 2001, but it has made a comeback. 8/12/2008: Former Luxuria host Kaci Christian is now a reporter/anchor at KOKI-TV here in Tulsa!.

Groovera - 2005 Web Radio Award, "Best Ambient / Chilled Station". Downtempo, Nu-Jazz, Electro-Lounge by former Tulsan, current Seattleite Tim Quigley. Now with 3 channels.

BlackLight Radio, an internet station based out of Owasso, now features the Billboard Top 100 from 1980 to 1989, playing pop hits not heard... well, since the 80s! Founded by Tulsa native and radio veteran Gene Savage.
---

SomaFM is a great internet radio station I've been listening to lately. Actually, it is more than a dozen specialized stations on one site, piped out of a basement in San Francisco.

Some of my favorite Soma stations: Illinois Street Lounge features classic bachelor pad and exotica (see the Tulsa Tiki and Fantastic Theater pages). Groove Salad serves ambient chilled beats and grooves. Sonic Universe is NuJazz + avant-garde EuroJazz. Secret Agent is...never mind, I'll send you a message about it using my Secret Sam.
---
Don't toss your VCR just because you now have a DVR or TiVo.
Use it to record radio shows while you are away.

On your receiver, plug stereo audio RCA cables into any pair of output jacks (e.g., the ones marked "VCR2 Out"). You just have to find a pair of available receiver jacks that output whatever is currently playing on the receiver.
The other end of the cables plug into the VCR's "Audio In" jacks.
There is a "channel" on your VCR called "L1". This is the one that accepts whatever is coming in via "Audio In". It is usually just below channel 3 in sequence as you change channels on the VCR.
(Most folks today leave the VCR set on channel 3, the actual channel changing being done via cable or satellite box, but this procedure will still work if you receive your TV from an antenna.)
Program the VCR just as if you were setting up to record a TV show, but select L1 as the channel. (You needn't manually change the VCR from channel 3 to L1; the VCR programming will switch to L1 for the duration of the recording only.)
Turn your receiver on and leave it tuned to the station you want to capture. Mute the receiver if you wish.
Voila! You can record as much as 6 hours of radio for later listening (but all from whichever station you tuned in on the receiver.)


(from Guestbook 5) Mike Bruchas said:
I remember KCNW being "countrypolitan" a format big in Kansas City that mixed country with light rock and worked! They and KTOW in Sand Springs were KVOO's attempted rivals.


(from Guestbook 149) Si Hawk said: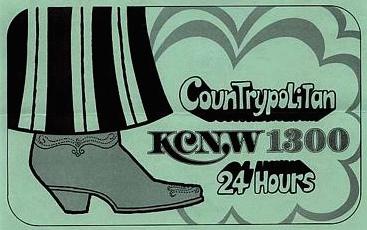 At KCNW we were honored to have some great air talents: Chuck Adams was our Program Director, Sam Stewart was a member of our news department along with Don Stubbs, Kitty Roberts, Terry Stafford and Mark Boyce. On the program side included Dave Boyd, Gary Chew, Dave Jones, Sid Wood, Michael (White) Day, Howard Lane, Charlie Derek and me.
During late '72 to early '74 we went from being Tulsa's Countrypolitan Giant to Tulsa's Good Music Station 1300. Toward late '73 (I believe) San Antonio Broadcasting came in and purchased KCNW and sister station KMOD (which was not on the air). San Antonio Broadcasting later changed its name to Clear Channel Communications. That outfit has come a long way, too.
KCNW was a great place to work and I count myself greatly honored to have worked with a number of radio-TV legends during those years.
---
---


(from Guestbook 3) Don Lundy said:

The call letters for radio stations, in some cases, stood for a slogan or ownership. For instance, WLS in Chicago stood for "World's Largest Store"(was owned by Sears, Roebuck and Company); WGN,also in the Windy City, stood for "World's Greatest Newspaper" (it was owned by the Tribune).

Do you know the derivation of these Tulsa radio call letters?

1) KRMG 4) KFMJ
2) KAKC 5) KRAV
3) KOME 6) Bonus: KTUL

(Answers further down the page)




(from Guestbook 5) Mike Bruchas said:

Where are those KRMG voices of the 70's - Don Cummins and Ed Brocksmith? Does KRMG still own KWEN? I heard Boaz Raushwerger at the KWGS tribute in '97 - where is he? Is KRMG all-news yet? Does KVOO still broadcast in AM Stereo - they were one of the first though the AM Stereo thing never caught on.




The KVOO-AM and KRMG pages should answer many of these questions.




(from Guestbook 5) Mike Bruchas said:

Don Lundy sent me the answers to the radio questions he posed a couple of weeks back. Here it is:

"As Jim Back noted KRMG was for Kerr-McGee, owned by U.S. Senator Robert S. Kerr and his oil partner, Dean McGee.

KAKC was for Avey, Kellough and Condon. Sam Avey was a Tulsa entrepreneur, owned the old Coliseum on 4th Street and Cincinnati (or Detroit) that burned down in the 50s, think Kellough (sp?) was a local businessman and Glen Condon was news director at KRMG in the early years. I believe this is correct, it was all part of a unit on Oklahoma history we took in the sixth grade mandated by the state. For some reason, this has all stuck with me.

I had forgotten about KVOO, the Voice of Oklahoma. (according to Betty Boyd, the "KIND Voice of Oklahoma)

KOME stood for Oklahoma's Magic Empire, which Tulsa was called in the 50's.

KFMJ- it was owned by Tulsa auto dealer and his wife: Fred and Mary Jones.

And, of course, KELi's predecessor at 1430KC was KTUL radio.

(And KRAV=George KRAVis.)




(from Guestbook 5) Mike Bruchas said:
I think KKUL was the soul station that took over KORU's frequency. Either Matt Bunyan of Starship Records or the late Honest John Foutz - told me of going out there to deliver records or spots. Said the studio was in a ratty old house - way out East of town by the tower.
...And to think I can still remember when you wanted to listen to classical music at night in the early 70's - KWGS, KAKC-FM, KORU, and I think the FM station in Bartleville had this every evening. All went away in time and we got commercial classical KCMA - who I guess has since been sold. Who does play classical music in Tulsa now? (KWTU; see top of page)
---


(from Guestbook 11) Jim Back said:

Saw a comment in the Oklahoman about KOMA that I did not know. Article says the original call letters were KFJF. It was sold to the Griffin Grocery Co. of Muskogee for $10,000. The article doesn't say when that happened, but here's the interesting part: Says Griffin changed the call letters to KOMA to match their market area: K(ansas), O(klahoma), M(issouri), and A(rkansas). I always thought it was just "oma" as in "Oklahoma."



---


(from Guestbook 18) Mike Bruchas said:

A geezerly digression on KWGS from me, too.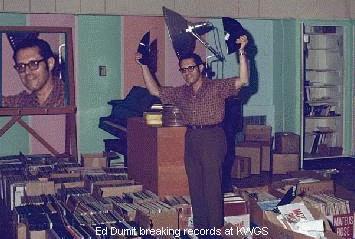 KWGS - so many stories and so many generations of folks worked there. When I was an undergrad - the success of Bill Hyden and this new kid, Bob Losure - were cited by Ed Dumit - on where someone could go from KWGS if they had the talent, voice and brains. (Oh, yes - I listened to KTBA, too, I think it may have been ahead of it's time, but I also think Bill Hyden was intuitive enough to see a trend changing in music - to try the format.)
At the 50th reunion in '97 I was surprised how automated the station is now - back in the late 60's/70's and certainly back when a lot of post WWII guys/spouses were in school in the 50's - KWGS had a seemingly humongous staff to do all.
I guess that is one thing that was brought home at the reunion - a lot of us started to learn our crafts and started our lifelong professions at KWGS - no matter the generation. We also had a chance to make a lot of mistakes and the public was generally forgiving - so that they got their classical music and/or heavy metal not offered elsewhere.
There were a lot of programming slots to fill live or edited-to-tape "back then" - I am surprised now how little local original programming there is on KWGS, though the station is a well-oiled machine and sounds network quality generally.
I went to TU to "learn radio", my voice never dropped to the stentorian levels of a lot of the 50's grads and so I slummed over into being a TV techie. But there is/was a great spirit of ALL of us having served at KWGS - and had a good time doing it. I hope TU's next generation of radio/tv grads get it too.
I also heard "subterrania" in a form is back on a TU cable radio station on campus (broadcast by wire from dorm to dorm not off a real antenna for the general populace) but from the undergrads I spoke with at KWGS - it ain't perceived as "real radio". I remember Frank Elardo, Matt Bunyan, Tommy Roberts and others almost 25 years ago "bending the envelope" on KWGS Fri. & Sat. nights broadcasting "subterrania" music of the Grateful Dead, Hendrix, Joplin (no not Scott)- I guess what goes around, comes around!


(from Guestbook 18) Ray L. Rivera said:
Reading about Gary Chew brought back memories (he was my boss at KWGS.) Although this is a T-town TV board, please indulge my brief radio digression. I did news and "Sunday Sounds"(jazz/classical music mix segment) at KWGS for several semesters. Still remember Ed Dumit's Wollensak reel-to-reel recording of proper pronunciations. I learned my lesson - always listen to the tape! A fellow coworker at KWGS duped me into thinking "Modest P. Moussorsky" was really pronounced "MODEST PEE MOUSE-or-skee," and that's how I pronounced it. Got plenty of calls on that one. Mr. Chew, in his very urbane way, gently corrected me next time he saw me. I also locked myself out of the control room (where the automated NPR machines now sit at KWGS) taking a bathroom break while a record was on the air. I called TU Security to unlock the door..but they never came. I struggled with the control room door for 45 minutes. The recording ran out and I could hear the player's needle bouncing off the turntable platter's post: "SSHHH-SHH-SSSHHH." Dead air. All the phone lines lit up (didn't think anybody was listening on Sunday mornings!) I finally broke down the door, ran toward the turntable, potted down, and plopped another record on. Mr. Chew "counseled" me on that one, too. It's funny thinking about it now, but I was terrified of Mr. Chew back then.


(from Guestbook 24) Mike Bruchas said:
Great stuff from Tulsey native, Terry Young!
In an effort to get more folks on the air and still be paid - we didn't have volunteers on air shifts at KWGS when I was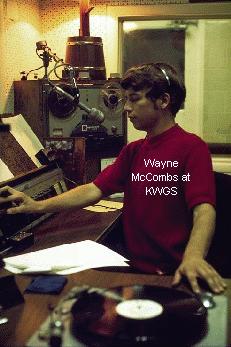 there - Ed Dumit or Bob Lauer worked out a deal with TU. Minimum wage was $2.20 an hour then - we who pulled air shifts - split the hourly wage and accepted something like $1.25 an hour as a condition of being on-air staff.
If you did remote recording with the 50 lb. Magnecorders like Paul Goelz or myself - that was a freebie for the experience. Ditto later when a lot of staff did any news coverage - most had their own Sony 100 or 110 cassette recorders like Steve Smith, Lynn Wells or myself. Or we traded them to each other. Local radio "real news guys" like from KVOO and KRMG always treated KWGS greenhorns with respect - many had been in their shoes not long before.
Though KWGS had a minimal budget from TU then - we had long distance service and a primitive phone hybrid for recording "actualities" and "voicers". Do you remember when radio phone patched broadcasts had that annoying beep in the background? The phone companies made that part of any non-surreptious phone conversation recording.
I can remember when something happened in Alaska at Amchitka - either a volcano or a nuke carrying plane crash - we did several live and taped feeds via the phone lines.
I also remember being asked to do a phoner with a local stripper - who had paraded topless downtown by the Mayo into the hands of the forewarned and waiting Tulsa PD. She was protesting her right of freedom of speech for undress....Yeah, sure. She was very logical in her reasoning but we decided not to air her soundbite. It really wasn't KWGS - didn't think we had a lot of topless dancer classical music fans - maybe for Subterrania.....
---

(from Guestbook 24) former Tulsa mayor Terry Young said:
One more before I give it up tonight. I may be one of the only Tulsa TV guys who worked for a radio station called KOCW. This was the predecessor of KMOD. It was owned by Claude Hill, who also sold radio transmitters (I think the transmitters were CCA).
The station was located in a converted garage behind a commercial building at about 12th and Harvard. It was all reel-to-reel "elevator music." I was 18 (turned 19 during the stint) and it was my summer job in 1967. We had an on air "personality" named Jenny Wren. As I recall, she was a friend of Mike Flynn, who worked at KRAV at the time. I was really good at loading those huge reels so the 17 or so people listening to our station could hear Billy Vaughn, Lawrence Welk and Guy Lombardo. My station breaks were classics. NEVER could say KOCW.... always transposed and called it KCOW. I guess my COW fixation was a precursor to my being full of BULL as a politician!



Channel Changer 2 Back to main