Date: June 25 2001 at 01:19:36
From the Tulsa World by Ricardo's request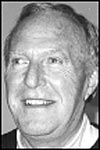 STEWART -- George Young , 62, a former Tulsa Pastor, died of a heart attack on Saturday, June 16, 2001 in Buenos Aires, Argentina, where he had lived since 1996. He was President and CEO of iplan networks, which he helped found. Born March 14, 1939 in Staten Island, NY, George was the youngest of the 3 sons of William and Isabella Young Stewart of Dundee, Scotland and Baltimore, MD.
He received his B.A. from Maryville College, and his M. Div. from Pittsburgh Theological Seminary. From 1964-70, he was Associate Pastor of Bower Hill Community Church (United Presbyterian) in Pittsburgh and from 1970-80, served as Pastor of Tulsa's Church of the Advent (United Presbyterian), which founded Tulsa's Street School. He was a member of Eastern Oklahoma Presbytery.
He left pastoral ministry to work in television, first as Assignments Editor and then News Director of KTUL-TV Channel 8, and then as Marketing and Programming Director for Tulsa Cable. He later served as General Manager of the cable system in Santa Fe, NM, and then as Vice President of Scandinavian operations for United Cable Television in Sweden. This led him to a post as Senior Vice President of Operations of TeleWest in the United Kingdom and later to the founding of CableTel in the U. S., dedicated to voice and and video transmission services, and currently operating as CompleTel in France, Germany and the U.K. Before founding and directing iplan, George was Chief Operating Officer of CableVision S.A., Argentina's major cable television MSO.
His life as a clergyman was marked by a profound concern for people on the margins of society, which also characterized the 10-year life and mission of the Church of the Advent. Likewise, as he worked in the telecommunications field he maintained a deep interest in the well-being of all his employees. He was a man of rare compassion, creativity, and wit, whose memory and life are treasured by family and friends all over the world.
He is survived by: his brother, William Morgan Stewart, of Santa Fe; his niece, Allison Stewart Keithley; and nephews, Charles Gordon Stewart and John Allister Stewart of Baltimore; his sister-in-law, Betty Hearne Stewart; great-nieces, Alexandra Elizabeth Stewart, Jessica Morgan Stewart, and Rachel Ann Keithley; and great-nephew, Adam Douglas Keithley, all of Baltimore; and his former wife, Charlotte Cathey Stewart, of Tulsa, who remained a lifelong friend.
The family requests that as George wished, all gifts in his memory be made to Maryville College, 502 E. Lamar Alexander Pkwy., Maryville, TN 37804-5907. A Benediction service and celebration of George's life will be held on Sunday, July 1, at 3 p.m. in Sharp Chapel at The University of Tulsa, followed by a reception in the Sharp Chapel Lounge.