Links page
---


Current Tulsa broadcast TV station links and histories
2/17/2009: Analog/digital update; 6/12/2009: Analog timeline

KJRH, Channel 2 (NBC) - Channel 2 history. Seen on Cox Channel 9. Formerly used calls KVOO and KTEW.

KOTV, Channel 6 (CBS) - Channel 6 history. News Now 53 (Cox) continuously replays KOTV's most current news broadcasts. Tulsa's first station (1949).

KTUL, Channel 8 (ABC) - Channel 8 history. Weather 24/7 (Cox 247) continuously presents KTUL's most current weather information. Originally KTVX in Muskogee.

KOED, Channel 11 (PBS) - Channel 11 history. Tulsa's public television station under the Oklahoma Educational Television Authority.

KOED (PBS) (Cox 111) is the new main digital channel;
OETA OKLA (Cox 112) is reserved for state news, activities and history;
OETA CREATE (Cox 113) offers instructional programming;
OETA KIDS (Cox 114) provides children's programming;
OETA HD (Cox 711) is High Definition programming 24/7. More details at Digital Television on OETA.

"Tulsa Times", Saturdays at 5 pm on OETA, and several times a week on the OETA OKLA digital channel. Co-host David Crow visited GB 38 in 2000 while still a student. Your webmaster was a guest, 2/10/2007 (watch on Google Video).

Longtime OKC news anchor George Tomek (bio at the link) is now co-anchoring the statewide nightly newscast Mondays, Wednesdays and Fridays with Gerry Bonds at OETA's Oklahoma News Report desk. This 1961 Tulsa TV schedule shows that George started his career here in Tulsa (see Channel 6 noon news). Recently, George acted in an unusual movie made in the UK, "Tube Poker". Here is George's own web site.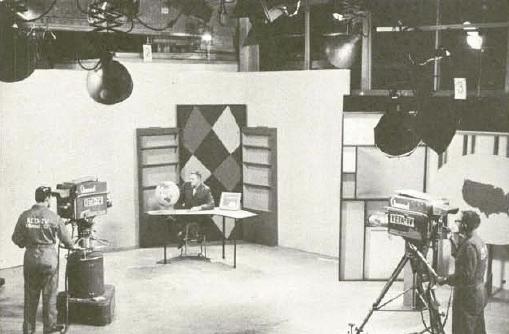 OETA's KETA (OKC) studio in the early days.

I remember zoning out after watching Monty Python on Channel 11 late Saturday evenings in the 70s; the "High Flight" sign-off alerted me to head for bed. OETA is now 24/7, but I caught their sign-off on tape before it disappeared. See the original "High Flight" and more on Tulsa TV sign-offs.


OETA sign-off. More TTM video in the Photo/video briefcase.

KDOR, Channel 17 (TBN) - Channel 17 history. Religious programming.

KQCW, Channel 19 (CW) - Seen on Cox 12. Originally KWBT, Tulsa's Warner Brothers WB19, now CW12. Features The News on 6 from KOTV at 9 pm, Up Late with Ben Sumner (local) and Nosak Raw (webmaster review).

KOKI, Channel 23 (FOX) - Channel 23 history. Seen on Cox 5.

KSBI, Channel 33

(from Guestbook 166) Erick Church said:

Mike Bruchas mentioned Locke Supply Company's low-power stations. It started as one station, KSBI-52 in OKC in 1988. At that time, it broadcast a limited schedule of religious programming and tons of plumbing commercials. It later grew to air more syndicated (yet family friendly) programming. Mr. Locke died some years back, and last year his family opted to sell KSBI and all of its translator stations. It owns low-power stations in Ardmore, Edmond, Stillwater, Ponca City, Wichita Falls, and Sapulpa (broadcast Channel 33, which can be seen in Tulsa).

Because of this large coverage area, several major broadcast companies offered tons of money to buy the network, but the Lockes insisted that the station remain independent and air the same type of family friendly programming.

Enter Brady Brus, longtime OKC meteorologist and his sister Brenda Bennett, longtime OKC radio personality. They formed a company and purchased the network. Since then, they have become a very good source of statewide severe weather coverage. I would encourage everyone to strap on the old UHF loop sometime and tune to Channel 33 to see what they have to offer.

KRSC, Channel 35 - Channel 35 history as of 1967. Seen on Cox 19. Rogers State University Public TV.
The TTM webmaster was interviewed by Sam Jones on "Green Country Perspectives" in October 2009.

KMYT, Channel 41 (MyNetworkTV) - Channel 41 history. Seen on Cox 10. Formerly KTFO, part of the now-defunct UPN Network (see photo at top of page), and prior to that, independent KGCT.

KTPX, Channel 44 (Cox 4) (PAX> ION) - Religious/family programming.

KWHB, Channel 47 (Cox 7) - LeSEA religious/family programming.

KGEB, Channel 53 (Cox 23) - ORU-owned; religious/family programming.

K69GO, Channel 69 (3ABN)- 3 Angels Broadcast Network; religious/family programming.
Cox Communications - Tulsa's cable TV company. Cox channel 3 carries some local content.
HDTV in Oklahoma - Stay up-to-date about high definition TV in our state. According to its Tulsa forum, a $10 Radio Shack 15-1864 antenna is sufficient to pick up Tulsa digital TV broadcasts over the air.
TV Guide Online for Tulsa - See what's on right now in T-town. This feature requires registration. (Yahoo! TV is an alternative that lets you select only the channels you want to see.) TV Guide (owned by Macrovision as of 2008) has an office in Tulsa at the former Kensington Galleria shopping mall at 71st & Lewis where Weird Al shot his movie, "UHF".
---

Sources of Tulsa news on the internet

TV stations with major network affiliation feature local news and weather on their web sites (top of this page). As long as we're getting internet sources of local Tulsa news together in one place, here are a few more:

Tulsa World newspaper (daily) - As of late April 2006, the site is free to all.
Urban Tulsa Weekly free newspaper - Opinion/local features/entertainment.

1/19/2006: Hey, look who's #48 on UT's "Tulsa's Hot 100 List" by comic/writer Barry Friedman! Of course, there's no topping the likes of "Ganesh, Hindu elephant God" (#23), "Homeless guy at Route 66 Diner" (#37), or even "Hot Dog Guy outside of Lowe's" (#46). But I did place ahead of the Mathis Brothers (#86). Beats a poke in the I with a pointed schtick, for sure.
GTR NewsOnline free newspaper (weekly) - Community news.
TulsaPeople free magazine (monthly) - Easy to view online. People profiles and consumer info.
TulsaToday local online news service - Opinion, news.
TulsaNow forums - Uninhibited discussion of current local issues and events. The webmaster is Rex Brown.
Here's a quick weather report:
Tulsa webcams:

Cosmo Cafe - Indoors, south Tulsa. Refreshes every 5 seconds.

Caz's Pub - Indoors, Brady arts district. Two cams, refresh every 30 seconds.

TU's "U" toward McFarlin Library - 6th & Delaware. Refreshes every 5 seconds.

KOTV Skycam Network - 71st & I-169, B.A. and I-169, I-44 and 75, KOTV tower. 10 second refresh.

KJRH Tower Cam - 38th & Brookside

KTUL Tower Cam - Downtown Tulsa from Lookout Mountain

8/1/2006 at 6:30 pm - Here I am at Cosmo with my lovely wife, Gaye, capturing this image. Our power was out for a few hours, so we headed over here. Boulevard wheat beer with lemon is good in 100+° weather.
---

Tulsa pop culture/history sites


This Land - Both online and in an unusual large-format broadsheet. This Land explores Oklahoma's past and present in a collaboration of Oklahoma's best writers, thinkers, and artists, and encourages a richer sense of community through various projects, including Goodbye Tulsa, which featured Josef Peter Hardt (host of Fantastic Theater), and Booksmart Tulsa.

The webmaster wrote an article about Tulsa TV Memories for the January 2011 issue,
Tulsa Gal's Blog - Nancy, a Tulsa Historical Society volunteer and second generation Tulsan, started this blog in May 2009. She's off to a good start with entries about Brookside, the Belvedere, and old Tulsa doors. Her dad had a show on KOME-AM in the later 1940s and worked as a musician in Tulsa. Many photos.
TulsaFilms.com - The latest in Jack Frank's Tulsa History Series is "Tulsa A to Z". In late 2009, we ran a contest with this DVD as a prize. Question, answer(s) and contest winners in GB 305.

"Tulsa Deco", a tour of Tulsa's many art deco buildings. It really makes you understand how unique Tulsa's architecture is in the eyes of the rest of the world.

"Fantastic Tulsa Films Vol. 1", a DVD of historic Tulsa films that includes the TTM webmaster's 1974 home movie of George Harrison in Tulsa.

"Fantastic Tulsa Films Vol. 2" includes old film of Mr. Zing & Tuffy, the dedication of KVOO's Broadcast Central, some of Lee Woodward's home movies and other KTUL and KVOO stuff.

Yellow Pad, Inc. - Among other things, they sell great Tulsa history calendars. The photos and text are so good, you may want to buy the past date ones. The movie tickets you see in "Tulsa's Olde Movie Theatres 2005" were originally purchased by the TTM webmaster. New for 2010: Memories of Central High School & Will Rogers High School: 70 Years of Memories.
Lost Tulsa - (from Guestbook 187) Tom Baddley said:
I've finally started uploading a bunch of photos that I've taken around Tulsa for the past couple of years. There's a gallery of Mayo Meadow Shopping center photos taken in 2003, including some night shots of the neon signs.
Retro Tulsa Internet Museum has some great pictures, including Bishop's Drive In, Will Rogers Motor Court...also many pictures and postcards of early Tulsa landmarks.
Ma Barker's Personal History of Television Broadcasting - Ma worked as a director for KTUL in the early days.
MollyMurphys.com - OKC/Tulsa site with video of the original commercials and a forum. Molly Murphy's House of Fine Repute is another MM site, seeded by a Jeffiee Tayar (original co-owner) story posted by her here in Guestbook 155.
Tulsa Historical Society - Long-time KOTV anchor Clayton Vaughn was executive director until his recent retirement.
Circle Cinema - Built in 1928, now being restored to state-of-the-art condition with 3 theatres. The Circle 2 is a great venue for independent films.
I Remember JFK - (from GroupBlog 234) Ron Enderland said:

Hi, all. I saw I got some traffic from Tulsa TV Memories and wanted to express my appreciation.

I'm Ron Enderland, born in Miami (OK) in 1959, moved to NW Arkansas area in 1968. But I have a head full of great memories of Miami before they goofed up Main St. ;-)

Anyhow, I did a piece on picking up pop bottles for cash a while back and credited Tulsa TV Memories with some good pop bottle photos and stories. Someone returned the favor by mentioning my site.

Anyhow, thanks for the mention, and come check out my Boomer (and Oklahoma!) memories at IRememberJFK.com.

Irritated Tulsan - IT guestsnarks "Tulsa Tuesday" on OKC's The Lost Ogle, does Tulsa daily on his own blog.
Tulsa Local Music of the 60's & 70's - new site aspires to document local bands that played in garages, recreation centers, on KOTV's Dance Party, and at KAKC Battles of the Bands.
| | |
| --- | --- |
| | Jerry Pippin, formerly of KBIX-AM 1490 in Muskogee (which went off the air in early 2003; see Jerry's Memories of KBIX-AM Radio), often discusses local media history on his "Memories of the 20th Century" show. It is available 24/7 via Internet Radio On-Demand. Guests have included Mike Miller, Lee Bayley, Scooter Segraves, Steve Suttle and the webmaster of this site. |

Reader Kirk Demarais' Secret Fun Spot site features a Flash animation involving Bell's Phantasmagoria ride; two items in the "souvenir shop" seen in this cartoon came from Tulsa TV Memories! Also, don't miss "Uncle Laff's Legacy" about the 7' "U-Control Monster", orderable from the back of a comic book. Great site!

Abandoned Tulsa - (from Guestbook 182) Alison Zarrow said:
Thought some of you might be interested in a newly started project taking a look at historically significant abandoned or forgotten buildings in Tulsa.

February 2006: a new book, Abandoned Tulsa by Alison. Read more about it at Furnace Press.

---

Non-Tulsa, but related sites

Television Obscurities - After discovering a key piece of 1960s KOTV incidental music on Henry Mancini's Music from "Mr. Lucky" ("March of The Cue Balls"), I did a search for more about this one-season wonder 1959-60 CBS TV show. I found it, and much more at Television Obscurities. Excerpts of the original Star Trek blooper reel are here, and many other curios as well.

Burke Family Grape-Nuts® TV Commercial, 1968 - "Oh, no, Mrs. Burke?! I thought you...you were Dale!" Adam Burke documents this production featuring his look-alike mother and sister. It's a pop culture touchstone. See the commercial, a "making of..." clip and more. I helped Adam with the video of this classic commercial, and proud of it!

Wes Clark's "Avocado Memories" - Wes shows vintage photos of his family's house and writes entertainingly about growing up in Burbank, California in the 60s and 70s. Avocado was his parents' favorite color in their failed attempts at interior decoration. Wes showed me that the strictly local can be engaging. I also picked up his technique of responding editorially in the Guestbook. His site was an inspiration for Tulsa TV Memories.
Local Legends - an excellent local TV site for Los Angeles.
UHF Nocturne - Stylish site covering late-night TV in northern California.
Space Age Pop - Return to some "roots" music, if you grew up in the 50s and 60s. You'll meet a lot of old friends here. Did you know that the composer of the Andy Griffith theme, "The Happy Fisherman", Earle Hagen, also composed "Harlem Nocturne" and the themes for "The Dick Van Dyke Show" and "Perry Mason"? Earle did some of the whistling himself.
Discount Stores of the '60s - Look for Shopper's Fair, Gulf-Mart, T.G.&Y., Woolco...
(From GroupBlog 284) The webmaster said:
There was a contest at the LP Cover Lover web site this morning. Knowing that Sandy Warner was the cover girl for many of Martin Denny's Exotica records helped me win a free T-shirt. This is a great site, but the LP covers featured are often a bit "spicy", as Sherman Oaks might say, so don't email it to everyone in your address book.
TVparty! - Check out those network and syndicated shows you almost forgot and the commercials you could never forget! TVparty features an article about "Then Came Bronson", written for it by the TTM webmaster. The same article is on this site, but with more pictures and links. Proprietor Billy Ingram runs a lively blog.
The Big Cartoon DataBase - The internet's largest searchable database of cartoons, episode guides and crew lists. I was looking for a Popeye cartoon with a live action kid and bully...I found it here (Adventures Of Popeye, 1935)
TV Horror Host Gallery - Mazeppa and Peter Hart weren't the only ones in the U.S.
---